Barchetta Background
by Andy Heywood of Bill McGrath Maserati
The first line of the brochure for the 1992 Barchetta proclaims "A return to Maserati tradition", suggesting inspiration from cars like the 300S and A6GCS of the 1950s.
Indeed, the generic term 'barchetta' was first applied to these sparse, uncluttered designs, their form carved for purpose and their engineering uncompromising in its desire to win races - 'A classic, essential concept' to quote the brochure once more. And yet the most compelling factor that this car can use to claim its lineage is that it was primarily built out of enthusiasm with scant regard for cost or commercial sense.
Alessandro De Tomaso had been a successful driver of such machinery long before he turned his attention to building cars. When he did, racing was never far from his mind, however diluted by business, first as a manufacturer in his own right and latterly as custodian of the Trident.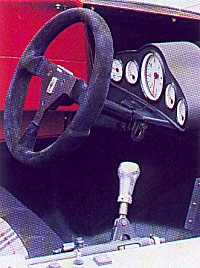 The first inkling of a return to form for Maserati came with the ill-judged concept car 'Chubasco' in 1990. In reality no more than a mock-up with uncharacteristically heavy styling by Marcello Gandini, and bristling with untested technical features of Chapmanesque proportions, it did possess one feature that has been a continuous thread in De Tomaso history, a backbone chassis. The 'Chubasco' was sensibly stillborn. The backbone chassis, however went on to form the basis of the Barchetta. De Tomaso's racing swansong was launched as the centrepiece for a one-make race series in 1992.
The concept was to build 25 pure racing cars known as Barchetta Corsa and then further examples with accoutrements such as lights, catalysts, etc. that could be used on the road - Barchetta Stradale. No doubt to capitalise on the exposure gained through racing, but also to broaden Maserati's appeal to a younger more Caterham Seven oriented audience. The brochure concludes by drawing a balance between the Barchetta Stradale as a 'no frills' driving experience and the Ghibli II road car as the well-appointed executive sportscar. Rose-tinted spectacles are maybe required at this point but at least both cars could claim to have the same engine.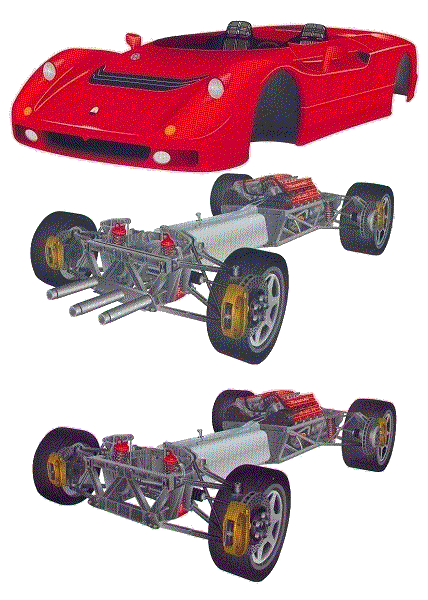 The above three images are from the Official Maserati 'Barchetta' brochure.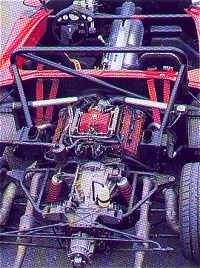 Mounted on a steel subframe with beautiful magnesium cast end plates, behind the aforementioned steel tube backbone chassis was a Ghibli 2-litre twin turbo V6 engine developing 315bhp, aft of which was a ZF six-speed transaxle. The transmission used straight cut gears and also a drop gear arrangement which allowed for almost infinite cog swapping. Suspension was by wide angle double wishbones all round, with inboard coil over shocks. The rear wishbones were mounted on the transmission casing and the fronts to another equally gorgeous magnesium subframe which, in turn, is bolted to the front of the chassis. Dual circuit non-servo brakes with balance bar and massive four-pot calipers clamping vented discs rounded off the Formula One homage.
The body was equally hi-tech. Designed as three separate pieces, front and rear shrouds were removable and left a central tub which flowed over the chassis and provided seating and protection for two. The body parts were made from a mixture of aluminium honeycomb, carbon fibre and fibreglass layers. Very light, very expensive, a total dry weight of 775 kilos was claimed. At the extremities, 18 inch Marchesini alloy wheels were shod (curiously) with Michelin MXX3 road tyres, and tucked away amid the tubes of the backbone chassis was a fuel 'bag' tank made by Pirelli.
Attention to detail is the overwhelming impression, together with the use of the best quality technology and materials regardless of cost. The enthusiasm factor. Sadly, potential buyers did not feel the same enthusiasm. The car was marketed through the various European Maserati concessionaires to appeal to 'gentleman' drivers rather than professionals. By the time of the first race, only seven cars had made it to the grid and the only privateers were Belgian Julien Appels and German Thomas Bscher. Eventually 16 cars were sold, mainly to the concessionaires who invited professional drivers to race them. Maserati themselves retained two cars to offer to 'guest' drivers.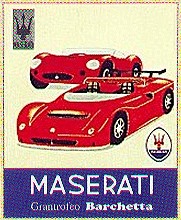 In 1992 a new race series, the Grantrofeo Monomarca Barchetta Maserati consisting of six races at Varano, Vallelunga, Bari, Pergusa, Varano again and finally the 'Motorshow' Bologna. The races were keenly fought and the Barchettas proved to be very fast and reliable. For 1993 the series was to be increased to ten races, eight in Italy and two at Zandvoort in Holland and in Denmark. The reason for this was that High Clas Racing in Denmark were running three of the cars, one of which was for professional driver Jon Nielsen. Nielsen was a constant favourite at every race. In fact, so dominating were Nielsen's initial performances that in a fit of desperation, in order to make for more exciting racing, some juggling of the engine ECUs was allegedly attempted in order that other competitors could be in with a chance (to no avail I might add). The series continued through 1993 with never more than 13 cars on the grid for any one meeting. The lack of interest and the unapproached ideal of 25 cars meant that Maserati had no alternative but to discontinue the formula.
One of the most interesting aspects of the series was that it cemented relations between Nielsen and Bscher. Bscher had cut his teeth in historic racing and the Barchetta series was his first venture into moderns. By the time the series had finished, De Tomaso was already pushing ahead with the Guara which once again featured a similar backbone chassis. Nielsen approached De Tomaso with a view to him and Bscher racing a Guara in GT2. The Guara was supposed to have BMW V8 power and Nielsen reasoned that with De Tomaso's connections, a racing version could be prepared by the German factory who were at the time committed to the McLaren F1 project and were not interested in De Tomaso's proposal. The Guara GT2 remained a dream and Nielsen and Bscher bought a McLaren FI instead.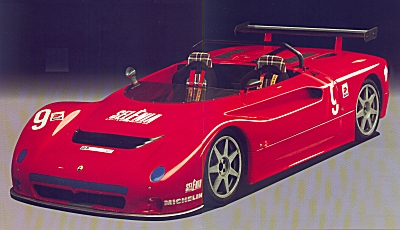 This Barchetta, chassis 'LLC' (always letters, not numbers) was one of the cars that Maserati SpA retained for 'guest' drivers, most notably for Cor Euser who raced at Zandvoort in 1993 where he finished third to Jan Lammers' first and Nielsen's second. After the 1993 season, it was given to High Clas Racing in Denmark as compensation when their three cars were all damaged in one race due to the overambition of a young Dane. High Clas ran the car in demonstrations for a while but soon sold it to a Dutch Maserati collector, who kept the car until this year but never drove it. It therefore comes to the UK as little-used but race-ready car. The only one here now, but not the first.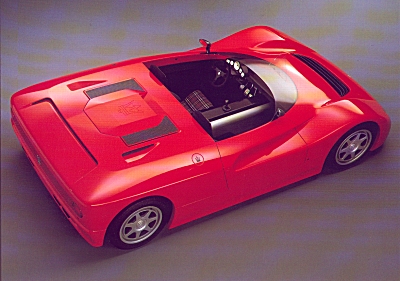 What of the Barchetta Stradale? Further reference to the brochure shows a complete Stradale. Without roll bar and rear wing and with lights and other road niceties. The other Corsa retained by Maserati for 'guest' drivers was loaned to the Australian Maserati concessionaire for promotional purposes and was then sent to the UK where Meridien, the then current concessionaires, were asked to homologate the car for road use. Meridien enlisted the help of Church Green Engineering, more famous for their work with the original 50s barchettas, who carried out various modifications including moulding Fiat Coupe headlights into the nosecone, adding a speedometer to the basic instrumentation, fitting a road legal exhaust system and an external fuel filler, necessitating further re-shaping of the nosecone. Due to be submitted for homologation tests which were never carried out, the car returned to Maserati where it languished in the factory collection until the cars were saved from public auction by the Panini Family. This car will be familiar to Auto ltalia readers as that featured in Giordanelli's recent Parmesan extravaganza.
At least two other Barchetta Corsas have been subsequently converted to Stradale specification by enthusiastic owners and yet none of these cars resemble the original factory version. The factory states that 16 cars were built in total and according to original racer and Barchetta guru Julien Appels, all are accounted for and were originally Corsa. The Stradale remains a mystery, a modern version of mysteries which experts grapple with over historic Maserati chassis numbers, a true "Return to Maserati tradition".


UPDATE: Ciao Enrico,
I have news of another Barchetta that has surfaced. It is supposedly one of the cars that, after a typical total loss accident, has been scrapped but rescued anyway at least it's indentity. It has been rebuilt and thanks to many new fabricated parts claims Barchetta lineage.
I will keep you informed.
Forza Maserati!
Julian A.