"Hey Enrico. I want to sell my snorkel for a racing Maserati MC12! Do you think I should put it on e-bay then maybe you link to it from your site? It has a letter from Maserati about what car it was on. Hope you can help. Scot

From Enrico in the UK
MASERATI TIPO 8CLT
"Hi Maseratisti,

Does anyone out there have any information or photographs of the magnificent Maserati Tipo 8CLT currently on display at the Southward Car Museum in Paraparaumu, New Zealand ?

Thank you,

Enrico."

From Philippe in Belgium
THE NEW BOOK BY MICHEL BOLLÉE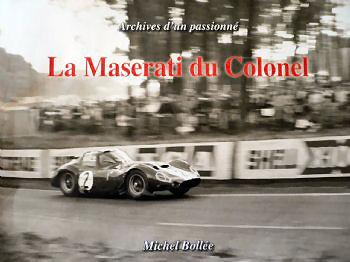 "Cinquième tome de la collection "Archives d'un passionné" l'ouvrage est au format à l'italienne (26.5 x 21 cm) et comporte 104 pages incluant texte et 145 photos dont 47 en couleur. Plusieurs photos couleur et n/b sont en pleine page. En comparaison de son livre précédent, La Grande Bataille des Prototypes et des GT 1963-1967, les légendes photos sont courtes et le texte est plus consistant. Le prix public sera de 35 ?

Héros de la seconde guerre mondiale, passionné de sport mécanique, le Colonel John Horace Simone se lança dans la compétition automobile au début des années cinquante, avant de renoncer à la course pour l'amour de la comédienne Junie Astor. Devenu porte-drapeau de Maserati, il ne cessa de vouloir ressusciter le passé sportif de la firme au Trident en faisant courir une formidable voiture : la tonitruante Tipo 151-002.

Homme à l'enthousiasme sans limite, il lutta seul avec l'espoir de battre Ferrari. Mais le combat était trop inégal. Ce fut pourtant une belle page dans le livre d'histoire de la course automobile.

DISPONIBLE A PARTIR DU 20 JANVIER 2011"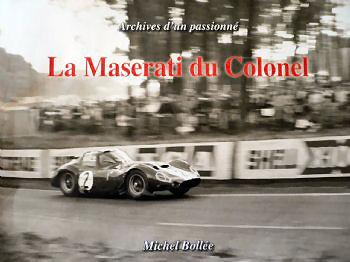 "The fifth volume in the "Archives d'un passionné" series is a book in landscape format (26.5 x 21 cm) and has 104 pages including text and 145 photographs of which 47 are in colour. Several b/w and colour photos are full page. Compared to his previous book, "La Grande Bataille des Prototypes et des GT 1963-1967", the photo captions are shorter and the text is lengthier. The retail price will be 35 ?

A hero of World War II, motor racing enthusiast, Colonel John Horace Simone plunged into motor racing in the early fifties, before giving up racing for the love of actress Junie Astor. He became a flagship for Maserati, and never stopped wanting to revive the sporting past of the House of the Trident by racing a great car: the thunderous Tipo 151-002.

A man with boundless enthusiasm, he struggled alone in the hope of beating Ferrari. But the struggle was too unfair. Yet it was a beautiful page in the book of motor racing history.

AVAILABLE FROM JANUARY 20, 2011"
TEXT AND PHOTO COURTESY OF www.motors-mania.com.

From Enrico in the UK
JUST BE PATIENT, SOMETIMES IT CAN TAKE A LITTLE TIME !!

JUST REMEMBER, SOONER OR LATER, THERE WILL ALWAYS BE SOMEONE OUT THERE LOOKING FOR THAT SPARE PART. IT'S THE SAME WITH CARS !!
"Enrico,

After nearly 18 months, I have sold the doors you posted for me on your parts for sale section. Thank you.

I would not have sold them without your help.

Regards,

Richard."


Posted: 28th August 2009



I have a pair of doors for a 1960's Ghibli. They come complete with new bottom rail repair sections and new door skins.

Located in the UK.

Sold: 18th January 2011



From Spirit Public Relations in the UK




ON SALE NOW

Text in English


Maserati:
Italian luxury and flair

by Martin Buckley


Published by Haynes Publishing 2011.



The latest addition to the popular 'Classic Makes' Series tells the story of Maserati, a marque that has enjoyed a remarkable resurgence in the last decade – having previously fallen on hard times after the glory days of the 1960s and 70s.

After establishing its name through racing success, Maserati built some of the world's most desirable sports cars during the 1960s and '70s. After a period in the doldrums in the 1980s and '90s, the marque has emerged during the past ten years and is making some great cars again under the stewardship of parent company Fiat. The new Quattroporte in particular is one of the finest cars Maserati has ever built. This is an essential addition to the Haynes 'Classic Makes' series, blending history and technical information with driving impressions and buying hints.



The book blends history and technical information with driving reviews and buying hints for each post-war model. It also contains profiles of the key personalities involved in Maserati's rollercoaster story, taking readers up to its rebirth under Fiat's ownership and the release of updated models in the ever popular Quattroporte and Gran Turismo series.

Classic icons such as the 3500 GT and the Ghibli are also featured in one of the few in-depth histories to be produced on this famous Italian manufacturer, charting its transition from race car to road car production that have seen it come to rival Ferrari and Lamborghini in providing fast, glamorous vehicles for the discerning rich.

Specifications, driving impressions and buying advice for each post-war model - Profiles of the key personalities involved in Maserati's rollercoaster story - The early road cars: the 2-litre straight-sixes built 1946–57 - The 3500 Series: 3500GT, Sebring, Mistral - The 5000GT: a car built for the world's super-rich - The Quattroporte of 1963–70: the world's fastest four-door saloon and its two door Mexico cousin - The Ghibli and Indy: glamorous front-engined V8s - The Bora and Merak: mid-engined supercars - The Khamsin and Quattroporte II, the Quattroporte III and Kyalami - The Biturbo era and the Quattroporte IV - Maserati's rebirth with the Coupé, new Quattroporte and Fiat money.

Produced in hardback portrait format (272 x 210 x 180mm) with 176 pages containing 150 colour & 50 b&w illustrations.

Available at £25.00 RRP (ISBN-10: 1844255042 or ISBN-13: 978-1844255047) - Available now !!

AUTHOR:

Martin Buckley is a freelance motoring journalist based near Stroud. He is a columnist for Classic & Sports Car and has written numerous magazine features about classic and modern Maseratis as well as over a dozen other motoring books. A lifelong devotee of the marque, he has owned several of its most celebrated models.

Text and image courtesy of Haynes Publishing

For Maseratisti in the UK, this new book is available through Amazon.co.uk at only £16.46 & this item Delivered FREE in the UK with Super Saver Delivery.




From Jean Pierre in France
"Hello Enrico,

I will be looking at a Maserati Ghibli 4.9-litre next week. As I have no experience with this model, could you guide me a little on what specific spots / items I should be careful about ?

Any advice would be most helpful, thanks.

Regards,

Jean Pierre."

From Marcello in Italy

Maseratisti,

Marcello Candini recently sent me a copy of the September 2010 issue of Collesionismo magazine, in which he had written an article on Maserati motorcycles entitled "Motocicli Maserati - Modena".

In relation to the content and the circumstances under which motorcycles were produced bearing the name Maserati, even though that company had nothing to do with the famous car manufacturer. That company, Fabbrica Candele Accumulatori Maserati S.p.A., also based in Modena produced a variety of electrical accessories for cars and motorcycles, including batteries, bulbs, distributor caps and contact sets.

Marcello allowed some of his personal collection to be photographed, which included a rare light bulb. I wonder if it still works ??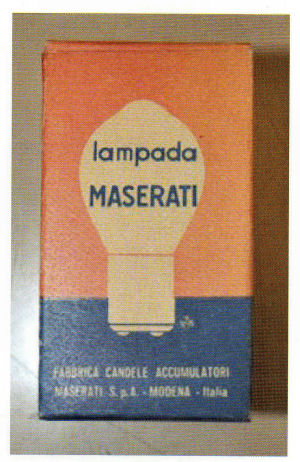 A Maserati light bulb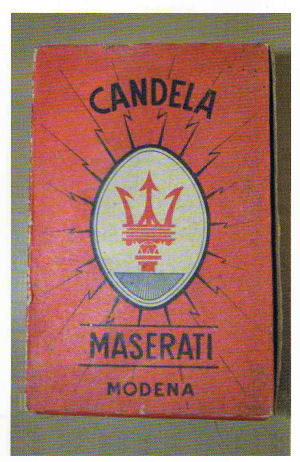 A box of early Maserati spark plugs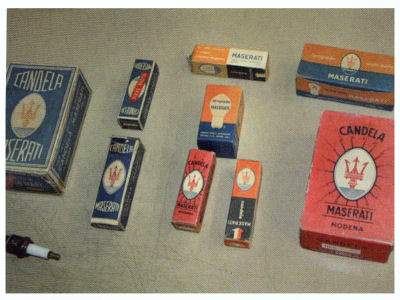 A selection of Maserati electrical accessories
Note: the later box of Maserati Spark plugs on the left !

From Bart in The Netherlands
"Hi Enrico,

Best wishes to you too, hope you had a good start!

Attached some pictures of my Khamsin. The work is progressing nicely.

Picture No 1 shows you my X-mas hiding place! If the family affairs became a bit too much, they could not find me....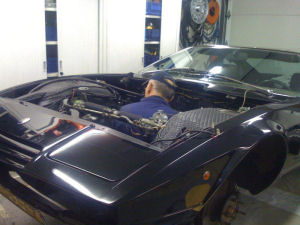 No 1: Peace at last. Bart's secret "Xmas hiding place" !!
Picture No 2 is the result.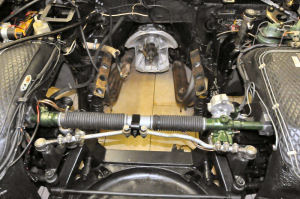 No 2: Ahh, that's better !!
Engine is now ready to go back in but I need to wait for the snow to disappear to get my Ghibli out and bring the engine hoist / crane in....cannot wait for it.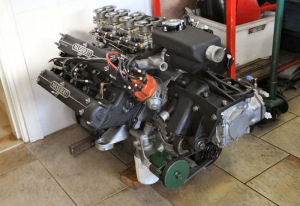 The magnificent 4.9-litre Maserati V8 engine !!
I am trying NOT to restore the car and just do the cosmetics and small mods where I feel them necessary. Take a look at my modified dash.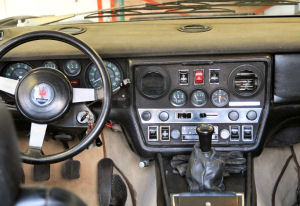 Bart's modified centre console
By putting switches in of all the same style, same for the turn knobs, the dash became much more in balance.

It really is a lot of fun to work on this car: NO RUST ANYWHERE, I can hammer the (obligatory) dents out of the dropped cabin floor sections without a kilo of rust dropping from everywhere!!! Never experienced this before on a >33 year old Maserati!

Take care and stay in touch!

Bart."

From Philippe in Belgium
Philippe has very kindly sent me these two photos of Maserati powered GT40 Replica. Pretty impressive !!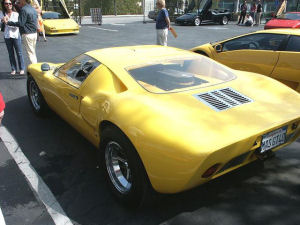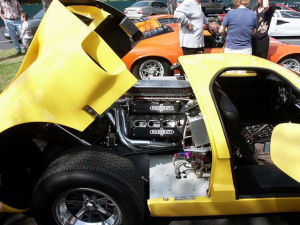 From David in the UK
"Dear Enrico,

I wondered if you had heard of a 50's racing driver called Horace Gould, who used to drive a private Maserati 250 F1 ?

He had a garage on Kellaway Avenue in Bristol where he used to display the Maserati along with a 2½-litre Cooper that he drove later on.

I was standing at a bus stop once not far from there ( the garage was opposite our games field ) when I heard a distant throaty roar which turned out to be Horace driving his F1 Maserati down the public road !

He was famous for once briefly leading the Syracuse Grand Prix in about 1957 by taking advantage of the Maserati's quicker start compared to the other cars in front of him on the grid.

Unfortunately the garage was very badly placed for attracting the kind of clientele who would buy Maseratis, and I think his company folded in about 1970. I wondered what happened to his racing cars.

Do Maserati keep a record of where their cars go ? People must have to contact them for spares. That car must have been a collector's item even in the early '70s.

Take care,

David."
"Hi again,

Thought you might be interested: the other Dino Ferrari driver on the front of the grid at Naples ( not Syracuse - my mistake ) was Peter Collins. Both he and Mike Hawthorn are caught looking nervously over their shoulders at Horace in his Maserati 250F in a photo by Denis Jenkinson.

Sadly, of course, within a few years both of them were dead. At least the sport is a lot safer now.

Regards,

David."

SEASON'S GREETINGS FROM
L'EQUIPE CARROSSIMO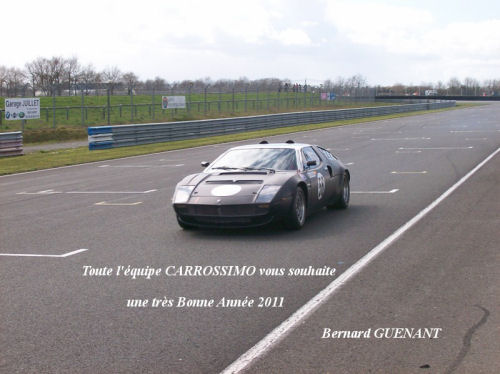 SEASON'S GREETINGS FROM
THE BITURBO CLUB ITALIA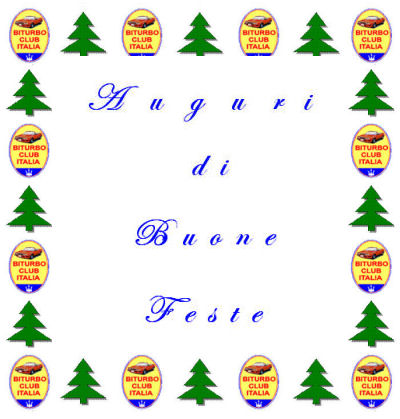 SEASON'S GREETINGS FROM
PHILIPPE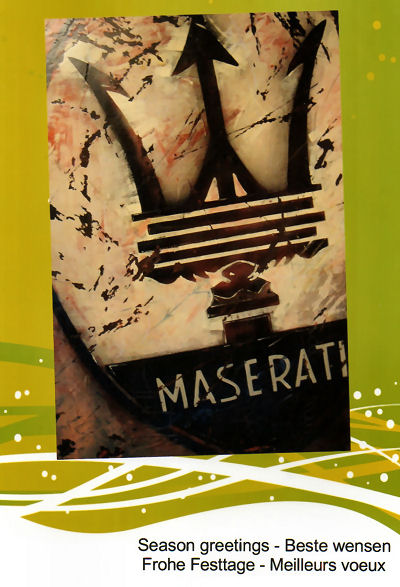 SEASON'S GREETINGS FROM
SATOSHI, HITOSHI, MIKI
NOBUYA and AYA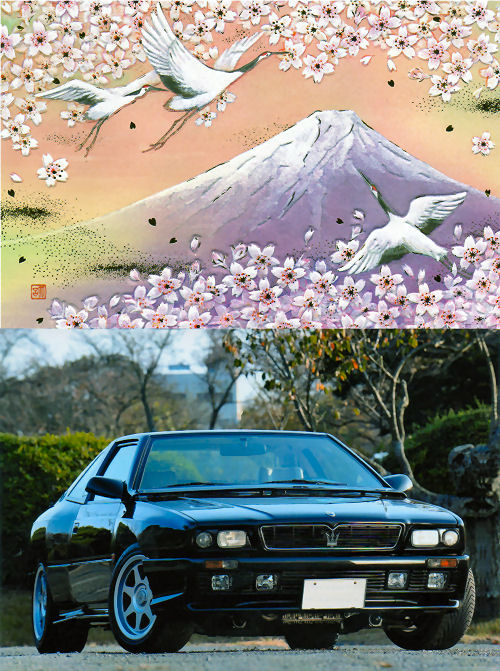 SEASON'S GREETINGS FROM
HISATO


SEASON'S GREETINGS FROM
ALL AT BILL McGRATH LIMITED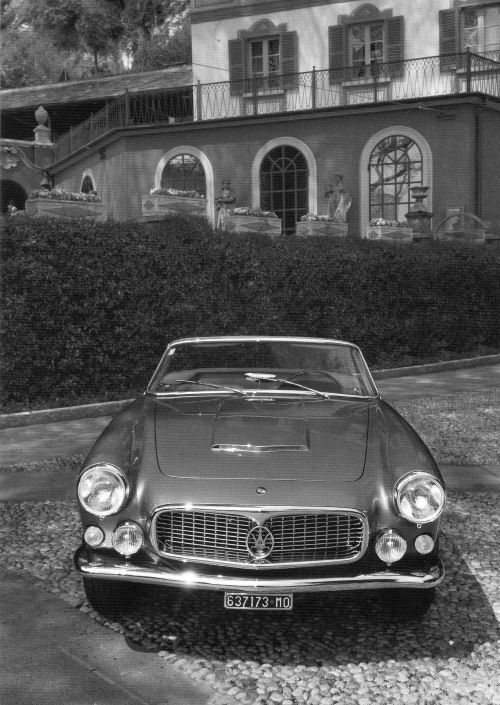 SEASON'S GREETINGS FROM
DAVID A.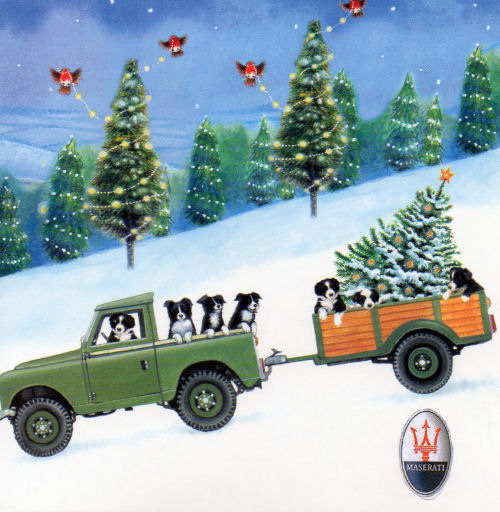 SEASON'S GREETINGS FROM
JACQUES F.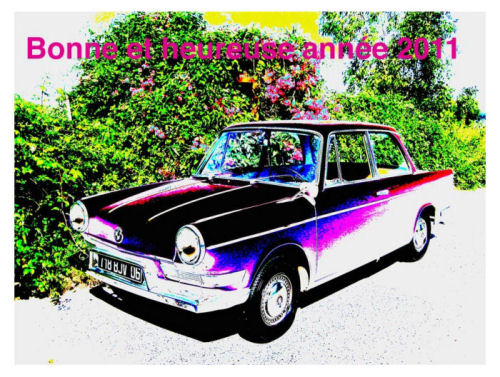 SEASON'S GREETINGS FROM
LORENZO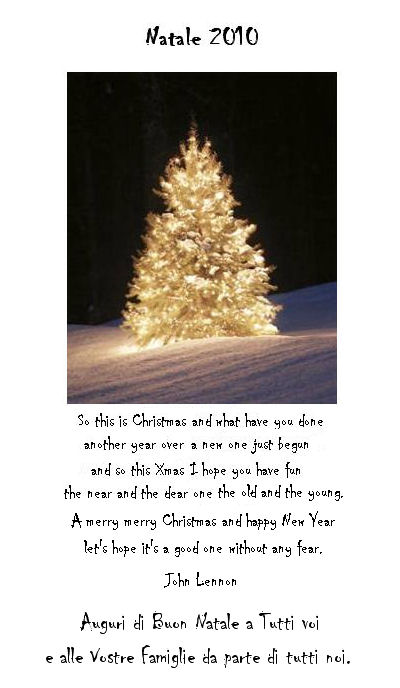 SEASON'S GREETINGS FROM
CREASSO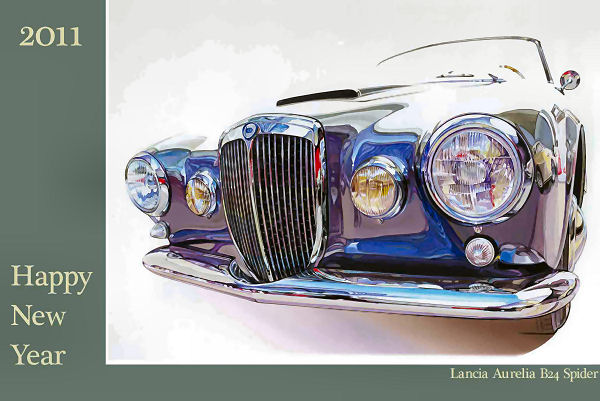 SEASON'S GREETINGS FROM
HENNY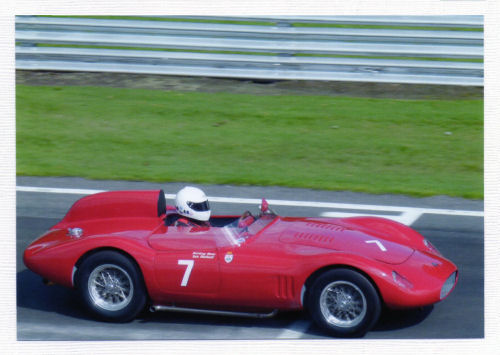 SEASON'S GREETINGS FROM
MIGUEL ANGEL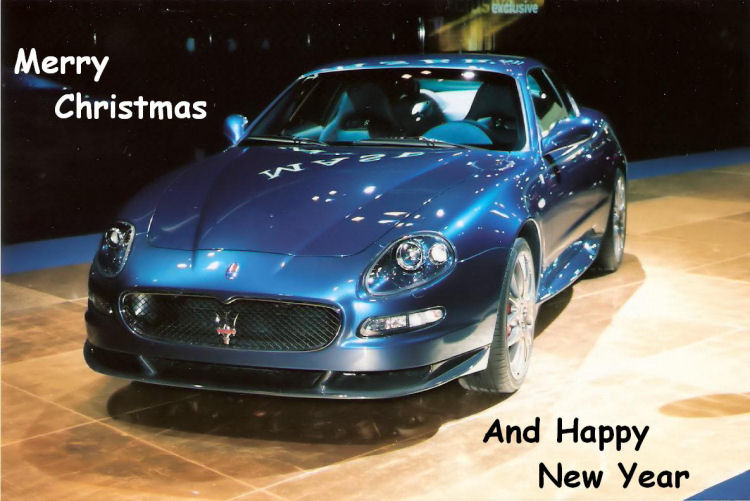 SEASON'S GREETINGS FROM
AUTO STORICO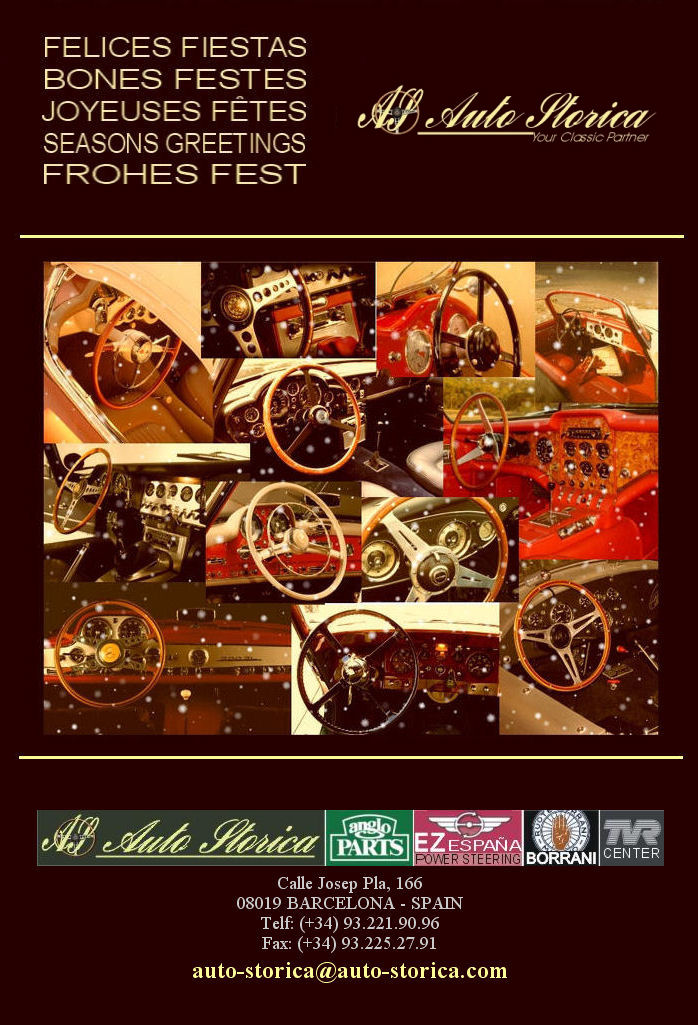 SEASON'S GREETINGS FROM
SRO MEDIA CENTRE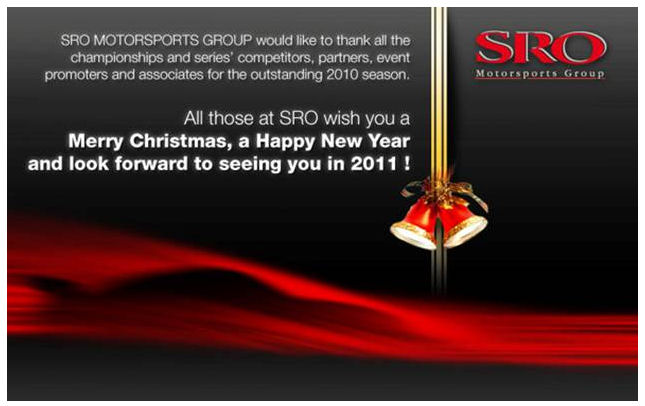 SEASON'S GREETINGS FROM
SPAITALIA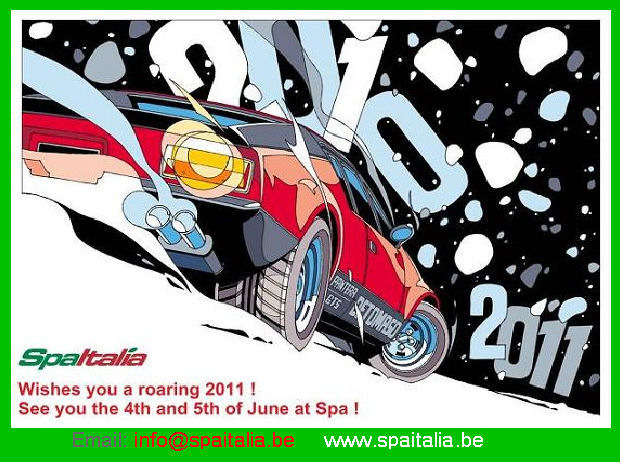 SEASON'S GREETINGS FROM
CLASSIC & SPORTSCAR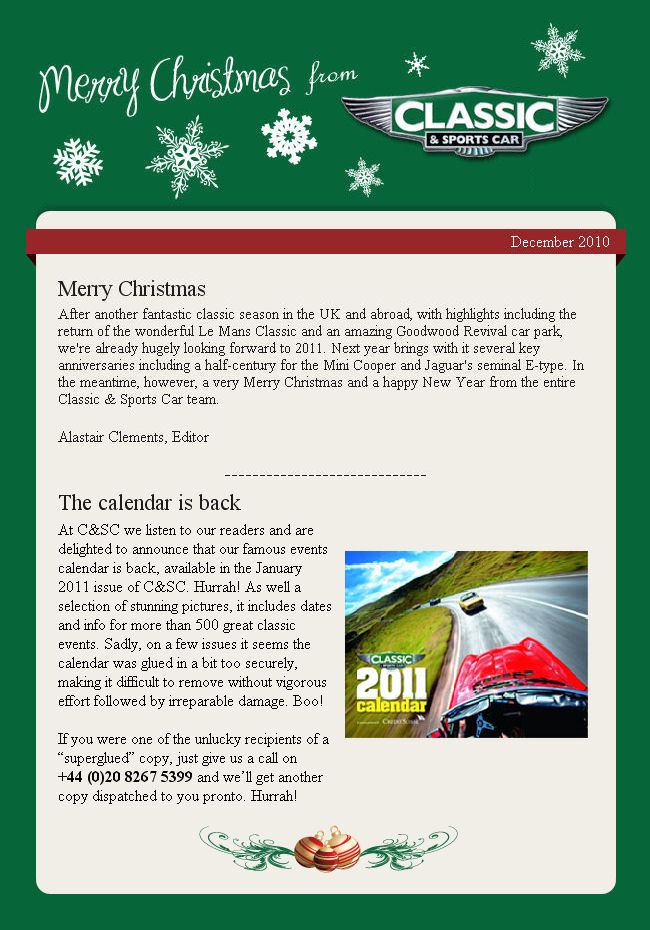 SEASON'S GREETINGS FROM
MIE CORPORATION
and MASERATI CLUB INTERNATIONAL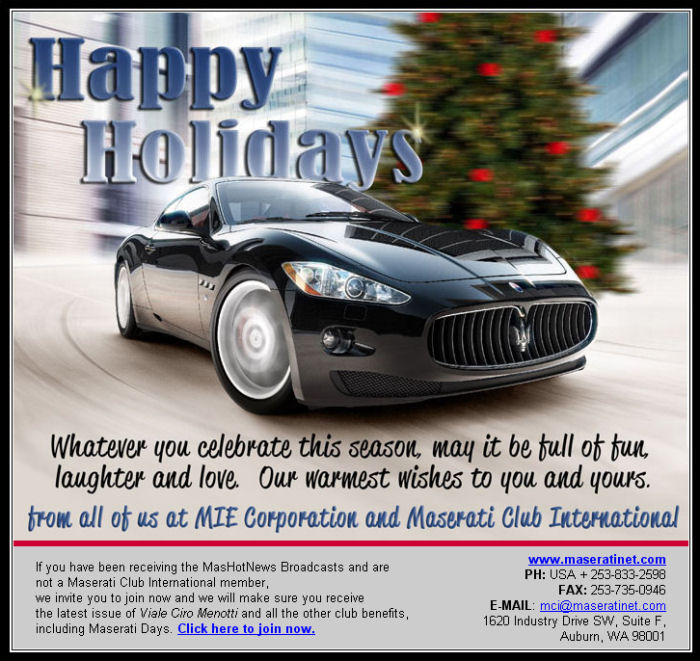 SEASON'S GREETINGS FROM
KLASSIEKAR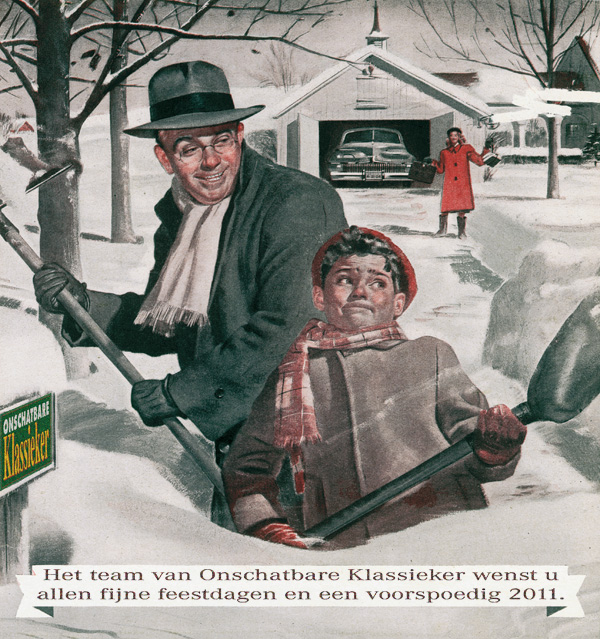 SEASON'S GREETINGS FROM
ABC BRIANZA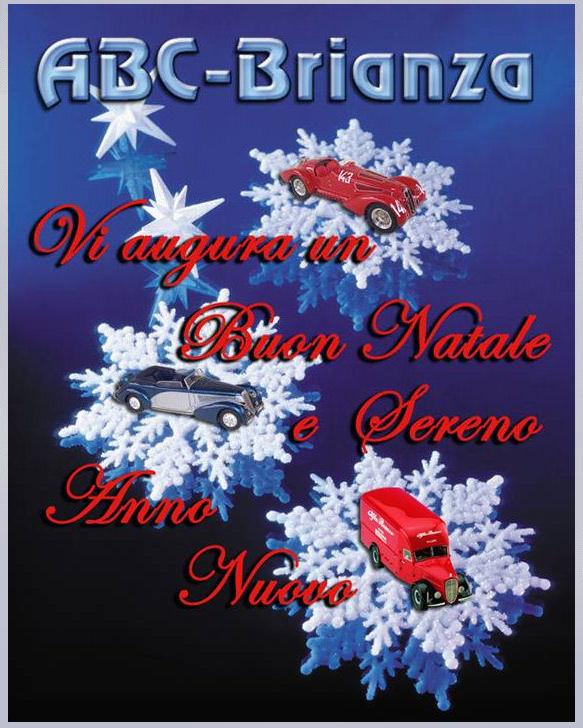 FINALLY SEASON'S GREETINGS FROM
ENRICO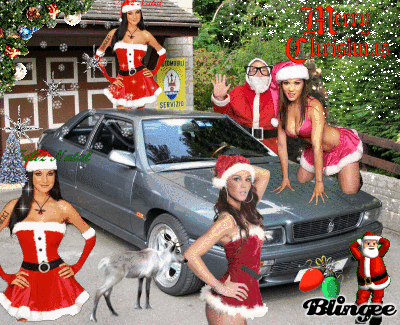 And that's what can happen when you send a Christmas card to a Maseratista with a sense of humour !!

To enter Enrico's Maserati Pages CLICK HERE!


Copyright: Enrico's Maserati Pages - © 2000-2010. All rights reserved.