This first prototype Cooper-Maserati T86 made its racing debut - driven by future Formula 1 World Champion Jochen Rindt - in the 1967 British Grand Prix at Silverstone. The new car – which featured a redesigned, lower, lighter and narrower stressed-skin monocoque hull than the preceding T81/81B Cooper- Maserati designs – made extensive use of aeronautical magnesium-elektron chassis paneling. The car was powered by the latest Maserati Tipo 10 V12-cylinder engine mated to a Hewland transaxle. Overall this model T86 saved some 112lbs weight in comparison to the preceding T81/81B cars, and during the race at Silverstone Rindt was immediately a half-second quicker than his team-mate, Pedro Rodriguez's older model.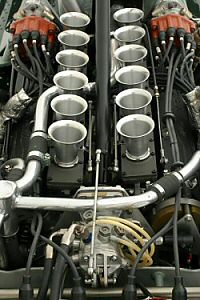 In testing the originally broad-nosed T86 showed a tendency to lift at high speed which was controlled in time for the Italian Grand Prix at Monza by the attachment of a front-end aerodynamic spoiler. Both works cars run at the Autodromo used 36-valve V12-cylinder engines with revised combustion chamber form and Jochen Rindt - in the words of one report - "drove his heart out to finish fourth" in this car. His new teammate Jackie Ickx finished sixth and both Cooper-Maseratis there at Monza finished ahead of Chris Amon's lone Ferrari!

For the United States Grand Prix race at Watkins Glen in upstate New York, Jochen Rindt's Cooper-Maserati T86 was then equipped with further revised cylinder heads featuring both three valves and three spark plugs per cylinder. The new heads – which had previously featured two spark plugs per cylinder – carried the additional dozen along the inside of the engine vee. In the race Rindt's engine overheated and his journalist friend Heinz Pruller later told how: "When his mechanic asked what was the matter with the engine Jochen said 'This time it blew-up really spectacular! When I realised it was about to go, I gave the accelerator pedal an extra kick and shot the revs up to 12,000…just to make quite sure…'" It was the Austrian driver's last appearance for Cooper; the half-deaf team director Roy Salvadori was standing behind him at the time, with his one sound ear cocked and Jochen would drive for Brabham in 1968…

For the South African Grand Prix on 1st January, 1968, former Ferrari star Lodovico Scarfiotti drove this Cooper-Maserati T86 but a water pipe burst early in the race, and 3-litre BRM V12 engines were adopted for the succeeding 1968-season Cooper T86B cars.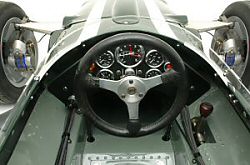 Cooper finally retired from Formula 1 competition at the end of that season, during which Porsche sports car star Vic Elford had made several very promising appearances in the works team's Cooper-BRM T86Bs. For 1968 'Quick Vic' agreed to continue in Formula 1 driving the ex-Rindt Cooper-Maserati T86 prototype car now offered here. This car was immaculately prepared for its resumption of racing, fitted with a 36-valve, 24-plug Maserati V12-cylinder engine, and it made its debut in Colin Crabbe's Antique Automobiles Ltd maroon livery in that year's BRDC International Trophy race at Silverstone, where – in treacherous rain – Elford finished 12th.

British historic racing star Neil Corner then took over the wheel of this Anglo-Italian thoroughbred to contest the combined non-Championship Formula 1/Formula 5000 Madrid Grand Prix, held at Jarama, Spain, where he finished most respectably, fourth overall. The tiny British team then gained a private entry for the Monaco Grand Prix, where only 16 entries were accepted without need to qualify. Vic Elford was not the slowest qualifier despite running a two-year old car, and during the long and gruelling race he maintained a steady and reliable pace in this veteran Grand Prix car and came home to finish very well – in seventh place overall.

This performance by 'F1-2-67' offered here was the Cooper marque's last outing in a World Championshipqualifying Grand Prix, as Colin Crabbe then acquired an ex-works McLaren-Cosworth for Elford's later appearances in the class that season. On 22nd May, 1969 the news broke of the Cooper Car Company's final closure, and the marque which had revolutionized not only Formula 1 and Indianapolis car design but had also changed the face of racing worldwide was no more.

This particularly historic Cooper-Maserati - combining as it does all the traditions of both these entirely charismatic marques - would subsequently be preserved for over 30 years in the Swiss collection of Mr Walter Grell until it was sold from his estate in 2000.
It was acquired by a well-known historic 3-litre Formula 1 owner/ driver who then had a complete restoration undertaken by Macdonald Race Engineering in London. He assures us that no stone has been left unturned in this restoration, as will become apparent when the car is viewed. New magnesium monocoque skins were fitted, while a new engine block in the modern alloy replaces the old unstable magnesium original. We understand that this work was completed with the car in race-prepared condition, and bills accompanying the car show the extent of expenditure. This important Grand Prix car would surely be the most charismatic addition to any historic racing grid, especially next year, Monaco Grand Prix Historique, and we recommend it to any serious collector.

Kidson SA are delighted to offer one of the rarest yet best known of the 3-litre Maserati V12-engined, monocoque-chassised Formula 1 Cooper cars…and one which combines the best qualities of both great marques whose name it carries.

All serious enquiries to simon.kidston@kidston.com.