"Dear Enrico,

We met last we met last week in Modena at the Marco Turci Memorial Maserati event, where I gave you a CD with some pictures of Klausenrennen, a cars race that took place last September in Switzerland.

From official site: (www.klausenrennen.com):

"During the years from 1922 until 1934 the Klausen Race was by far the best known and the most difficult hill-climb race. No other hill-climb course has fascinated spectators and drivers as intensely as the 21.5 km long road, with a loose gravel surface, from Linthal up to the Klausen Pass , covering 136 curves and a difference in altitude of 1237 meters. During that time the world's best female and male drivers met to compete on the Klausen Pass."

Since few years, cars and motorbikes from that decades runs again on the same roads, really fascinating.

Unfortunately this race take place only every 4 years.

Feel free to use the photos you most like, for your site.

Best regards,

Aldo.

P.S. In the CD I gave you there is the sub-directories/Maserati/4CM. I have later experienced that this car, yes, it is a 4CM, but it has been modified. Really beautiful, anyway."

"La 4CM delle foto è bellissima anche se probabilmente in condizioni non originali.
The 4CM in the photo is very beautiful, even if it is not in its original condition.

Prima della partenza ho parlato con l'attuale proprietario e pilota. È uno svizzero, che mi ha raccontato di averla eriditata da suo padre, che molti anni fa ha comprato per solo 150CHF (oggi equivalenti a meno di 100euro, quindi immagino si tratti di molti anni fà) da un nobile piemontese dopo una gara "finita male" al Passo del Maloia (la strada che dall'Italia porta a S.Moritz). Non mi ha raccontato in che condizioni era la macchina all'epoca.
Before the start I chatted with the owner/driver. He is Swiss, and he told me that he had inherited it from his father, who had bought the car a long time ago for only 150 Swiss Francs,less that 100 Euro today, so you can imagine it was many years ago, from a nobleman from Piemonte after a race "that had finished badly" at the Maloja Pass (the road that takes you from Italy to St. Moritz). He didn't tell me the condition the classic race car was in at that time.

Infatti il felice proprietario mi ha anche detto, che la stessa vettura era arrivata 3a alla Klausenrennen del 1934.
In fact the happy owner also told me, that the same car came 3rd at the Klausenrennen in 1934."

"Hi Ken,

I trust all is well.

I am hoping you can help me. My friend Aldo in Switzerland has sent me some photos of a very unusual looking car which he says is a 1934 Maserati 4CM. He took the photos a the Klausenrennen Memorial this year.

The car was driven by a Franz Messerli and was listed in the programme as a 1932 Maserati 4CM with and engine capacity of 1379cc.

Henry."

"Hi Henry,

The car certainly looks as if it is a 4CM. It has Tecnauto independent front suspension, just like mine! Pre-war adverts for Tecnauto in Italian car magazines often featured a 4CS fitted with this IFS, I wonder if it is the same car? I have no record of its chassis number and the conversion was probably done some time after the car left the factory. The rear axle looks identical to my 4CS too - the same axles were fitted to both the single seaters and the 11 sports versions. The radiator badge looks very home-made though. It is certainly not a genuine factory offering. The engine capacity is not standard, so it has either been quoted wrongly , which is not that uncommon, or someone has had a major blow-up and either seriously over-bored an 1100cc engine, or perhaps fitted an 1100cc crank in a 1500cc block, which would give a very odd capacity. I can't do the maths in my head, but will consider the possible permutations and get back to you. I will also sort through my files and email the advert if I can.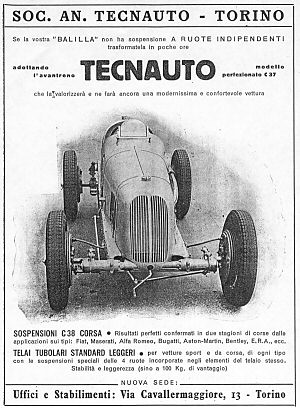 TECHNAUTO - SOSPENSIONI C38 CORSA
Some more thoughts! A 'composite' engine with 1100cc block (65mm bore) and a 1500 cc crank (100mm stroke) would give roughly 1330cc. a plus 50 thou overbore would almost give 1379cc. I worked out the figures very roughly, perhaps you would like to do the maths more carefully! Using a 1500 cc block (69mm bore) and an 1100 crank (100mm stroke) would give another interesting series of engine sizes too.

More comments. The steering assembly and all the steering ball joints look to be genuine Maserati design, but the instrument panel is not laid out to the traditional factory design. The rev counter would not be as fitted by the factory, but owners have been known to re-arrange dash layouts in the past. The steering wheel is not Maserati, but neither are the wheels in most of the Maseratis racing in VSCC events, the original is an ugly Fiat wheel and very few cars still have them - mine has a Bugatti wheel!

I have copied the Tecnauto advert from page 39 of L'Auto Italiana, dated 30 Oct 37. This ad appeared many times over the years. The Maserati badge has been obscured, but in the magazine itself it was just possible to detect the rather rough re-touching to obscure it. The grille has been changed as well, probably because fitting the new IFS required a new shell anyway.

It is an interesting car, what a pity the photographer didn't get a shot of the chassis plate screwed to the dash originally, or of the engine itself. That would have told us a lot more, but even the little we have suggests that it really might be what it claims to be.

Ken."