"Hello Enrico, dear Maseratisti,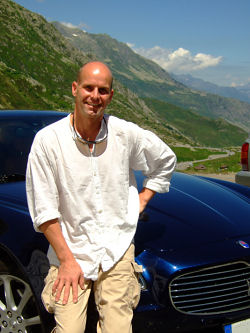 I thought I'd give you a quick report on my first two months with my 2007 Quattroporte Automatic, ZAMFD39B000031721. I've done 8,000km so far - most of which on German highways, but it's also taken me to lovely places such as Vienna, Lago di Como, Zurich and Liechtenstein, and, of course, Gotthard Pass (see photo).

Apart from the passenger side mirror's downlight, which decided to dangle from its cable after the two plastic hooks that hold it in place simply broke off (apparently a known "fault"), causing it to fall out of the side mirror's casing, it's been super-plain sailing...uhmm... cruising.

The car is an absolute pleasure to drive. Let me repeat: it's an absolute pleasure to drive! The best is somewhere between 140-180km/h on the Autobahn, because it's very quiet, smooth, effortless cruising. It's even better with a song of your choice on the Bose hifi - Sezen Aksu's "Istanbul Hatirasi" being mine at the momennt. From then onwards it's advisable to switch to "Sport" mode, as the steering gets firmer and the suspension harder, just what you need in long drawn-out bends or when someone decides to overtake in front of you, which - at that speed - is obviously a very relative term. :)

The cabin is very quiet, also thanks to double glazing on the side windows. The seats are firm but comfy, the seating position at least for me (175cm of height) perfect. Visibility towards the back is virtually nil, so the park assist sensors are most welcome - and you learn to drive by your side mirrors.

Pleasant also, that the car is really quiet when idling. When you drive it's got the typical and distinct Maser sound, and when you switch to "Sport" mode and hit the accelerator, it makes its presence more than known. So it's a perfect blend between "gentleman" and "hothead".

Build quality is excellent (apart from the downlight, of course), the interior classy and sumptuous, and a welcome relief from what you see in other cars, especially German or Japanese ones.

Instrumentation is excellent. Everything is visible and in its right place. Only the fuel gauge warns you with a yellow light when the tank is still a quarter full. At least, this way you can still "race" to the next petrol pump.

The Blaupunkt navigation system is not really user-friendly, but they've changed that in the latest QP incarnation. You do get used to it, but it takes too many turns and clicks to get to where you want to get. Access to "Last 10 destinations" and "My destinations" do help, though.

What I don't understand is this: the TeleAtlas maps on CD (150 Euro a pop!) do have all the info on speed cameras and speed limits, but neither is activated in the Maser. I mean, either you warn people of the speed limit so that they can stick to it OR you stuff that warning and just tell them where they get photographed, but to disable both of them is of no use to anyone.

A note on the maps: I've had it several times now that the thing chose a really crappy route instead of the fastest one. That's one thing you should be able to rely on, and I would have loved to see a TomTom installed instead of the Blaupunkt/TeleAtlas one.

The car's trip manager is functional, but I'd prefer to see additional indicators, such as the current petrol consumption (as opposed to average only).

Traffic Management Control on the Navi is really useful. It tells you right away if there are traffic disruptions along the route, and it's indicated nicely on the maps. Overall, the Navi has the most room for improvement, and it's important stuff when you do drive a lot.

The steering wheel has the common controls on it, but also some on the backside, which I still haven't quite figured out. It helps to read the manual, which is still tucked away in the boot.

The Bose hifi has a very nice sound, but there's an audible hum even if the volume is turned down all the way.

The boot is really small. It's enough for two people going away for 2 weeks, but that's about it. Don't think for a moment you can fit in a golf bag there, never mind anything of any length or height, or even go on vacation with your kids. The tank is located right behind the rear seats, taking up valuable luggage space. It's been enough for me, though, so it's not a complaint as such, merely an observation.

Legroom in the back is more than enough, but headroom limited if you're too tall. Cool feature: from the centre armrest you can move the passenger front seat all the way to the front, giving you business class legroom. Nice touch!

The car turns heads wherever I go. Not only that, people often walk up to me and make nice comments. I never expected the car to become such a source of joy, and it makes me happy to see them happy. It's nice to still see people with an appreciation for beauty (and that Quattroporte surely ranks among the most beautiful cars in the world) and the courage to express it - especially when it's "only" a car. It didn't happen just once that someone said "One day I'll also buy one, not a Mercedes or BMW or Audi, but that one!"

Fuel consumption shouldn't be an issue when you drive a car like this, but it's nowhere near as bad as I thought. I'll average about 11.5l/100km, and that includes some very fast Autobahn driving, so I get about 750km out of a 90l tank. If you feel like going economical, put the cruise control onto 100km/h and it won't take more than 8.5 litres/100km. At a steady 110 it's around 10.3, at 130 around 11.6, at 140 around 13. Where it obviously nails you is at speeds beyond 170, on mountain passes and in town. But that isn't a revelation to anyone, really. Overall I'm very happy with the fuel consumption. In comparison to what you get out in terms of driving fun, it's really a cheap pleasure, even at the current price level at the pump.

The 6 gear automatic ZF box is awesome. Even in auto mode you can use the paddles at the steering wheel to suit your needs. Shifting is smooth, even smoother when you ease the accelerator for a moment.

Talking of which.... when you accelerate the car from standstill, you should have a very (!) gentle right foot, because otherwise you'll get a kick in the back and the car shoots forward like a tarantula! If you manage to temper your right foot, accelerating can be a very smooth experience, though.

The engine really comes to life above 4000rpm. Below that, not much is happening, but that's nice, because you can cruise at high speed and very low revs, but if you need to kick it, two "clicks" on the paddleshift, and not only does the sound change notably, the "beast" with all its two tons of weight moves forward at a pace that does take getting used to. The acceleration force something foreign for the body, and you are left in amazement about how fast that car moves, especially when you overtake on normal roads.

The 245/19 in front and 285/19 in the back obviously cause the car to "aquaplane" pretty fast, so caution is necessary in wet conditions, but otherwise they are fabulous mix of comfort, safety and noise level.

As you can see, I'm really really happy with it - couldn't have chose a better car for me! I'll keep you posted, but at the end of September, the baby goes into hibernation for a while as I'll return to South Africa. Down there my old Merc is waiting for me, but that won't be the case for much longer. :)

So there's my inofficial driving report for my 2007 Maserati Quattroporte. Hope you enjoyed it!

Helmar

PS: the exact opposite experience I've made with Maserati.com, though, where I tried to register myself as an owner. As I'm the second one, they've obviously asked for copies of the papers to be faxed to them. I've emailed them, but despite 3 reminders, my registration still hasn't been cleared. A fax, dear Maserati "customer support", is what we used in those times that you now dread to remember because your cars sucked so badly, but this is 2008, when you can build cars and "papers" get attached to an email. That said, my life doesn't get enriched by that registration, but I thought it'd be a nice touch to round off my ownership."