From Castle Combe Circuit in the UK
Back in the Fifties and Sixties, the Castle Combe circuit saw many Maseratis tearing round its track, the most prolific racer being Roy Salvadori in Gilby Engineering's 250F and A6GCS. But alas we don't see many Maseratis there now, so when I visited the Combe last Saturday to attend the Pegasus Motor Club's Annual Sprint Day, I was delighted to see a Maserati Biturbo taking part!

Maserati Club member and enthusiast, Reg, had brought along his 1984 2.5-litre Biturbo (series I) "for the joy of competing with a Maserati". This early Biturbo, (standard save for an MIE suspension package and twin intercoolers), that originated from the USA was hopelessly outpaced in the over 2-litre road saloons class. However, Reg assures me that he has now "caught the bug" and to be more competitive, will be making some modifications to his car in preparation for next season. More information on this soon!
From Reg in the UK
"Hello Henry,

Thank you for your kind remarks. Much more serious next year, 225 x 50 tyres like the Subarus, LSD supplied by David Askew etc.

As you can see from my practice time, there is still much work to do!! When the track was cold and slightly damp in the morning, I felt the car was needing better front brakes, the rear tending to lock up.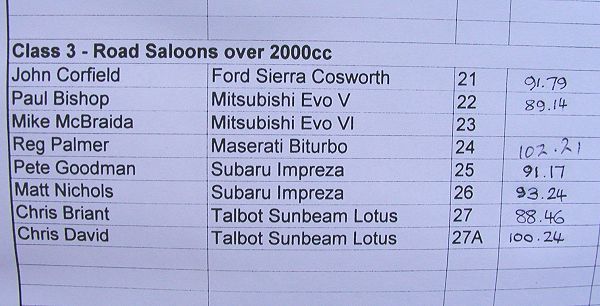 I bought the car from Bill McGrath Maserati needing some considerable re-commissioning after several years off the road. It was sold new in the US in 1984 to American specification, "Europeanised" when imported to the UK in 1991. Massive service history, came into my hands February 2002. Fitted with MIE handling kit and Momo steering wheel by the first owner. During my ownership it has acquired 430 intercoolers and NACA ducts in the bonnet and a mass of work, parts and advice from the following people who could not have been more helpful and professional. David Askew, Mike Jones of Corley Motors, Andy Heywood & Paul at Bill McGrath Maserati, Pat Butt [coachwork] and my good friend John Rose.

I plan to do a test day at Castle Combe to see how well the winter modifications have worked and am expecting the car to be substantially quicker.

My own bit of racing goes way back to 1972 in a Jaguar XK120, Albert Betts' MkI 3.8-litre Jaguar and then in the 80's & 90's having a good run of wins with a Ford Mustang, a Ford Zephyr and a Jaguar 340. In 1990, I won the Classic Saloon Car Championship with 9 consecutive outright wins.

Hope this is OK. Henry, please get back if other details are needed. By the way it's been a pleasure without exception meeting Maserati people, not always the case in some one make clubs.

Regards,

Reg."