Barcelona, June 18th 2013 – Seven red Maseratis led the way as all 70 entrants to this year's Cash & Rocket Tour reached Rome, Italy's Capital city. The 35 cars were escorted by the Italian Police through the heart of Rome, right into Piazza del Popolo, where a gorgeous car display was organised.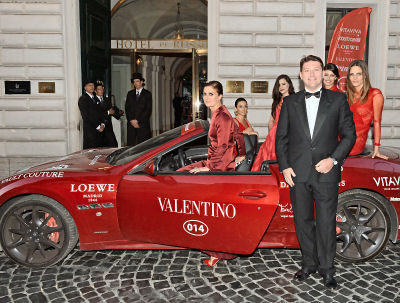 Stunning array of Maseratis parade into Rome
The 70 ladies completed 1,383 km over 3 days behind the wheels of high powered, luxury and vintage automobiles, wrapped in red, with the aim of collecting funds for three non-profit organisations in Africa: Shine On Sierra Leone, Orphan Aid Africa in Ghana and Sumbandila in South Africa. Last year, over $250,000 was raised and this year's goal was to exceed that figure.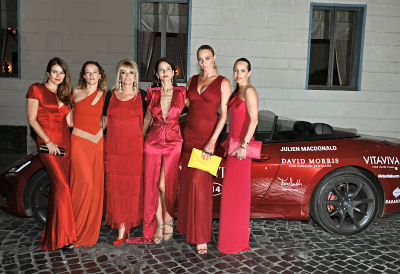 Upon arriving in Rome, the participants were treated to a celebratory lunch at Palazzo Mignanelli, Valentino's breathtaking headquarters, hosted by the Maison's Creative Directors Maria Grazia Chiuri, who had completed the drive from Barcelona onboard a Maserati GranCabrio Sport, and Pierpaolo Piccioli. As the sun set on the eternal city, all 70 participants changed into red ball gowns and joined other VIP guests to attend an elegant dinner in the gardens of the Hotel de Russie, followed by a charity auction presided over by Italian television presenter Milly Carlucci. Valentino's Maria Grazia Chiuri was awarded the prize for best online fundraiser and her red Maserati GranCabrio Sport took pride of place at the hotel entrance.


Amongst the celebrities who attended the gala dinner were Saudi Princess Reema Bandar, fashion photographer Terry Richardson, actress Alessandra Mastronardi and Carlos Souza, presenter Milly Carlucci and her daughter Angelica Donati, super model Jodie Kidd, Julie Brangstrup, CEO of Cash & Rocket, Victoria's Secret model Selita Ebanks, Margherita and Teresa Missoni, Delfina Delettrez Fendi, actress Patricia Arquette and Jo and Leah Wood.

The charity auction featured amazing items donated by some of participants and other supporting partners. Amongst them were a stunning red dress by Valentino, a diamond ring designed by Delfina Delettrez Fendi, a private polo lesson with Jodie Kidd and a long weekend on one of the world's most luxurious sailing yachts, Parsifal III: the auction raised a total of $300.000, thus beating last year's figure.

Later on in the year, a group of ladies will travel to Africa to witness first-hand the difference these funds have made to the life of children, mothers and whole families supported by the three charity partners: Shine On Sierra Leone, Orphan Aid Africa in Ghana and Sumbandila in South Africa.

Text and photos courtesy of Maserati