GIULIO ALFIERI l'Ingegnere by Nunzia Manicardi
Maserati, Citroën, Lamborghini, Laverda, Honda, Innocenti Lambretta, motonautica...

based on interviews by Nunzia Manicardi with Giulio Alfieri, Vittorio Alfieri, Francesco Stanguellini, Piero Laverda, Sandro Colombo, Augusto Farneti, Lorenzo Boscarelli, Cleto Grandi, Ermanno Cozza and Giulio Borsari.

PREFACE BY ROBERTO LOI - President of the Automotoclub Storico Italiano

PUBLISHER: Libreria Automotoclub Storico Italiano - ASI Service Srl - Torino

Softback in portait format containing 224 pages, around 150 black/white photos and documents.

Text in Italian - Reasonably priced at EURO 20.

To purchase a copy, please contact ASI Service srl: asiservice@open.legalmail.it.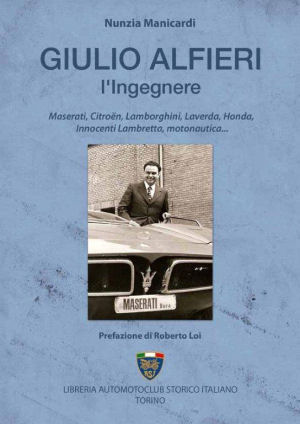 GIULIO ALFIERI l'Ingegnere by Nunzia Manicardi
With the publication of the book "Giulio Alfieri l'Ingegnere" by Nunzia Manicardi, ASI Service (a subsidiary of the ASI) captured the objective they had set out from the moment of its recent inception, to disseminate and promote knowledge of historic motoring, technical discussion, history, culture and above all, the protagonists.

In the same vein the ASI had already started this with the publication of two books entitled Scaglione Designer and Vignale con Michelotti designer.

People who, as is the case with Giulio Alfieri, have become characters - and authentic protagonists of absolute value - in their time.

Nunzia Manicardi, noted author in the field of motorsport history, dug deeply into "Giulio Alfieri" the man, through a series of interviews that he did in 1998 (Alfieri died in 2002) in addition to those made later, with other distinguished experts and his close associates.

The endless planning, the creativity, the courage to succeed, the talent for mechanics, the elegance, the creativity and also the excellent management skills, made him a true leader of industry, and one of the most celebrated engineers during the Fifties, Sixties and Seventies.

He was the "father" of the Maserati 3500 GT, Quattroporte, Ghibli and Type 60/61 Birdcage ... as well as the Citroën SM before moving on to motorcycles with the unrivalled Laverda 1000 V6.

Before that he was co-designer of the racing Lambretta Innocenti, a world champion in its class; he revived Lamborghini, giving it a solid future; he helped Maserati and Lamborghini become world leaders in speedboat racing; had organized the production of the Honda Italia, making it a market leader in Europe ...

It is no coincidence, therefore, that the ASI had decided to dedicate to Alfieri a literary work in his name and that, even before, had wanted him to head the Commissione Tecnica Nazionale Auto, a position he discharged brilliantly.

Despite the character's worth, the memory surrounding Giulio Alfieri was becoming short-lived, too short-lived ... With this book Nunzia Manicardi and ASI Service want to ensure his rightful place in the history of the great automotive engineers, and make him known even to the younger generations.

Always in a pleasant manner: this fascinating book is well documented, covering almost the entire history of Italian motoring during the twentieth century, and at the same time offering endless food for thought.