1956/57 MASERATI 250F

GRAND PRIX SINGLE SEATER

1956 MONACO GRAND PRIX WINNER

Chassis #2522/23/26

Estimate: €1.700.000-€2.000.000

Often described as the most classically beautiful post-War single-seater and recently acclaimed "the world's greatest racing car" by a popular magazine's public vote.

The Maserati 250F is unique among Grand Prix cars in having longevity that spanned seven years of racing and claiming a lengthy list of driver greats including Fangio, Moss, Ascari, Behra, Musso, Taruffi, Collins, Hawthorn, Gonzalez, Villoresi and many more. The Maserati 250F was key in carrying Juan Manuel Fangio to two of his five World Championship winning seasons, 1954 and 1957.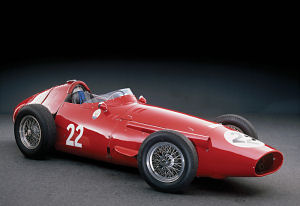 A logical development of the Factory's emergingly successful 2 litre car, the 250F model was originally intended to be produced for customer sales but encouraging early tests convinced them to form a last minute Factory team with Fangio at the helm. With this combination they won the first two championship races of the new 2.5 litre formula in January 1954. With further refinements the Factory then resumed their earlier intention of selling cars to privateers while offering full Factory support. An equally impressive list of customers began to take shape. Stirling Moss, Prince Bira, Harry Schell, Roy Salvadori, Baron de Graffenried, Luigi Mantovani and others took delivery and immediately began winning at both National and International levels.

Each subsequent year the Factory continued to experiment, develop and improve the 250F culminating in the 1957 model and a focused Grand Prix season taking Fangio to his fifth and final World Championship. Throughout this period the Factory continued to run full Grand Prix and Sports Car Teams and also produce and maintain cars for their customers, often stretching resources to the limit and beyond. At times there would be as many 6 Factory 250F's and 8 privateer 250F's at a race meeting, all looking for some assistance from the Factory mechanics. Despite their 1957 success, Maserati were forced by circumstances to all but stop their high profile involvement in racing and sell as much of the racing department resources as possible. Virtually all the cars at the Factory, both new and old, were refreshed and sold off to customers in early 1958.

This magnificent example of Maserati architecture has remained virtually untouched in appearance since it last left the Factory in 1958. Embodying the very best of Maserati's 1957 World Championship winning team experience. One of 26 chassis' produced between the model's debut in December 1953, and Maserati's virtual abandonment of active racing in early 1958.

Born at the end of 1955, it was one of four all new cars ready to start the 1956 Grand Prix season. Built in similar fashion to all the previous T-1 style chassis', but with many small improvements. Those new chassis' were 2519, 2520, 2521 and 2522. Shipped to Argentina for the first Grand Prix, our subject car number 2522 was used exclusively there by 1956 Team leader Stirling Moss. Symbolizing an overworked and chaotic season to come, inadequately prepared paperwork meant all the cars appeared in Argentina with identification and customs garnet papers identifying them as last years cars. Fortunately Moss salvaged a fine 2nd place out of the two South American races.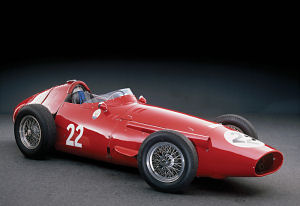 Returning to Europe and now fitted with fuel injection, this car was sent alone to the April 1956 Goodwood meeting where Moss came away a clear victor. Further tests and experimentation lead up to the Monaco Grand Prix in May where the fuel injection system was in and out of the car for practice a number of time in an effort to get things just right.

The effort was gratifying, for it all came together for unquestionably one of Stirling's greatest Grand Prix victories in winning the 1956 Monaco Grand Prix in this car. A gruelling race by today's GP standards at 100 laps, 314 kilometers of Monaco.

Sparked by this win, the Factory intensified development of the 250F. But this, unfortunately, lead to ever increasing disarray. Customer sales and service at times left the Team short of cars and even more importantly short of time. Rather than fine tune a good combination the Factory worked on extreme developments and focused on them while ignoring basic maintenance on their best cars. Hence, Monaco winning chassis 2522 became a back-up to an experimental car for the next two Grand Prix and then itself became an experimental car.

For the 1956 Belgium GP failure of his primary car left Moss to take over chassis 2522 from Cesare Perdisa where they finished a reasonable third. Although tried by Moss in practice for the French GP, Pierro Taruffi took-over the spare 2522 as his delegated car had expired in practice. It was no surprise when he also retired this car at half distance.

Based on concentrated aerodynamic developments with their other cars, chassis 2522 was fitted with an extended nose with a dedicated hot air outlet in the bonnet and high sided cockpit bodywork. 2522 missed the British GP during this transformation but reappeared in a rush for the German race. Tried in practice but found unprepared and not used.

As before, paperwork was amiss so the car took the identity 2523. Perhaps in this case to match the number of the new motor fitted to appease border customs officials as Factory cars often went without chassis tags or dash plate identifications.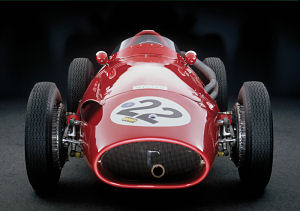 Never-the-less chassis 2522 retained the number 2523 from this point through to 1958.

Despite further testing of chassis 2522/23 in preparation for the Italian GP, it was practiced by Jean Behra and Luigi Villoresi at Monza but, as in Germany, not used.

The car did have one final highlight in 1956 where Jean Behra, in company with Stirling Moss made the long trip the Albert Park, Mebourne for the December 1956 Australian GP where Jean finished a fine 2nd to Stirling. On this singular occasion and due to this race being run to Formula Libre rules, chassis 2522/23 ran a sports car 300S 3-litre motor. Before departing, there was rumour of a failed dock-side purchase of Australian racer Arnold Glass.

Into 1957, and where the Factory had become more organized. Instead of running experimental works in conjunction with their Grand Prix Team, they ran a separate experimental shop that did little to interfere with the lead team's efforts. This proved far more successful. Three all new lightweight T-2 style cars were built and developed for the lead team while the experimental department used what resources were made available. This experimental shop's main concentration for 1957 was development of a 2.5 litre V-12 motor. To provide a test bed for the V-12, 1956 chassis 2522/23 was converted. Among the many alterations this required to the chassis are three features still visible on the car today. In order to stiffen the chassis for the expected additional power of the V-12, several small bore tubing diagonals were fitted throughout the chassis in a similar fashion to the 1957 T-2 style chassis cars. The chassis' upper front cross member was relocated upward approximately three inches to clear the two massive V-12 magnetos. That cross member is still in that relocated position today. At the rear of the chassis was a second exhaust bracket, similar to that existing on the left, to take the right side exhaust from the V-12. Weld traces of that removed bracket are still visible.

After much pre-season testing with the original long nose and a single, full bonnet width intake scoop the car finally appeared at the April 1957 Syracuse non-championship GP. For this event the intake scoop had been reduced to a pair of scoops and the nose had been cut short to improve slow circuit cooling. Although tried by Jean Behra, Harry Schell and Giorgio Scarlatti, all agreed the car was not ready and was put aside.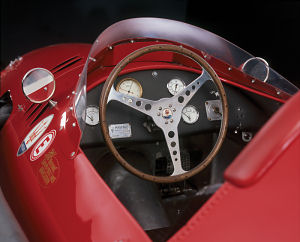 Further testing ensued before its second outing five weeks later at Monaco where it was felt its high torque would help launch the car out of corners. In the meantime, the car had then been fitted with short megaphone exhausts both sides that terminated just before the rear wheels. This feature was intended to broaden the problem of an uncontrollable 'snap-on' torque curve, unfortunately it did little to help, leaving its driver spinning wheels out of every corner. Tried by all Team members at Monaco including Carlos Menditeguy, Scarlatti, Schell, Hans Herrmann, it was Fangio that predictably had the best practice time but he still felt better off in his 6-cylinder car. Again the car sat idle come race day.

Following Monaco was a new non-championship event called the "Race of Two Worlds", a 500 mile race the reverse direction on Monza's banking to emulate Indy style racing and draw the American crowd. For Maserati's first attempt at this event the experimental Team prepared chassis 2522/23 with a 3.5 litre V-12 motor. To combat the high speeds, the car was fitted with American Hallibrand alloy wheels and Indianapolis sized Firestone tyres. Despite high hopes and Jean Behra's brave driving, the car exhibited bad tracking, was never-the-less too slow and withdrawn following practice.

With the now mid season hectic schedule and development of a new T-2 style chassis (2530) for V-12 test development, chassis 2522/23 V-12 was not taken to the French GP but was brought along to the Reims GP non-championship event a week later. While tested by both Shell and Menditeguy, it was Carlos who gave 2522/23 its one and only V-12 fitted GP start ending in a disappointing retirement with a burnt piston.

Following Reims, concentration was on the third V-12 car, or second purpose built V-12 car (2531) and chassis 2522/23, V-12 removed, was retired from active duty.

With the onslaught of Maserati's troubles in early 1958, the Factory began to clean up and sell all the Team and Factory owned 250F's that lay about. Many required much work and chassis 2522/23 was no exception. This example is fitted with all new Fantuzzi made bodywork encompassing all the superlative traits of the 1957 "lightweights", an enlarged capacity T-2 style fuel tank from one of the redundant V-12 cars, and the refreshed motor and identity from the second "offset" driveline 1956 car 2526. The unwitting result was arguably one of the most dramatic, aesthetically pleasing 250F's ever created.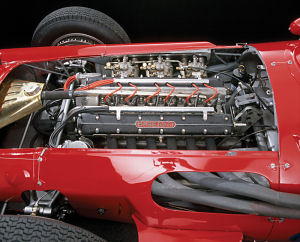 These modifications were completed in early 1958 and 2522/23 now 2526 was sold to Australian Keith Campbell who maintained the car in England, but ran only a couple of English non-championship international events in 1958 before being killed in July racing motorcycles.

Following storage at the Factory throughout 1959, the car was entrusted to, as executor, another Australian who had purchased a 250F during the Maserati sell off, that being Ken Kavanagh. Kavanagh had damaged his car at Goodwood in 1959 and kept both cars in storage in Italy from late 1959 through the early 60's.

Prompted by some Mark Rigg information, English historic racers Patrick Lindsay and Dr. Richard Bergel arranged a purchase of two cars, including 2522/23/26 and trailered them home to England in the autumn of 1964.

Following some mechanical restoration work the car was set to enter historic events in April 1965. Primarily run by Bergel but at times by Lindsay, the pair ran numerous English historic races with this car in 1965 and 1966. By 1967 ownership had transferred from Lindsay / Bergel to Bergel / Lord Angus Clydesdale where these two continued to race historic events with the car through 1974 where Lord Clydesdale had become the Duke of Hamilton.

1976 records indicate ownership by the then Earl of Strathmore.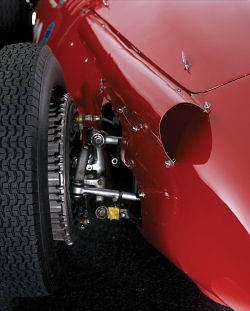 In 1978 the car was purchased by Bell & Colvill Ltd on London and periodically raced in historic events by Bobby Bell from 1979 to 1997 while also displaying the car at many functions. At times for sale by it was not until a 1998 listing by Gregor Fisken in London that the car was sold.

In 1999 it passed into the hands of the present owner and 2522/23/26 is currently described as being in excellent racing order having actively participated in the European Shell Ferrari/Maserati Historic Challenge series for many years. The chassis carries an excellent example of a welded-on chassis identification plate, stamped 2526, complete with 'rosettes' and motor number dash identification plate stamped 2526.

As we can see from the above, a long and fascinating history accompanies this extraordinary car. Superbly presented and race ready, its entry in this sale is an important opportunity to own an exceptionally fine piece of legendary history with an illustrious career. Upgraded by the Maserati Factory with the ultimate Fantuzzi version of the elegant sculptured 1957 monoposto body and finished, of course, in Italian Racing Red.

#2522 is offered in company with the original cylinder head, a gearbox housing shell, some spare wheels and a few minor spare parts.

Engine six-cylinder, twin overhead camshafts, monobloc, bore 84 mm, stroke 75 mm, capacity 2,494 cc, dual magneto ignition, approx 270 b.h.p. at 8,000 r.p.m., Cyril Embrey head; five-speed gearbox in unit with rear axle; right hand gear-change; spur gear final drive; footbrake - hydraulic on all four wheels, 1957 model finned drums; suspension is independent coil front, de Dion axle with transverse leaf spring rear; wheelbase 2,280 mm; tyre size (standard sizes) 5.50 x 16 front, 7.00 x 16 rear. Chassis T-1 style with additional 1957 Factory installed diagonal stiffener tubes. Body by Fantuzzi in later T-2 style, 1958.


All photos by Michael Zumbrunn.

Text courtesy of RM Auctions.