LEGENDE ET PASSION - Monte Carlo, Monaco 21 May 2007
Two Maseratis were included in Coys 'Legende et Passion' sale at the Espace Fontevieille, Monte Carlo, Monaco on Monday the 21st May 2007 at 17:00pm.
Lot 230 1959 Maserati A6 GCS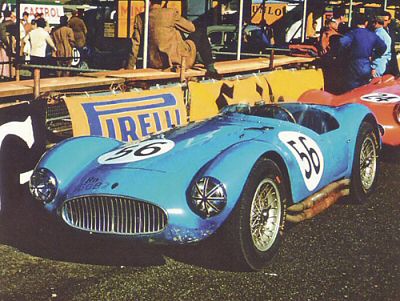 Registration no: n/a
Chassis no: 2065
Sold for 1.15M Euros

Before World War Two every single Maserati produced had been a pure racing car, although some were raced in sports trim, and it was during the hostilities that the Bolgna-based concern developed its first purpose-built sports car. The Tipo A6 used a straight-six, single overhead camshaft, 1,488cc engine, similar to that which had been used in the Tipo 6CM Voiturette, installed in a ladder-frame chassis with large diameter side-members. It produced 65bhp via a single twin-choke Weber carburettor, while coil springs/unequal length wishbone suspension was used at the front together with a live, coil spring, rear axle.

Clothed with neat, Pininfarina-styled, coupe coachwork, the Tipo A6 was launched at the 1947 Geneva Motor Show and in A6G guise, the G denoting an iron engine block, it made its competition debut in the Mille Miglia the same year; alas, the car, using a 1,954cc, 90bhp version of the six cylinder, and driven by Luigi Villoresi, retired with bearing failure. With the advent of the A6GCS, output was increased to 125bhp, the cycle-winged, lightweight machine also sporting a shorter, stiffer chassis and a live rear axle now using semi-elliptic rear springs and single trailing arms. On the car's race debut, two, driven by Villoresi and Alberto Ascari, took first and second places in the Circuit of Modena.. Retirements, however, in various events ensued, although Bracco and Villoresi did achieve a one-two finish in the Dolomite Gold Cup.

Despite reliability improving, however, further development was put on hold at the end of 1948, Maserati - not least due to the Maserati brothers leaving their eponymous company late the previous year to establish the OSCA marque - deciding instead to concentrate its competition activities on single seaters for privateers to campaign, and amongst those achieving numerous victories were high profile drivers as Juan Manuel Fangio, Guiseppe Farina, Villoresi, Reg Parnell, Prince Bira and Baron de Graffenried.

A new Formula Two car, the Tipo A6GCM, was ready for the 1951 season, powered by a redesigned version of the A6 engine with a light alloy engine block and twin-plug, twin overhead camshaft cylinder head. Dependent on whether in single seater or sports specification, it produced 177bhp or 165bhp via triple Weber, twin-choke carburettors. The ladder-frame chassis with large diameter main tube members used similar front suspension as before, apart from the addition of a front anti-roll bar, but the live rear axle was now located by radius arms and an A-bracket and used quarter-elliptic springs, while hydraulic shock absorbers were fitted all round.

This same basic chassis specification, though with semi-elliptic rear springs, was used for the A6GCS sports car, which was reintroduced for 1952. Powered by a 140bhp engine, with equal bore and stroke dimensions giving a capacity of 1,985cc, it was, however, a stop gap model with cycle-wing body and for the following year's Mille Miglia Maserati fielded a team of three revised cars. In the event, Giletti finished sixth overall and Mantovani tenth, the pair also netting first and second places in the 2,000cc class; Musso had been a class leader until he crashed. Impressive results in other Italian events followed but in the Nurburgring 1000km, the A6GCSs, now with Vignale coachwork, were less fortunate: Lang/Bertoni retired with engine problems, Hermann/McAfee were disqualified for using a spare wheel not carried on the car, and Gileti/Marimon lost their class lead just four miles from the finish through engine failure.

Elsewhere, privateer models were in action, Roy Salvadori in England enjoying much success in a Gilby Engineering-entered car until the arrival of Archie Scott-Brown's Lister-Bristol midway through 1954, while at the end of the year, de Graffenried took his A6GCS to victory in both the Rio de Janeiro and San Paulo GPs. Works entries for 1954 were limited as Maserati concentrated on its Formula One programme, the factory's few results including sixth position for Musso/Gatta at Sebring. In the Mille Miglia, however, Musso, his car fitted with an all-synchromesh gearbox, had raced head to head with the two litre Ferrari Mondial of Vittorio Marzotto, only to lose the battle by just nine seconds and finish third overall; Venezian, meanwhile, having survived a crash, crossed the line two places in arrears. In the Targo Florio a few weeks later, Musso took a strong second place behind the Lancia D24 of Taruffi, while for the Tourist Trophy at Dundrod towards the end of the year, there was a three car factory entry - although only one finished, Musso/Mantovani took the flag in fine style, classified in third place on handicap and at the fifth fastest average speed; Musso also took outright victory in the Naples Grand Prix.

Of the Maserati sports racing cars that took part in competition during the late 1940s/early 1950s, the A6GCS undoubtedly enjoyed its share of success but for the 1955 season Maserati realised the need for a larger capacity replacement and the car was superceded by the Tipo 300S.

Chassis 2065, built in 1954, was originally campaigned by Armand Roboly throughout the same year, his impressive results including third in class in the Circuit of Marakesh, class victory in the Coupes de Paris at Montlhery, third overall in the Circuit des Sables d'Olonne, plus second and fifth in class in the Coupes d'Automne and the Coupes du Salon, both at Montlhery. The following year, this A6GCS, in the hands of owner Adrien Loens and Jo Bonnier, was raced at the Easter Meeting at Goodwood and the Grand Prix de Frontieres at Chimay, with a best result of first in class and eighteenth overall in the Ulster Tourist Trophy; 1956 then saw it take a class second in the Elacinthare in Finland, a similar result in the Circuit des Sables, first in class in the Coupes d'Automne and ninth overall/first in class in the Coupes du Salon. Later, during 1958 and 1959, it competed in hillclimbs driven by Urbain Esmingaud, the best results being fourth and third in class at Mont Ventoux in consecutive years.

Comprehensively restored between 1996 and 1998, and retaining some 70 per cent of its original bodywork plus many other original components, this highly competitive and beautiful Maserati is offered in excellent and race-ready condition. Finely finished in blue paintwork, and with a detailed history file, including a documented and photographic record of the restoration, it comes complete with FIA papers. Eminently eligible for many high profile historic race events, this is a rare chance to acquire an important piece of Maserati sports racing car history which would be a most worthy addition to any serious racing car collection.
Lot 257 1975 Maserati Indy 4.9 Litre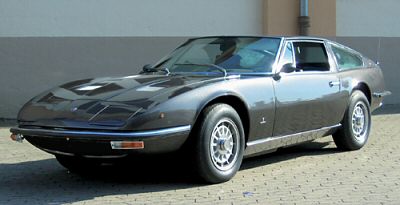 Registration no: EU registered
Chassis no: AM116/49*2096*
Estimate: €29,000-34,000

Because of severe financial difficulties encountered by the Orsi group, of which Maserati was a member, after 1957 the marque had to justify its own existence on the balance sheet. Thus for the first time in the marque's history Maserati became, of necessity, a maker of road cars, but since they had a competition pedigree, a famous name, and could call on the finest Italian stylists, they were not of the usual cut of newcomers to the market.

During the 1960s Maserati gradually gave up the idea of motor racing and turned more to road cars, although they harked back to the marque's days of glory on the race tracks. Nowhere is this dichotemy better illustrated than in Maserati's V8 cars. The engine was commissioned with the intention of winning the Indianapolis 500 but then the commissioner ran short of funds and withdrew from the project. Maserati could not allow a wonderful large-block 'quad-cam' to gather dust and so gave it gainful employment in the 450S sports-racer which almost won the 1957 World Sports Car Championship.

The front-engined cars originated in the 1960s shared the same basic floorpan although crucial dimensions changed according to whether it was to support the lithe Ghibli or the corpulent Quattroporte.

By 1968 it was felt that the road car designs were rather plain so shortly after the exotic Ghibli the Indy was introduced, a striking gran turismo with four seater coachwork by Vignale. With servo-assisted disc brakes on all four wheels, monocoque construction, a 4.2 litre 260bhp, quad cam V8 engine and five speed gearbox this was, for its day, a thoroughly modern and potent motor car, capable of a claimed maximum speed of over 150mph. In 1970 a larger, 4.7 litre engine became an option, with improved performance and greater refinement.

The car on offer here though is the most powerful incarnation of the Indy with the 4.9 litre V8 engine, basically the same unit as in the mighty Ghibli 4.9 SS, producing some even by today's standards impressive 320 bhp which propelled the car to its top speed of 170 mph. It is worth noting that the 4.9 litre Indy is also the rarest of all the Indy models, with just 300 cars produced until production ceased in 1975.

This beautiful specimen dates from the last production year 1975 and is most attractively finished in metallic black with matching black leather interior. With just 2 previous French owners from new, the latter of which had kept the car from 1978 onwards, and a total mileage which is believed to be correct of just some 54,000 km this must be one of the best opportunities to buy a certainly underrated Gran Turismo Maserati. Being described by the vendor as in good to excellent original condition throughout, this Indy comes with the original manual, parts catalogue and service manual. With German Historic registration.

Text and images courtesy of Coys