From Retromobile in Paris
Automobiles d'Exception à Retromobile
Paris Expo, Porte de Versailles
Paris, 7 Feb 2009
At the Bonhams sale of "Exceptional Cars" at Retromobile last weekend, a 1937 Bugatti Type 57S Atalante Coupe that had been recently discovered in a garage in England sold for 3,417,500 euros, including buyer's fees.

This car was the star attraction of the Bonhams Retromobile auction in Paris on February 7. However there were also some interesting Maserati and Maserati-engined cars in the sale, including a 5000 GT by Allemano and a rare Citroën SM 'Opéra' Saloon.

Bonhams Motoring Department is the largest auction house to hold scheduled auction sales of motor cars, motorcycles and related automobilia. They have a worldwide network of motoring-specific representatives and offices giving a larger presence and greater automotive expertise than any other International auctioneer.

Bonhams Motoring Department are prominent in the sale of collectors' Ferrari, Maserati and Bugatti motor cars.
---
Lot No: 122
1974 Citroën SM 'Opéra' Saloon

Coachwork by Henri Chapron
Chassis no. 00SC095
Encouraged by the success of the DS over the preceding decade, in 1970 Citroën introduced the luxurious SM Coupé: a Gran Turismo automobile in the DS spirit fitted with a powerful Maserati engine, the famous Italian manufacturer having been taken over by Citroën. A bright future seemed assured when the SM was voted 'Car of the Year' in the USA in 1972. However, the oil crisis of 1974 seriously affected SM sales and the model was phased out in 1975.

Coachbuilder Henri Chapron had welcomed the new SM Coupé's arrival in 1970, as he needed a replacement for the ageing DS. The SM's potential was also appreciated by Georges Pompidou, French President and an avid car enthusiast, who ordered two special SMs for his government, with Chapron sub-contracted for their final construction. Chapron delivered two long-wheelbase convertible limousines in April/May 1972 to Georges Pompidou, who had little time to enjoy their comfort and luxury as he passed away a year later.

Thanks to these government orders, Chapron had acquired all the tooling necessary to construct a longer SM, and his next venture would be a four-door luxury saloon on a 12" (30cm) longer wheelbase. Chapron's first SM LWB limousine – named 'Opéra' - was introduced at the Salon de l'Automobile in Paris in October 1972. The show car was finished in white with black leather interior, and featured a sunroof.

Priced expensively at 165,000 French francs, the Opera did not sell well: only eight examples being built between 1972 and 1974. Four were shipped to Spain and one to Haiti while three remained in France. The extremely limited production of this exceptionally refined model made it one of the most exclusive and desirable of post-war Citroëns.

The rare example offered here has been entirely restored by a Citroën and Chapron specialist. It features a two-tone colour scheme: Tholonné beige for the lower body, Scarabée brown for the upper, while the cockerel – Chapron's emblem – is found on the doors and 'Chapron' chromed script on the front wings. The upholstery is in the original Chapron brown leather, which coverers the seats, door panels and steering wheel, which can be adjusted for height and reach.

The engine is the Maserati-based 2,670cc V6 fitted with the Bosch fuel injection, a system Citroën first used on the DS 21, which uses less fuel than the carburettor-fed version. In this configuration it produced 178bhp DIN, which was good enough for a top speed of 130mph (210km/h). We are advised that the engine and other mechanicals have been fully overhauled and that the tyres are new.

Sold for €194,500 inclusive of Buyer's Premium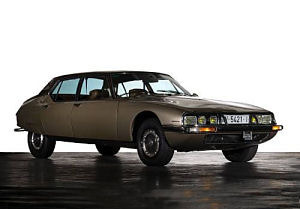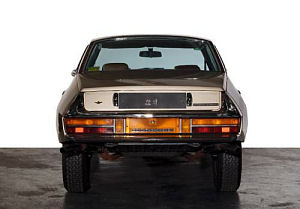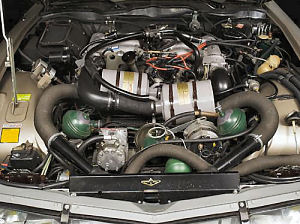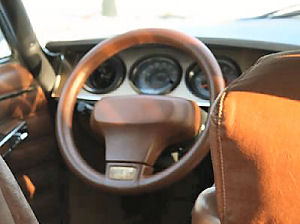 ---
Lot No: 130
1970 Maserati Indy 4.7-Litre Coupé

Coachwork by Carrozzeria Vignale
Chassis no. AM116/47*1372*
'We expected to find strong traces of a competition heritage in the first Maserati to be given a full Motor road test because the name of this Italian company is so closely bound up with the history of motor racing. Some traces of this sort are indeed part of the Indy 4.7 - notably its tremendous performance... To this can be added the note of restrained ferocity emitted by the exhaust pipes of the engine, an outstandingly smooth and quiet unit, yet a race-bred four-cam V8. There is a racing influence, too, in the taut neutrality of the responsive handling, as well as in the beauty of the body, which made the car a crowd-drawer wherever it stopped.' – Motor.

Maserati followed up its stunning, Ghia-styled Ghibli two-seater with the equally elegant Indy 2+2, though the latter, announced in 1968 and noteworthy as the first unitary construction Maserati, was the work of Carrozzeria Vignale. The Indy first appeared publicly on Vignale's stand at the 1968 Turin Motor Show and was officially launched by Maserati at the Geneva Salon in 1969. Running gear was conventional, with independent front suspension, live rear axle and four-wheel disc brakes, while the power unit was - initially - the Modena firm's well-tried, 4.1-litre, four-cam V8, with 4.7- and 4.9-litre versions following. With 260bhp on tap, the top speed of Maserati's luxury four-seater was in the region of 240km/h, a figure the subsequent larger-engined versions improved upon. In 4.7-litre form the Indy's claimed maximum increased to 292bhp, which was good enough for a top speed within a whisker of 250km/h, with 0-160km/h achievable in under 18 seconds. The sleek Vignale coachwork was such that the Maserati Indy was able to carry four people in relative comfort without impairing its performance as a sports car.

Autocar magazine's summary was one of almost unalloyed praise: 'Classic touring car with vee-8 engine and 160mph potential. Beautifully smooth power unit, silky gearbox and light, power assisted steering. Good brakes, balanced handling, comfortable ride, superb stability. High price but few disappointments.'

Supplied new in Padua, Italy, this left-hand drive Indy has the desirable 4.7-litre engine and five-speed manual transmission. The car was restored approximately 12 years ago, at which time it was re-sprayed in the current silver metallic livery and re-upholstered in black hide (the original exterior finish was light brown metallic, a colour typical of the 1970s). Currently displaying a total of 31,847 kilometres on the odometer, the car is described by its long term private owner as a very good driver and comes with recent service history (there are invoices on file totalling €10,072 from September 2007 onwards), current Netherlands registration papers and APK (roadworthiness certificate).

Equal of the contemporary Ferrari 365GT 2+2 in both looks and performance, the Maserati Indy remains relatively under appreciated. Elegant yet practical, it is a thoroughbred Grand Routier representing outstanding value for money.

Sold for €32,200 inclusive of Buyer's Premium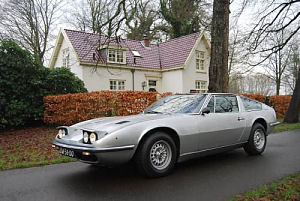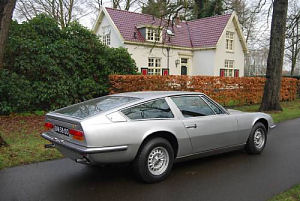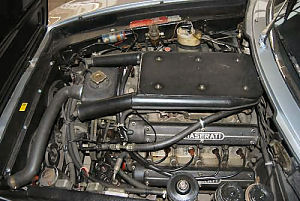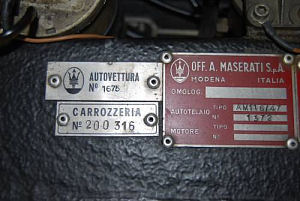 ---
Lot No: 145
1962 Maserati 5000GT Coupé

Coachwork by Allemano
Chassis no. AM103*044*
In the company's own words, 'Maserati's production has always been characterised by highly aristocratic and elegant performance cars,' arguably the finest embodiment of these two most desirable attributes being the legendary 5000GT. An exclusive car even by Maserati's exalted standards - in 1960 it cost as much as a Rolls-Royce Silver Cloud II - the range-topping, V8-engined 5000GT was custom built to special order only, recalling an era when wealthy connoisseurs would commission a preferred coachbuilder to body a factory-supplied chassis in their chosen style. Commencing at '103.002', chassis were even-numbered up to '103.066', only 34 being completed between 1959 and 1964, making the 5000GT much rarer than its closest rival, the Ferrari 400 Superamerica, 47 of which were built in the same period.

The first 5000GT ('002') was commissioned by the Shah of Persia (now Iran), a noted Maserati enthusiast, while other owners included FIAT boss Gianni Agnelli ('008'), fellow car-maker Fernando Innocenti ('018'), American multimillionaire sportsman Briggs Cunningham ('016') and the Aga Khan ('060'). Bodied by Touring and premiered at the 1959 Turin Motor Show, that first 5000GT coupé became known as the 'Shah of Persia' model, and was followed by three more from the Milanese carrozzeria. The bulk of 5000GT production however, was undertaken by Allemano (20 cars) with lesser contributions from Frua (three) and one each from Pinin Farina/Scaglietti, Monterosa, Vignale, Ghia and Bertone. As is the case with other similarly hand-built, limited edition exotica of the period, no two 5000GTs are exactly alike, with even the 20 Allemano-bodied cars exhibiting detail differences.

Designated Tipo 103, the 5000GT was Maserati's first V8-engined Gran Turismo, its engine being descended from that of the ill-fated 450S sports-racer. Anxious to recoup some of its not-inconsiderable investment, the company deployed the latter's new V8 engine for road use in the 5000GT, whose designer was none other than Giulio Alfieri, creator of the immortal Tipo 60/61 'Birdcage' sports-racer and the man responsible for developing the 250F into a World Championship winner. An all-alloy unit boasting four overhead camshafts, Maserati's state-of-the-art V8 was enlarged from the 4,477cc of the 450S to 4,938cc for the 5000GT by means of increasing the bore size from 93.8mm to 98.5mm. Maximum power in road trim was 325bhp at 5,500rpm, with 326.5lbs/ft of torque available at 3,600 revs. Early examples retained the race engine's gear-driven camshafts and quartet of Weber carburettors, though for road use the racer's magnetos were replaced by coil ignition. After the first two cars had been completed, the engine dimensions were changed from 98.5x81mm to 94x89mm (4,941cc) in 1960. Later developments included Lucas fuel injection, increasing maximum power to 340bhp, and chain-driven camshafts. There were improvements to the car's 3500GT-based chassis too, a ZF five-speed gearbox replacing the earlier four-speeder and four-wheel disc brakes (early cars had rear drums) becoming standard for 1963. When road testing a 5000GT in period, French motoring journalist Bernard Cahier was told by works test driver Guerrino Bertocchi that he should not be surprised at how easily the car reached 250km/h (155mph), as with a higher rear axle ratio he had had one up to 275km/h (170mph)!

A Maserati factory fax dated 6th July 1999 confirms that 5000GT chassis number 'AM103.044' was manufactured in 1962 and is one of 20 bodied by Allemano, this particular model also being known as the 'Indianapolis'. '044's first owner was Rome resident Ing. Umberto Fraschetti who took delivery on 8th June 1962. The car was originally finished in ruby red (rosso rubino) with black Connolly leather upholstery, as now, and has the four-speed ZF gearbox and Lucas fuel injection. In November 1964 '044' was sold to Silvio Bonetti in Milan, and then in July 1971 to Julius Shapiro in the USA. The car then went to Sweden and finally to Germany where it was bought by a well-known Maserati enthusiast who commissioned a full mechanical restoration. All the original external features were retained while numerous improvements were made in the interests of enhanced reliability, including sorting out the under-developed Lucas fuel injection system.

Meticulously restored and maintained, '044' has since covered several thousand trouble-free miles across Germany and Europe and is presented in exceptionally fine condition throughout. The car features Borrani wire wheels, shod with original-type Michelin XWX tyres, and comes complete with tool kit. Comparable with the finest limited production Ferraris of the period, yet scarcer still, this superb example of Maserati's biggest and best is worthy of the closest inspection. Rarely are these cars offered on the open market, Bonhams therefore recommends close inspection of this superbly maintained example.

Estimate: €350,000 - 450,000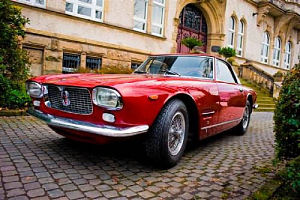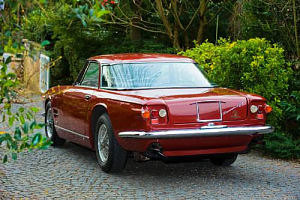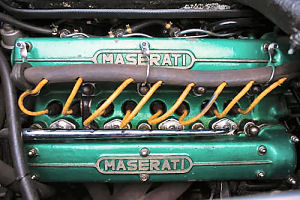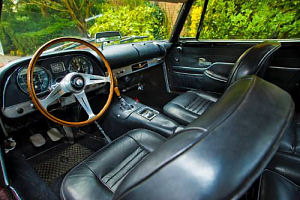 ---
Lot No: 173
1971 CITROEN SM Coupé

Chassis no. SB 5334
Combining Citröen's advanced chassis technology and Maserati's engine know-how, the SM (Série Maserati) featured DS-style hydro-pneumatic self-levelling suspension, power-assisted all-round disc brakes, self-centring steering and steered headlamps. Citröen had bought Maserati in 1968, principally to acquire the latter's engine technology for its new top-of-the-range Gran Turismo coupé, and the Italian firm responded to the brief with remarkable speed by the simple expedient of chopping two cylinders off its Indy four-cam 90-degree V8 to create the required V6. After some juggling of engine dimensions, a capacity of 2,670cc was settled on for a power output of 170bhp. Citröen was the world leader in passenger car aerodynamics at the time, the SM's class-leading drag coefficient enabling it to reach 140mph, making it the fastest front-wheel-drive car ever at that time. Fuel injection arrived in 1972, an automatic transmission option became available the following year and the engine was enlarged to 2,974cc before the model was prematurely axed in 1975 following Citröen's acquisition by Peugeot. Fondly remembered, today these technically advanced and functionally beautiful cars remain highly sought after.

Manufactured on 8th October 1971, this example features the desirable five-speed manual transmission and benefits from recent total restoration by recognised SM marque specialists, SM2A of Mussy sur Seine. SM2A completely overhauled the mechanicals in 2002 at a cost of more than €11,300 (see detailed invoice available), the engine and transmission being rebuilt, the steering checked and a new radiator installed among numerous other works. In 2005 the car went back to SM2A to be repainted in Delage Red, while other works carried out at that time included overhauling and re-gassing the air conditioning system, replacing the alternator and window lift motors, and fitting SM2A's special electronic ignition kit (see detailed invoice for €9,780). More recently, in December 2008, all four suspension spheres were replaced and the boot carpet renewed, again by SM2A. Offered with French Carte Grise, this car retains its original black leather interior and carpets in good condition, and is offered freshly refurbished by one of France's most respected SM specialists.

Sold for €17,250 inclusive of Buyer's Premium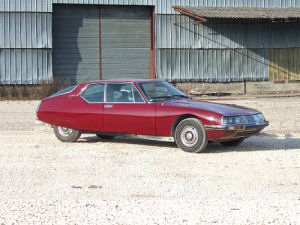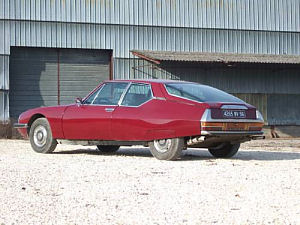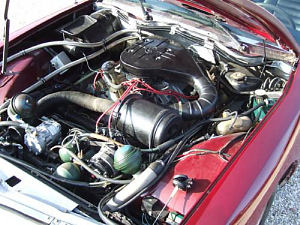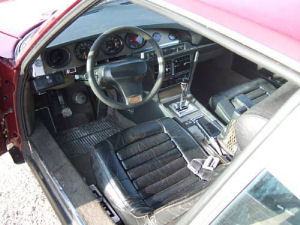 Copyright © 2002-2009 Bonhams 1793 Ltd.,
All Images and Text All Rights Reserved
---