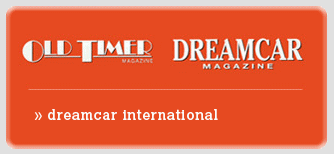 THE NEKKERHAL DREAMCAR INTERNATIONAL


20 OCTOBER and 21 OCTOBER IN THE NEKKERHAL DREAMCAR INTERNATIONAL

BELGIUM'S LARGEST CLASSIC CAR SHOW AT MECHELEN: 28th EDITION


Dreamcar International means not only Rolls Royce, Maserati, Porsche, but also Alfa Romeo, Fiat, Trabant, Saab and became after 28 editions Belgium's largest classic car show in Belgium.

Since 1990 Dreamcar International has held its fair in the Nekkerhal in Mechelen. This gigantic hall, with its modern architecture and vast 20.000 m2 floor area, provides the ideal setting for exhibiting the finest cars from the twentieth century. In addition to playing host to Dreamcar International, the gigantic Nekkerhal also provides a venue for the Dreamcar Trophy. The Nekkerhal provides a setting which has enabled the fair to expand rapidly. In 1990 the fair covered a floor area of 7400 m2. Two years later, this floor area had doubled, and Dreamcar International has meanwhile expanded to become the largest classic car show in Belgium.

From the sparse information which has been leaked about the plans of the clubs, who understandably try to keep their ideas secret for as long as possible, only clubs which have dreamed up extremely original ideas really stand a chance of winning. It is also not always necessary to exhibit a Ferrari or a Minerva in order to convince a prospective owner that a much more modest car can be his/her car of a life-time/dream car.

One can honestly say that a visit to the stands of the clubs who endeavour to win the "Dreamcar Trophy" is more than worthwhile. In addition to this, you can also view the 300 classic cars which are for sale, or visit the many stands devoted to spare parts, books, magazines, brochures, model cars, information about restoration, and automobilia.

This edition of Dreamcar International once again offers a sample of some of the most beautiful cars in one century of car history. From Ferrari to Ford Mustang, from Jaguar to MG, from Rolls Royce to VW, from Aston Martin to Trabant, … and now also 20 years of Alfa Romeo Club Quadrifoglio Belgio, 40 years of Fiat X 1/9…

You can visit Dreamcar International on Saturday October 20th and Sunday October 21st, between 9.30 am and 6.00 pm in the Nekkerhal at Mechelen.

You can easily reach Mechelen over the E19 (Brussels/Antwerp) motorway exit Mechelen-Noord, follow the ring, follow "NEKKER" till you see the Nekkerhal on your left side on the N15.

More information: Tel 00-32-59-702814, fax 00-32-59-702834.
B. Dreamcar International Postbus 128 B-8400 Oostende.
E-mail: info@oldtimerdreamcar.co
Website: www.oldtimerdreamcar.com also for discount vouchers.


AM 20. OKTOBER und 21. OKTOBER IN DER NEKKERHAL: DREAMCAR INTERNATIONAL

BELGIENS GRÖSSTE OLDTIMERMESSE IN MECHELEN


Dreamcar International steht für mehr als Rolls Royce, Ferrari und Porsche - nämlich auch für Autos wie Saab, Fiat, Trabant und Cadillac...sowie für Bücher, Prospekte, Ersatzteile und Miniaturmodelle. Die Veranstaltung findet zum 28. Mal statt und hat sich zur größten Oldtimer-Messe Belgiens entwickelt.

Seit 1990 ist die Dreamcar International in der Nekkerhal in Mechelen untergebracht. In dieser gewaltigen Halle hat die moderne Architektur eine 20.000 m2 grosse Ausstellungsfläche geschaffen, die den erträumten Rahmen bietet, um die schönsten Autos des zwanzigsten Jahrhunderts zu präsentieren. Die Unterbringung von Dreamcar International in der gewaltigen Nekkerhal ging zudem mit der Einrichtung der grossen Dreamcar Trophy einher.

Die Nekkerhal ermöglichte eine schnellen Zuwachs. 1990 war die Messe rund 7400 m2 gross. Zwei Jahre später hatte sie sich bereits verdoppelt, und inzwischen ist Dreamcar International zur grössten Oldtimermesse Belgiens angewahsen.

Die wenigen Dingen, die bislang über die Vorhaben der Clubs durchgesickert sind, die ja ihre Ideen aus verständlichen Gründen möglichst lange geheimzuhalten versuchen, deuten darauf hin, dass einige Clubs mit besonders originellen Gedanken aufwarten werden. Ausserdem ist es offenkundig nicht immer erforderlich, einen Ferrari oder Lamborghini zu zeigen, um die Besucher davon zu überzeugen, dass der betreffende, so viel einfachere Wagen für seinen Besitzer ein "Traumauto" ist.

Hier kan - Hand aufs Herz - behauptet werden, dass die Stände der Clubs, die sich für den Gewinn der "Dreamcar Trophy" einsetzen, schon an sich einen Besuch der Dreamcar International wert sind. Daneben stehen auch noch rund 300 Oldtimer zum Verkauf, während es zudem eine Vielzahl von Ständen mit Ersatzteilen, Büchern, Zeitschriften, Broschüren, Miniaturmodellen, Restaurateure und Automobilia gibt.

Diese 28. Ausgabe der Dreamcar International bietet erneut einen überblick uber die schönsten Modelle aus einem Jahrhundert Automobilgeschichte. Von Jaguar bis MG, von Rolls Royce bis VW, von Aston Martin bis Trabant, von Mercedes bis Opel GT.

Einige Themen für diese 28e Edition sind: 40 Jahre Fiat X 1/9, 20 Jahre Alfa Romeo club Quadrifoglio Belgio, …

Die Dreamcar International ist 20 Oktober und 21. Oktober jeweils von 9.30 bis 18.00 Uhr in der Nekkerhal in Mechelen geöffnet.

Information: Tel 00-32-59-702814 Fax 00-32-59-702834.
B. Dreamcar International Postbus 128 B-8400 Oostende.
E-mail: info@oldtimerdreamcar.co
Website: www.oldtimerdreamcar.com


20 octobre et 21 octobre au Nekkerhal de Malines

DREAMCAR INTERNATIONAL,
LE PLUS GRAND SALON D'ANCETRES AUTOMOBILES DE BELGIQUE


Le 20 octobre et le 21 octobre, Dreamcar International organisera pour la 28° fois consécutive le plus grand salon d'ancêtres automobiles de Belgique, au Nekkerhal de Malines. Les plus belles voitures de rêve seront présentées sur une surface de 20.000 m². Des particuliers et des marchands exposeront dans les divers stands quelque 350 véhicules: Ferrari, Rolls Royce, Volkswagen, Fiat 500, Mercedes, NSU, DKW… Et nul doute que les clubs mettront tout en œuvre pour que leur stand soit un véritable régal pour les yeux, puisque le plus beau d'entre eux sera récompensé par le "Dreamcar Trophy".

Parmi les stands d'exposition, certains seront spécialement mis à l'honneur pour marquer quelques anniversaires, par exemple 40 ans de Fiat X 1/9, 20 ans Alfa Romeo club Quadrifoglio Belgio, …

Les amoureux de belles voitures anciennes seront comblés par les centaines de mètres de présentoirs débordant de pièces automobiles, de dépliants, de livres, de miniatures et autres automobilia.

Dreamcar International a suscité un intérêt considérable par le passé: ce salon est une véritable fête pour les amoureux d'automobiles, des plus anciennes aux plus récentes voitures de rêve.

Dreamcar International aura lieu le samedi le 20 octobre et le dimanche le 21 octobre 2012 au Nekkerhal de Malines, de 9h30 à 18h00. Le Nekkerhal de Malines se situe le long de l'autoroute E19 (à 20 km au Sud d'Anvers, à 20 km au Nord de Bruxelles), sortie Mechelen-Noord, suivre le ring et 500 m après le viaduct vous trouverez à votre gauche le Nekkerhal.

Pour plus d'informations : tél. 059/70 28 14, fax. 059/70 28 34.
À partir du 18 octobre tél. 015/560545, B. International: Tél 00-32-59-702814, fax 00-32-59-702834.
Adresse: Dreamcar International, Boîte postale 128, B-8400 Ostende.
E-mail: info@oldtimerdreamcar.co
Website: www.oldtimerdreamcar.com