"Hi, My name is Dave W*********, I am 63 years old and I live in Australia. Being a Maserati fan .....especially the 250F.....I have been to Modena three times now, and met Ermanno Cozzo each time. He is a wonderful man.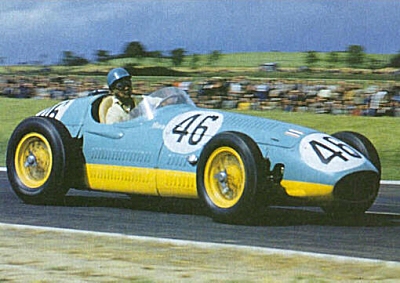 4th July 1954: HRH Prince B Bira of Siam driving Maserati 250F #46
to fourth place in the GP d'Automobile Club de France at Reims, France.
I have spotted a mistake on the photo of B Bira in the web page for: "Maserati Club of Thailand". The caption says: "4th July 1954: HRH Prince B Bira of Siam driving Maserati 250F #46 to fourth place in the GP d'Automobile Club de France at Reims, France". This is not correct for this photo.

This particular photo was taken in New Zealand at the Ardmore circuit. I was actually at the Ardmore track in Auckland, New Zealand on the 8th January 1955 for this race and I saw B.Bira win the 100 lap race (of 3.3795km per lap, a total of 337.95km):

1st - Prince B Bira (Thailand) Maserati 250F drving a Maserati 2497cc 6cyl. Time: 2h 40m 12s

2nd - Peter Whitehead (UK) Ferrari 500/625 / Ferrari 2968cc 4cyl.

3rd - Tony Gaze (Australia) Ferrari 500/625 / Ferrari 2968cc 4cyl.

The correct caption should be: "Jan. 1954: HRH Prince B Bira of Siam wins the New Zealand GP driving his Maserati 250F".

By the way, I am going to the Goodwood Revival again this year, do you go to this as well?

Regards,

Dave."

PS: Here is a race report courtesy of Bruce Sergent:

You can view further information about the New Zealand International Grand Prix from 1954 to 1963 on Bruce Sergent's informative web site at www.sergent.com.au/nzgp.html:

1955 NZGP Second New Zealand International Grand Prix 1955: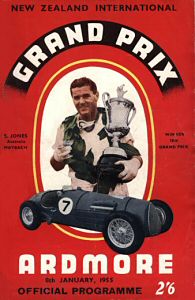 If the first New Zealand Grand Prix proved that the spectators were available in their thousands for an event of this kind, the second proved that the organisers would have to keep their eyes open for a number of the less obvious things that go to make up motor racing.

For the processional win by B Bira (Prince Birabongse Bhanutej Bhanuban of Siam) in a 2½-litre Formula I Maserati, followed by a similar win the following year by Stirling Moss, showed that as much thought had to be given to finding an evenly-matched field as to obtaining two or three first-class drivers.

The second year also saw the introduction of heats, preliminary qualifying races, to keep up the interest of the audience in the early stages of the day and sort out starting positions in the main event, which it was agreed should be limited to no more than 24 cars.

The second New Zealand Grand Prix is actually a good deal more interesting in retrospect than it was on the day, when for lap after lap Bira slung the long, light-blue Maserati round the course in immaculate fashion, completely outclassing the rest of the field despite the first appearance of the Ferrari 300S motor in the Ferrari short chassis. Two of these later cars were in the hands of Peter Whitehead and Tony Gaze, calling themselves now the Kangaroo Stable (Gaze is an Australian) and all hooked up for a profitable southern circuit through New Zealand, Australia and South Africa.

These three cars and the 2.5-litre 1953 Maserati 250F fielded by Australian Reg Hunt (his first drive in a big car, though he had had many notable successes in Europe in sports and Formula II events) were the backbone of the race, though Jack Brabham drove redoubtably to come home fourth, behind Bira, Whitehead, and Gaze, and ahead of Hunt, in his obsolescent Cooper-Bristol.

Bira's Maserati was not the latest type, for the redoubtable 250F was then coming into circulation and was to prove itself later in the season in the hands of Stirling Moss and others.

Outwardly Bira's car differed from the 250F by having a long, drooping nose and one of the prettiest body shapes evolved in post-war Formula I racing. It was distinguished by the large number of ventilating louvres, apparently popped in wherever a panel gave room for them. The engine was a six-cylinder double over-head camshaft job, with three carburettors, running on a methanol blend, and developing around 260 bhp at the high figure of 8000 r.p.m. But it was a well-tested motor, which had proved itself capable in the hands of a first-class driver of meeting Ferrari on equal terms and conceding little to Mercedes-Benz.

Against this formidable, but solitary, car were pitted the experimental Ferraris of Whitehead and Gaze. They were the short- chassis 1954 grand prix cars. On paper, the cars were formidable. Replacing the 2½ -litre Formula I motors were two of the 3-litre 300S motors which had been extremely successful in sports-racing events during the previous season. They were big four-cylinder double overhead camshaft motors, with two Weber double-choke carburetors, and they produced their estimated 245 bhp at only 6500 r.p.m. Hunt's car, which scarcely came into the picture among the leaders owing to the circumstances, was an early 250F, a shorter car than Bira's, considerably lighter, with suspension improvements and the motor which was to prove the marquee's last effective gesture in the current Formula I series.

Jack Brabham's Cooper-Bristol was the modified car which ran under the name of Redex Special, in which he had scored many successes in Australia and run into a place in New Zealand at the first NZ Grand Prix.

And another familiar car also appeared - the ex-Whitehead V12 Ferrari from the previous year, in the hands of Australian Dick Cobden. Unfortunately the blown 2-litre never showed its paces properly during either practice or race, being dogged by fuel-pump and then electrical troubles throughout the visit.

Previous year's winner, Stan Jones, was unable to cross the Tasman again, having wrapped his Maybach around a tree in the Australian Grand Prix, but Australia was represented by the 1954 Australian GP winner, Lex Davison, again driving his further modified HWM-Jaguar, and Stan Coffey, in a Cooper-Bristol.

Among the New Zealanders, the position was as before, with Roycroft still the favourite in the 2.9 Alfa-Romeo, likely to be challenged by Fred Zambucka with the 2.9 Maserati, with which he had put up a 151 mph flying mile at Orange, N.S.W., during the year. But there was one modern machine; John Horton had the ex-Gaze HWM-Alta of the year before. Although his HWM was the most modern New Zealand owned car in the race, he lacked the experience of the top contenders.

There were several interesting New Zealand made cars, such as the very attractive Palmer Special which, it is interesting to note, was the old Jackson Special (later Logan Special) now rebuilt. Its driver was veteran speed boat and midget-car racer George Palmer of Hamilton. Hawkes Bay saloon driver Reg McCutcheon had a new Chevrolet-engined car called the Normac Special, and Des McDonagh, also from Hawkes Bay, brought his Thomas-Mercury.

Ron Frost, Arnold Stafford and Syd Jensen, as members of the Frost stable, were at the wheels of three Cooper-Norton's, the last named's a Mk VII and the others Mk VIIIs. Bill Lee raced his own Mk VI Cooper-Norton.

The sports-car class had three Austin-Healeys, two Triumph TR2s and a Morgan. Fastest of the Healeys was the modified ex-Jensen car driven by Auckland clubman Les McLaren, father of Bruce McLaren. Peter McInally had another and at the last minute Phil Neill forsook the wheel of his FSS Special for one. Ross Jensen was now driving a much-modified TR2, and a standard model was entered for Wally Bern to drive. The Morgan was driven by 17 year old Wellingtonian Tony Shelly. It qualified but didn't start.

The race was run, as before, in a left hand, or anti-clockwise direction, though it was to be changed the succeeding year to its present clockwise, right-hand direction, which makes it at least two or three seconds faster. Bira, by then a veteran of the world's tracks, with 20 years' racing up his sleeve, took one practice run around Ardmore, shot back to the city to change his rear axle ratio, and struck it exactly right. His car was running on a racing methanol blend, which gave it several miles an hour on the Ferraris, but also carried a risk of breakdown. He followed in the race the old form of going out in front and staying there as long as possible, and his car held out for a handsome win and lots of lap money.

The Ferraris had two problems to meet. Whitehead and Gaze wanted to race at Christchurch, at Orange, and in South Africa. And they wanted no major engine overhauls. So the motors were detuned to run on 100 octane aviation fuel, which meant giving away to top speed to Bira, but also meant less wear and tear on the motors. After practice they dickered on the subject of axle ratios, finally decided to stick to the gearing they had, but in the event found that an almost complete absence of wind meant they were under-geared for the race. As Gaze remarked ruefully after the race, "what we needed was a set of methanol pistons each."

Bira's car, too, came back to New Zealand, at least in part. Few realised it at the time, but the car driven by Ross Jensen in the 1959 season was built on the frame of Bira's, but with many later modifications.

The second practice day showed that lap speeds would be much higher in the race than in the first Ardmore grand prix, Bira on his altered gearing lapping consistently at 1m 32sec, with a fastest lap of 1.31. On the 2.1-mile course this was only a second slower than Ken Wharton's fastest lap the previous year in the BRM, and represented around 83 mph.

Whitehead and Gaze, whose cars were completely new to them, were lapping at around 1.33 and 1.34, Hunt, also in a new car, got down to 1.35, and Jack Brabham was throwing his Cooper-Bristol round spectacularly to achieve the same time.

On the day of the race the heats gave little indication of what might be expected. Grid positions were decided by the fastest laps in two 25 mile heats.

Whitehead (1:31) won the first from Hunt (1:31), Brabham (1:34), Horton (1:39) and Stafford (1:44). The second was won by Bira (1:31), followed by Gaze (1:32), Zambucka (1:37), Roycroft (1:40) and Syd Jensen (1:43). The next 14 fastest cars from the heats made up the field to start in the Grand Prix.

Veteran George Smith made his last start in this event. He had imported a 1939 Alfa-Romeo chassis and endeavoured to install the potent but temperamental 5.4-litre Chrysler Fireball V8 motor in it. Practice showed, however, that the weight of the motor made the car unmanageable, and the famous old beach special, the Ford GeeCeeEss was called upon to carry the motor. A blown piston on the sixth lap of the qualifying heat marked the exit from the scene of the greatest figure in the previous quarter century of motor sport in New Zealand, for the same car blew up in practice the following year.

Davidson's fan belt broke during the heats so he started from the back of the grid. Smith couldn't better 2 minutes in practice, so he pulled out of the main race and started in the consolation race instead, which he subsequently won.

The Whitehead and Gaze Ferraris just beat the Maserati off the line, but after the first lap, the leading positions were held by Bira, Whitehead, Hunt and Gaze. After that Bira's car sped remorselessly round the circuit time after time, its high-pitched snarl sounding extraordinarily healthy, and he was never headed, although in the closing stages he was passed by Gaze, who was a lap behind. Nor did Bira make a pit stop. Both the Ferraris were forced to make brief calls at the pits, which possibly cost them the race. They were not to know that for the last three laps, Bira, like Wharton the year before, was driving virtually on his gears, almost no brakes, with the sole of his light shoe worn down by the effort of braking.

Early on, Fred Zambucka found College Corner a trial, and three times during the race ended among the bales, probably dropping a place or two in consequence.

Roycroft in the Alfa-Romeo was no more fortunate, mounting a marker drum on the Cloverleaf on the 10th lap and subsequently retiring on lap 58. Stan Coffey was in the leading bunch in the early part of the race, but retired with no oil pressure as a result of a broken lead on lap 16, and the HWM-Alta of John Horton, which had never sounded really happy in either practice or in the heats, made two pit stops and stopped before the half-way mark, but reappeared in the closing stages to cross the line as an official finisher and was classified 15th.

On lap 17 McCutcheon came into the pits with the Normac belching out steam after a frost plug had blown out of the engine and Culver arrived two laps later with a distinctly noisy engine which suddenly went dead quiet as he approached his pit.

The Whitehead and Gaze pit-stops were made on laps 22 and 24 respectively, Whitehead losing 23 seconds on a minor adjustment and Gaze a whole lap while a jammed throttle linkage was cleared. Without their stops they might have forced Bira into an error, but races, like many other things, are won on facts and not on might-have-beens.

About lap 60, Zambucka executed his third spin at College Corner and thereafter never looked like catching up. Frost was then first Kiwi (Stafford had stopped to fit a new chain on lap 57) and was in sixth position overall when Davison stopped with transmission trouble on lap 88. However, a lap later Frost himself had gearbox trouble and was forced to retire, allowing Syd Jensen to fill sixth place, nine laps behind the winner. Bira won by 23 seconds from Whitehead, with Gaze 63 seconds further back in third. Bira's average for the race was 78.75 mph, more than six miles an hour faster than Stan Jones' winning average of the year before, and he and Whitehead shared the fastest lap at 81.29 mph. Both Gaze and Hunt put in laps of 80.43 mph, and once again Brabham in an outmoded car put up a wonderful performance by averaging 76.84 mph for the race to come in ahead of Hunt.

Syd Jensen, whose name was also to crop up increasingly in the records of New Zealand motor sports, pushed his 500 cc Cooper home from beyond College Corner to fill sixth place and take the prize for first New Zealander home. Lex Davison, however, was not so lucky. His HWM-Jaguar coughed out on Clevedon Corner, and a weary, grimy Davison pushed it clean round the course to finish in 9th place, just out the money.

Kindest feature of all to an organisation still smarting from its wounds over the placings mix-up of the year before, was the praise given by Dean Delamont, competitions manager of the Royal Automobile Club, who flew out to act as chief steward of the meeting. There was nothing one could criticise seriously in the arrangements for the 1955 race, he said before leaving, and it was obvious that the teething troubles were over.

And two recommendations he made were to bear immediate fruit, New Zealand drivers should stop putting their money into ancient cars and specials, he said, and buy fewer, better machines. The course should be run clockwise, giving faster lap speeds and better corners.

Date: 8th January 1955

Distance: 100 laps of 3.3795km (337.95km)


Result
Driver
Nationality
Car
Laps
Time
1st
Prince B Bira
Thailand
Maserati 250F - 2497cc
100
2h 40m 12s
2nd
Peter Whitehead
UK
Ferrari 500/625 - 2968cc
100
2h 40m 35s
3rd
Tony Gaze
Australia
Ferrari 500/625 - 2968cc
100
2h 41m 38s
4th
Jack Brabham
Australia
Cooper-Bristol Mk II - 1971cc
98
5th
Reg Hunt
Australia
Maserati A6GCM - 2497cc
97
6th
Syd Jensen
New Zealand
Cooper Mk VII
91
7th
Fred Zambucka
New Zealand
Maserati 8CM
89
Retired
Ron Frost
New Zealand
Cooper Mk VIII
89
Gearbox
8th
George Palmer
New Zealand
Mercury
88
Retired
Lex Davison
Australia
HWM F2
88
Transmission
9th
Ross Jensen
New Zealand
Triumph TR2
86
10th
Dick Cobden
Australia
Ferrari 125
86
11th
Arnold Stafford
New Zealand
Cooper Mk VIII
85
12th
Phil Neill
New Zealand
Austin-Healey 100
83
13th
Peter Mclnally
New Zealand
Austin-Healey 100
80
14th
Des McDonagh
New Zealand
Thomas-Mercury
75
Retired
Ron Roycroft
New Zealand
Alfa-Romeo Tipo B
58
Valve
15th
John Horton
New Zealand
HWM F1/Alta - 1960cc
55
Retired
John McMillan
New Zealand
Alfa-Romeo Tipo B - 2905cc
33
Retired
Bill Lee
New Zealand
Cooper Mk VI/Norton - 498cc
30
Retired
Les McLaren
New Zealand
Austin-Healey 100 - 2660cc
30
Retired
Bill Culver
New Zealand
Normac Special/Chevrolet - 3870cc
19
Engine
Retired
Reg McCutcheon
New Zealand
Normac Special/Chevrolet - 3870cc
17
Frost Plug
Retired
Stan Coffey
Australia
Cooper-Bristol Mk I - 1971cc
16
Oil Pressure
Retired
Gordon Brown
New Zealand
GBS/Ford - 1172cc
9
Engine
DNS
George Smith
New Zealand
GeeCeeEss/Chrysler - 5600cc
DNS
Wally Bern
New Zealand
Triumph TR2 - 1991cc
DNS
Tony Shelly
New Zealand
Morgan plus 4
DNS
Johnny Mansel
New Zealand
Mansel Special / Mercury
Fastest Lap: Prince B Bira (Maserati 250F) and Peter Whitehead 1m 33s.