Interesting news from the UK.

Photos and text by kind permission of Coy's.
At the Coy's Important Auction of British and Continental Touring Cars held at The Royal Horticultural Halls, Westminster, London SW1 on Monday 30th July 2001 a very important Maserati was sold.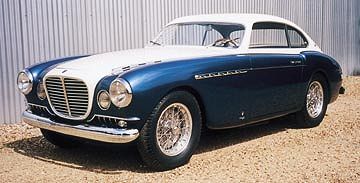 1951 Maserati A6G Vignale Coupe #2031
As owner of the famous Scuderia Centro-Sud racing team and Maserati concessionaire for Rome, Gugliemo 'Mimo' Dei clearly enjoyed a close relationship with the Maserati factory. As a result of this friendship, Dei was able, on occasion, to commission cars for himself based on chassis supplied by Maserati.

Chassis 2031 is unique, being the only car bodied in this style by Vignale. This Turin based company was founded in 1946, with Alfredo Vignale himself initially taking the responsibility for designing the coachwork they produced. As well as undertaking one off commissions, the company produced small production run vehicles and prototypes for larger manufacturers. As a result of the increased workload this entailed, Alfredo was unable to continue in his role as chief stylist, employing in this role the young Giovanni Michelotti.

Michelotti would later find fame for his work with a range of companies, including Triumph, but his reputation was built with his work on Ferraris and this Maserati.

Upon its completion, this car was exhibited on the Maserati stand at the 1951 Salon de l'automobile in Paris, its styling being praised in the influential American magazine 'Road and Track'.

Following the Paris salon, and bearing the Turin Registration number '126793 TO', the car passed into the ownership of Marcel Schwob d'Hericourt of Paris, who entered the car on the 1952 Tour de France co-driven by Albertini. The car was used in other European rally events prior to being subjected to a factory service/overhaul at the Viale Ciro Menotti factory in Modena.

In subsequent years the car made its way to the United States having been purchased by US racer Bob Estes where, over time, the car was developed to keep it competitive.

In early 1972 an enthusiast recognised the car in a Los Angeles parking lot and, realising its importance, bought it despite its unrestored state. The new owner then embarked on a major restoration that took over nine years.

These years of dedicated restoration were rewarded when it won its class in the prestigious Pebble Beach Concours d'elegance in 1998. The car's then owner believes the biggest compliment was not the win at Pebble Beach but when he was approached by Maserati Engineer Sgr. Alfieri at the Concorso Italiano. When Sgr. Alfieri looked over the car he said; 'It looks exactly as it did when it left the factory for the Paris Auto Show, colour, interior, everything except one detail'. When asked what that detail was he said, 'We never built them this well'.

Finished in white over blue with blue interior trim the car is, as would be expected, in exceptional condition throughout. This is a rare opportunity to purchase a magnificent car which along with its unique Vignale coachwork and exceptional period racing history is one of the last 6 cylinder, 2 litre Maseratis produced still retaining its original engine and gearbox.

Interesting news from the France.
At Coy's 'Legende et Passion', an Important Auction of Sports, Competition and Collector Motor Cars held at the Grimaldi Forum, Monaco on Friday 17th May 2002 some very nice Maseratis were sold.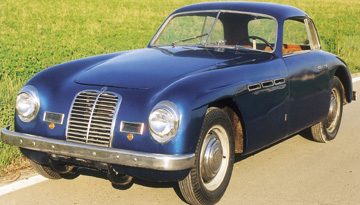 1947 Maserati A6 Pinin Farina Prototype Coupe #053
Ernesto Maserati had become technical director by 1946, and it was he who made the decision to have the new A6TR engine power a production car rather than a race car. This resulted in the production of the famous A6 1500 that was produced between 1946 and 1950, and heralded Maserati's entry into the field of 'mass-produced' road cars.

'Mass-production' is perhaps a slight misnomer as only 61 examples were constructed and they were all practically hand built. The chassis numbers ran from 051 to 0112, so we can see that the car offered for sale is the third car ever built. Only two cars were built in 1946, and only three in 1947. The first car was produced for the Geneva Show in March 1947 and was clothed by Pinin Farina in a style that was influenced slightly by aerodynamic designs that were emerging before the war, but initiated a completely different and revolutionary direction for post war car design. Intriguing innovations included retractable headlights and a bonnet that could be opened from either side to maximise access to the engine bay. Needless to say the new Maserati caused a sensation at the Geneva Show and was much admired by the motoring press.

For the Turin Show in 1948 Pinin Farina made some modifications to the bodywork that were mainly improvements to the canopy that were dictated by the need for improved aesthetics and practicality; these included the addition of rear quarter lights that improved the light in the cockpit, and rear window now formed part of the boot lid.

Chassis number 053 would have been the first car built in 1947, and according to Maserati records was destined for a dealership in Switzerland owned by a dealer called Bassadonna who was to show the car at the 1948 Geneva Car Show. Pinin Farina were again commissioned to design this lightweight aluminium bodied car. As you would imagine this car shows evidence of a real prototype in that it has interesting features that would probably not have been included on a standard production car. These features include plexiglass side windows and rear quarter lights, integral car-jacks that are attached to the underside of the chassis, and triple Weber carburettors to significantly improve performance. The triple carburettors would later become a 'special order' factory option. To the vendor's knowledge, this is the earliest surviving A6 road car that has matching chassis and engine numbers. At present no one appears to know of the existence of cars 051 and 052, so it seems probable that this is the first surviving example of a post war Maserati.

Shortly after the Geneva Show, Sig. Vianini, a Milanese entrepreneur, who had a machine tool business in Argentina, acquired the car. It appears that Vianini brought the car to Argentina and it subsequently changed hands again, as according to the logbook, on the 15th November 1951 the car was acquired by a new and important owner ; Maria Eva Duarte de Peron. The importance of her ownership will not be lost on those who have studied the history of Argentine motor sport. Building national pride was an important part of Peron's political philosophy, and as such the successes of the Argentine racing heroes such as Fangio and Gonzales were extremely important. Peron and his iconic wife publicly feted these drivers. As many of these successes came thanks to Maserati, it would have been an obvious choice of car for Argentina's First Lady.

This historically important car was rediscovered and acquired by its current Italian owner in the early 1980s. The owner re-imported the car to Italy shortly afterwards and it has become a celebrity car on the Italian circuit. Due to its Latin American history it has earned the affectionate nickname 'La Maserita'. Needless to say this unique car has been the subject of several articles in its native Italy, most notably a five-page review in the September 1995 edition of Ruoteclassiche.

Cars as important as this seldom appear on the market and we are extremely proud to offer this splendid prototype that shows the remarkable post war innovations created by Maserati and Pinin Farina. A car that is likely to be the first surviving post War Maserati, and therefore their first surviving 'production' road car, a car that created history and in turn was owned by one of the most evocative figures in history.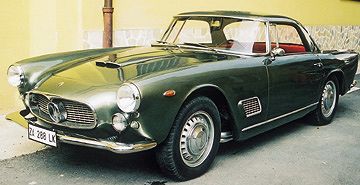 1960 Maserati 3500 GT by Touring #AM101992
The 3500GT can lay claim to being the first true production Maserati, and indeed it marked a turning point in the company's history; previous models had been little more than revamped racers and appeared only in limited numbers. The 3500GT came about with Maserati's realisation that it needed a model to compete with those from Aston Martin and Ferrari and at the 1957 Geneva Show the company displayed the car in prototype form.

This is a fine example of the beautiful coupe designed by Touring of Milan. The car is finished in a splendid combination of Grigio Flemmington bodywork with contrasting red leather interior. The vendor informs us that the car has been maintained and serviced by Maserati in Modena during his ownership, and some of the most recent work includes a new petrol pump, exhaust and carburettors. In the summer of 2000, the vendor re-registered the car in Italy, hence the modern number plate, a process that requires the car to be thoroughly tested and approved as mechanically and structurally sound by the appropriate authorities. It is perhaps unsurprising therefore that the current owner describes the overall condition of the car as very good, with an excellent engine.

These fantastically stylish and fast Grand Tourers now represent extremely good value for money, especially when compared with examples of their contemporary competition from Aston Martin.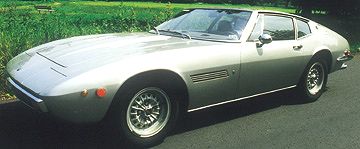 1967 Maserati Ghibli Coupe #AM115-1506
The Maserati Ghibli made its debut at the 1966 Turin show, where it was received with rapturous acclaim. Over the preceding few years Maserati had tended towards slightly more placid designs and so, like the wind from which it drew its name, the Ghibli came as a breath of fresh air. Sales to a discerning clientele began in 1966, placing it in direct competition with the also-new 275 GTB/4 from local arch-rival Ferrari. An American magazine in 1968 said of it, 'The Ghibli is by far Maserati's greatest contribution to the automotive world in the past 20 years. Its appearance alone gives one a feeling of opulence.'

Today the Ghibli is amongst the most sought-after of Maserati's roadgoing GTs; its combination of superb lines and performance that will still outrun most other cars on the road attracts enthusiasts and collectors alike to the model, much the same way now as over a quarter of a century ago.

AM115-1506 remains a fine, well preserved, original example of this popular and attractive GT car. Correctly presented in the most attractive colour of silver with blue interior the car has recently had in excess of £2,000 recommissioning works carried out to enable it to continue performing as well as it looks. Complete with the English V5 document is a copy of the US certificate of title. The vendor informs us that as far as possible the car has been preserved in its original condition and has only covered a total of 14,000 warrantied miles from new.

It thus remains a very practical, proper low mileage example of one of this famous Italian marques most fondly remembered and popular models.