FIA GT - Triumph of Maserati MC12 and Vitaphone Racing Team

The last event in the FIA GT International Championship, held on 23 November at San Luis in Argentina, gave Andrea Bertolini and Michael Bartels their second Drivers title after the one they both won in 2006 on the Adria circuit.

Thanks to this success, the German team at the wheel of the Maserati MC12 conquered both the Teams and Drivers title for the GT1 class of the international FIA 2008 Championship.

Ten trophies have been collected in the FIA GT championship since 2005 with the Maserati MC12 as common denominator. Specifically:

· 2 Manufacturers Cup
· 3 Drivers titles (Bertolini-Bartels in 2006, Thomas Biagi in 2007, Bertolini-Bartels in 2008);
· 4 Teams titles (since 2005 with no interruption, always with the Vitaphone Racing Team);
· 1 Citation Cup in 2007 with the gentleman driver Ben Aucott.

On December 8th, FIA GT champions Andrea Bertolini and Michael Bartels will be at the wheel of the Maserati MC12 of the Vitaphone Racing Team on the racetrack of Area 48 for an exhibition that will include a pit stop simulation.

Maserati and the Environment

Maserati has implemented a development plan for the next 5 years designed to reduce consumption and CO2 emissions, and to protect the environment.

The designs of recent models have already led to considerable fuel savings. From 2005 onwards, consumption for the Quattroporte has been reduced by more than 20% overall (NEDC combined cycle). The CO2 reduction compared to the previous Gran Sport model is 10% for the GranTurismo S (NEDC extra-urban cycle).

On the new Quattroporte S with its 4.7 engine, exhaust/evap emissions and fuel consumption have been aligned with future Euro 5 regulations for Europe and LEV2 standards for the USA, partly thanks to the adoption of an innovative metallic matrix catalyzer with perforated sheets (Turbulent PE Catalyst), which is both permeable and reliable but does not affect performance. The use of this solution has evened out the distribution of pollutant particles, reduced pressure, improved resistance to high temperatures and the transfer of gases.

Maserati also uses environmentally-friendly, easily recyclable materials made from natural substances, especially for the parts of the interior, which are most in contact with the driver and passengers (natural textile fibers, wood and leather).

Maserati cars are mindful of the "design for recycling" concept, which is centered around making cars easy to dismantle at the end of their working lives, so that materials can be identified and separated for re-use.

Maserati's Figures for 2008

Maserati will be at the Bologna Motor Show having delivered in the first eleven months of 2008 approximately 7,700 cars to customers, an increase of 22% and a figure which confirms a major consolidation despite the general negative economic landscape.

With over 4,700 cars delivered since the start of 2008, the GranTurismo - on the strength of a full year - has been hugely successful. The same is true of the GranTurismo S version, destined for a niche Maserati customer closer to the world of racing. The GranTurismo S was launched last March, and is equipped with a 440 323 kW 4,7 engine and electro-actuated transmission with MC-Shift.

After five successful years with over 15,000 cars sold and 47 international awards won, the Maserati Quattroporte, the car which invented the "Sport Luxury Sedan" segment, saw the new model being introduced in September. Sales of the new and previous versions have so far reached over 2,900.

Thanks to the unmistakably skilful touch of Pininfarina, the Maserati Quattroporte has been honed with a fresher, more modern design that still denotes the class, exclusivity and elegance of Maserati. There are now two models in the range: the Quattroporte, with its classic V8 engine (4,2 liters and 295 kW) and the Quattroporte S with a new V8 engine (4,7 liters and 317 kW), both with 6-speed automatic transmission.

The Italian market is the second-largest after North America. A total of 779 cars were delivered in Italy during the first eleven months of the year, a 27% increase compared to 2007. The Italian national sales structure thus consolidates its leading position within the European markets, a leadership achieved through a network of 31 Maserati dealers and show rooms.

Italy is followed by Great Britain, Germany, Japan, China - in record growth - France, Switzerland, Australia, the Arab Emirates and Hong Kong.

In the first nine months, Maserati's revenues amounted to ¿596 million, up 22.9% compared to the same period of the previous year. There was a 25% increase in deliveries to the network compared to the first 9 months of 2007, and this performance is even more significant considering that the target markets for Maserati vehicles shrank by about 15%.

In the first nine months of 2008, the result of ordinary activities was EURO 31 million, with a 5.2% ratio to income - a significant increase on the EURO 6 million (1.2% of revenues) achieved during the same period last year.

Although the outlook for 2009 is a cautious one due to the general economic crisis under way and in particular the critical situation which the automotive market is currently experiencing, Maserati feels ready for the challenge it will face in the next twelve months. Notwithstanding the current global situation which is creating much turbulence, we believe that we are prepared: we have designed an industrial system that can adjust to demand; our industrial capacity has the needed flexibility to react in real time; and we are intensively developing our future. There are challenging times ahead, but Maserati, this Maserati, is ready to meet them.

Courtesy of the Maserati Press Centre

More from Scott in the U.S.
"My Daily Driver.

Bought this red Biturbo Spyder without the Swiss made dash clock in '04. In my search to find a clock I saw only one for sale, $440.00 in Barcelona Spain.

Looking on eBay, I saw another Spyder for sale, by coincidence on the other side of Brooklyn NY where I live. A black manual car with a few missing engine parts that the owner had literally physically outgrown. When I saw it had the clock I decided to buy the whole car as the interior was in much better condition.

Turns out that car was an easy fix and I had it on the road within the month! The red one waited another year and got a fuel injected 228 motor, harness and computer.

The body kit is an authentic MCI from back in the day along with period correct HRE 505 classic wheels.

I might turn the Biturbo Coupe into an Italian rat rod!

Scott."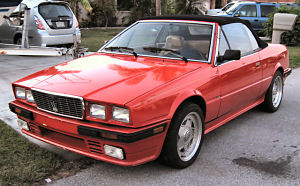 Scott's Biturbo Spyder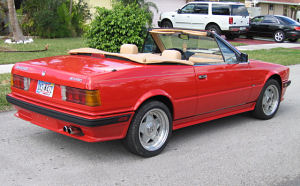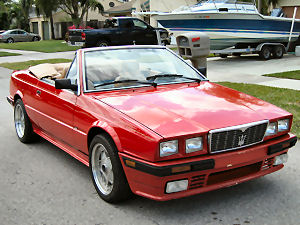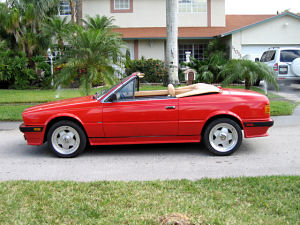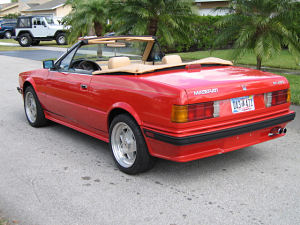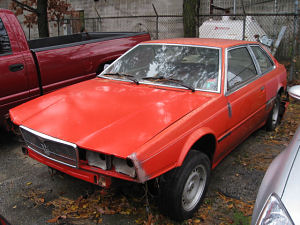 Scott's Biturbo Coupe

More from Mehmet in Turkey
Ciao Enrico,

Other details...

Saluti,

Mehmet."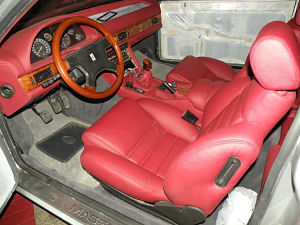 The Ghibli's sumptuous red leather interior!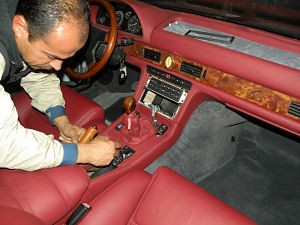 A master craftsman at work!

More from Paul in Australia
"Hi Enrico,

Yes, I drove the Bathhurst '07 last year, and again on the 10th and 11th of December this year.

You may be interested to know that the only real 'modification' that I had built is a non restrictive stainless steel exhaust from the back of the turbos. This has resulted in increased BHP, now 400 at the fly wheel! The next stage will be to build extractors to the turbochargers, then all the exhaust will be taken care of. I will then gradually work on the induction.

There is only one other car in Australia which raced very successfully here and it produces over 530 BHP!! This may be a conservative figure. The 360 Ferraris could not catch it!!

The Open Cup car I refer to was tuned by William Sala of SW Racing, and the exact output was 403 BHP at the WHEELS, which equates to a 30% increase at the flywheel, i.e. approximately 525 BHP !!! I have attached pictures of the new exhaust being built. You can also see the very restricted original between the fingers.

The gentlemen in the picture under the car, on left is Andrea, head mechanic at Italia Motori, official Maserati and Ferrari dealers in Sydney, and Alessio the owner of the City Performance, who built the exhaust.

Hope you find this interesting!

Have spent over 260 hours on its restoration, as the car was in a warehouse in Germany for 9 odd years and had only 3,270 kilometres on the odometer with all the factory Maserati engine seals still intact when it arrived in Australia.

Regards,

Paul."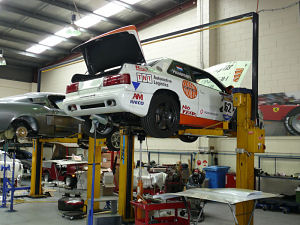 Paul's Ghibli Open Cup at Italia Motori in Sydney, Australia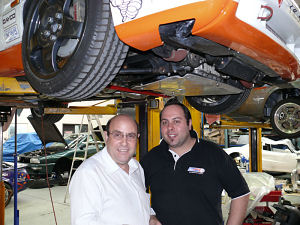 Andrea of Italia Motori and Alessio of City Performance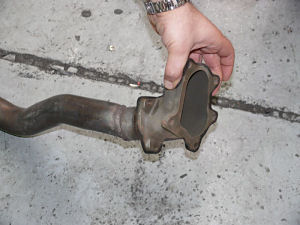 The restricted original exhaust system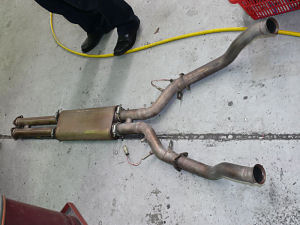 The old standard exhaust system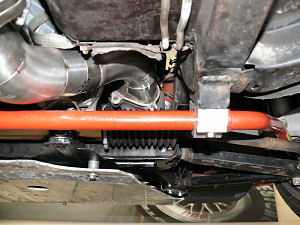 The new exhaust system by City Performance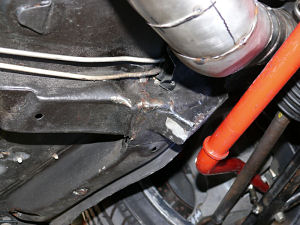 Expertly fitted by Italia Motori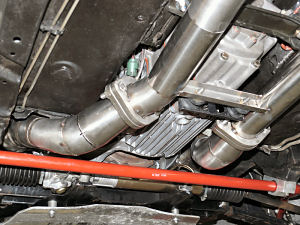 Beautifully crafted stainless steel exhaust system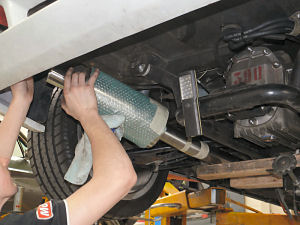 One of the new rear back boxes

From Jean Pierre in Belgium
Maseratisti and all fans of Italian cars, Jean Pierre has just sent me details of next year's SpaItalia, the foremost Belgian event for the Italian car enthusiast!

It is a very popular event and attracts Italian car enthusiasts from all over Europe. Maseratis are always made most welcome!!

Below you will find fuller details in English, French and Dutch. Just click on the image for a better picture!
ENGLISH VERSION

FRENCH VERSION

DUTCH VERSION

From Paul in Australia
"Hi Enrico,

Here are eight great iPhotos of my Ghibli Open Cup car, chassis #361302.

Subsequently the wheel have been painted a matching orange, the same as the other parts of the car.

When I find I will send one.

Kind regards,

Paul."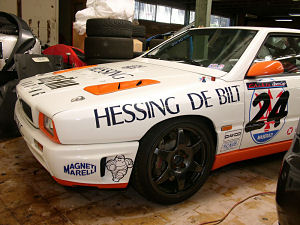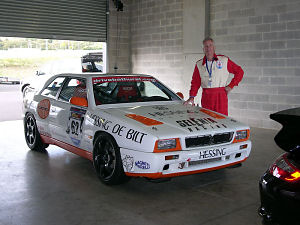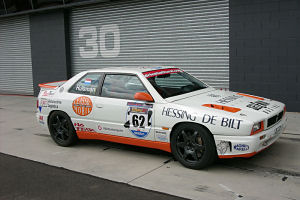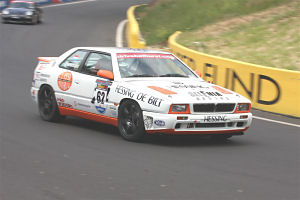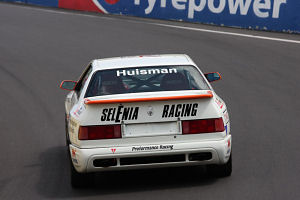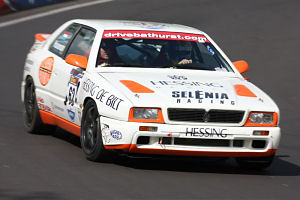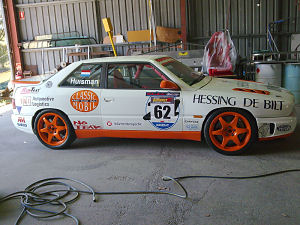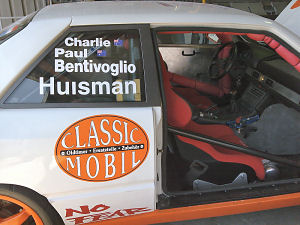 From Pullman Gallery in the UK
John Elwell (English, born 1942)
Maserati 250 F
A spectacular large-scale model of the Maserati 250F, uniquely modelled by John Elwell, esteemed exponent of the model maker's art. Elwell's signature style is well represented by the hand-formed aluminium panels riveted over a space frame. The cockpit detail is exceptional and the cast aluminium wheels are shod with hand-turned hardwood tyres.

As is the case with all Ellwell's work, this wonderful piece is a unique one-off, signed 1/1 and dated 2008.

The winningly evocative 250F was campaigned with conspicuous success by - among others - Sir Stirling Moss and Juan-Manuel Fangio; the latter scoring a famous victory at the Nürburgring in 1957 and claiming the World Championship title in the same year.

Officine Alfieri Maserati built only 26 examples of the definitive front-engined monoposto, highly coveted by privateers and beloved by historic racing aficionados alike.

Length: 42 inches (107 cms).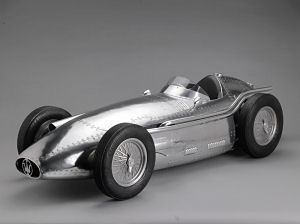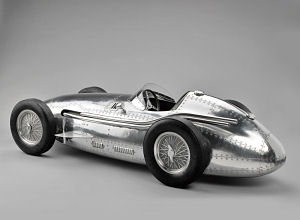 Intersted parties should contact Rachel Kelly for further information or a price.
Pullman Gallery Ltd
14 King Street
St. James's
London SW1Y 6QU

Tel: 020 7930 9595
Fax: 020 7930 9494
Email: rachel@pullmangallery.com
Website: www.pullmangallery.com

From Eric in France
"Bonsoir Enrico,

Propriétaire d'une biturbo de 1983 depuis 1999, je rencontre souvent lors de changement de pièces des montages particuliers concernant mon véhicule.

Par exemple diamètre de turbine de pompe à eau différent réalisation de ma pompe par les Ets Mac Garth sur mesure (le diamètre de turbine est 10mm inferieur à celui d'une pompe à eau normal), mes bras inferieurs sont en acier au lieu d'être en alliage,c est différents, pouvez vous m' expliquer d'où viennent ces différences il y en à bien d'autres.

Ce véhicule porte un numéro moteur 452*09*303 ainsi qu' un châssis ZAM331B00*DB102594* cette voiture provient d'Italie et sa première immatriculation fut BO*979436.

Est-il possible de retracer l'historique de ce modèle dans le but de faciliter mes recherches de pièces.

Cordialement.

Eric."
"Good Evening Enrico,

I am the owner of a 1983 Biturbo since 1999, I often encounter problems when changing parts, particularly concerning my vehicle.

For example, the diameter of the impeller of the water pump is a different size from the pump that came from Bill McGrath (the impeller's diameter is 10mm less than that of a standard pump), my lower wishbones are made of steel instead of alloy and my rear differential is different, can you explain where these differences come from, and if they apply to other models.

This car has the VIN/chassis number ZAM331B00*DB102594*, as werll as an engine number 452*09*303, this car originates from Italy, and its first registration number was BO*979436.

Is it possible to retrace the history of this example with an aim of facilitating my search for replacement parts.

Cordialement.

Eric."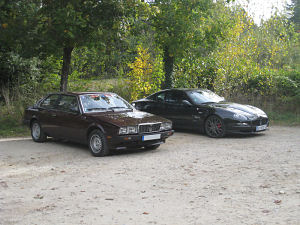 Eric's Biturbo and a GranSport Coupe at the Rallye Dordogne 2008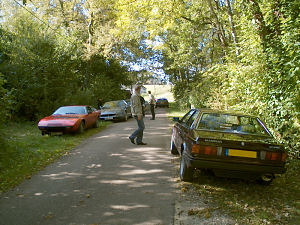 Fellow Maseratisti at the Rallye Dordogne 2008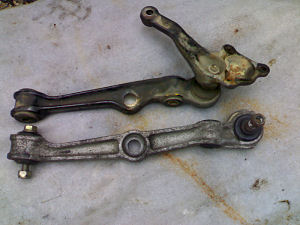 The two types of front lower wishbones for the Biturbo
" 'A' is for the 4 stud cars up to '87/'88, 'B' is for cars up to and including Ghibli non-ABS, so from '88 to '94. 'For Ghibli GT the arm is different as it does not support the anti roll bar.

David."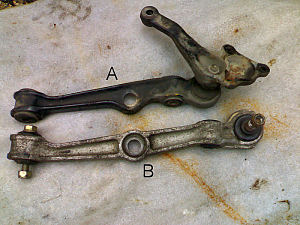 The two types of front lower wishbones for the Biturbo

From Rüben in Portugal
"Hello Enrico,

Im sending you a few pictures I took last year at the Boavista Historic Gran Prix in Porto, Portugal. Though this was at mid-summer in Portugal the rain decided to show up, but they just made the pictures look more spectacular.

Unfortunadely not a lot of Maserati showed up, but that was made up by this gorgeous 3500GTI Sebring and some good track action from a 250F.

Cheers for you awesome website.

Rüben."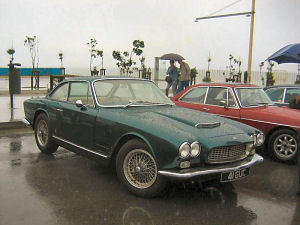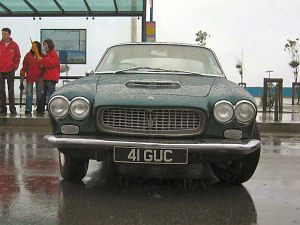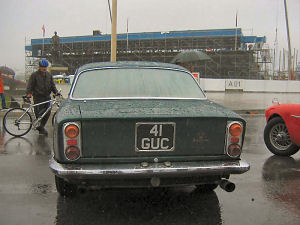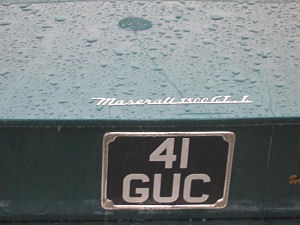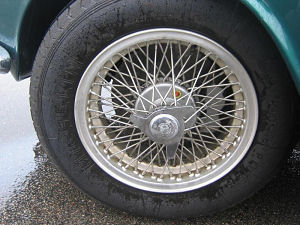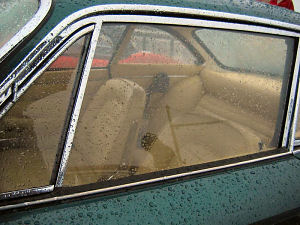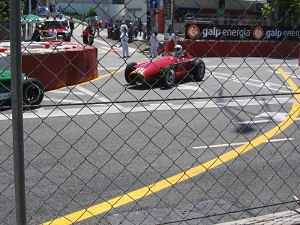 From Charles in The Netherlands
"Hi Enrico,

Greetings from Holland and compliments for your website, which is an great source of information and nice pictures!

I recently acquired a 1982 Maserati Biturbo with a chassis number ZAM 331B00*CB100368*, but the car is fitted with a fuel injection engine (2,5 litre), without intercoolers and "modern" instrument cluster which means >87. Therefore it's a Frankenstein i.e. not original. I was told that the car originally came from Sicily before coming to Holland.

Maybe someone knows the car and can tell me some more.

Greetings,

Charles."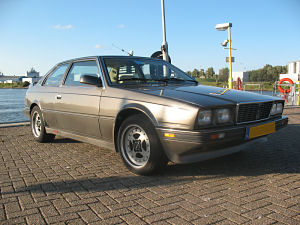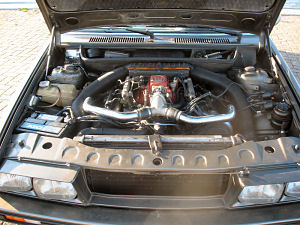 From Mehmet in Turkey
Caro Enrico....

Questa Ghibli..Nuova La Vita.........

Saluti,

Mehmet."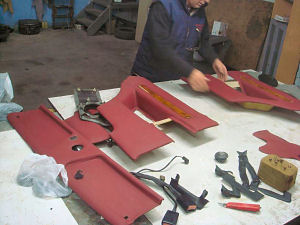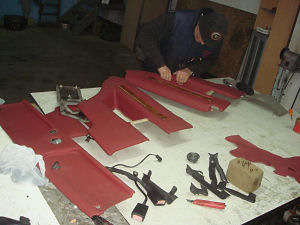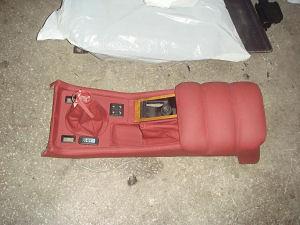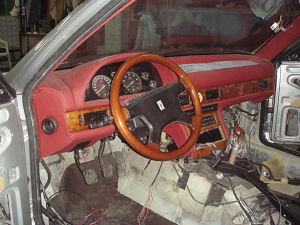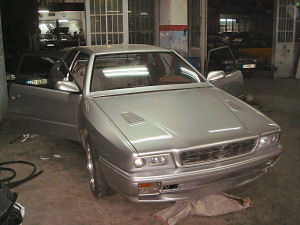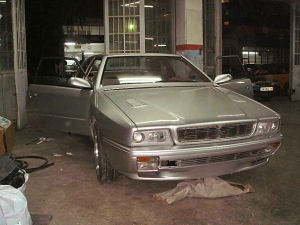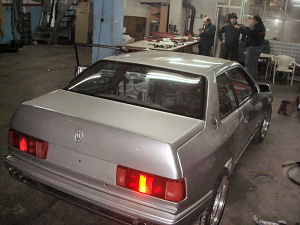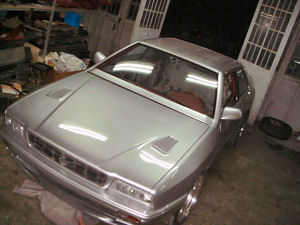 To enter Enrico's Maserati Pages CLICK HERE!


Copyright: Enrico's Maserati Pages - © 2000-2008. All rights reserved.