Last year, I attended the corresponding fixture on the Friday, when most of the competitors were just arriving with for the practice session. This year I was fortunate enough to be given a complimentary ticket for the Saturday and for the first time was able to sample at first hand just what this meet is all about. This isn't just any ordinary meet with a few historic racing cars in attendance, this is a genuine revival, a step back in time to what most enthusiasts accept was the heyday of motor SPORT!

Overhead were aerial displays by World War II aircraft while on the ground mechanics and drivers were dressed in the traditional white overalls of the period. Scattered all around were support vehicles blending in, even the trailer where I bought my tea and bacon roll was a converted WWII army truck (although we didn't have polystyrene cups in those days!). In the paddock area a strict dress code, for no one was allowed in unless suitably dressed. I was appropriately attired in a 'Harris Tweed' sports jacket with the most dashing of cravats, bought at 'great expense' specially for this occasion. Everyone seemed to have made the effort, not least the group of four dressed in 'Sgt. Pepper' outfits, and I haven't seen so many Fair Isle sleeveless pullovers since I was a little boy!

The Goodwood Revival Meet is a truly unique event in the motor racing calendar and should not be missed!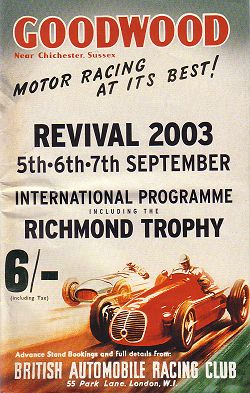 In the race for the Goodwood Trophy, (12 laps for Grand Prix, Formula Two and Formula Libre cars that raced between 1948 and 1954), sponsored by Maserati, the 1937 Maserati 6CM of Irvine Laidlaw finished in second place ahead of Mark Gillies in a 1939 Maserati 4CL. Martin Walford in Dean Butler's familiar 1938 8CTF finished in eighth place with Stefan Schollwoeck ninth in his 1937 6CM. The race was won by Barrie Williams in the ex-Ecurie Belge F2 Connaught A-type in a time of 19:00.88s.

For the Madgwick Cup, (14 laps for sports-racing cars not greater then 2.5-litres that raced between 1955 and 1960), was dominated by the Coopers and Lotuses with Irvine Laidlaw finishing in a creditable sixth place with his 1957 Maserati 250S. Driving a Cooper Climax T49 Monaco, John Harper won in a time of 20:52.711s.

Only two Maserati A6GCSs contested the Freddie March Memorial trophy, (12 laps for cars in the spirit of the Goodwood Nine-Hour races staged between 1952 and 1955), with the 2-litre 1953 A6GCS of Carlo Vogele finishing in ninth place. The winner, Martin Walford in Dean Butler's 7-litre Allard J2R, posting a time of 19:30.495s (88.57 mph).
The Chichester Cup, (12 laps for front-engined Formula Junior cars raced between 1958 and 1960), was won by Robin Longdon in a 1959 Lola Ford MkII, his winning time 19:28.254s. Three OSCA-Fiats took part with Gavin Pickering finishing in fifth place.

Maserati engined cars were out in force for The Richmong & Gordon Trophies, (8 laps for Inter-Continental Formula and Formula One cars that raced between 1954 and 1961), with six Maserati 250Fs, a Cooper-Maserati T51, a JBW-Maserati and the Tec-Mec Maserati 250F entered. However Thomas Bscher in his 1955 250F finished back in seventh place and Barrie Baxter with the Tec-Mec back in ninth place. The winner was Philip Walker in a 1959 Lotus Climax 16 in a time of 11:48.162s.

The Sussex Trophy, (14 laps for World Championship sports cars and production sports-racing cars that raced between 1955 and 1960), was won by Tony Dron in a Ferrari 246S with a time of 20:55.816s. The Tipo 61 'Birdcage' of Tony Smith finished in fifth place, followed by Mark Gillies (Tipo 300S), in sixth and Thomas Bscher (Tipo 450S), in eight.

For the Witsun Trophy, (18 laps for prototype sports-racing cars of a type that raced between 1963 and 1966), the only Maserato competing was the 3-litre 1961 Tipo 63 of Phillippe Marcq. The rtace was won by Frank Sytner in the 6-litre 1965 Lola-Chevrolet T70 Spyder in a time of 22:29.581s.

Goodwood Revival 2004: Lord March is pleased to confirm that the Goodwood Revival will take place in 2004 on September 3rd, 4th and 5th. If you missed it this year, be sure to make it next time round. The 94,000 motoring enthusiasts who attended this year's three-day meeting can't all be wrong! So come along and support the Maseratis!!