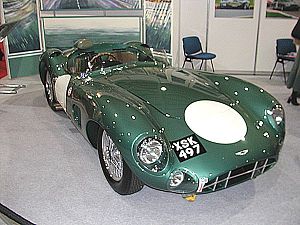 Aston Martin DBR1/2

Five DBR1s were made: From 1957 to 1959, the works 3-litre DBR1s started in 16 races and achieved eight victories, including the World Sportscar Championship - the only British win until 1987 - using only seven engines!

This is the most succesful Aston Martin ever.

Of the eight wins achieved during 1957 to 1959 by DBR1's, this car won six !!
Design of the DBR/1, was started in 1955, with E 'Ted' Cutting as Chef Designer (Special Projects).

This car has a small tube space frame, trailing link and transverse torsion bar front suspension while the rear suspension has a de Dion system, located with Watts linkage with longitudinal torsion bars. A five-speed, all indirect David Brown gearbox (CG 537) combined with the differential and a lower body with particularly clean lines.

The CG 537 non-synchronised (with face dogs) gearbox has ratios of 0.735, 0.818, 1.035, 1.458, and 2.11:1. The Girling disc brakes, 12" at the fornt and 11½" at the back, wre lighter than those used on the DB35, having light alloy calipers.

The RB6/300 engine, with a new cylinder head (P/N 79898) with valves at an angle of 95°, new camshaft and larger inlet valves, had an output of 252 bhp at 6,000 rpm. The change from 45 to 50 DCO Weber carburettors in 1959 had only a marginal effect on the power output. The compression ratio was 9.25 to 1 in the 2,493 cc version and 8.5, increasingthrough 8.7 (with new head) to 9.8 to 1 on the 3 litre engine.