Text and photos by Maserati

"Maserati joins the Supercar ranks!"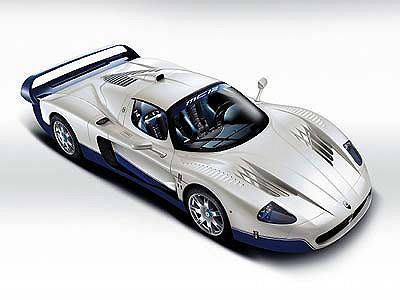 Only 25 models will be built in 2004...and another 25 in 2005
Maserati has designed a new road-going Grand Tourer known as the MC12 from which a GT racing version has also been developed. The result is that 37 long years after its last victory in an international championship (1967, Cooper Maserati F1, South African Grand Prix), the Trident is returning to the track.

The Ferrari Maserati Groupís wealth of knowledge and technological excellence have been poured into the design of the new car. In addition to this, its styling was developed in the wind tunnel from a Giugiaro idea by the Maserati technicians with the fundamental contribution of Frank Stephenson, the Ferrari Maserati Groupís own Director of Concept Design and Development. The European type-approved version of the new car goes on sale after the summer.

Designed for high level road use, it can exceed 330 kmh/205 mph at full throttle, sprinting from 0 to 100 kmh in just 3.8 seconds. Although easy and pleasant to drive on the road, the MC12 is also a brilliantly dynamic car. It handles very sweetly and fluidly yet the driver can still feel all the power of a genuinely sporty thoroughbred under the surface. The new model adds the definitive flourish to Maseratiís return to the racing circuits after the recent and highly successful debut in the Daytona 24 Hour Race, of the Trofeo Light. Under the guidance of engineer Giorgio Ascanelli, Maseratiís Racing Division is currently developing the new car to meet the rules of the major international championships.

The customer version for road use will be available exclusively in a white and blue livery, harking back to an old Trident tradition. In fact, blue and white are the colours of the America Camoradi (CAsner MOtor RAcing DIvision) Scuderia which raced the famous Maserati Tipo 60-61 Birdcages in the very early 1960s with Stirling Moss as their lead driver. Around 30 MC12s will be built in all, 25 of which will be for road use with a second series of 25 examples for clients being planned for production in 2005.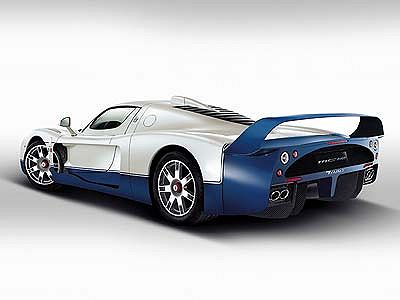 The view most road-users will see!
Characteristics

The Maserati MC12 is a two-seater long-tail coupe-spider with a long wheel base (2800 mm). It has a typical racing, mid-engined set-up with a removable hardtop. Powered by an impressive 630 bhp 6-litre V12 engine, and boasting 41% (front) and 59% (rear) weight distribution, highly advanced composites and alloys have enhanced its structural rigidity and kept its overall weight down. The MC12ís bodywork is entirely carbon fibre, while its stress-bearing chassis is made from a carbon fibre and Nomex honeycomb sandwich. Two aluminium sub-chassis support the ancillaries, help absorb bumps, and guarantee an excellent standard of safety.

As a result of its imposing dimensions (5143 mm long, 2100 mm wide and 1205 mm high), the MC12ís styling is very much function over form. Intensive wind tunnel testing and advanced mathematical calculations, combined with work on the track and road, have resulted in an extraordinarily efficient form that absolutely exudes power and personality. The air intakes, vents and other aerodynamic components have been designed to optimise the carís internal fluid dynamics and air flows to ensure optimal downforce (vertical load) and aerodynamic efficiency values.

The bonnet is characterised by the sinuous lines formed by two large tapering apertures, culminating in the classic Maserati grille opening with a Trident at its centre. The bonnet and wheelarches, into which the Bi-Xenon headlamp units are set, are a one-piece moulding which is also removable.

A channel along the side of the car stretches from the front wheel vent to an inlet just in front of the rear wheel. This solution contributes to aerodynamic downforce whilst also improving aerodynamic efficiency.

Above the hard top, there is a snorkel for the engine compartment. The rear section is dominated by the engine and the slender (30 mm) yet imposing two-metre carbon wing with two fins and, at its base, a small spoiler in which the third stop light has been inserted. The inverted half moon design of the exhausts is the most striking part of the tail section. The whole underside of the car has been faired in and sealed and there are two generous diffusers also which deliver maximum 'ground effect'.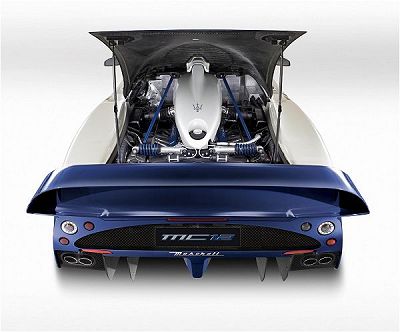 630 bhp of 'Maserati V-12' power!!
630 bhp of 'Maserati' power!

The MC12 benefits from all of the Ferrari Maserati Groupís most advanced technologies and competition experience. It boasts a powerful naturally-aspirated 12-cylinder 65į V engine that displaces 5998 cc and punches out 630 bhp at 7500 rpm. Designed to meet the specific needs and characteristics of a road-going Maserati, it also offers absolutely excellent drivability. The MC12 delivers a maximum torque of 481 lb/ft at 5500 rpm and remains exceptionally nimble and fluid, even at low engine speeds. It has an aluminium crankcase, titanium con rods, and extremely aerodynamically efficient four-valve cylinder heads to boot.

In line with the MC12ís performance-oriented design, it is supplied exclusively with the six-speed Maserati Cambiocorsa transmission offering computerised gear selection. The driver doesnít need to touch the clutch with this electro-hydraulic gearbox and instead selects the gears using the paddles mounted behind the steering wheel. The transmissionís two modes are selected at the touch of a button. The Sport mode will be the driverís most frequent choice and includes a good dose of traction control, while the Race setting enhances the kind of sporty behaviour typically seen on the track. In Race mode in fact, the system delivers much faster gear-changing and also activates the ASR.

The MC12 has independent wishbone suspension front and rear with anti-dive and anti-squat geometries and push-rod suspension. This set-up offers very progressive suspension response for exceptional handling precision under all conditions. The front of the car can be raised for parking ramps and the 19Ē wheels (with Pirelli tyres: 245/3 front and 345/35 rear) are attached via single centre locking wheel nuts. The MC12ís brakes were developed by Brembo. They deliver maximum braking efficiency and fade resistance thanks to large ventilated cross-drilled discs, with six and four-piston alloy callipers and ABS.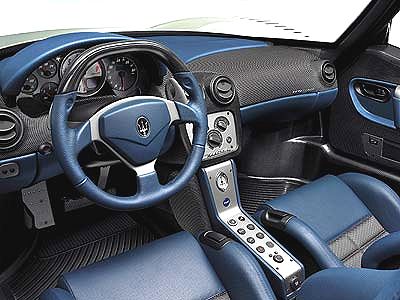 The oval Maserati analogue clock lives on!
The Chassis and Cockpit

The cabin boasts an easily removable top, which instantly converts the MC12 from a coupe to a spider. The cabin itself is the epitome of elegance and sportiness. It is simple and understated, typical of an extreme car yet also displaying the meticulous care and finish that has become a classic Trident signature. There is exceptional harmony between the high tech-effect carbon features, the perforated leather trim and the stunning yet high-grip tough technical fabric.

The upper part of the leather and carbon-trimmed steering wheel is slightly flattened, while the dashboard, with its clean tailored lines, is characteristically Maserati. The instruments are organised around a central and prominent speedometer, placed directly in front of the driver. The centre console includes the controls for the climate control system, and two of its four vents. Set at the intersection of the console and the central tunnel is the characteristic oval clock, and the blue engine ĎStartí button. Other controls are laid out on the titanium-coloured stylised central tunnel which also includes a storage compartment and a 12 volt outlet.

The seats have a carbon fibre structure with high lateral bolsters, they are upholstered in fabric with the shoulder rests in perforated leather. The doors have carbon fibre panels and pockets complete with the electric window buttons, while the pedals are aluminium and the mats rubber.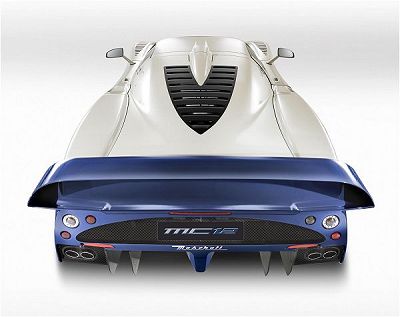 White and blue the Camoradi Team colours.



Technical Specification



Engine:

65į 5998 cm≥ V12
Twin gear-driven overhead camshafts/four valves per cylinder
Dry sump engine lubrication with pump in a single unit
Integrated Bosch injection-ignition system, drive-by-wire electronic accelerator.



Maximum power:

630 bhp @ 7.500 rpm

Maximim torque:

652 Nm/481 lb/ft at 5.500 rpm.



Transmission:

Longitudinal rear-mounted gearbox rigidly connected to engine
Maserati Cambiocorsa mechanical gearbox with electronically controlled electro-hydraulic operation via paddles mounted behind the steering wheel
Dry twin-plate clutch, diameter 215 mm (8.46 in) with flexible couplings and hydraulic control.
Bosch ASR traction control



Chassis:

Carbon and Nomex honeycomb monocoque chassis with aluminium front and rear sub-chassis



Body:

Roadster-type bodywork with removable hard top, two-seater, mid-rear engine, rear wheel drive



Suspension:

Front: double wishbones with push-rod design; progressive rate steel dampers and coaxial coils and springs
Rear: double wishbones with push-rod design; progressive rate steel dampers and coaxial coils and springs



Brakes:

Brembo braking system with four cross-drilled ventilating discs
Front 380 mm x 34 mm, rear 335 mm x 32 mm; six-piston callipers front, four-piston rear with differentiated diameters.
Bosch 5.3 ABS anti-lock system with electronically controlled braking corrector (EBD).



Wheels/tyres:

19Ē light alloy wheels: front 9J x 19, rear 13J x 19.
Front tyres 245/35 ZR19, rear 345/35 ZR 19.



Dimensions:

Length: 5143 mm
Width: 2096 mm
Height: 1205 mm
Wheelbase: 2800 mm
Dry weight: 1335 kg
Weight distribution: 41% front - 59% rear



Acceleration:

0 to 100 kph/62 mph: 3.8 secs
0 to 200 kph/125 mph: 9.9 secs
0-400 metres: 11.3 secs
0-1000 metres: 20.1 secs



Maximum speed:

over 330 kph/205 mph




The European price has been announced as €600.000 plus Taxes.

By the way, if you're thinking of buying one, you can forget it! It appears that all 25 to be produced in 2004, and the 25 proposed for 2005, have been sold!

You'll just have to pray that Maserati decide to produce some more!