Once again crowds flocked to the Goodwood Festival of Speed. Entrance to this year's event was by ticket only and appears to have been a sell-out. Signs were even posted on the M3 warning enthusiasts that the festival was 'SOLD OUT'. I had been sent a press release from Newspress announcing the presence of the road version of Maserati's fabulous MC12 and having taken a good look at the race version, I was anxious to have a close look at this version.

The internationally-renowned Goodwood Festival of Speed is the biggest historic motor sport event in the world, and the focus of this year's festival is a celebration of the Centenary of Rolls-Royce. It has been 100 years since engineer Henry Royce and the Hon. Charles Rolls first met, which led to the formation of the world famous company.

The centrepiece of the event is a large sculpture designed by Gerry Judah, which is the most ambitious construction ever for the festival. Encompassing world speed records on land, on water and in the air, the three most famous Rolls-Royce powered world record-breakers have been mounted on a specially-designed structure high above Goodwood House:
Sir Malcolm Campbell's 1935 Bluebird car which has returned to England this week specially for the tribute and for the first time since it broke the World Land Speed record at 301mph in 1935 on Daytona Beach, USA.

Flt Lt L.R. 'Batchy' Atcherley's Supermarine S6/6A 'N248' Schneider Trophy sea-plane which, in 1929 completed the air-race course off the Isle of Wight at 325.54mph, while braking both the 50km and 100km World's Closed-Circuit Air Speed Records at 332 mph.

An exacting replica of Sir Malcolm Campbell's and his son Donald Campbell's Bluebird K4 boat (later destroyed) which broke the World Water Speed record on Lake Coniston in August 1939 at 141.74mph.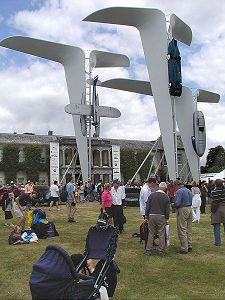 The base of the structure was surrounded by a collection of unique historic Rolls-Royce motor cars, each associated with a famous owner or heroic tale - from the original London to Edinburgh Silver Ghost to cars owned by great cultural or racing heroes.

Once again crowds flocked to the Goodwood Festival of Speed. Entrance to this year's event was by ticket only and appears to have been a sell-out. Signs were even posted on the M3 warning enthusiasts that the festival was 'SOLD OUT'.

But you might already of guessed from these pages, we're not here to talk about Rolls Royce but that other famous and dearly loved marque - Maserati. I was here to see the road-going version of the fabulous new MC12 and was not disappointed. It really is the most impressive 'bit of kit'. Undoubtedly the star of the Superclass section.

I then wandered over to the Cartier 'Style et Luxe' display and was delighted to meet 'The Monster of New York' - the 450S Coupe with 420 bhp and 200 mph on tap. This sensational coupe, the only 450S with a Zagato body, was the fastest, most powerful road car in the world. It has an important race pedigree as an open 450S driven by Juan Fangio and Jean Behra won the Sebring 12-hour race in 1957.

"This car was part of Maserati's only serious factory attempt at the '24 Hours of Le Mans' in 1957. The 450S coupe, with its aerodynamic body designed by Frank Costin and reluctantly built by Zagato, was to be driven by Stirling Moss and was only completed two days before practice. Not unusual for Maserati at that time! Big, powerful closed cars had been fashionable at Le Mans in 1952 and '53, but thereafter most manufacturers including Ferrari and Jaguar had opted for open cars. The 450S coupe weighed in at 2600 lbs without fuel, only 150 lbs more than its open sister.

With only 10 road miles covered, early practice was a disaster. On lap 1 the windscreen wiper flew off! Lap 2 the exhaust shrouding along the sills shredded. Moss's feet were cooking and the car overheated. Worse of all the car was not particularly fast on the Mulsanne straight.

Numerous holes and re-ducting of airflow were introduced. Costin had designed an air supply to the carburettors which sealed them off from the hot engine bay and assured a supply of cool air at high pressure, but Zagato had left this off! This accounted for the engine only revving to 6200 rpm instead of the expected 7000 peak. Top speed was only 165.34mph against 170.38 of the open 450S driven by Jean Behra.

The coupe bore number one and was parked first in line for the Le Mans start. At the end of lap 1 Collins in a Ferrari lead, Brooks in an Aston Martin second, followed by Moss third. After an hour the open 450S passed Moss, by then the car was smoking and vibrating badly. Harry Schell took over for 3 laps and an oil pipe burst. After 38 laps the rear axle failed.

After Le Mans the coupe was stripped of its engine, drive train, wheels and consigned to the scrap heap at Maserati. During a visit to the factory in 1958, Byron Staver of Minnesota, saw the distressed coupe and commissioned a left-hand drive road car to be made out of it. Maserati brought in Fantuzzi the Modenese 'Carrozziere' to convert the car. The completed car finished in black was dubbed 'thundering black monster' at the factory and upon its arrival in New York became known as 'The Monster of New York'.

Since then it has been through many owners and collectors and modified over the subsequent years. The car has just recently undergone a complete restoration and has been returned to its 1958 state by its present Italian owner." (text by Simon Lees-Milne)