Maserati Tipo 200SI
"Sport Internazionale"


I would first of all like to take this opportunity to thank Dr. Wolf Zweifler, the owner of #2401 and #2412, for his generous contribution to this page. Dr Zweifler's input includes the many historic competition photographs from his collection seen here.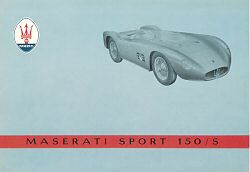 The Ferrari threat with its excellent '500 Mondial', forced Maserati to revive its production and produce a worthy successor to its successful A6GCS. Early stages of the project, to create an alternative to the 6-cylinder engine, go back to 1953 with the development of the 4C2F engine produced in 1952 and used in Formula 2. From this origin, the sportscar development programme was code-named "Tipo 52", but, more commonly known as the Tipo 200S.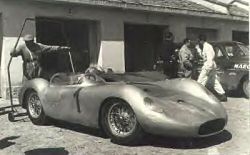 By the beginning of 1955, in order to speed up development, the project was divided into two groups working closely together, the 150S and 200S. The 2-litre engine was installed in a chassis almost identical to that of the 150S, but adopting many components from the A6GCS. The rear rigid axle was adopted, in favour of the De Dion type, as it produced better handling during testing. The light-alloy engine, was very similar to the 150S, with 5 main bearings, twin overhead camshafts, dual ignition with magnetos, (later replaced by a coils and magnetos/distributors), fed by two Weber 50 DC03 carburettors, which were almost immediately replaced with 45 DC03s. To cope with the increased power, the early four-speed gearbox was replaced by a 5-speed all-synchromesh box driving through a limited-slip differential.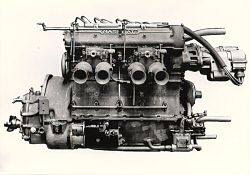 After a poor showing at the 1955 Imola Grand Prix, with Franco Bordoni at the wheel, later that year the 200S re-appeared at the "Targa Florio" in two different versions: 200S #2401, the official car driven by Giovanni Bracco and Franco Bordoni, was fitted with the rigid rear axle tested earlier in the year, while the other, entered by Tony Parravano and driven by Guido Mancini and Benoit Musy, was a 2-litre engined 150S. Both cars were forced to retire, but in spite of this, a Maserati won the race: with an A6GCS driven by Francesco Giardini.

The right assessment of the 200S came the following year following the exploits of Luigi Bellucci and Giuseppe Musso. Musso in particular had been very critical of the unpredictable handling and poor braking of #2401. In the meantime, #2402 was built, substantially similar with the prototype driven by Franco Cornacchia in the Baden race. The decisive turning point in production came on June 24th 1956 at the Supercortemaggiore GP. For this race, Maserati entered all three 200Ss, with #2403, #2404 and #2405 making their debut. The first two had the same chassis as the 150S,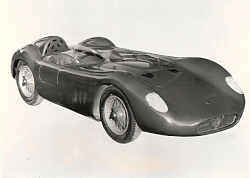 with a De Dion bridge anchored to the differential with a sliding pin. The third car with the more conventional rigid rear axle. The bodies differed one from the other, each experimenting different aerodynamic qualities. The first car was damaged in practice, the second completed only one lap and #2405, driven by Moss and Perdisa, finished some 27 seconds behind the Ferrari Testa Rossa.

However, despite this poor showing, the car showed obvious potential and was put into production. Production of the rigid rear axle models ended after three examples (#2402, #2403 and #2405), whose chassis had been assembled by Maserati itself. All the other cars had a tubular chassis, built by Gilco and modified by Maserati. Moreover, from chassis 2405 on, the choice of Celestino Fiandri as 'carrozziere' ended in favour of Medardo Fantuzzi.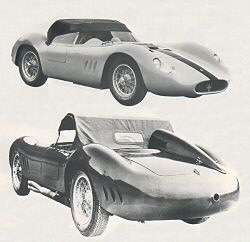 Production of the Tipo 200S got into 'full swing' during 1957, and underwent constant specification changes which brought about the name "200SI". The 'Sport Internazionale' tag gave a clear indication of its conformity with the new international regulations, which called for manufacturers to make certain changes; doors and cockpit of specific dimensions, a full windshield with windscreen-wiper and another quite absurd, like the almost unusable soft-top.

Results wise, after the 1956 Supercortemaggiore GP, the 200S took revenge at the Bari GP, where Behra's car fitted with the De Dion rear axle, showed itself to be as quick as the 3-litre cars, with Cesare Perdisa's #2405 not far behind. However in the following race at Pescara, Taruffi's 200S was beaten by Manzon's Gordini, but Behra took sweet revenge at the end of the season, at Castelfusano, with a car that pre-empted the streamlined design of 1957, and at Caracas with #2401.

In 1957, Maserati slowed down production of the 200SI, whose last appearance was in the 1957 Sicily GP, won by Scarlatti. When judging the career of the 200S, one must stress that the car suffered from constant comparison with the highly successful and much loved A6GCS and its qualities. It was also well known for not only the high level of driving skill it required when taken to its limit, but also its high cost of maintenance.

As far as production numbers are concerned, it depends largely on which book you read: Maurizio Tabucchi in his book, "Maserati: The Grand Prix, Sports and GT cars, 1926-2003", states that a total of 28 200S/200SIs were produced. Joel E Finn in his excellent book "Maserati: The Postwar Sportsracing Cars" also quotes 28 cars. However, Orsini and Zagari in their comprehensively detailed book "Maserati: A complete history from 1926 to the present day" claim 32 cars. The first being #2401 in 1955 and the last #2432 in 1958 (see image below).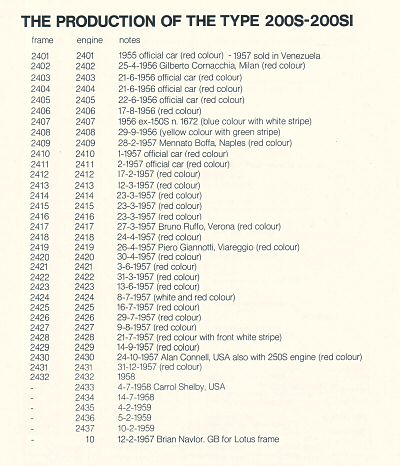 Production figures as they appear in "Maserati: A complete history from 1926 to the present day" by Orsini and Zagaro.
200S/200SI PRODUCTION FIGURES
CHASSIS
ENGINE
NOTES
2401
2401
1955 (colour red)
Official Factory car - 1957 sold in Venezuela.
2402
2402
25th April 1956 (colour red)
Sold to Gilberto Cornacchia, Milano.
2403
2403
21st June 1956 (colour red)
Official Factory car.
2404
2404
21st June 1956 (colour red)
Official Factory car.
2405
2405
22nd June 1956 (colour red)
Official Factory car.
2406
2406
17th August 1956 (colour red).
2407
2407
1956 (colour blue with white stripe)
Ex-150/S #1672.
2408
2408
29th September 1956 (colour yellow with green stripe).
2409
2409
28th February 1957 (colour red)
Sold to Mennato Boffa, Napoli - Now a 250/S.
2410
2410
January 1957 (colour red)
Official Factory car - Now a 250/S.
2411
2411
February 1957 (colour red)
Official Factory car - Ex 150/S #1660 - Now a 250/S.
2412
2412
17th February 1957 (colour red).
2413
2413
12th March 1957 (colour red).
2414
2414
23rd March 1957 (colour red).
2415
2415
23rd March 1957 (colour red).
2416
2416
23rd March 1957 (colour red).
2417
2417
27th March 1957 (colour red)
Sold to Bruno Ruffo, Verona.
2418
2418
24th April 1957 (colour red)
Official Factory car - Now a 250/S.
2419
2419
26th June 1957 (colour red)
Sold to Piero Giannotti, Viareggio.
2420
2420
30th April 1957 (colour red).
2421
2421
3rd June 1957 (colour red).
2422
2422
31st March 1957 (colour red).
2423
2423
13th June 1957 (colour red).
2424
2424
6th July 1957 (colour red and white).
2425
2425
16th July 1957 (colour red).
2426
2426
29th July 1957 (colour red).
2427
2427
9th August 1957 (colour red).
2428
2428
21st July 1957 (colour red with front white stripe).
2429
2429
14th September 1957 (colour red).
2430
2430
24th October 1957 (colour red)
Sold to Alan Connell, USA also with 250/S engine - Now a 250/S.
2431
2431
31st December 1957 (colour red) - Built as a 250/S.
2432
2432
1958 (colour red) - Built as a 250/S.
2433
4th July 1958
Sold to Carrol Shelby, USA
2434
4th July 1958
2435
4th February 1959
2436
5th February 1959
2437
10th February 1959
10
12th February 1959
Sold to Brian Naylor, GB - Mounted in a Lotus chassis.



The list above shows 32 cars built, there were in fact only 28.

Two cars, listed as 200Ss, namely #2407 and #2411, were 150Ss that were converted at a later date.

Also, two cars listed, #2431 and #2432, were built as 250Ss not 200Ss.

You will note that five cars (#2409, #2410, #2411, #2418 and #2430) were later converted to 250Ss.

Compiled with the assistance of Sig Ermanno Cozza, the distinguished Maserati archivist.


#2401 - The ex-Works Prototype 1955 Maserati Tipo 52 200SI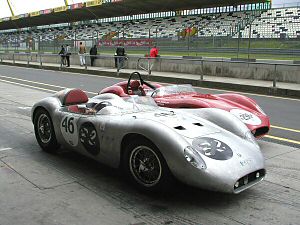 The 6-cylinder 2-litre A6G Maseratis had proved their performance and their reliability both as sports and formula racers but Maserati recognized their pre-war roots would soon render them obsolete. Ferrari was enjoying success with his Lampredi-designed 4-cylinder cars; Maserati had in its history one of the most successful 4-cylinder designs on record, the supercharged 1½-litre 4CL. One went on the Maserati dyno, naturally aspirated, and demonstrated that a small displacement 4-cylinder was capable of being competitive. Maserati commenced development of such an engine, incorporating current design elements. Combined with a chassis derived from the 250F and an envelope body like that of the final A6GCS, Maserati had a 1½-litre sports car.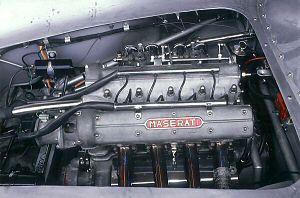 The alloy 150S engine was an all-new design using dual overhead camshafts driven by a gear train at the front of the engine that also provided takeoffs for the dual ignition's magnetos, dry sump lubrication and water pump. Two valves per cylinder were actuated by roller cam followers and hairpin springs. The 4CL had been a "square" design with equal bore and stroke but Maserati's new sports car engine was designed "oversquare" with dimensions of 81 x 72mm, allowing it to rev higher and making room for larger valves that the forced induction 4CL hadn't needed. The frame was a typically robust Maserati construction of large oval main tubes supplemented by smaller tubes to support the body and mechanicals. Front suspension was by A-arms, lever shocks and coil springs. A live rear axle was tried, found wanting and rejected in favor of a sliding pivot deDion axle with transverse leaf spring and lever shocks. It was nothing radical, just sound and well executed Maserati practice capable of being competitively maintained by customers' mechanics. The 150S's full envelope 2-seat bodies were scale models of Maserati's premier 300S sports cars, no doubt adding to the small cars' appeal since the 300S is regarded as one of the most functionally beautiful sports-racers ever built.

Racers know, "if it looks right, it is right," and nothing demonstrates the truth of that aphorism better than the mid-Fifties Maserati sports-racers.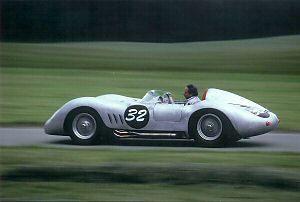 The 150S was successful in its first outing, the 1955 Nürburgring 500km race where Porsche stalwart Jean Behra recognized its potential and realized it with a qualifying time 2.3 seconds clear of the nearest competitor. Behra went on to win the race itself by some two minutes over von Frankenberg's Porsche 550 Spyder. The 150S continued to acquit itself well against increasingly tough competition from Porsche, Lotus and Cooper but Maserati recognized a variant would add a new market in the 2-litre class where the A6GCS was now increasingly uncompetitive. The 200S, perhaps Maserati's most successful small displacement race car, was born from that commercial opportunity.

While the engine was basically the same as the 150S, now with 60mm main bearings and 92 x 75mm bore and stroke, the 200S took advantage of its larger bore size to add bigger valves breathing through larger 45mm Weber carburettors which allowed it to generate some 186bhp. The chassis was indistinguishable from the 150S. Bodywork evolved with Maserati's experience with the 300S and 450S but remained lithe and elemental.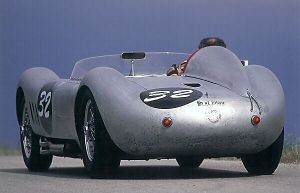 Maserati 200S, chassis number 2401, was used as the Maserati factory's test and development car for over a year and one of the most important Maseratis built. 2401 made the 200S's first competitive outing at the 1955 Imola Sports Car GP where it was crashed by Bracco. Along with another 200S entered by Tony Parravano it appeared in the 1955 Targa Florio driven by Bracco and Bordoni but Bracco again crashed the car, this time both in practice and in the race. 2401 continued to be used as the factory's development car by test drivers Luigi Bellucci and Giuseppe Musso (younger brother of GP driver Luigi Musso) which produced the ultimate specification 200SI (Sport Internazionale) in 1956 with uprated engine, 5-speed gearbox, longer nose, larger brakes, FIA-spec full windscreen and folding top. With its sleek shape the 200SI is perhaps the most charismatic, effective and beautiful Maserati sports-racer ever built.

2401 was, in fact, configured as a 200SI, probably the first of the series, when its certificate of origin was issued April 26, 1956. These were superb customer race cars, strongly built, quick, powerful and inherently good handling. Their capability is demonstrated by the caliber of their drivers and team owners, recognized names such as Lance Reventlow, Carroll Shelby, Jim Hall, John Fitch, Jim Kimberley, Jo Bonnier, Giorgio Scarlatti. Important victories include Scarlatti's class win in the 1956 Mille Miglia and Willy Daetwyler's 1957 European Mountain Championship. The 200S engine was further enlarged to 2½ litres in 1958 to create the 250S, of which only four were built by Maserati although many 200S engines were increased to 2½ litres by their owners. The 2½ litre engine itself went on to power many Grand Prix chassis with some success.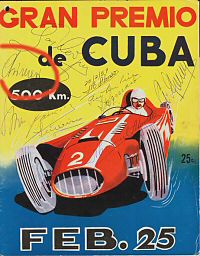 The Maserati factory entered 2401 in the 1956 Naples GP and later in the Mille Miglia, probably driven by Bellucci who was running well until forced to retire with thoroughly soaked and ineffective brakes, an experience not uncommon in 1956's rain-soaked event. 2401 probably competed in further Continental events, where the Maserati factory entered 200S cars at various times when drivers and time to prepare the small displacement racers could be found in the factory race shop's busy schedule. Top rank drivers like Jean Behra, Stirling Moss, Juan Manuel Fangio, Piero Taruffi and Harry Schell competed regularly in both factory and private Maserati 200S and 200SI entries. There is every chance that some of these luminaries shared 2401's driver's seat during its factory racing history. At the end of 1956 it is believed 2401 was shipped to Venezuela for Jean Behra to drive in the 1000km race, then sold to a local driver, appearing in a variety of races, possibly including the Cuban GP and at Nassau, over the next few years.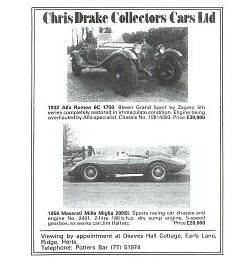 Joel E Finn, Maserati fancier and historian, bought #2401 in Venezuela and it eventually found its way to Chris Drake in the UK in the early '70s. It was then sold to Japan in 1979 where it was displayed in the Kawaguchiko Motor Museum for twenty-two years. 2401 is one of only four 200S chassis built by Maserati itself, the production chassis fabrication being sublet to Gilberto Colombo (GILCO). After over a year of extensive development as a works race car, 2401 was finally configured and sold in the ultimate, powerful and most beautiful 200SI configuration. Despite its works racing history 2401 is still with its original engine.

Text courtesy of Rick Carey

©2001 Rick Carey, AxioMedia, www.rickcarey.com