BARCHETTA: A Chapter from History by Ermanno Cozza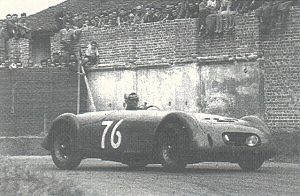 The terms used to describe the various types of bodystyles that have "adorned" automobiles over time has never been precise and, as a result, has generated some confusion. The same term has been applied, through the years, to various types of body design. Things have been further complicated by the use of universally accepted terms borrowed from a variety of languages (first French, then English and Italian) that have created a linguistic potpourri. The term Barchetta has suffered a similar fate.

This word came into vogue after the war to describe a sporty, fast car with rather Spartan accouterments and a body covering both frame and wheels. It was with the barchettas that the road races resumed in Italy in 1946: on 29 September of that year, a Barchetta driven by its owner, Guido Barbieri, debuted in the "Coppa Mercanti".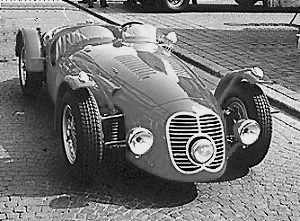 The car was the result of profuse ideas and technical content from Ernesto Maserati and hard work and know-how from designer Massimino, starting practically from scratch. The engine was an updated version of the 6CM of 1939: with three carburettors and single camshaft timing system, this naturally aspirated 1.5-litre powerplant cranked out 90 bhp at 5000 rpm. The innovative tubular frame had independent front suspensions and a rigid rear axle with cantilevered half-leaf springs. The two-seater body was handsomely profiled and offered a truly low drag coefficient. Thanks to its light weight (750 kg), the car was extremely pleasurable to drive, enabling even non-professional drivers to reach 150 kph.

The debut in Milan was followed by other victories: Mantova, Voghera ... on this occasion it was driven by Gigi Villoresi, who was owner of the engine. When the the A6GCS appeared, with a completely different bodystyle designed by Medardo Fantuzzi, the original Barchetta was momentarily set aside.

On the A6GCS, the engine displacement was raised to 2 litres and the power leaped to 120 bhp. This model collected numerous victories, especially in hillclimbing.

The need to provide better protection for both crew and car, and particularly to improve the aerodynamics, led to the design of the Barchetta 1946.

Other constructors followed Maserati's example, and racing in the sportscar category soon captivated not only the public but also the private "gentlemen drivers". This led to participation in international competition, where Maserati was able to grow and develop experience.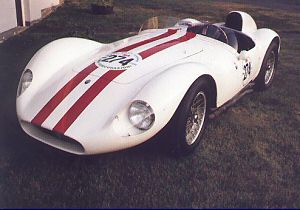 In 1953 the Sport 2000 A6GCS/53 came along, fathered by Gioacchino Colombo, who reproduced the image of the earlier version and equipped it with a 6-cylinder dohc engine that turned out 170 bhp at 7500 rpm. The frame and suspensions were improvements of the former design. Despite its particularly accentuated lines, the car preserved a characteristic lightness of form.

The medium-displacement sports cars of the '50s were a mandatory apprenticeship for drivers aspiring to Fl, and Maserati can boast of having nurtured many promising young contenders such as Mantovani, Musso, Giletti, Salvadori, Scarlatti, ....

While the sports-car formula was becoming more important in international professional terms, the barchettas continued to race, to the satisfaction of the private drivers who participated in the events with great competitive enthusiasm.

- Excerpt from Il Tridente March 1992