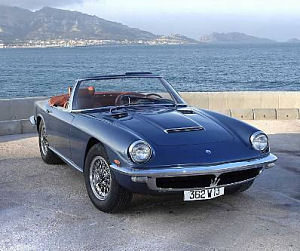 Last of the classic 6-cylinder Maseratis, the Pietro Frua-styled Mistral commenced production in 1963. The 3.7-liter version of the Modena manufacturer's long-stroke engine was fitted to most cars, with other power options being the 3.5-liter, or from 1966 the 4-liter unit. A handsome two-seater on a shortened, square-tube chassis, the Mistral was built in coupe and spyder versions. A 5-speed gearbox, disc brakes, and fuel injection were standard equipment; automatic transmission, air conditioning, and a limited-slip differential the options. Production ceased in 1970, by which time a total of 827 coupes and 123 Spyders had been built.

This rare Mistral 4000 Spyder was manufactured in 1966 and imported into the U.S., where it was sold to its first owner, Mr. F. J. Capretto of Seattle, in 1967. The car retains matching numbers on the engine block, cylinder head, and chassis, and its history is known in full. In the early 1970s, the Mistral was sold to the second owner, another Seattle resident, who drove it regularly until an overheating problem led to its being laid up in 1977. Thereafter the Maserati remained stored in a one-car garage in Seattle until exhumed in 2002.

In 2004, the car was purchased by its third owner, Mr. Francis G. (Frank) Mandarano, a noted Maserati historian and founder of both the Maserati Club International and Concorso Italiano, under whose direction its restoration was begun. Chassis number 641 was delivered to Vancouver and entrusted to Maserati specialist Milo's European Car for the mechanical rebuild, which included everything from the radiator back to the fuel tanks.

The engine was rebuilt using new liners, Asso pistons, bearings, valves, guides, and seats, with all moving parts computer-balanced to perfection. All hydraulics were rebuilt, including the clutch and brake master cylinders, brake boosters, and calipers, and new brake hoses were fitted. A new clutch was fitted as well, with all hoses replaced and the fuel tanks and radiator cleaned. A new stainless-steel exhaust was fitted from the manifolds back. Over US $35,000 was spent on the engine rebuild alone.

The five original Borrani RW 3994 15-inch wire wheels were rebuilt and fitted with new Pirelli Cinturato tires. Also included for winter driving is an extra set of four Starburst alloy wheels shod with excellent Michelins. The seats and door panels were retrimmed in Turin, Italy, by Sig. Gavina, the man responsible for all the Quattroporte III interiors and the special Ferraris built for the Sultan of Brunei. World-famous car trimmers, Luppi of Modena, supplied matching Wilton wool carpeting, and back in Seattle the interior was finished by Steve Shepp, who also made a new convertible top using the original as a pattern. In all, close to $15,000 was spent on trimming, including materials.

Circa 2005, the car came back to Europe, where its restoration was completed by a specialist in the South of France. It is presented in concours condition, together with a file of restoration photographs.

The SCM Analysis

This car sold for $369,695, including premium, at the Bonhams "Les Grandes Marques à Monaco" sale held May 10, 2008.

Although it's tempting to follow my usual SCM Profile format and begin with general background information about the model, the reality here is that what you actually want to do is skip to the part where I tell you if the extraordinary price achieved for this car is right.

So, I won't disappoint. Everyone agrees that in determining value, there are some key touchstones to consider. Rarity, importance, originality, condition, and provenance are certainly the most important. Added to those should be the market in which a property is offered and sold, as well as the timing.

Everything seems to have come together on this day in the Principality to deliver maximum results. The Maserati Mistral Spyder (and yes, the factory used the "y") is rare, with fewer than 125 built. The Mistral is also important in the history of Maserati as the last model to use their great inline 6-cylinder engine, a descendant of the powerplant of the championship-winning 250F Grand Prix car.

Cost was apparently no object

Chassis 641 is reported to retain its original engine—the most desirable 4.0-liter version—and the Lucas fuel injection. It had been off the road for a 25-year period, during which time no bad repairs or modifications were made. This example had been restored mechanically and cosmetically to a very high level, with work performed by leading craftsmen on both sides of the Atlantic, and with cost apparently no object. The photographs of the car in the auction house catalog were impressive, and it was confirmed by Jérôme Hardy, SCM's on-site analyst, that this was indeed a "perfectly restored example."

The complete ownership history of the car was known from new and included one of the major figures in the Maserati collecting world—a man with access to all the information needed to properly restore and maintain such a car.

So, was it "worth" $100,000 more than a superb 3.7-liter Spyder sold in Gstaad by Bonhams in December 2007 (SCM# 48094)? Is it "worth" more than three times the $120,000 high value in the 2008 SCM Price Guide? Does this signal yet another jump forward in Mistral prices specifically, and in Maserati generally?

Well, the answers are yes, of course, and no, not really. The effect of currency exchange has been stated in these pages ad nauseam, so I won't belabor it here. Suffice it to say that in looking at Euro market sales, it's always best for us here in the U.S. to consider the price as if the dollar were at parity - a pipe dream, I know, but bear with me - to get a feel for current actual domestic market values.

Recipe for a home run

Unless and until an owner here wants to ship his car to Europe to sell, don't consider this the price you can get for yours here. So, let's call this price, at €238,500, closer to $265,000 in a U.S. transaction. That would make this, a near perfect car with the most desirable specification and excellent provenance, worth a price well above all previous transactions, as it would and should be.

Furthermore, this car was well presented, fully documented, and offered for sale in a high-profile auction in a prominent venue at the time of the Monaco Historic Races, a recipe for hitting a home run.

The SCM Price Guide, like most others, will always have a problem keeping pace with a fast-moving market. I don't think it's possible to find a Mistral Spyder that is not a parts car for the $75,000 low number, and the high number (which represents a good #2 car, not a #1), is probably 35%-40% too low at this point.

I don't think it means that all Mistrals have gone up by the same percentage, although vintage Maseratis have long been undervalued compared to the 12-cylinder competition from Ferrari and Lamborghini. With the recent dramatic rise in early Lamborghini prices, it's not surprising also to see an increase in Maserati values. However, in my opinion, it would still be a mistake to tie the markets too closely together.

A 6-cylinder car, or for that matter a V8 car, will never have the cachet of a V12. Add to that the fact that Maserati regularly outsold the products of Maranello and St. Agata Bolognese, making many of them far more common than their counterparts. But as we have seen in the current market, buyers are willing to step up and pay a premium for the rare and well-done car. This superb Mistral Spyder was both and has to be thought of as priced correctly, especially considering the selling venue. After all, if the new owner's Ferretti 881 yacht was docked in the Monaco harbor, the price paid for the Mistral would barely cover a decent shore launch.

Details

Years Produced: 1963-70

Number Produced: 123 (Spyders)

Original List Price: US $13,600

SCM Valuation: US $75,000-$120,000

Tune-up Cost: US $1,750

Distributor Caps: US $850

Chassis Number Location: Engine compartment on firewall

Engine Number Location: Stamped on side of block

Club Info: Maserati Club International, PO Box 1015 Mercer Island, WA 98040

Website: click to visit

Alternatives: 1966 Ferrari 275 GTS, 1966 Aston Martin DB6 Volante, 1968 Mercedes-Benz 280SL

Investment Grade: B

Provided by Sports Car Market - The Insider's Guide to Collecting, Investing, Values and Trends.