Maseratisti,

As you are probably already aware of, next year 2014, we will be celebrating the 100th anniversary of the foundation of Officine Alfieri Maserati.

On the 14th December 1914, Maserati was founded in Bologna, in a rented ground floor workshop in Via de'Pepoli under the name Società Anonima Officine Alfieri Maserati.

So it is important to look out for any historic/classic car events/shows that may feature a celebration of this event.

MASERATI 100 - MASERATI CENTENNIAL EXHIBITION

19th June - 31st December 2014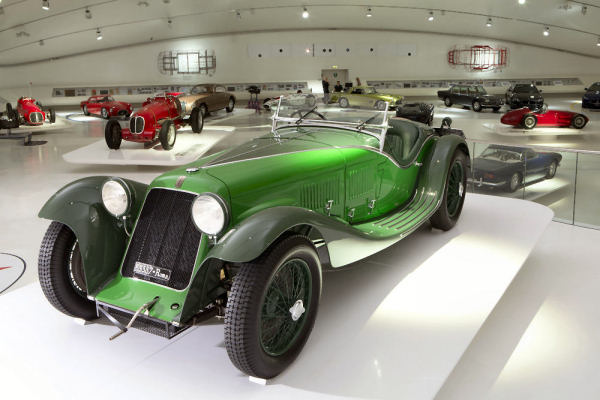 A new exhibition retraces a century of Maserati at the spectacular Enzo Ferrari Museum (MEF). The unique exhibition hosts a priceless collection of historic models and gives visitors the opportunity to relive the history of Maserati through technology that transports you to the heart of the event

MASERATI 100 - A Century of Pure Italian Luxury Sports Cars retraces the story of the Italian car manufacturer through an exhibition featuring some of the Trident marque's most significant road and racing cars, plus a highly engaging show employing 19 projectors, enabling visitors to relive the most significant moments in the history of Maserati and to learn about the individuals who shaped its history. Staged in the futuristic Enzo Ferrari Museum, a stone's throw from the Maserati headquarters in Viale Ciro Menotti, the exhibition will run until January 2015. Considering the historic value of the models exhibited, this is the greatest exhibition of Maserati cars ever staged anywhere in the world.

DREAMCAR INTERNATIONAL

20th - 21st December 2014



BELGIUM'S LARGEST CLASSIC CAR SHOW: 30th EDITION

Dreamcar International means not only Rolls Royce, Maserati, Porsche, but also Alfa Romeo, Fiat, Trabant, Saab and became after 30 editions Belgium's largest classic car show in Belgium.

Since 1990 Dreamcar International has held its fair in the Nekkerhal in Mechelen. But this year the hall is not available and the organisation had to return to the place where it all started 30 years ago: Kortrijk Xpo.

One can honestly say that a visit to the stands of the clubs who endeavour to win the "Dreamcar Trophy" is more than worthwhile. In addition to this, you can also view the 300 classic cars which are for sale, or visit the many stands devoted to spare parts, books, magazines, brochures, model cars, information about restoration, and automobilia.

This edition of Dreamcar International once again offers a sample of some of the most beautiful cars in one century of car history. From Ferrari to Ford Mustang, from Jaguar to MG, from Rolls Royce to VW, from Aston Martin to Trabant, … and but also bicycles between 1865 and 1970.

You can visit Dreamcar International on Saturday December 20th and Sunday December 21st, between 9.30 am and 6.00 pm in Kortrijk Xpo, only 20 miles of Ypres., Belgium.

You can easily reach Kortrijk over the E17 motorway exit 2.

More information:

Tel 00-32-59-702814, fax 00-32-59-702834, B. Dreamcar International Postbus 128 B-8400 Oostende.
E-mail: info@oldtimerdreamcar.com

More details www.oldtimerdreamcar.com, also for discount vouchers.