The power and reliability of Maserati's engines was not only proven on the motor racing circuits of the world but also on water! For many boat builders chose Maserati engines to power their inboard race boats to Italian and World Championships.

The origins of the sport of power boat racing go back to the beginning of this century. Gollinari achieved the first great Italian victory between 1904 and 1905, with a boat built by himself and powered by a FIAT engine. The need for more and more powerful engines for power boat racers aroused the interest of the Maserati brothers, who knew they had something to offer with their powerful yet light engines, built completely in aluminium, made them ideal for this sport.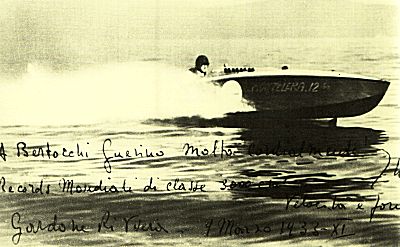 9th March 1933 - Gardone Riviera, Lago di Garda - At the helm Count Rossi di Montelera
A new World Water Speed Record in the 3-litre Class with an 8-cyl Maserati 8CM engine
The name Maserati has been linked with this sport since 1930, and their engines have always taken the Italian power boats to very highest levels, conquering many records and world championships. In 1932 the Count Theo Rossi of Montelera gained success with the boat 'Montelera XII' powered by the new 1½-litre 4-cylinder Maserati engine. In 1933 Count Rossi equipped the same boat with the 3-litre 8-cylinder Maserati 8CM engine and broke another record at "Riviera del Garda".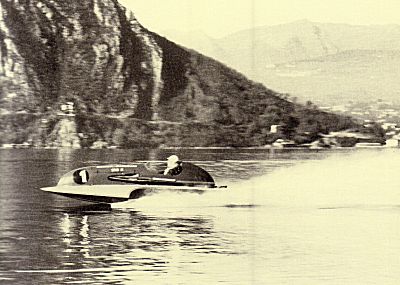 13th November 1954 - Sarnico, Lago d'Iseo - At the helm Liborio Guidotti
The Timossi 350 Kg race boat powered by a Maserati 4-cyl 150/S engine
The ambitions of the multi-talented sportsman to bring yet more glory to nautical sports, persuaded him to equip his boat 'Baglietto XV', built by the Baglietto boatyard, with two Maserati Tipo V5, 5-litre 16-cylinder engines: engine #5003 with a clockwise rotation and engine #5002 with an anticlockwise rotation; in this way the two engines could be directly coupled together at the rear end with two gears, one of which was directly fitted to the propeller shaft. This boat was entered in the 12-litre Racer Class, which for a long time had been dominated by the lsotta Fraschini engines. Its debut at Gardone on Lake Garda in 1933 was not a very happy one: Count Rossi had a frightening experience when the boat which had not yet been properly tuned turned over.

A few days later, again at Gardone (not for from the famous 'Circuito del Garda' at Salo), he exceeded 114 kph, the highest speed ever recorded in that event. The displacement was too low for the 12-litre class and the heavy weight of the two engines persuaded Count Rossi to review his project. During the same year, in order to enter the 6-litre Racer Class, he had the Baglietto boatyard build him a new boat 'Ravanello', equipping it with a single Maserati 16-cylinder Tipo V5 engine, #5002. With this boat on Lake Bracciano, Count Rossi beat the one mile world speed record of 113.5 kph by 7 kph, which had previously been held by Prince Ruspoli with his boat 'Celli', powered by a Bugatti engine. In 1934 at Sabaudia, 'Ravanello' exceeded all expectations by raising the record speed to 122.2 kph.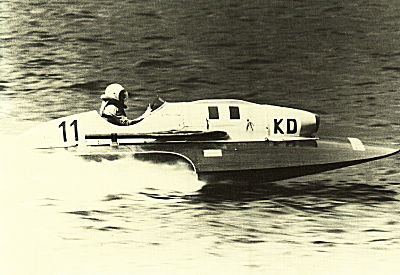 Two camshafts per cylinder bank
Urged on by increasingly more powerful engines, the boats also went through a considerable evolution, resulting in the triple hull boats. The Guido Abate boatyard with its boat 'Laura' and the Timossi boatyard with its boat 'Maria Luisa IV' were allowed to enter the lower 350 Kg and 500 Kg Racer classes and reached speeds that were higher than those attained in the higher pre-war classes. At Sarnico on the 13th November 1954, Liborio Guidotti with the Timossi boat 'Maria Luisa IV', powered by the Maserati 150/S 4-cylinder engine reached a speed of 160 kph. Sig Guidotti was a real sportsman always looking for new excitement, he involved his entire family in his unrestrained passion for powerboat racing. Together with his sons Flavio and Giorgio be achieved many important successes world-wide.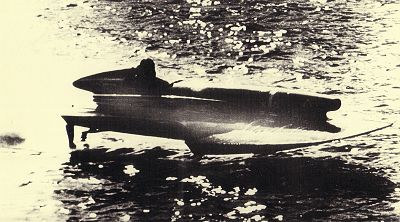 1966
The Timossi boat was powered by a 6.4-litre V8 Maserati engine
From 1958-1959 the Italian power boat racing enrolled in a particular climate that was vital to ensure not only continuity but also progress, publicity and consistecy to such activity. Other sporting gentlemen became part of the Maserati family like Lino Spagnoli, the number one world champion, who used the Maserati V8 5000 cc engine in the 800 Kg Racer class. Others like Marchisio, Dell'Orto, Siviero and Orazio Scarpa who in 1961 at the Idroscalo of Milan, captured the world speed record in the KE class 1200 Kg with an Abate boat, reaching 235,800 kph, this time with a 6.4-litre V8 Maserati engine.

For eleven consecutive years the Maserati V8-90º engine helped capture many world championships and many other victories and records in the different inboard race classes. They were achieved firstly with the 4½-litre producing 420 bhp at 8000 rpm, twin-spark with a single magneto and distributor, four Weber 45/4810M Weber carburettors, two overhead camshafts per cylinder head, and then with the 5.6-litre producing 530 bhp at 7500 rpm and finally with the mighty 6.4-litre engine producing a massive 780 bhp at 7500 rpm.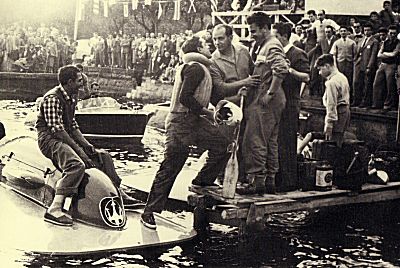 1954 - Liborio Guidotti (centre) with his son Flavio and Maserati mechanic Umberto Stradi
The list that follows is self explanatory. It is historic proof of the quality and technical contributions that Maserati gave to the field of power boat racing. Finally I would like to pay tribute to the technical engineers at Maserati who were involved in this sector, those whose work was often the determining factor of the results achieved. Guerino and Gino Bertocchi, Fausto Bietolini, Ciccio Montanari, Mimmo Selmi and Umberto Stradi. I must include myself, for at Sabaudia on the 1st May, 1959, during Liborio Guidotti's attempt on a record in the 500 Kg Racer class, using the 3½-litre 6-cylinder Maserati engine, for it was due to my strategic manoeuvre, when due to porosity on the cylinder head they were unable to tighten a spark plug, they were able to continue their testing as normal.