My first visit to Techno Classica Essen did not pass without incident, for having struggled to find our way to the exhibition site, not to mention finding a parking place, my wife and I found ourselves not at the Classic Motor Show but inside a Stamp Collector's Exhibition.

We had joined a short queue to enter what we thought was Techno Classica and on entering the exhibition hall, I explained to my wife that this hall must be for collectors of stamps featuring cars. As we moved around my immediate thoughts were of just how many stamps had been devoted to cars. It was only on closer inspection that I realised we were at the wrong venue!!

Having made our way to the Information Desk we were informed that the Motor Show was in another hall upstairs. The cashier very kindly refunded our entrance fee and we made our way to the correct hall.

Unfortunately my wife does not have the same passion for cars that I have, this added to the fact that we had just walked two miles from our parking place made matters somewhat worse.

Something inside was telling me that my first visit to 'Techno Classica' was not to be the lengthy stay I had envisaged.

We made our way directly to the Deutscher Maserati Club stand which I must say was very impressive. On display were a new Spyder, a Mistral Coupé, a Ghibli Coupé and a Ghibli Spyder. But the star of the display was a very special Tipo 450S, chassis #4502 and its engine #4502.

#4502 can be described as the first "real" 450S and was ordered by Tony Parravano from Los Angeles, USA, on the 29th October 1956. Maserati had used the car as a "press-car" for a short time and #4502 is the car in the official single-sheet brochure.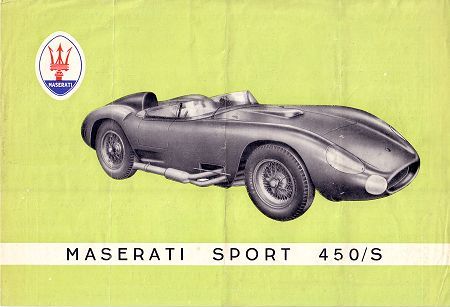 An original single sheet brochure of the Tipo 450S featuring #4502
In 1957, Tony Parravano, a housing developer in the fast growing Southern California area, faced mounting tax problems with the IRS. A short while after taking delivery of #4502, the IRS stepped in and seized Parravano's shop and assets, including the cars of 'Scuderia Parravano'. The IRS began liquidating the assets of Parravano, selling off his remaining racing cars, but #4502 somehow managed to "elude capture" and "escaped" over the border to Mexico and was hidden for some years in the Mexican desert. In early 1960, Tony Parravano, a key figure in early American Sports Car racing, disappeared and has not been seen since. When #4502 eventually returned to the US, it was put up for sale at auction by the IRS.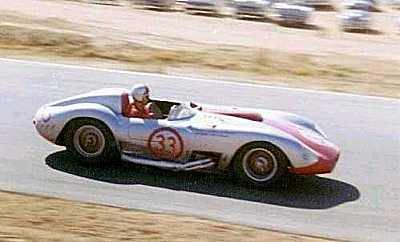 Chuck Kessinger, in Rey Martinez's ex-Tony Parravano Maserati 450S #4502 failed to qualify for the 1961 Riverside GP.
This photo is shown courtesy of Tam McParland


The new owner allowed the car to be raced in some minor events. Later #4502 came into the possession of Cameron Millar in England who admitted to being 'very impressed' by the power of the car. He sold it on to Count Doenhoff in Germany. Four years ago, the current owner Hartmut Ibing, a distinguished collector from Düsseldorf in Germany, purchased the car from the Count. Together with 450S #4506 (which is located less than 20 miles from #4502!!) the Ibing-450S is one of only two cars of this type in Europe and both can be seen competing in historic events during the season. Due to its relatively short and unimportant race history, #4502 is highly original and therefore one of the three best 450Ss in existence.

The engine exhibited on the stand is the matching-number engine to the car. It was restored over a period of two years and when bench tested on a dyno this V8 4-ohc engine produced some 440 bhp!! Performance is said to be 'shattering'. Due to the engine service being unfinished, the engine was not in the car. The exhaust manifolds on display are incorrect and were put on the engine purely for the show and the two magnetos were also missing. Herr Ibing owns two other spare engines for his car: a 5.7-litre engine and a 6.4-litre raceboat engine.

Having taken all the photographs that I needed, I made my way over to the Club's reception area, the centrepiece of which was a glass-top table supported by a V6 24-valve engine. I knew that Bill Jackson, editor of 'Trident' the UK Maserati Club magazine, had wanted to purchase a copy of Maurice Khawam's new book on the 5000GT and was fortunate enough to purchase the sole copy on display, all other available copies having been sold the previous day.

Also on display were the last few copies of the 2002 Calendar given by the German Club to the participants of the Maserati International hosted by them in Berlin last year. The producer, Walter Baumer, had already written to me describing this unique calendar and I suspect a little modesty on his part for his description fell well short of the truth. It is a quite remarkable piece of work with fifty two historic photographs, one for each week of the year, sourced from Factory Archives, Collectors and enthusiasts worldwide. I bought one without hesitation and at Euro 180 it is a real bargain and if you ever have the opportunity of buying one, do so! I am hoping to gain Herr Baumer's permission to feature the calendar at a later date.

Having seen all I wanted to see my wife was delighted that it was at last time to leave. Our departure, unfortunately for her, was delayed when I spotted a very tasty looking Tipo 300S for sale on one of the other stands. No, I didn't because I couldn't afford it!!

My grateful thanks to The Deutscher Maserati Club for their hospitality and to Walter Baumer for providing me with the story behind #4502.