The Barchetta Database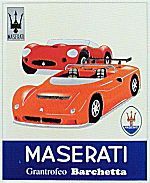 AN APPEAL TO BARCHETTA OWNERS
"Dear Owners,

I desperately need your co-operation. I am putting together a database for the Maserati Barchetta.

The purpose is to establish once and for all the exact number of these exciting cars produced. As you can see from the questionnaire, I do not seek any personal information, just information about your car!

Thanking you in anticipation,

Enrico."

"Cari Amici,

Ho bisogno disperatamente della vostra cooperazione. Sto unendo una base di dati per la Maserati Barchetta.

Lo scopo è stabilire una volta per tutte il numero esatto di questi automobili emozionanti prodotti. Come potete vedere dal questionario, non raccolgo alcune informazioni personali, solo informazione sulla vostra macchina!

Grazie nell' anticipazione,

Enrico."

"Lieber Besitzer,

Ich benötige hoffnungslos Ihre Mitarbeit. Ich füge eine Datenbank für die Schalen Maserati Barchetta.

Der Zweck ist, die genaue Zahl diesen aufregenden produzierten Autos ein für allemal herzustellen. Wie Sie vom Fragebogen sehen können, suche ich keine persönlichen Informationen, gerade Informationen öber Ihr Auto!

In der Erwartung danke,

Enrico."

"Beste eigenaars,

Ik heb wanhopig jullie medewerking nodig. Ik ben een database aan het samenstellen voor Maserati Barchetta.

De bedoeling is om eens en voor altijd het juiste geproduceerde aantal van deze bijzondere autos vast te kunnen leggen. Zoals je kan zien aan de vragen, zoek ik geen persoonlijke informatie, enkel informatie over de auto!

Bedankt voor jullie samenwerking,

Enrico."

"Cher Amis,

J'ai besoin désespérément de votre coopération. Je remonte une base de données pour le Maserati Barchetta.

Le but est d'établir une fois pour toutes le nombre exact de ces voitures passionnantes produites. Comme vous pouvez voir du questionnaire, je ne cherche aucune information personnelle, informations seulement sur votre voiture!

Merci d'avance,

Enrico."