ANNO/ YEAR XII - N.2 - Febbraio/ February 1995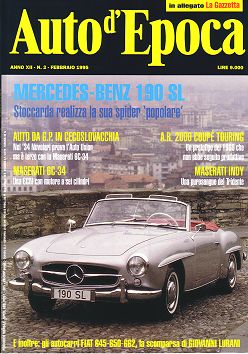 The Indy.

A superb eight page article by Carlo Alberto Gabellieri with many colour and black and white photographs capturing the car from all angles. Detaild photos of the interior, exterior trim and covers of brochures. Technical specification and a page on the two Medici prototypes by Italdesign of Moncalieri with photos of the exterior and interior of these two classic four-door prototypes based on Maserati Indy mechanics.

and the Maserati Tipo 6C-34

Five page article by Franco Zagari with colour and archive photos of this Monoposto. The 6C-34 was an 8CM with a six cylinder engine designed in 1934 by Ernesto Maserati.