TESTING STARTS AS MASERATI PREPARES FOR RETURN TO THE RACE TRACK



As Maserati continues its preparations for next year's return to competitive motorsport, testing has started in Italy of a racing version of the new Maserati Coupé.

The first two test sessions of the new 'Trofeo' version of the Maserati Coupé Cambiocorsa were carried out at the company's Fiorano Circuit in Maranello, with Scuderia Ferrari Marlboro's chief test driver, Luciano Burti, at the wheel.

Incorporating a series of developments for the race track, including uprated spring and damper ratings, racing bucket seat, full safety roll cage, larger wheels and tyres and a specially modified engine management unit, the Trofeo Maserati completed 50 laps in its first test session, achieving a best time of one minute 26.605 seconds.

After his first test session, Burti reported: "We have been working step by step on the car, testing different solutions and new features, like the rear wing, without any problems at all. We are only at the beginning of the development of this car, but we are very satisfied with the job we are doing so far."

In the second test session, Burti continued development work on the car, watched by Company President Luca di Montezemolo, who also drove the vehicle himself. In 65 trouble-free laps, Burti achieved a best time of 1.25.093.

After the second test, Burti commented: "I am very happy to have been able to try the Maserati Cambiocorsa Trofeo. The car has great brakes, good road holding and is handy to drive. The outcome of the past two days of testing is definitely very positive. Of course, there is still a lot of work to do, which is what one would expect at this stage, but the Maserati engineers know exactly what is now required."

more...

Testing starts as Maserati prepares for return to the race track...2

These tests mark the start of a programme that will see the marque return to the race track during next year. In 2003, the 'Trofeo Maserati' racing series will commence, taking in seven rounds of racing at the most important race circuits in France, Germany, Italy, Spain and the UK.

Development tests of the Maserati Cambiocorsa Trofeo will resume next week, when Scuderia Ferrari Marlboro's other test driver, Luca Badoer will also spend time behind the wheel. The car will be seen in public for the first time at the Paris Motor Show in September.

The new Maserati Coupé, on which the Trofeo is based, went on sale in the UK last month. It continues the successful concept of the high performance GT car - a unique combination of performance and roominess for four people while offering new levels of technology and sportiness for customers.

The four seat Coupé features an all-new 4.2-litre V8 normally aspirated engine, which provides record performance for a Maserati with a top speed of 177 mph (285 km/h) and a zero to 62 mph (0 to 100 km/h) acceleration time of just 4.9 seconds. The new Coupé, which is now available through Maserati's 15 UK dealers, is priced at £59,950 for the GT version and £62,950 for the Cambiocorsa (racing gearbox) electronic transmission model.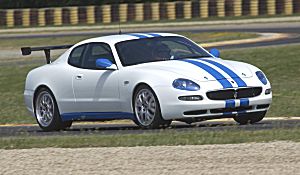 A 2004 Maserati Trofeo Light

This Maserati Trofeo Light is well known, it is the No. 30 Trofeo Light of the team RISI Competizione of HOUSTON, Chassis N° 8940.

It raced only once in the 24 Hours of Daytona in 2004, finishing 11th in its class.

The car was purchased in December 2005 from the race division directed by Sig. Claudio Berro.

It has a complete official factory dossier, which was presented to present owner by Claudio Berro.

It is recognized by the factory and is featured amongst others on page 110 of the book: Il libro delle CORSE The Racing Book (MC 2003 2004 2005). Page 123 features a full page colour photo of this car.

There were only two cars constructed like this one, the Trofeo Light of Risi Competizione of Houston for the 24 Hrs of Daytona, and the Trofeo Light of Scuderia Maserati of Washington. She also raced in the 24 Hrs of Daytona and the entire 2004 race season in the United States.

After this it disappeared, the present owner searched for a long time in the United Staes, also for that of RISI as well as WASHINGTON.

After these first two cars, Italtecnica constructed 6 others built with slight variations.

Following its outing in the 24 Hours of Daytona, the car never raced again.

The engine was changed by the factory after the race, and the car was completely overhauled prior to its purchase by the present owner.

The car has since only made outings at a few "club" track meetings between 2006 and 2008.

In May 2008, the official Maserati race preparer "Itatecnica", completely renovated the car, with the engine power output increased to 456 bhp @ 7,251 rpm.

Thankfully Italtecnica are still able to supply all body and other parts.



Maserati Trofeo Light 2004

Chassis number/VIN: #ZAMBC38B000008940
Engine: 90° V8, front-mounted, longitudinal
Bore x Stroke: 92 x 80 mm
Capacity: 4,244 cc
Valve gear: DOHC per cylinder bank, four valves per cylinder
Carburation: Bosch injection
Compression ratio: 11.1 : 1
Max. power: 430 bhp @ 7000 rpm
Transmission: six-speed + R, Maserati F1 type
Clutch: multi-disc
Chassis: monococque with font and rear sub-frames
Body: two-door 2+2-seat coupe by Giorgetto Giugiaro
Front suspension: IFS, two A-arms, coil springs, Sachs gas dampers
Rear suspension: IFS, two A-arms, coil springs, Sachs gas dampers
Brakes: Hydraulics on four steel discs, six-piston front calipers, four piston rear
Wheels: 18" BBS
Tyres: 280/650 R18 front, 285/080 R18 rear
Wheelbase: 2,660 mm
Front track: 1,525 mm
Rear track: 1,538 mm
Dry weight: 1,175 Kg
Production run: 2004
Numbers of cars built: 1 prototype and 8 cars

In 1998 Maserati went back to its tradition and introduced a Grand Touring model worthy of its prestigious history, a high-performance coupe named 3200 GT, Giorgetto Giugiaro had designed the 3200 GT body which was both very modern and typical of Maserati.

The front engine was mounted well back in the frame. It was a DOCH four valve V8, giving 368 bhp. A limited-slip differential, a six-speed box, advanced suspension with electronically-controlled hydraulic dampers, and high performing brakes were among this fine car's high specifications, In June 2001 an Assetto Corsa version was offered alongside the standard car. With different wheels and a firmer suspension, it was produced for the sportiest drivers. A superb Spyder was also introduced in 2001 and available in two variants, normal and Cambiocorsa.

Outstandig performance was achieved by means of two IHI turbochargers. In 2001 Maseraii went back to atmospheric breathing, but with the bigger engine giving 390 bhp. This magnificent type M 138 unit gave the car, renamed 4200 GT, an even higher level of performance along with a noble character. The original styling had been kept but with some touches which made the car even more refined. In particular, the interior was gorgeous.

The same year a Trofeo version appeared, marking the come-back of Maserati to racing. It was introduced to the press finished in the white with a blue strip showing the marque's attention to the American market. The racing cars were modified for better performance and better driver safety. A more exclusive Trofeo Light version was introduced at the end of the season, developed from the 2003 Trofeo. The new car was fitted with the Cambiocorsa engine and trasmission, along with suspension and body meeting the FIA N-GT rules. The power-to-weight ratio was down to 2,73 Kg per bhp thanks to the 430 bhp engine and the 1175 Kg overall weight. New tyre sizes and new aerodynamics resulted in a 5-seconds quicker lap on the Fiorano circuit as compared to the standard Trofeo lap time. Following a 24 hour simulation with a prototype, Maserati built two cars with safety roll bars welded to the body. The car for sale particepated in the practice session at the 24 Hours of Daytona in February 2004, then finished the race 11th in the GT class driven by Anthony Lazzaro, Ralf Kelleners and Matteo Bobbi. The second Maserati Trofeo Light entered was 16th with Fabrizio De Simone, Stephan Earle, Emil Assentato and Nick Longhi.

Text courtesy of Maserati Classiche

© Sotheby's

© Sotheby's

© Sotheby's

© Sotheby's

© Sotheby's

To enter Enrico's Maserati Pages CLICK HERE!



Copyright: Enrico's Maserati Pages - © 2003-2014. All rights reserved.