My 228 isn't feeling very well.
Can you help? Please!
Any owner having a problem with their Maserati can send me details and I will publish these, together with any subsequent advice I receive, on this page.
Just drop me a line at maserati123@btopenworld.com
Even if I don't succeed in helping you with your problems; and I do try, it would help other Maserati owners a great deal if you could let me know how you managed to solve your problems. THANK YOU!

Rab in the UK writes:
"Dear Sir,

Could you please send me a diagram for a Maserati 228 (G reg) of the timing marks?

If you did this for me, I'd be very grateful.

Thank you,

Rab."

Reply from Enrico:-


Re: 228 timing marks.


"Hi,

The entire contents of the Biturbo Workshop Manual for all models can be found on this site under the heading

.

There, you'll find all the information you need!

Regards,

Enrico."

Scott in the UK writes:
"Hi,

As a new owner, I am "fettling" my 228.

One problem that seems random is when you switch on the ignition and it goes through the "check" before the instruments start working, well sometimes the "check" doesn't happen and the instruments don't work. Neither do the indicators or brake lights. Other times it goes through its check and all is well.

What is the likely area for investigation?

Oh, and are both cooling fans supposed to come on together or is there a "a bit hot" and "too hot" system where one fan comes on later?

Ta.

Scott."

Ana in Serbia writes:
"Hi Enrico,

Thank's for reply to me, my problem is that I was bought a used car which isn't working. The problem is also that in my country isn't exsist a regular car service for a Maserati vehicles.

Car electrical expert has checked the relays and they were OK, but there aren't any sparks at the spark plugs.

Electrical expert told me that it can't be possible to continue carrying out and work without wiring diagrams.

I desperately need the precice data for my 1990 Maserati 228i.

VERSION: #334B00 - ENGINE TYPE: AM473.

If that could help me to resolve my problem.

Thank you.

Ana."

Austen in Scotland writes:
"Hi,

I live in Scotland and am proud owner of 1989 228 Auto.

The air con/heater control panel has stopped working. Power is getting to the unit, but it will not switch on. I am having trouble finding either a replacement or place willing to repair it. Any advice ?

Regards,

Austen."

Alex in the UK writes:
"Hi,

First of all, cheers for such an excellent site: I had a good read of it before deciding to buy the 228 I'd been offered.

Inevitably for the price I paid there's a few things that need seeing to, in particular the power steering pump needs replacing. I've phoned up a Maserati specialist to see if they had any reconditioned units, and the answer was a resounding NO.

Can you recommend anyone else here in the UK who's worth a try? If not I thought I'd order straight from Italy.

The other thing I'm after is a mechanic near London who specialises in the marque. The bloke I normally use isn't that keen on working on the car (his knowledge, like mine, disappears after cars stopped using carburetors and manual chokes...).

Having previously feeling very chirpy about my new Maserati 228, regardless of electric gremlins and squeeky powersteering, I've now come up against a far more serious problem.

Whilst driving this evening I noticed the engine suddenly lost power, even though revs stayed the same (the car carried on under its own momentum). The car stayed in this manner, just about managing 40mph until I stopped and frantically looked under the bonnet. Nothing seemed particularly the matter: no serious knocking or smoke etc. however the engine was running differently (although ticking over at the normal rate).

I stopped the car, left it to cool, and when I started full power was regained for about ten minutes, then the same thing happened again and hasn't come back since.

I'm pretty sure it's not firing on all cylinders, but have checked the HT leads, plugs and distributer and there's nothing to suggest a bad connection etc. that might cause that to happen.

Any suggestions?!! I've gone from speed machine to driving Miss Daisy in a matter of minutes!

Cheers,

Alex."

Reply from Andrea:-


Re: 228 not firing on all cylinders.


"Hi,

This is an unusual one. Are you sure that it is a misfire because you would expect that to be consistently poor when hot? It may however, be a problem with the rotor arm and I would try changing this first.

Andrea."

Follow-up from Alex:-


Re: 228 now firing on all cylinders.


"Hi there,

Just to let you know it was the HT leads after all, the previous owner had replaced them and not pushed each far enough down on the spark plug which was causing them to work loose...

Also, have found a very useful source of parts if any other owners are interested, Dave Lowe has a whole source of Italian sportscar parts, and is often selling items on ebay. Worth contacting people are looking for something specific.

Cheers,

Alex."

Ana in Serbia writes:
"Hi Sir,

I am writing you about my 1990 Maserati 228 Biturbo.

I bought it as a second hand car and I have been trying to restore it.

Can you or any other Maserati owner be so kind to send me a wiring diagram (or address to whom I can refer to) for the above model. Just to point out, I am from Serbia where there is no any certified Maserati service.

Thankful

Ana."

Mavis in the USA writes:
"I have a 1989 228 which has had the 3 headlight relays on the driver's side wheel well removed and jumpered.

Does anyone know the relay part numbers front to back so that I may re-install them?"

Henning in Denmark writes:
"Hi,

My 1989 Maserati 228 seems to have a problem. When starting the engine it runs for 2-4 seconds and then dies. This I can do over and over.

I changed the fuel pump and filter - and it is still quite a puzzle. The engine gets fuel so it must be an electric problem.

Any ideas? A valve?

Best regards

Henning."

Reply from Enrico:-


Re: 228 engine fires up for only 2-4 seconds.


"Hi Henning,

Did you really expect to get an answer from an Englishman this week?

I have only one thing to say... Denmark 4 England 1. Nuff said!!!

Seriously though, have you checked the fuel pump relay (I think it's located under the dashboard on the right-hand side - passenger side)? There is also a fuel pump fuse (No 2).

Enrico."

Reply from Andrea:-


Re: 228 engine fires up for only 2-4 seconds.


"Hi Henning,

Believe it or not, this is most likely to be a problem with the high tension lead set. Check the condition for breaks in the insulation etc as the electrical field from this can upset the throttle potentiometer. We have found that there is black magic going on!

Andrea."

Reply from Rossano:-


Re: 228 engine fires up for only 2-4 seconds.


"Hi Henning,

Regarding your problem, may I suggest you check the following!

- Coil.

- Spark plugs (even if It's difficult to imagine).

- Distributor ( check that the cables are fitted in the correct sequence).

- Battery leads.

- To me it still sounds like a fuel supply problem, have you checked for the correct fuel pressure? Have you checked the fuel pump relay?

Rossano."

Brencam in Hawaii writes:
"Hello Sir,

I stumbled across your web site and I hope you can help. I'am working on an '89 228 Biturbo and have a condition that is present once the engine reaches normal operating temperature the vehicle runs fine cold. I live in Hawaii so the climate here does not have drastic changes other than maybe humidity.

When the engine temp levels at operating temp with the thermostat flowing, the engine idle gets rough and unstable also when you accelerate the engine stumbles with no power and sometimes backfires through the intake like it is too retarded in the ignition or lean on fuel. Fuel pressure is around 2.5 bar (I can't remember for sure but I checked it against the little info I got from a service manual and it was close). If I unplug the intake air sensor located on the housing going to the throttle body the vehicle runs fine just with a little higher idle. I figure this is richening the vehicle thinking it's cold ambient temp. I tried playing with the CO screw on the ECU but this did nothing. Someone said the fuel pump may not be putting out enough, but I figure it must because the vehicle runs fine with the IAT unplugged. I assume the ECU is altering injection time to adjust for the false reading being created by the disconnected IAT sensor.

I checked for vacuum leaks and all is well, I also checked ECU and engine gound voltage drops with the engine running and they are OK (under .2 volts) We don't have smog check in Hawaii so I don't have a gas analyzer to see the actual CO while the condition is present. Lots of people I've spoken to ask for this info. I know it's important but as for now I don't have it.

Hope you can help me. I don't have much knowledge with these cars at all, I've been a Chevy line tech for most of my working experience so this stuff is very foriegn (literally) to me. I am trying to help my friend on this, he loves the car and actually so far the journey has been pretty cool. Your web site is awsome and was very amazed at the amount of stuff you provide at no fee. There is more info here than most dealers I think.

Talk to you soon.

Aloha,

Brencam."

Reply from Andy:-


Re: 228 engine idle gets rough and unstable.


"Aloha Brencam,

I would suggest changing the air temperature sensor and the water temperature sensor as it does sound like the mixture is wrong when it is warm. Adjusting the CO on the ECU is only a trim adjustment and therefore never makes a large difference. Those two sensors are the ones that change their input most between cold and hot.

Andy."

Juan in the USA writes:
"Hi there,

I'm after the exhaust & inlet valves clearances for a 228 1989 Coupe.

Regards,

Andrew."

Juan in the USA writes:
"Hi.

I have a 1992 228 Biturbo. I am looking for a new or used temperature sensor. I am located in Miami USA.

Regards,

Juan."

Reply from Enrico:-


Re: 228 used temperature sensor.


"Hi Juan,

I am afraid that being based here in the UK I do not know many sources for used parts in the US. There should be many. I know sources here in the UK and Europe and shipping costs shouldn't be too expensive. Have you tried to obtain the part from an official Maserati garage? A new one shouldn't be too expensive and will last a hell of a lot longer!!

Have you tried the MIE Corporation in Seattle? Check out www.maseratinet.com/

The link below is a guy called Lenny in California who I know has engines etc. for sale. Check out www.auto-italia.com/

There are two componenents that you may need to change, the water temperature sender 20 (part number 313630102) and the water temperature sensor 32 (part number 313720117.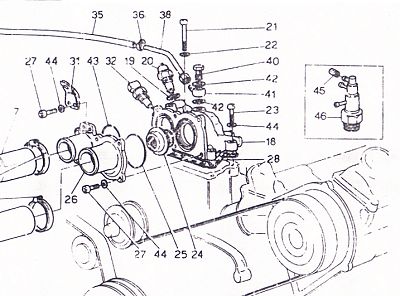 Hope this helps.

Regards,

Enrico."

Darius in the USA writes:
"Enrico,

I recently brought my 228 for inspection and had disappointed results.

HC (PPM) LOW = 352 (fail), HIGH = 113 (ok)

CO (%) LOW = 5.39 (fail), HIGH = 4.28 (fail)

What went wrong? Any clues?

Before I brought the 228 for inspection I drove for about 50 miles on high RPM to open up and burn the engine from fumes etc. as recommended by friend in the past. Didn't help.

Should I forget the car or you would you recommend something else?

Darius."

Darius in the USA writes:
"Hi,

I visited your website and after seeing so many good info about Biturbos I thought to ask you for help.

Cold engine of my 228 starts like a Swiss watch, unfortunately when engine is warm usually after drive when I try to start the car again the fuel injection doesn't work. Engine starts after several cranks and has no other issues. It starts easier when I pump the gas pedal at same time when I turn ignition key.

Would know where is the problem and how to fix it?

Thanks for your time in advance.

Darius."

Reply from Andy:-


Re: 228 starting problem.


"Not really enough to go on, but maybe you have a fuel mixture problem. Get the mixture checked on a gas analyser and that will give you an idea of where to look first.

Andy."
Reply from Darius:-


Re: 228 starting problem.


"Hi,

I am writing back to thank you for your hint. In fact this was the gasoline mixture. How did you figure it out ????

Anyway thanks and one more thing. I am looking for power steering radiator. Would you have any connections with someone that I could buy it from?

By the way live in the US.

Thanks,

Darius."
Reply from Enrico:-


Re: 228 power steering radiator/cooler.


"Glad you sorted the problem. I have checked my Parts Manual microfiche for the 228 and it does not show a radiator/cooler for the power steering. The post 1992 cars such as the 418, 4.24v., 430, Shamal, Ghibli and Spyder '92 do show a radiator/cooler for the power steering system.

Does your car have an oil radiator cooler as standard, or was it a later addition?

The part number for the standard radiator fitted to later models is 397850618. Attached is a page from the Ghibli Parts Manual illustrating the cooler fitted to the power steering.

Hope this helps,

Enrico."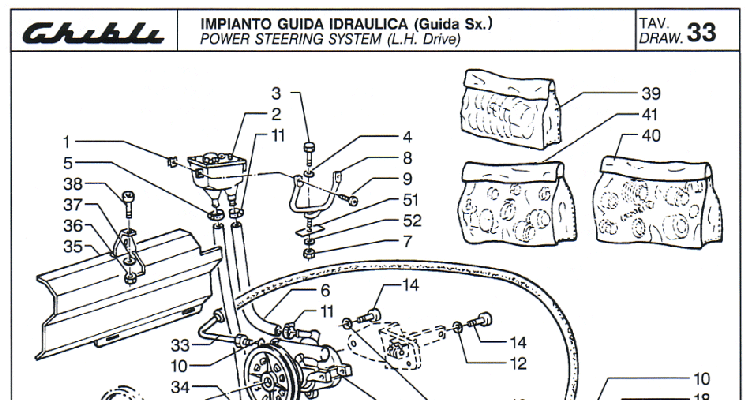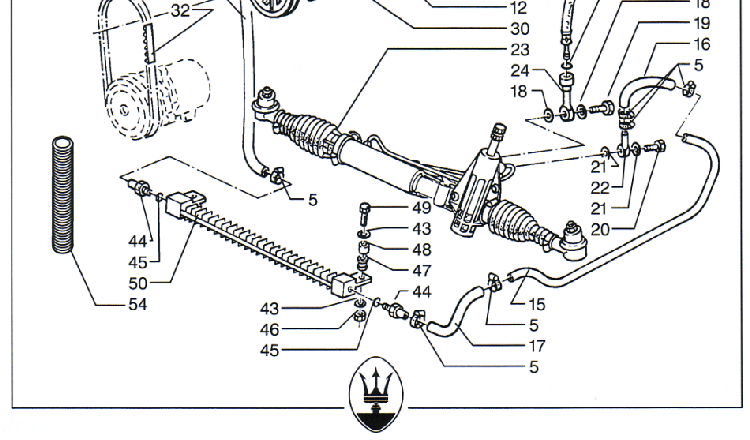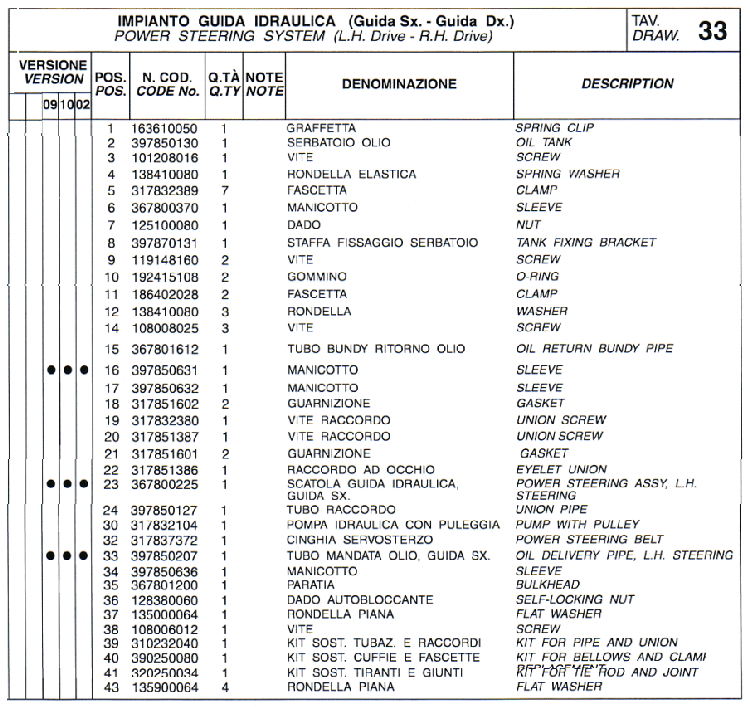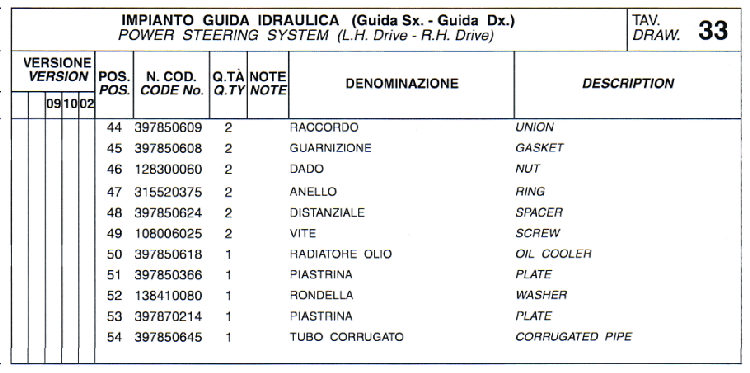 Reply from Andy:-


Re: 228 power steering radiator/cooler.


"MIE in Seattle did a kit for PAS cooler on these cars. You should try them.

Andy."

George in Greece writes:
"Hi Enrico,

I have a 1992 Maserati 228 with a ZF gearbox. The car has travelled 101,000 kilometres. I have recently (march 2002) changed the ball bearings and synchro rings in the gearbox. Everything went well.

Now, there is a rattling/chattering noise coming from the base of the gear lever. This noise happens at almost all revs in 1st gear, and at about 2-3000 revs in ALL other gears. When I put gentle sideways pressure on the gearlever while it is in gear, the noise dissappears.

What is the problem, and how can it be fixed?

George."

Reply from Andy:-


Re: 228 ZF gearbox.


"This is entirely normal!

Andy."

Ted from Brisbane, Australia writes:
"Hi Enrico,

I'm looking for a workshop manual and wiring diagram that will cover the 228i Coupe, and maybe if luck has it . . a spare parts book.

Regards,

Ted."

Steve from ? writes:
"Hi Enrico,

I have a 228 biturbo with a squeaky/rattly gear shift lever on the ZF gearbox - what should I do?

It drives me nuts and this is the only remaining problem with the car (at the moment).

Thanks and regards,

Steve."

Reply from Andy:-


Re: 228 gear lever.


"This has always been a problem on these cars. There have been plenty of theories over the years on how to get rid of it but none work!

A gearbox that is newly overhauled does not seem to suffer in quite the same way but that sounds a bit drastic. Unfortunately there is no real cure for this.

Andy."

Austen from Scotland writes:
"Hi Enrico,

I own a 1989 Maserati 228 auto. I bought it in Jan 2001. Has just over 30,000 miles, but no service history. The first thing I did was have it serviced including the timing belt. A really great car, but has a few niggling faults.

First is the electrics. Things seem to work whenever they feel like it. ie. the central locking, the lights, (work OK on dipped, but all go out when the main beam is on), electric sunroof, the air conditioning system worked OK for a few months after I bought the car, but hasn't worked since.

Can you tell me if these problems are related?

Also, when the car goes into top gear, a rumbling noise appears between 30 and 45/50mph. A friend says it sounds like the propshaft. Would you agree?

Thanks and regards,

Austen."

Reply from Andy:-


Re: 228.


"It doesn't sound as though the problems are related, though they may be due to dodgy fused relays in most cases. Try the three relays on the n/s engine inner wing to fix the headlights (or it may be the column stalk itself).

Regarding air conditioning, does the panel work? If no then try the fused relay under the dash on the passenger side door post. If yes, then is it only the refridgeration that does not work? If no then the problem is with a flap control, the vacuum pump (which provides all the flaps with movement) or the heater valve itself not opening and shutting. If yes, then you need to check for gas in the system. Turn the panel onto LOW with the engine running and check whether the air conditioining compressor is cutting in or out. Probably it is not - in which case the usual problem is that there is a leak in the system and the gas has escaped. Take the car to an A/C specialist who can put some gas in the system under pressure and work out where the leak is coming from. Favourites are a leaking seal on the compressor itself, a burst pipe to the filter in the system and a chaffed aluminium pipe in the engine bay next to the battery.

Regarding the gearbox, there are two things to think about.

1. That there is an inherent knock from the axle area on these cars when you accelerate hard or kickdown. Are you sure that this is not all it is?

2. That if the box is continually dropping into top at 30 mph, then the fault lays in the box itself as it should not be doing that! It should stay in third longer. The noise you are therefore hearing is the engine labouring because it is out of its useful powerband. If this is the case, then a trip to an Auto gearbox specialist is on the cards. This is a ZF four speed auto used by BMW during a similar period and if they know the box, they should be able to fix the problem easily. I have never actually been involved in this repair personally so I cannot advise the exact procedure. All I know is that it involves replacement of a spring. etc.

Hope this all helps.

Andy."