My 3500GT isn't feeling very well.
Can you help? Please!
Any owner having a problem with their Maserati can send me details and I will publish these, together with any subsequent advice I receive, on this page.
Just drop me a line at maserati123@btopenworld.com
Even if I don't succeed in helping you with your problems; and I do try, it would help other Maserati owners a great deal if you could let me know how you managed to solve your problems. THANK YOU!

Roland in France writes:
"Hello Henry,

Here are some links for those who want to know more about their braking system on the 3500 GT. The master cylinder description is only valid for the GTI model. The brake booster description is valid for all.

Girling brake master cylinder: www.head2head.free-online.co.uk

Girling brake servo: www.head2head.free-online.co.uk

A good place to find tools and brake pipe re-build kits: www.automec.co.uk

And to get cylinders , kits and pads : www.powertrackbrakes.co.uk

Best Regards,

Roland - still working on #AM101*2650* and #AM101*1630*."

Jan in Norway writes:
"Hi,

I am Jan from Norway, and I have my own restoration shop in Vilnius, Lituania.

I am going to restore a 3500GT soon, and are there any places I can get rubber details, mechanical parts, need to rebuild brakes and suspension.

Any service manuals?

Any help appreciated.

Thanks,

Jan."

Pasquale in Germany writes:
"Dear Enrico,

First of all congratulations on your excellent website, you did a very good job!

I´m restoring a 1961 3500 GT and need badly the characteristic curve for the double-ignition Marelli distributor.

Could anybody help me with this?

Thanks a lot, greetings to all Maseratisti from Stuttgart in Germany

Pasquale."

Greg in the USA writes:
"Dear Enrico;

Congratulations on you excellant website.

I have an early 3500 GT, # 252, and I have an oil pressure problem.

On driving round a left-hand or right-hand corner, I experience what appears to be an oil surge, a drop in oil pressure from 50-60 psi to 25-30 psi. Normal oil pressure when warm is about 25 psi (first mark on the gauge) at idle (600-700 RPM) and 50 to 60 psi (middle mark) when driving above 2000 RPM.

I've done two oil changes. I first put 12 quarts of Mobil 1 15W-50 in and later on someone's advice, changed to straight 50 W.

I've replaced all external oil lines, tried a different gauge and removed & inspected the oil pump. While the pump was off I blew back through the oil pickup port with compressed air on the chance that something might be blocking the oil pickup in the sump.

My car, being very early, has an external oil pump. By the way, it's massive, twice the size of a comparable Ferrari. The 50W seems to have masked the condition somewhat but it still exists.

Any suggestions or advice?

I also need advice or part numbers for replacement shock absorbers - nobody in the US seems to have this info. Konis or other high quality parts are fine.

Thanking you in advance,

Greg."

Reply from Pasquale:-
Re: Replacement shock absorbers:

"Dear Enrico,

Thanks for putting my question on your site.

To Greg´s suspension problem: The Koni-numbers for the 3500 GT are Koni Classic 821019 (front) and Koni Classic 821255 (back), both adjustable and very good quality. You can buy them for example at www.dundw.de (this site is of course in German!).

Thanks,

Pasquale."

Chris in the UK writes:
"Hi,

I am considering purchasing a Maserati 3500 GT. Can anyone advise me on how they are to drive, are they heavy to drive, have much body roll around corners?

Do they seem sluggish? Are there any handling kits? I have always loved the shape but wonder how much fun they are to drive.

Anything in particular I should look out for? Are most spares readily available? Anyone know of a car for sale?

Would really appreciate any replies,

Thanks in anticipation,

Chris."

Reply from Cliff:-
Re: Driving a 3500GT:

I purchased a 3500GT 9 months ago and have since covered around 4000 miles in UK and Europe on both roads and at the Mugello track in Italy. I'm not an expert at analysing the handling of a car but I have driven quick cars for the last 30 years and can make general remarks. My day-to-day car is a Porsche 911 Carrera.

I love the 3500GT. It's a totally different driving experience and very stable on the road considering its age, length and 185 tyres. Handling is neutral up to reasonable limits with little roll (I believe it has near 50/50 weight distribution) and then oversteer or possibly a touch of axle hopping sets in. It never let go on me at the Mugello track where it was nearing its limits of adhesion. They are not heavy to drive and have great balance. My car is a fairly new restoration so it is likely to be a good example.

The engine is a long stroke design developed (from the 350S) for driveability and is not a free revver. However, it has bags of torque from low down and one of the joys on e.g. D roads in France, is the effortless way it storms along without a need to change gears. Because of its balance and 3rd/ 4th gear driveability, it can be guided through curves and inclines without drama or loss of pace.

Andy Heywood of McGrath Engineering tells me that 3500GTs are soft at the front and benefit from thicker springs and Koni shocks. The back is fine. He looks after lots of classic Maseratis including 3500GTs and particularly a red car which rallies in Europe every year. There's also another white car which is raced in the UK. So he's the man to ask about spares and for general advice.

Buy the best you can get. There's a good chance that they will be much sought after in a few years, as the brand is gaining huge recognition at the moment and the old cars underpin the legacy.

Good luck,

Cliff."

Nick in the USA writes:
"Hello again,

I have more questions. I am ready to set the crankshaft in the block. I noticed a belveled tooth on the crank gear as well as the idler gear. Do these two line up bevel to bevel? I noticed the idler gear assm. is not in balance.

Is it important to "time" the crank to the idler gear?

Thanks again,

Nick."

Nick in the USA writes:
"Dear Enrico.

I am looking for information regarding the replacement of the cylinder liners/sleeve. I have removed the old ones and have the new sleeves. I am looking for the proper procedures to install the new sleeves.

Thank You.

Nick ."

Reply from Andy:-
Re: 3500GT:

"Replacing the cylinder liners is a more complex task than it first appears. If you have removed the old liners, does that mean that you have also removed the studs - this will certainly be necessary for fitting the new ones. Before you fit the new liners, make sure that they are of the unfinished type (NOT PRE BORED) as you will not necessarily be able to achieve the correct piston clearance with pre-finished liners. Make sure that you do not hone the spigots in the block but do make sure that any corrosion has been removed - the ideal is to 'hot wash' the block. Make sure that you are happy with the block perimeter surface, is it flat, is it undamaged?. Clean up all the studs (or make new) and then when you are ready to fit the liners, heat the block to 'spit rolling' temperature. If you got your old liners out, you may have made a tool for pushing them in. Fit 'o'rings to the liners and a small amount of grease to hold them in place. Drift the liners into the block while still hot. They should go in easily and you should hear when they hit home. Then, while still hot, fit the studs and fit the cylinder head to clamp everything down properly. If you do not do this, there is a possibility that as the block cools, it will push the liners up. Leave to cool. Remove head and studs. Check around the base of the liner shoulders with feeler gauges to make sure that they are fully home. When you send the block for boring, also make sure that the machine shop deck the tops of the liners, but leaving a uniform 0.004" across the tops of all the liners, above the level of the block perimeter. This will aid the head gasket fire ring fitting.

Hope this helps. Do not underestimate the importance of this procedure. I have seen a number of engines with 'dropped' liners because the rebuilder has not followed this.

Andy."

POWER PROPS in the Netherlands write:
"We are the only company on the continent which is fully specialised in the repair and reconditioning of the Lucas MK-I and MK-II mechanical injection systems; such as the Maserati Sebring, Mistral, 3500 GT etc. as well as the Triumph TR-5 PI and TR-6 PI ( MK-II).

We are proud having succeeded in improving on the reconditioning MK-I and MK-II system for the various Maseratis and Triumph sportcars. Even though the components have remained unchanged, much technical improvements have been made!!

Inlet Manifold - The perfection of a vacuum injection system much depends on the inlet manifold. A vacuum leakage in the inlet manifold id often caused by worn spindels and butterflies. All parts of our manifolds are manufactured under our supervision and are especially made for each individual manifold and partly hand-made!!

Metering Unit - The reconditioning of a Metering Unit MK-I and MK-II consists of a complete dismanteling, all parts are cleaned and checked for wear or damage and, if necessary, replaced by new parts. Only by following this procedure we can guarentee optimal operation. Partly reconditioning of a Metering Unit may lead to minor results!

Specialization - Power Props are specialized in the reconditioning to the highest standards of:

Injectors - Metering Unit MK-I and MK-II - Lucas Petrol Pumps - Pressure Relief Valves - Inlet Manifold.

All our new and reconditioned Units are individually checked and calibrated on a Hartridge test rig as per Lucas specifications as prescribed by the manufacturer for each special type of car!!

Harm Klijn / Power Props
Tel: 0031 - (0)35 - 53 148 15
Eemnes,
The Netherlands."

Danny in the Netherlands writes:
"Hi Enrico,

I read the questions from Gerd and Peter (both from Germany). Perhaps they could contact Harm Klijn in the Netherlands. Harm is (one of) the only Lucas MK-I and MK-2 injection system specialists in Europe. I don't know if he agrees to you mentioning his name / e-mail address on your site but I copied Harm in on this e-mail, so perhaps he could let you know.

"Hi Harm, We met last weekend in Houten and I took your brochure (including your e-mail address). Enrico has one of the best Maserati sites all over the world (http://www.maserati-indy.co.uk/alfieri00a.htm), and in one of his many chapters, Enrico tries to help people who have problems with their Maseratis.

In the " Can you help please - 3500GT Chapter" on his site, a few German guys are looking for someone with specific Lucas knowledge, so I thought perhaps you could help them out."

Thanks and best regards,

Danny."

"Hi again Enrico,

Harm confirmed to me that he does not object to mention his name or e-mail address on your site. He can be reached at: 0031 35 53 148 15.

Good luck,

Danny."

Peter from Germany writes:
"Enrico,

This is fantastic. I am now starting to understand the system. I can see parts that are similar to the Triumph system. I still do not understand it completely and of course there are no calibration curves. In the Triumph system there are calibration curves available that tell you the setting for the rollers against a known vacuum. Do you know of anybody else who could help me?

Peter."

Peter from Germany writes:
"Can anyone supply me with any information on the Lucas injection system used in the Maserati 3500GT?

I have a metering unit from a friend and he wants me to check it over. I know the MK2 system from Triumph backwards and can take them apart and set them up, even on the car but I know nothing about the Maserati.

Regards,

Peter."

Reply from Enrico:-
Re: Lucas Fuel Injection.

"Hi Peter,

The only information I have is contained in these four pages that I am sending you. They come from the 'Libro di Uso e Manutenzione' for the 3500GT.

Hope this helps.

Enrico."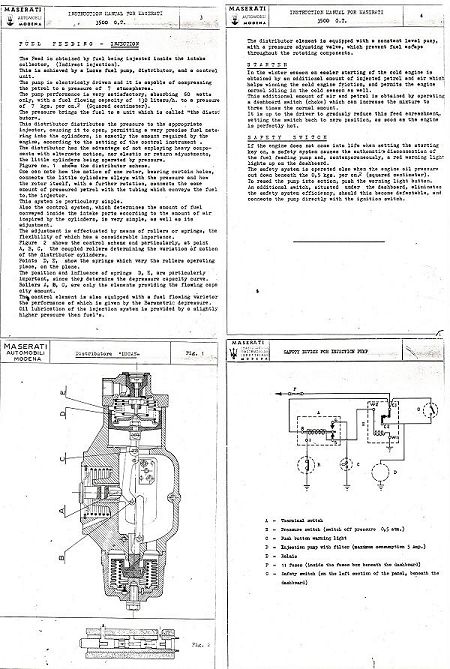 Gerd from Germany writes:
"We own an almost-finished-refurbished 3500GT.

As you might imagine, we are having problems with the Lucas fuel injection system.

We are looking for someone who can help (not a garage or a company) - more something like a friend and a specialist who has fun helping others.

We are willing to pay a fair price - and we can offer parts and our help in return.

Maybe you know somebody, if so, it would be nice to hear from them.

Thank you.

Gerd."

Reply from Andy:-
Re: Lucas Fuel Injection.

Hmm, this all sounds a bit odd. I presume we are talking about an old straight six with Lucas Fuel injection?

First the fuel pressure. Although it should run at high pressure, I think that 7.5 Bar is a bit high. By my calculations that is 110.25psi. You should knock it down a bit (to around 90/100psi) on the relief valve which is easy enough to do. However, this will not account for the problem with cylinder 6 if all the others are working.

The Lucas metering unit uses a set of shuttles internally which meter the fuel. However, it is actually distributed by the whole shuttle assembly turning and lining up with the holes for the individual injector pipes. If five cylinders work OK then the shuttles cannot be faulty. Therefore the problem must lie in the particular distribution to number 6 cylinder. You don't say whether you get your 'psscht' noise in the fuel line to the injector or after the injector. Therefore it is difficult to say what to do next. There is a non-return valve in the banjo fixing onto the metering unit for each pipe. This could be faulty. Also, although the fuel is provided through the shuttle rotor, some can flow around the outside of the rotor and therefore if the seals on the banjo are faulty, they could allow excess fuel through. If you are measuring after the injector, then the injector itself could be faulty also. Try removing it and blowing through carburettor cleaner with an air line.

However, you also say that the engine will not start because of the fuel in number 6 cylinder. What happens if you disconnect the pipe to number six injector and run it into a can. The engine should still start although only on five cylinders. If it doesn't then you have a greater problem!

Hope this helps.

Andy.

Gerd from Germany replies:
"Thanks for answering.

Yes, it is a straight 6-cyl 3.7-litre Maserati built around 1962 with a Lucas (the inventor of the darkness) fuel injection and it has a new original fuel pump.

The pressure 7.5 bar is confirmed and should be the correct value, I do not know the exact value in psi.

Yes, it looks like all the other 5 cylinders are getting fuel correctly.

When I use the word "pscht" in my mails, I refer to the short moment, when fuel is injected (a short "pscht" can be heard when listening closely). In other words, the short process when the fuel ejects from the nozzle.

Yes, I agree, the problem must lie in the distribution to the 6th cylinder. Have you ever opened the metering unit?

We have changed all the seals, but we haven't opened the metering unit itself (the unit which is about the size of two fists held together).

where do you want us to blow high pressure air inside for cleaning?

We were noticing the excess amounts of "pschts" when detaching all injector lines to their respective cylinders. All were working nicely, only number 6 got 5 times more "pschts" than all the others.

Yes, we try to run the engine on 5 cylinders, will report asap, but this should work.

We will have time for that in a few weeks.

Thanks.

Gerd."

Reply from Andy:-
Re: Lucas Fuel Injection.

"You should blow the airline through the injectors themselves having first separated them from the fuel lines. Otherwise, let's wait and see how it runs on 5.

Hope this helps.

Andy."

Reply from Richard:-
Re: Lucas Fuel Injection.

Hello, I read about the above problem & agree that with shuttle metering it must distribute the same amount to all cylinders in theory, and I see that Gerd has changed the seals (this can cause un-metered fuel to leak into the injector line. As he has eliminated that problem, I suspect that the fault could lie in the number 6 injector pipe itself. I suggest they compare the bore and wall rigidity of that particular line as if that is different to the other 5 lines it could cause a different rate of injection. I have seen similar problems where non-standard piping has been used. Richard, England."