Can you help? Please!
Any owner having a problem with their Maserati can send me details and I will publish these, together with any subsequent advice I receive, on this page.
Just drop me a line at:- phenry@freenetname.co.uk

Frank writes:
"Hi again,

As you mentioned earlier the Racing has indeed a tendency to surprise you in the wet. And since Holland is a very rainy country.... Anyway, new tyres will be fitted soon, which will hopefully improve the situation.

In my quest for Maserati parts I actually found exhaust dampers here in Holland for Euro 135 each. I imagine that trying to buy them in Italy will not be any cheaper. I also came across a website called www.maseratishop.com. I have not tried it yet, but maybe you have heard of it before. If so, is it any good?

Because I want to do some work on the car myself I have been trying to get my hands on a workshop manual. They are very hard to find however. The only one I came across was something like 230€. Which is a little to much for me. Do you perhaps now of any manuals (preferably on cd-rom)?

Other parts that need changing are the steering-housing rubbers (I don't know if this is the correct English term) and the temperature sensor for the temperature gauge (if I can find it). According to the gauge the coolant never reaches anything above 60 degrees Celsius. The fan starts up after long idling, so the coolant does reach operating temperature. So if figure the sensor or the gauge itself is faulty.

I can not imagine that parts like the steering-unit or the temperature sensor are made specifically for Maserati, so they must have been used on other Fiat cars. Perhaps there are books available with the fFiat numbers for these products or perhaps you know on which other cars these items were used?

One final question that I know you have the answer to. A question that will probably sound stupid, but I will ask you anyway: What is the switch on the left side of the steering column for???? At first I thought it was part of the (aftermarket) alarm, but I saw the same switch on a photograph of another Racing. It doesn't do anything (noticeable) on my car however.

Thanks again,

Frank."

Reply from Yiorgos:-


Re: Switch on steering wheel: "Dear Enrico,

I read with many thanks the kind reply-answer from Marcello regarding the numbers og engine, gearbox and differential.

With the opportunity I would like to reply to Frank's last question (which is not silly at all) regarding the switch that sits on the left side of the steering column of hios Racing. (the same switch exists in the Ghibli's steering column plastic casing).

It is just the 'parking indicator' that when pressed either up or down it will light up the left or right rear light of the car, only when the car's engine is switched off. It is this strange function that we see in the night when we drive and a car appears to be parked close to the pavement with the rear side that is lit on facing the road edge.

Best regards,

Yiorgos."

Tasos from Greece writes:
"Hi Enrico,

I hope you are well. I'm just wondering, if there is any video tape (I don't dare to say DVD) with a newly Maserati models such as our Ghiblis, Quatroporte, 3200GT etc. with a test drive on a track or on a road. I own a mini collection of these tapes including mostly exotic cars, but I haven't see anything with a recent Maserati cars. If you know something let me know please.

Best regards,

Tasos."

Peter writes:
"Can anyone supply me with any information on the Lucas injection system used in the Maserati?

I have a metering unit from a friend and he wants me to check it over. I know the MK2 system from Triumph backwards and can take them apart and set them up, even on the car but I know nothing about the Maserati.

Regards,

Peter."

Craig from the USA writes:
"Dear Enrico,

I am looking for an original workshop manual and original parts manual for a Maserati Mexico.

If anyone has them for sale please contact me.

Thank you!

Craig."

Horacio from the USA writes:
"Dear Enrico,

It has been a long time since I heard from you. How are you? I am considering the possibility of installing a Superchip in my car. As you very well know Superchips Ltd. is a respectable British company but I wouldn't like to throw away US $750.

What is your opinion and what have you heard from people who installed it in their Maseratis (pros, cons, suggestions, etc.)?

I understand that the ECU computer is mounted on the trasmission tunnel under the main console but I need help on how to do it properly. Would you be kind enough to ask Andy about this?

By the way, have you heard from anyone who has installed Brembo brakes on a Biturbo? If so, please let me know.

Thank you so very much for your consideration and advise.

Very truly yours,

Horacio."

Fabio from Italy writes:
"Ciao!

Does anyone know where I can get hold of a workshop manual for the Getrag 6-speed gearbox?

Thank you...

Fabio."

Pierrot from Switzerland writes:
"Hi,

Great website of your's I really love it a lot even I don't own a Maserati.

Can you please help me out? I've being looking for Maserati videos that show most of a Maserati Khamsin and do you know any source where I can get wave files of the engine sound of a Maserati Khamsin?

Thank's a lot for your help in advance...

Regards from Switzerland,

Pierrot."

Reply from Enrico:-


Re: Sounds of the Khamsin.


"Hi Pierrot,

If I remember correctly, 'Top Gear', a BBC Television motoring programme, televised a feature on Maseratis in which they drove a Khamsin. I cannot recall if the recording of the exhaust sound of the car was as good as you would like. I have made a video of this programme. If you contact me, I'll see if I can send you a copy!

Hope this helps,

Regards,

Enrico."

Paul M. from England writes:
"Hi Henry,

Thanks for the info on the Si serie black, too many problems to warrant a purchase! I spoke to you at the 'Corby' Italian car day about purchasing a vehicle in Italy etc. I've decided to make a trip to Italy to purchase a Maserati advertised.

So just looking for a bit of advise on any pitfalls etc. as I don't speak a word of Italian.

All help would be appreciated, many thanks,

Paul M.

Paul S. from England writes:
"Hi,

Has anybody got any experience of buying a car in Italy and driving it back to the UK?

I am thinking of buying a Ghibli 2.0 however I believe that it isn't just a case of paying and driving away.

What is the situation regarding paperwork, number plates etc?

Please could someone enlighten me?

Paul S.

Reply from Daniel Zerr in Germany:-
Re: Buying a car in Italy:

Hi Enrico,

I have bought several cars (6) from dealers and from private individuals in Italy.

Most car sellers in Italy (private or dealer) will contact a "Notaio" (Notary) to finalise the deal.

So you can calculate on taking a minimum of one full day (in most cases 2 days) to complete the deal.

There are 3 documents in Italy:
1. Certificato di Proprieta (transfer of ownership, proof of ownership).
2. Libretto (Log book or V5).
3. Foglio di immatricolazione (Details of car's type approval).
and the registration plates.

A. The seller will have to stop the registration of the car in Italy.

For this, he needs the "Certificato die Proprieta" and the "Foglio di immatricolazione".

The "Foglio" will be held back by the Italian state and the "Certificato di proprieta" will be returned to the seller which will be passed on to the new owner (the buyer).

Sometimes this will take a few hours, sometimes it can take weeks (4 weeks in the case of my Ghibli).

In this case, the seller will have to send the "Certificato die Proprieta" by post.

Remember that you need the original document, and on this document it must be stated that the car's registration in Italy has ceased.

2.The seller will contact a Notaio (Notary).

He will draw up a legal contract contract and a stamped copy of the "libretto". This stamped copy of the "libretto" will be yours.

In the libretto are the technical datas, the owners and the original date of registration.

3.The plates can be a problem.

Here in Germany you need the "Certificato die Proprieta", a stamped copy of the "libretto" and the plates to immatriculate the car. I think there is the same in GB. So you have to tell the seller, that you need the plates for registration purposes and that the plates will be held by the state you live or that you will send them back to Italy when you have registered the car in your country.

Please note that buying a car in Italy can be a "horror". There are only 3 steps, but these 3 steps are very difficult.

Here are the waiting times when I bought my cars:

From a dealer - Maserati Biturbo S - 2 days, totally finished.

From a dealer - Maserati Ghibli - 2 days, and about 6 weeks waiting for the "Certificato" by post.

From a private seller - Maserati 2.24V - 2 days, and about 3 weeks waiting for the "Certificato" by post.

From a dealer - Alfa Romeo 75 Turbo - 2 days, and about 4 weeks waiting for the "Certificato" by post.

From a private seller - Maserati Spider - 2 days, totally finished.

From a private seller - Alfa 90 2,0 V6 - 2 days, totally finished.

Greetings,

Daniel.

Alvin from Hong Kong writes:
"Dear Sir,

Good day, I found your website from Yahoo's search and indeed it's very informative.
However I could not find anything on Maserati's logo, I mean how it came about or the meaning of it.
Do you have info on this?
Thanks heaps.
Cheers,
Alvin."

Reply from Enrico:-
Re: Maserati Logo.
Hi Alvin,

Thank you for your e-mail.
The Maserati Brothers founded the company, SOCIETA ANONIMA OFFICINE ALFIERI MASERATI, in Bologna on the 14th December 1914.
The badge shows Neptune's trident, the ancient symbol of the city of Bologna.
The first Maserati to race with the 'Trident' badge raced in 1926.
The Maserati factory moved to Modena in 1938 following the transfer of ownership to the Orsi family. The Orsi Family , who were wealthy industrialists, were based in Modena so it made practical sense to move the factory there. Bear in mind that at that time the Maserati factory was little than a large workshop. As part of the transfer agreement, the Maserati brothers remained with the factory for a period of ten years. It is said that the brothers left the very day that the ten years were up. They then carried on making their own race cars, OSCAs, but the badge stayed with Maserati.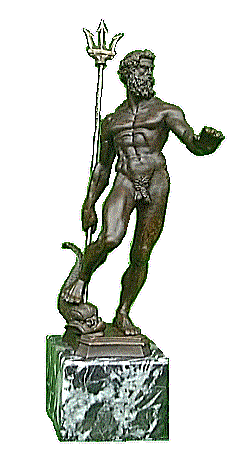 My replica of the Statue of Nettuno in Bologna.




In the centre of Bologna lies the Piazza Maggiore. Standing on one side of the Piazza is a fountain on which is a statue of Neptune holding a trident.
It was this statue that gave Mario Maserati, the only brother who showed little inteest in mechanics and became an artist, the inspiration behind the design of the Trident of today. If fact you will often hear Maserati referred to as the 'Casa del Tridente' (House of the Trident).
You will find a shortened version of the history of Maserati on most Official Maserati sites http://www.maserati.it/.
I have tried to avoid repeating this on my site.
Hope this helps,
Enrico.

Mark from the UK writes:
"Hi,
Does anyone have any images and details of the history/ location of the prototype SM coupé made by Pietro Frua? This is one of my favourite cars, but I can find little information.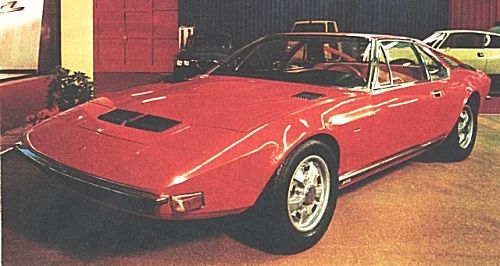 Thanks,
Mark."

Reply from Erik in the Netherlands:-
Re: Citroen SM Prototype.
I regularly visit your site and when going through some of the updates/new pages, I noticed that one of your other visitors is looking for information/the whereabouts of a car which I have seen offered for sale in Italy sometime last year.

The car in question is featured on the page "Can you help ? Part III", and someone called Marc asks for more details about the car. Since his e-mail address is not mentioned on the page, I send the information I have to you. Here we go:
- built/registered in 1972.
- 2.6 litre Maserati engine.
- one off model, with bodywork by Frua>
- Offered for sale in Italy last year (2000) for around US$ 55,000 (around GB£ 40,000).

All this information comes from the advertisement which was placed on an Italian internet site about a year ago. Below I have attached the picture that was published with the add:


If you compare this picture with the one submitted by Marc and published on your site (see image above), several differences are visible, like the front bumper (wrap-around on the recent picture vs. straight on the old picture), different interior, different wheels, indicators on front wing have disappeared, mirrors have appeared, etc. The car seems to sit much higher on the recent picture and the wheelarches seems slightly sharper. It makes me wonder whether it is a one-off or whether more than one was built. In case it is one and the same car, I much prefer the way it looked on the period picture.

I hope that you can either publish the second picture and some of the info mentioned above on your site, or forward my e-mail to Marc.

In you are wondering what my link with Maserati is... Well...I have gathered quite a collection of 80's and 90's models in recent years. It seems every time I visit Italy I feel obliged to bring another one to Holland. In total I have 11 Maserati's (such as the Biturbo Coupé, 420Si, 2.24v., 4.24v.), next to several Alfa Romeo's and a few Lancia's (incl. a Thema 8.32). If I had more space, I am sure I would buy even more italian cars!
Best regards,
Erik (Netherlands)

Barry in Italy writes:
"Hi Enrico,
I am very interested to find important informations about the Biturbo 2500 Gr.A that raced the 1987 World Touring Car Championship and in 88,89,90,91 CIVT.
The cars were prepared by Elio Imberti in Bergamo for the PRO-Team of Tony Palma with the official support of Maserati factory.
I know six cars were to be made but only four were probably finished.
Two of these cars are here in my town in Italy and someone told me that one is at Panini Collection.
Can you confirm it to me as I know you visited more than one time this museum?
I send you a photo of one of the cars in a race in WTCC 1987.
Thank you for the help.
Barry"

Reply from Enrico:-
I received this e-mail from an enthusiast:

Hi,
if you have a little time to spend please take a look to my new site dedicated to the story of the Maserati Biturbo that raced in the 1987 World Touring Car Championship and help me improving it. In my links page there is a link to your site.

www.mybiturbo.com

Ciao,
Roberto from Italy

Robert from London, England writes:
"Perhaps you could post this on to the "Can you help?" section of your website.
What are the pitfalls and things I should be aware of in importing a 97-98 Ghibli from Italy?
I have spoken with my insurance company, so you can omit any comments on the insurance aspect.
Kind Regards,
Robert."

Reply from Enrico:-
I have now posted a page dealing the subject of importing a Maserati from Italy:

To view it CLICK HERE!

Angelo from Italy writes:
"Hello,
I am looking for some information about a little Maserati truck built in the Fifties.
I am also interested in Maserati electric three-wheeled motor-cycle trucks.
Can you help me?
Angelo."

Massimo in Rome wrote:
Can 1989 Biturbos and their derivatives run on unleaded petrol without damaging the cylinder heads?
Are there any catalytic kits available for these cars and are they legal?
He has heard that Maserati have issued a guide to all authorised garages giving the serial numbers of all engines that can run safely on unleaded fuel. Unfortunatelty on phoning some of these garages he received little or no help!
If you have any information on this subject he would be very grateful to hear from you.

In answer to the querry of Massimo from Rome may I suggest: Biturbos and unleaded fuel

To enter Enrico's Maserati Pages CLICK HERE!


Copyright: Enrico's Maserati Pages - © 2000-2003. All rights reserved.