My Ghibli II isn't feeling very well.
Can you help? Please!
Any owner having a problem with their Maserati can send me details and I will publish these, together with any subsequent advice I receive, on this page.
Just drop me a line at maserati123@btopenworld.com
Even if I don't succeed in helping you with your problems; and I do try, it would help other Maserati owners a great deal if you could let me know how you managed to solve your problems. THANK YOU!

Justin in the writes:
"Dear Enrico,

I have owned this particular 96 Maserati Ghibli GT Japanese import for a year now and technically it has always been reliable.

There is a few aftermarket things fitted; Brakes, Ecu, suspension etc., and it all works very nicely with the characteristics of the car.

Recently the power steering belt snapped and took out the other two belts, air/con and alternator.

I replaced them and all was great again but driving today I lost the turbo boost and the engine started to misfire severely on low revs. This got progressively worse by the time I got home, some 5 miles away.

The engine revs slowly and return to idle very slowly after a rev.

I opened the bonnet and found what looked like a fan belt sticking out of the cambelt inspection hole on the left side in 2 short pieces, I pulled them out and it started fine again but slowly without the turbo's help.

I imagined that when the V belts had snapped last week that a couple of pieces had somehow found there way in that hole, but that seems very unlikely and it wasn't like that before I lost power !

I thought to begin with that the cambelt had frayed, even though still driving the cams, but no it's a fan belt width belt !

I am at a total loss and I'm sure you will have an explanation.

Literally the car ran perfectly before today. Now I have no power whatsoever and no warning lights.

Any advice would be very much appreciated !

All the best,

Justin."

Reply from Bob:
RE: Ghibli II loss of turbo boost:

"Hi Enrico,

Hard to say whatís transpired. Cam belt inspection hole ? I hope something hasnít gotten in the cam belt path and caused a change in cam timing. Iíd take the front part of the engine apart (radiator out, covers off, accessory belts and have a look at everything as well a verify the cam timing. If the cam timing is off perhaps nothing has hit but I was never that lucky. Anyway at that stage you can time the cams and then do a compression & leak down test.

As long as itís that far apart a cam belt and idler pulley bearings/bushing/tensioner service should be performed. If nothing ever got into the cam belt area then perhaps not. A very thorough and close inspections is imperative.

You donít want to have to fix valves because of a nicked or torn belt later on though. I think except for the hard core enthusiast thatís an end of car life event. Paying for parts if you can find them plus the service expense is ludicrous now.

Hope this helps,

Bob."

Reply from Justin:
RE: Ghibli II loss of turbo boost:

"Hi Enrico,

When the alternator belt snapped it was sucked under the timing cover. This went round the cam gear under the cam belt and it skipped 4 teeth !

All cleaned up, timed back up now and were back on the road !

Thanks for your time so far.

Justin."

Grant in Australia writes:
"Hello Enrico,

Reading these problem pages I see I am not alone ?

Learning a 'new' car takes a while, and I'm still learning.

Anyway, re. Lambda sensors:

I've just replaced one with a new NTK OTD 3G 3A1 cost was ~AUD$200. Bosch part no. may be 250-23380 for a universal sender without the plug - need to splice the wires. Thread is 12mm and it is a three wire titania sender. These may be cheaper.

On ebay I see cheaper and dearer senders, if you don't want the right plug I'm sure many would fit.

Since I have owned ...#400064 I've fitted new, stiffer front springs (250lb/in) which made a world of difference as I don't bottom on every bump. Also fitted 50% profile tyres for a little more clearance, but the front (225/50-16) tyres just rub the strut spring support. Static they have 4mm clearance, so must expand when running at speed ?

I've also found many dud sensors and have made incremental improvements in running as I have replaced each one. All sensors are common to other cars of the era - Cosworth Sierra, Ducati 851, Cagive Elefant, some Moto Guzzis. None were overly expensive.

Battled with wiring problems, fixed odd things, air/con took a while to get right but it still may be leaking gas slowly...

I'm going to get the struts rebuilt soon as one is leaking, and look closer at the suspension at the same time. I think handling could be much improved with the right setup, without upsetting the ride quality.

Also have Ebersoldt's 355hp chips here to go in once it is running correctly in standard trim.

All the best,

Grant."

Zhdan in France writes:
"Hello Enrico,

I recently bought a Ghibli II 2.8-litre Swiss version from June 2004, Iím only the third owner and live in France. In good shape with 115,000 Km, however I do have some questions:

1. Active suspension intermittently blinking red light:

Every 30 seconds or so the red light blinks rapidly for 2 to 3 seconds; the previous owner told me this was normal and shows the system is working. The documentation says malfunction is when the red light stays on, which is not the case. I donít seem to feel much difference when going from 1-4 hardness in the suspension. In your blog you wrote:

"Usually, when a shock is faulty, the red light comes on permanently. Because yours is intermittent, and because it seems to be coming on in a timed sequence, this would suggest that the unit is in diagnostic mode."

Can you please show exactly how this diagnostic mode works, and where exactly the cable is that needs to be unplugged? Do you have a more detailed description of the diagnostic mode?

2. Maybe linked to 1, but when I changed the car radio, and noticed that inside the radio compartment there was one unplugged wiring consisting of a yellow and black wire with a white plastic clip (not related to radio) that is not connected to anything. Do you know what that is and what itís for?

3. My battery is around 13v or one notch lower when the engine is running, sometimes above, but when the car is not used, when I start in the morning itís only slightly higher than 11 V. Is that normal? Also the clock which is connected to the battery sometimes stops Ė I suspect this may be when voltage is too low. If this is not normal, can you recommend a procedure for detecting where there might be a current leaking? The battery was changed 3 years ago, but the car was not used often. I use it every day now. Can you provide some guidelines how to check for the power leaks or short circuit (or is there a typical one to check that is known and that may be the probable cause?)

4. The trunk holds open, but when I close it, it falls down. Does this mean I need to replace the pistons that slows down closing, and can I use any standard part? Also it doesnít lock in properly when closed. Although it holds, you can push it up and down half a centimetre. The previous owner already had to replace the magnetic holder / opener.

5. Oil pressure: is on 2.5 when idling and 5 when running under pressure, however once engine is really in running temperature, then oil pressure at idling can be a notch lower than 2.5, and pressure between 3-4000 RPM a notch lower than 5. Oil level is ok Ė is that fine?

6. Handbrake (yes again): Yes mine holds approximately on the very last click. I always read you can tighten the wire, but nowhere does it say how to access it to tighten it. Do you have to take out the central compartment behind the hand break lever to access? Is that wiring something a layman can replace alone (like on a bicycle?)

7. Air conditioning: A. is there a way to fix the squeeking / chirping sound of the ventilator when it runs? B. It works well, however itís always running the compressor even if Iím in Auto and then press Econ. Only when I press Stop and then Econ does it stay without cooling compressor. But then I can only set fan speed on one or two but not the third speed. Looks like the electronics is slightly malfunctioning Ė or is there something disconnected or that I can fix easily?

8. I would like to make a contribution to the community on the Car radio power plug color-coding, because the color coding on my Ghibli had red and orange inverted:

Maserati original:

Red: Switched power. Modern plug same Orange: costant power; modern plug: for dimmer light
Blue: trigger antenna; modern plug same
Yellow: for dimmer light; modern plug: constant power
Black: ground

Only for information: the modern plug also has a blue white wire which is for amp on off.

Special Note: I got an Alpine radio, and it didnít turn on until I discovered with the radio shop that orange and yellow were inverted. The constant power line only serves for the car radio memory, and must also be connected even if you only want the radio to turn on when you turn the starter key. Unfortunatly I canít see the original color coding for the speakers because the plug is too deep inside the compartment with extension wires added to them that all have the same colors.

Do you have a copy of the Ghibli II repair manual CD, would you be able to share/send it to me?

Many thanks for your help,

Zhdan."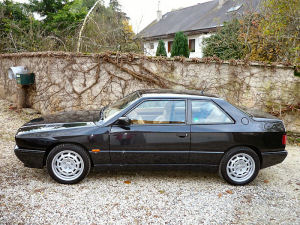 Zhdan's 2.8-litre Ghibli M.Y.94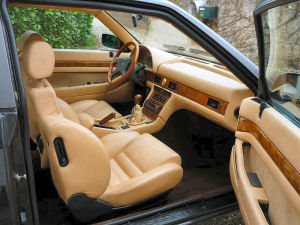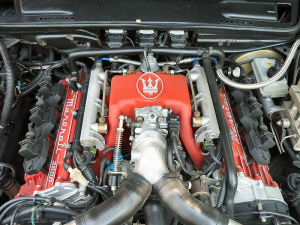 Kostas in Greece writes:
"Hi Enrico,

I would like to ask you, if you know, what is the difference between the shock absorbers with the white, yellow or white/green dots.

Another question is if I can install the Eibach springs of the Cup version on mine (with the white dot).

The Ghibli Cup which shock absorbers does it use?

Thanks,

Kostas."

Hugh in the UK writes:
"Hi Enrico,

The Ghibli GT I bought has a dragging clutch that really spoils gearchanges.

Does anyone have a solution other than removing the engine and/or gearbox?

Regards,

Hugh."

Kostas in Greece writes:
"Hi Enrico,

I own a 1995 Ghibli GT K.S. but I experience a suspension problem! When driving the "beast" I can understand that the handling is not as good as it was first. I also see the red led always on.

I turned it into diagnostic mode (connecting the cable), but I'm comfused.

Sometimes rests on for 3 seconds and off for 10, sometimes blinks 10 times very fast and then is off for 10 seconds.

Can anyone please help to understand what's going on?

I would appreciate your help, as it is not safe for me to drive my love!

Thanks,

Kostas."

Reply from Myles:
RE: Ghibli II suspension fault diagnosis:

"Hi Enrico,

No problem, hopefully this will make sense.

When in diagnostic mode each selection of the active ride settings refers to a shock absorber. Testing takes around 10 seconds on each setting. If the led comes on solid this means the shock is faulty, if it flashes quickly it is okay.

Something to be aware of is the wires at the rear can cross over, sending you to the wrong shock absorber.

Common problem is the rear shocks. Cut back the wiring on the top of the shock and you may find a broken wire. Itís a bit tight up there.

I assume it's left-hand drive:

Setting 1 Ė Rear right
Setting 2 Ė Front right
Setting 3 Ė Front left
Setting 4 Ė Rear left

Hope this helps,

Myles of Emblem."

Mark in the UK writes:
"Hi Enrico,

I own a 1996 Ghibli GT and despite numerous visits to my local Maserati dealer water is still leaking, we think between the door seals at the bottom of the door where it curves by the A pillar as the carpet is damp on the top of the inner sill. It then runs under the carpet and pools in the footwell on both the driver and passenger side. It is at its worst when the car is parked on a camber, i.e. leaks driver side when car parked with driver's door at kerbside and viCe versa.

We have to date replaced all door seals and adjusted the doors to the new seals. The dealer, although very helpful, has water tested the car numerous times and can see no other point of ingress and cannot rectify the proplem.

myself and the dealer really don't know where to go from here.

Have you ever had this problem with your Ghibli or know anyone who can help?

Thanks,

Mark."

Cham in ? writes:
"Hi Enrico,

Firstly, nice Web site.........

Secondly...

I own a Maserati Ghibli GT 1999.....

I need some help....

The car's check engine light keeps appearing. The car is struggling past 40 mph and again at 65 mph. The car is showing high revs on idle (around 2,000 rpm) and sticks at these revs for a long time. The car suddenly loses power whilst driving, then when I stop the car, the revs are acting erratic and I have to keep revving/force the car in idle to take it out of this mode until the car really warms up. Is this the Lambda sensors gone?

I did in the past have an oil Leak,...I have now fixed this. I am going to replace the spark plugs and water coolant sensors in 2 days.

I don't really want to replace the Lambda sensors because they are really expensive...what are the symptoms if the said sensors are gone?

And, if the sensors need changing how can I work around this without buying new sensors? If I do need to replace the Lambda sensors where can I get them at the cheapest?

Any help is appreciated.

Cheers,

Cham."

Richard in the UK writes:
"Good evening,

Can you help...........?

I am trying to track down the tracking information for my 1997 Ghibli GT. I have been to local steering specialists and am having no luck in locating this information. I have been referred to take the car to the main dealers.

Is there any ideas on where I would be able to obtain this information? Is there a workshop manual for the car..............?

Thanks in advance for any help or guidance,

Philip."

Reply from Enrico:
RE: Ghibli tracking information:

"Hi Philip, The tracking details should be at the back of your driver's handbook.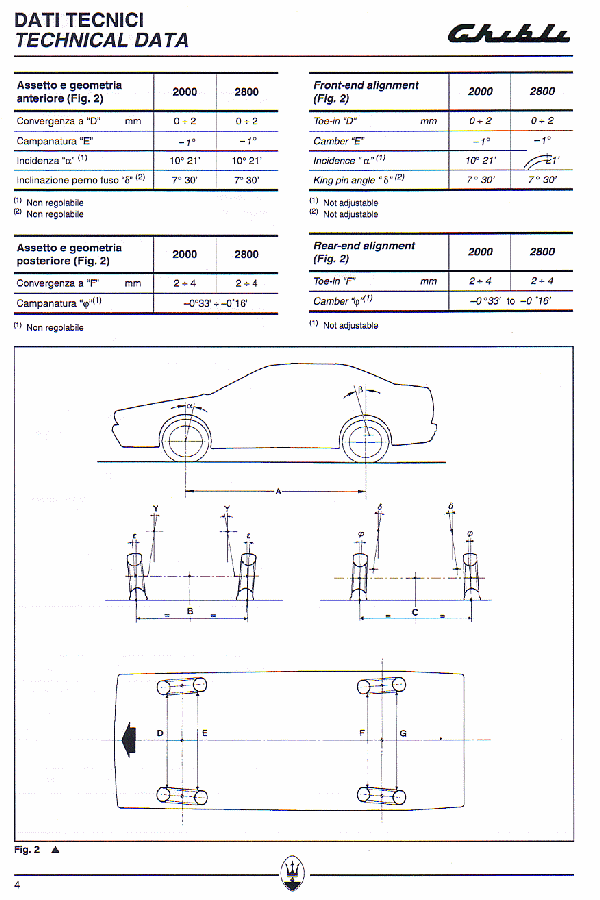 Regards, Enrico.."

Richard in the UK writes:
"Enrico,

So far I am getting on very well with Ghibli, its proving to be reliable and fun to drive.

I have a slightly erratic oil pressure guage. It reads the right value but flickers. This is probably due to a dirty connection. Can you tell me where to find the sensor?

Thanks,

Richard."

Reply from Enrico:
RE: Ghibli oil pressure sensor location:

"Hi Richard,

Attached is the relevant page from my Ghibli Parts Manual CD.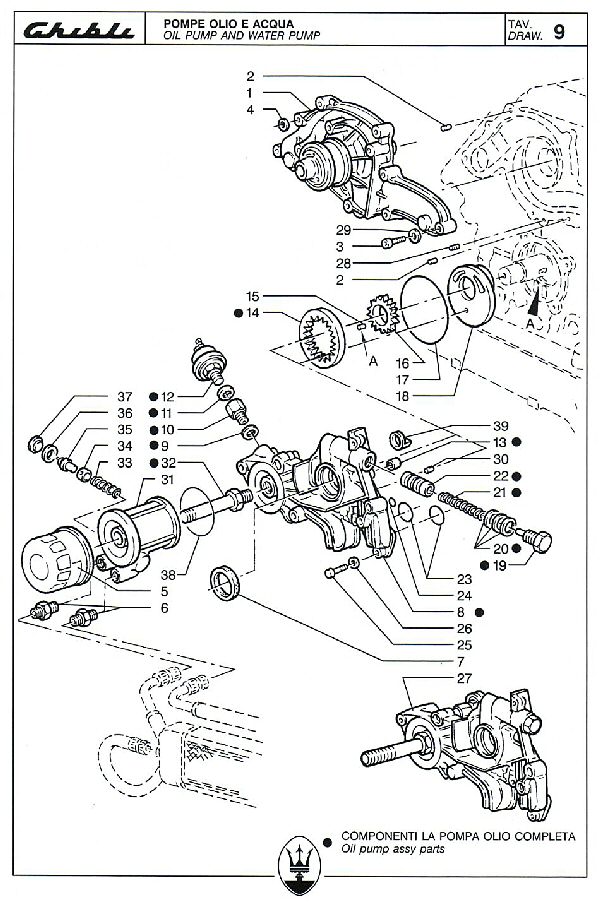 The oil pressure sensor is mounted in the oil pump, close to the oil filter. Part No 12 is the oil pressure sensor.

Hope this helps.

Enrico."

Richard in the UK writes:
"Hi Enrico,

Can you advise me on the easiest method to remove the front bumper from a 1995 Ghibli?

I certainly found them but can't see how you get to them without removing the headlights. Next question is of course how to remlve the headlights! I've taken. The two screws at the top out but they still don t come out! Any clues?

Thanks,

Richard."

Reply from Enrico:
RE: Ghibli front bumper removal:

"Hi Richard, Attached is a page from my Ghibli Parts Manual CD.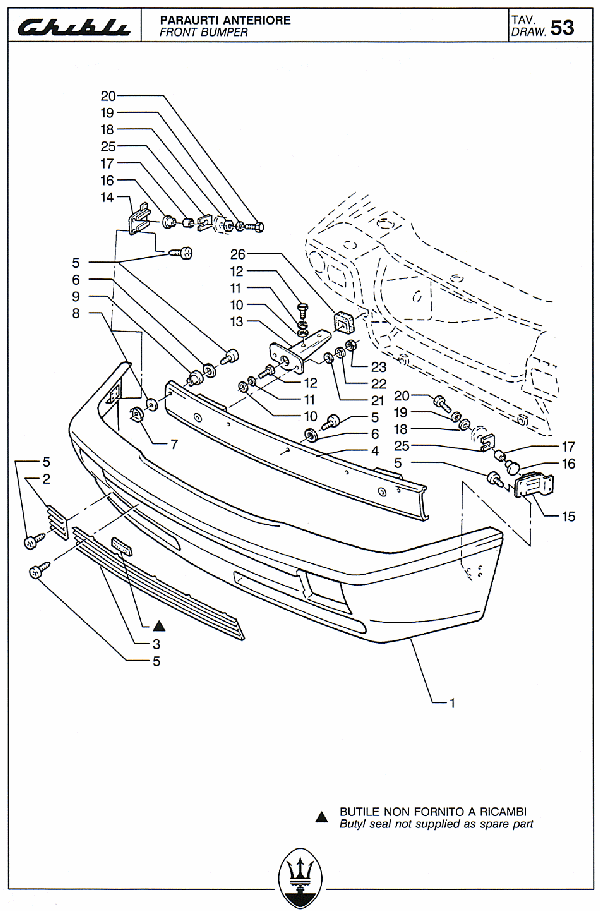 You will need to undo the two 19mm bolts (No 12) and slacken the two 13mm bolts (No 20). Then simply but carefully pull away the front bumper. The two 19mm bolts are located either side of the front radiator and as they are galvanised, are clearly visible.

To remove the front headlights, you must first remove both air filters and their boxes. There are two screws clearly visible at the front and another screw that screws in from the rear of the light cluster. It's more or less in the centre of the light fitting. Be careful when you remove the lighting connectors, there are three of them, they are easily broken.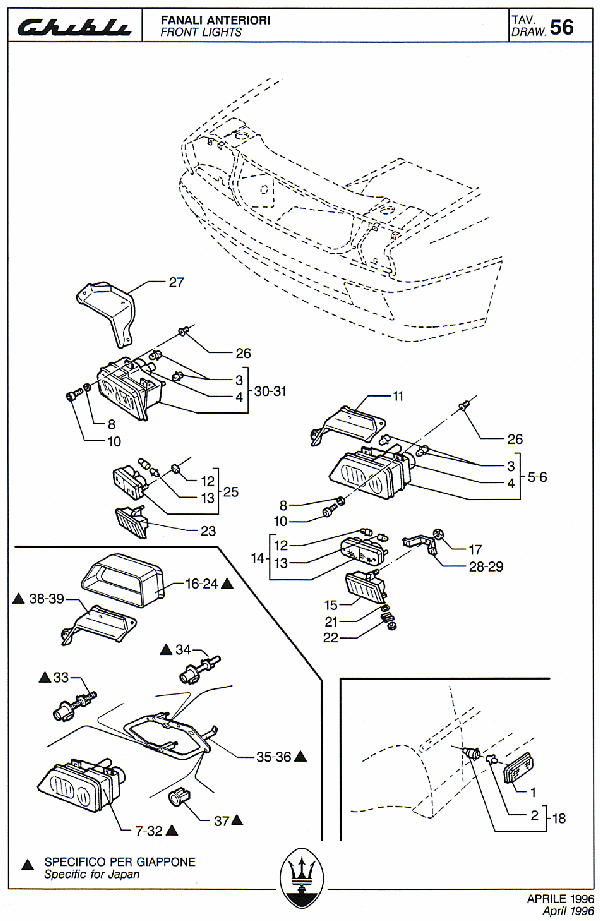 You must first disconnect the battery, then disconnect the wiring for the front indicators/side lights and fog/spot lights.

Look out for the wire that connects to the outside temperature sensor which is attached to the front bumper. Accidents often happen and this wire can easily break!!! Detach the outside temperature sensor from the bumper taking great care!!!

Good luck,

Enrico."

Son in South Korea writes:
"Sir,

Wondering If you could help me on this.

I am the owner of '96 Ghibli GT (2.8-litre version,78,000 km) and '95 Ghibli GT (2.0-litre version, 98,000 km) in South Korea.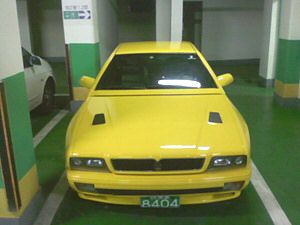 Problems:

1) Just recently the speedometer from the dashboard does not work. However, the RPM gauge and all other pointers are working properly. I have been trying to solve the problems but there seemed to be no answer to these?

2) When I start on engine, the battery gauge is always pointing low, but if I accelerate to 2,500 RPM on hold position, the battery gauge comes back on normal (to the centre). But If I do not conduct above precedure, the check engine sign comes on the dashboard.

I have changed my battery to the brand new one, but everything is same. Is it something wrong with the generator or else?

3) On the road, the fuel gauge pointer is moving erratically, I understand that there is little movement from the fuel gauge, however the movement I have seen is somehow heavy.

4) I have installed the new exhaust system to my vehicle. (Bigger pipe) sound is great but on the highway with the full acceleration, I can hear some backfiring sound from the exhaust. I am not sure whether the fuel is burning properly or oxygen sensor has problems.

5) When I put on air-conditioner for a long time, I can hear the annoying sound from the fan. It gets louder as it continues to be on.

6) On high rpm, changing first gear to the second gear is not shifting smoothly. I believe the synchro is not good. I want to change the synchro, can you recommend where to get this part?

7) There has been a leak (2.0 Ghibli 95 Version) during raining. The power and electric systems are completely shut-downed in many occassion. We have no idea that where to fix the problems or where to look for?

Finally I have a Cambiocorsa 2004-5,(7,500 km) as you know, F-1 Gear Mission shifting from neutral mode to the first gear is not working properly. I feel that the Gear System seemed to be jammed in many occasion. However once I stop the engine and re-start, then the Gear Mission is working properly. Also on every Gear shifing, I can hear the sound that hits the transmission too.

Also I have difficulty in starting engine from the Cambiocorsa. It smokes from the muffler.

It would be grateful if you could help me on these matter.

I look forward to hearing from you soon.

Regards,

Son."

John in the UK writes:
"Hi Enrico,

I have a 1994 Ghibli ABS. The gearbox is a little notchy when changing from 1st to 2nd and has a little rumble when idling in neutral.

The questions are, can separate parts i.e. individual gears, bearings washers, lay shafts etc be bought for this gear box?

Do you know of a company who specialise in the overhaul of this gearbox or am I stuck with the choice of buying a brand new gearbox from Maserati?

Best regards,

John in Portsmouth."

Reply from Enrico:
RE: Ghibli Getrag gearbox:

"Hi John,

To my knowledge, there are no gearbox parts supplied by Maserati for the Getrag box. The parts manual only lists parts outside the box and only the rear oil seals for the gearbox, the gearbox is listed as a new part only (see attached page from the Ghibli parts manual).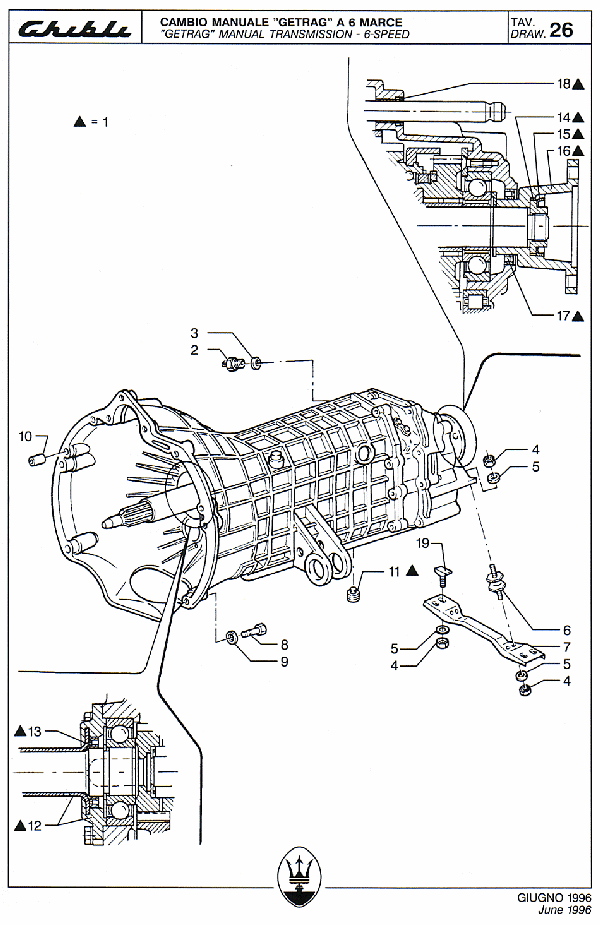 The nearest Maserati workshop to you is Emblem Sports Cars in Poole, Dorset. Try Myles at 01292 722247. I am sure they will be able to carry out any repairs needed, and they won't charge main dealer prices.

Regards,

Enrico."

Vadim in Russia writes:
"Hello!

Please help to learn PCD for my Maserati Ghibli 2.8 1993 (5-gear non-ABS). I am not sure, but it seems like it is 5 x 106. I very much would like new wheels.

Thankful in advance, best regards Vadim from Russia."

Neale in the UK writes:
"MOT time and the thing has failed on a steering idler bush. Try as I might I cannot locate one. The car is a 1994 Ghibli II but the best endeavours of my garage and myself have failed to put it back on the road.

Any ideas as to where I can get hold of said idler?

Neale."

Reply from Enrico:
RE: Ghibli steering idler bush:

"Hi Neale,

Try Adrian at Bill McGrath Maserati, they know all about Ghiblis and can help.

adrian@classicmaseratis.co.uk

Let me know how you get on.

Regards,

Enrico."

Reply from Neale:
RE: Ghibli steering idler bush:

"Hi Enrico,

Adrian was able to help me thank you.

The car is now back on the road with a shiny new MOT.

Thanks again.

Neale."

Yannick in France writes:
"Sir,

I am writing again because I've got a new problem to solve for my Ghibli '94 (without ABS).

Indeed after different works on it, (brakes, left exhaust pipe, new sleeves, etc) it appears that the car is reaching the maximum speed ofÖÖ..85 km/h, (with an irregular sound from the engine - as if the car had an empty fuel tank).

For me there is no link between the work done on it and this new problem.

So we decided to change the fuel filter which was completely blocked.

We put a new one but the Ghibli still has this 'fantastic maximum speed'.

My Alfa dealer told me that there was some dust in the fuel tank or in the fuel system and the only solution is to put an additive to clean completely the system.

What do you think of this solution?

Do you know a product which is able to clean the fuel tank and which is not too corrosive for the engine?

Best regards.

Yannick."

MORE GHIBLI II QUESTIONS AND ANSWERS


To enter Enrico's Maserati Pages CLICK HERE!


Copyright: Enrico's Maserati Pages - © 2000-2006. All rights reserved.