My Mexico isn't feeling very well.
Can you help? Please!
Any owner having a problem with their Maserati can send me details and I will publish these, together with any subsequent advice I receive, on this page.
Just drop me a line at maserati123@btopenworld.com
Even if I don't succeed in helping you with your problems; and I do try, it would help other Maserati owners a great deal if you could let me know how you managed to solve your problems. THANK YOU!


Paul in the UK writes:
Re: Mexico headlights.


"Good morning Enrico,

I was hoping that somebody on your excellent site can give me some guidance on the headlight wiring for my 1968 4.2 Mexico.

I'm getting closer to the completion of a lengthy refurbishment project and I'm struggling to get the headlights working. My car has either a failed relay, or the headlight loom at the front of the car is incorrectly wired meaning that I'm not getting any response from the headlights main beam.





The main difficulty is that I've never actually seen the headlights working so I don't know how they 'should' work, and which lamps should illuminate when the light switches are in the various positions. The dashboard in mine is exactly like the above. The column stalk (20) operates the town horn via the end button, the indicators (up and down), and should switch between the main and dipped beams when moved back and forth. Switch 28 is a 2 stage light switch (on or off) which operates the fog lamps. Switch 27 is a 3 stage switch operating the side and headlights.

To help me chase the fault, could one of the Maserati experts confirm that the headlights should operate as follows:-

· Switch 27 in the off position, all lights off but main-beam 'flash' only operates on inner sealed-beam units when column stalk 20 pulled towards the steering wheel against the spring.

· Switch 27 in the middle position, side-lights only and dashboard lights illuminated, with main beam 'flash' still operating when stalk 20 pulled forward.

· Switch 27 in the upper position with column stalk 20 in middle position, sidelights and outer sealed-beam units illuminated as 'dipped' headlights, with main beam 'flash' still operating when stalk 20 pulled forward.

· Switch 27 in the upper position with column stalk 20 pushed towards the dashboard, sidelights and inner sealed-beam units illuminated as 'main-beam' headlights, with outer dipped sealed beam units now off.

I was hoping that the relay may be the issue and was impacting on the operation of the Main-beam / Dipped beam in some way but any guidance on this is very much appreciated.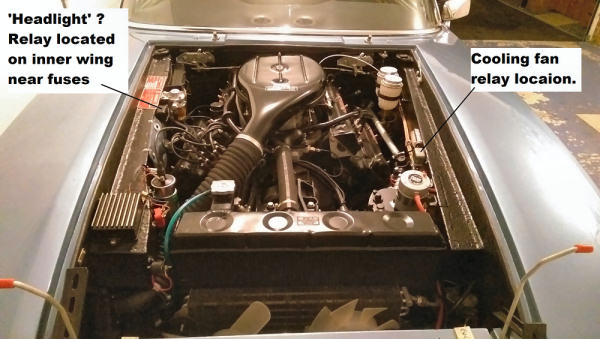 Here is a picture of the engine bay showing the location of the relay which I think is linked to the headlight dipped beam. Main beam is direct through fuses 1 and 2 on the fuse board however at the moment only one pair of headlights is working. Also a picture of the dashboard switch panel although it's not a very good one!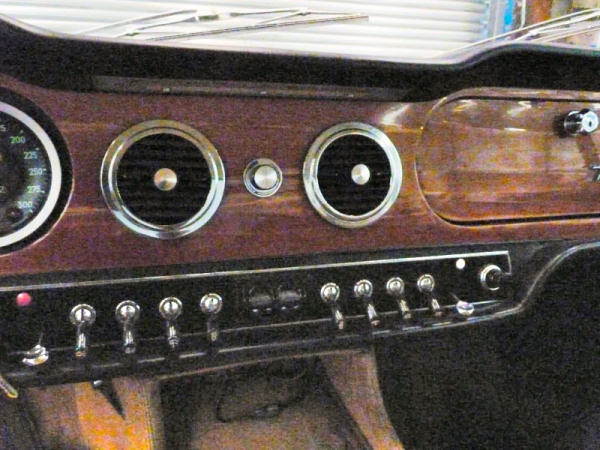 I need to spend more time checking the wiring but some guidance on whether the main beam is fed by the green (with black trace) wire or the grey (with black trace) which both feet the headlight connectors at the front of the car. It may be an easy fix but some guidance on how the lights should be switched would save me quite a bit of trial and error.

Regards,

Paul."

Reply from Andrea:-


Re: Mexico headlights.


"Hi Paul,

Some thoughts below:

The description you give of the switch functions are largely correct.

Fuses 1+2 are main beams, connecting wires being grey and grey with black trace.

The headlight flash originally works in an odd way;

When lights off or on side the dip (outer lamps) flash on,

When on dip the dip lamps flash off,

When on main the dip stays on and flashes off.

It's worth noting that what is labelled as a lighting relay in the pictures on the R/H of the engine bay is actually more likely something to do with the ignition, the flash/dip/main relay should be under the dash on the bulkhead where the column goes through (on a L/H/D car).

Cheers,

Andrea."

No name in Didn't say writes:
"I have a 1967 Maserati Mexico that is in great shape but the only things I'm having a hard time with is wiring the windsheild wiper switch and the rear view mirrow light.

The wiper switch shows 5 connection points but I only have 4 wires leading to it. There is a double red wire a orange wire a brown wire and a another wire that seems to be faded away from a light color.

The rear view mirrow has two wires white and black on the piece of plastic theres a small cross but i hooked it up both ways and it keeps burning out the switch.

Any help at all would be great. My friends think I'm a loser for trying to but it back together and says I'm wasting my time but I like the car. I'm only 18 and I would really like to show them that I can do it. I already pulled the motor and put in a new clutch and pressure plate. I resurfaced the valve covers and a ton more at my friends garage.

Thanks again."

Adam in Poland writes:
"Dear Mr. Enrico,

I have a 1969 Maserati Mexico #AM112*636 with the 4.7-litre engine under restoration.

Could you kindly give me advice where I can find the original no. of paint? The car is silver but I cannot find any information about the colour list of Maserati?

If you have this information I would be grateful if you could share with me.

I look forward to hearing from you soon.

Yours faithfully,

Adam."

Reply from Enrico:-


Re: Mexico.


"Hi Adam,

Here are the details as requested:

1969 Mexico #AM112*636

Produced: May 1969

Colour: Argento Auteil Mettalizzato. Max Meyer Paint Code No 16.287 - Salchi Paint Code No 106EI.

Interior: Black leather.

Regards,

Enrico."

Thomas from Sweden writes:
"Hi Enrico,

Thank you for your cool site.

I have forgotten the measures for how much there should be left of the layer on the brake pads on my Mexico, before they need to be changed. Another thing is that the oil pressure shows very low. On startup it seems ok, but as the engine warms up, it slowly fades to nearly nothing.

The car has been garaged for winter and only started up for 20 minutes or so once a month just to keep it running. Is it possible that the oil has mixed with gasoline from all the cold starts, so that the oil is know very thin, causing the low reading?

Thank you in advance,

Thomas."

Reply from Andy:-


Re: Mexico.


"Hi Thomas,

Brake pads. 3mm of material is the accepted minimum.

Oil pressure. Before you worry about it, have you checked that your gauge is telling the truth as they are notoriously unreliable? You should temporarily fit a mechanical oil pressure gauge and then run the engine to temperature. You should expect 80/90psi when cold and 20psi at hot idle but readily rising to 60psi at around 3000rpm. If this checks out OK then you should look at fitting a new sender for your oil pressure gauge.

If this establishes that you do have genuinely low pressure (factory states less than 22psi at 2000rpm is the definition of a problem) then yes, it is worth changing the oil as it may have been thinned by petrol.

Regards,

Andy.

Craig from the USA writes:
"Dear Enrico,

I am looking for an original workshop manual and original parts manual for a Maserati Mexico.

If anyone has them for sale please contact me.

Thank you!

Craig."

Jorrit from The Netherlands writes:
"Hi,

I am considering to buy a Maserati Mexico from 1967 - V8 4.7 liters - automatic transmission.

The car has some features/ special options I had never heard of before: tinted glass, defroster for the rear window, but above all: a sliding roof.

Do you know whether these options are mentioned in the official sales literature?

Appreciate your help.

Thanks.

Jorrit."

Reply from Andy:-


Re: Mexico.


"Hi Jorrit,

The heated rear window and the tinted glass were certainly present on most vehicles. I do not think that they were even options. However, a sliding roof is most certainly not a Maserati option and must have been fitted at a later date.

Regards,

Andy.

To enter Enrico's Maserati Pages CLICK HERE!


Copyright: Enrico's Maserati Pages - © 2000-2005. All rights reserved.