My Quattroporte isn't feeling very well!
Can you help? Please!
Any owner having a problem with their Maserati can send me details and I will publish these, together with any subsequent advice I receive, on this page.
Just drop me a line at maserati123@btopenworld.com
Even if I don't succeed in helping you with your problems; and I do try, it would help other Maserati owners a great deal if you could let me know how you managed to solve your problems. THANK YOU!

Rudy in the USA writes:
"Buono sera paisano!

I have a 1981 Quattroporte III, I have a problem with the tail lights staying on. I recently purchased the car from someone that said they had the master brake repaired/replaced and since he picked it up from the shop, the tail lights stay one (he's had the car on his driveway for 1-2 years when I bought it). What can I do to repair?

Also, there's a wire from the distributor that connects mid-air going to the ignition box. It has been broken due to extreme heat at the back part of the connection. Once I purchase the wire, is it difficult to repair? Please advise.

Multi Grazie!

Rudy."

Ernie in the USA writes:
"Enrico, Maybe you or your readers can save me some time. 1980 Quattroporte III runs great as long as the Fuel Pump switch (pompa elettrica di emergenza) is on. When it is switched off the car soon "runs out of fuel". Where is the normal fuel pump located?

Mille Grazia,

Ernie."

Reply from Andrea:

Re: Quattroporte III
"Regarding the Quattroporte III fuel pumps:

There are two fuel pumps mounted in the transmission tunnel area of the car (so accessible from underneath the car). They are Bendix pumps that cross reference to a Facet Red Top, which is still available. There is no problem running on the emergency pump though as it is not like a reserve tank – just another pump.

Andrea."

Ernie in the USA writes:
"Enrico,

Great site! I just went thru the replacement process of the starter on my (new project) QP III. As suggested by other owners I used a starter from a 91 Dodge Dakota 3.9L.

It works fine. The only reservations I have are the vent holes end up on the top when in place. Other Dodge starters may not result in this situation but I didn't notice it until I started to put it in place. One should shop for a starter that normally mounts on the passenger side to avoid this.

Time will tell if this is a problem.

Best Regards,

Ernie."

Ian in the UK writes:
"Enrico,

If I may trouble you further. On my QP 3 (1980) when I engage drive or reverse with the automatic transmission, I find that there is a pronounced jolt and clonk. This can be diminished by applying the footbrake. When the car is first started up the jolt and clonk is much less pronounced.

Have you any idea as to the cause and its possible rectification, or is this normal ?

Many thanks for any possible advice.

Ian."

Reply from Andrea:

Re: Quattroporte III
"Regarding the QP3 gearbox:

There are a few reasons for clonks when taking up drive. The first thing to do would be to check the transmission fluid level and cleanliness. If it has not been serviced for a couple of years and had the fluid changed, then do so first. Checking the level is complicated but the procedure is described in the owner's handbook. If you establish that the gearbox level is fine and the car still clonks, you then need to make a physical examination of the drivetrain, starting at the most likely end – which is the rear and the two driveshafts, the joints of which wear. If you have any play in these joints, then get them overhauled because they also form a suspension link and a failure could be catastrophic. If satisfied that the joints are OK, then look at the propshaft joints. If these are also OK, then check for backlash in the rear axle.

Andrea."

Jorge in the USA writes:
"Hello Enrico,

1984 Quattroporte III.

Yesterday I removed the battery, from my recently acquired 1984 QP3, and I noticed a few unusual things (see attached pictures).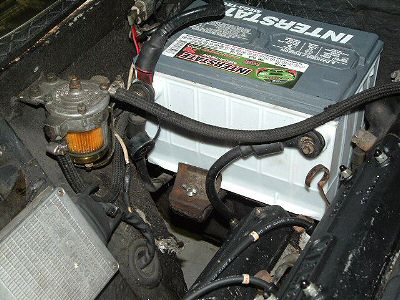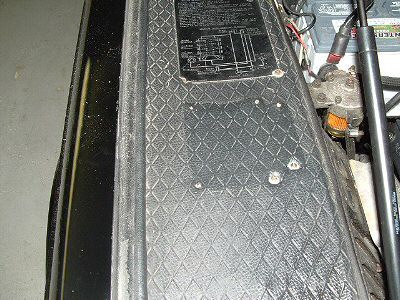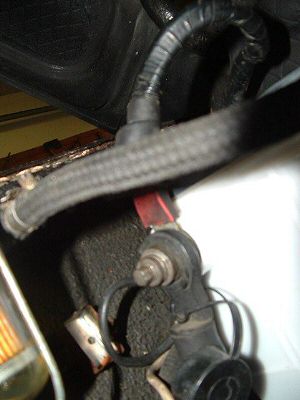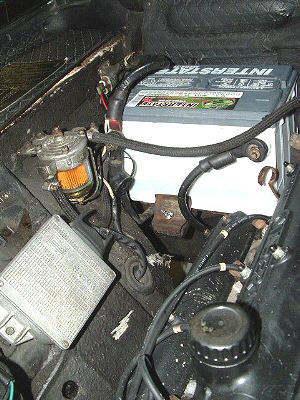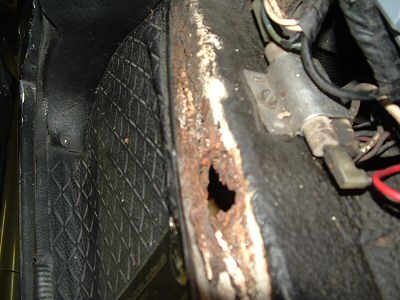 The battery is a GM side terminal battery. Did Maserati use this type of batteries or has someone made a substitution along the way?

The + terminal has two cables with two terminals screwed on top of each other. This definitely doen't look original. Why two cables?

The fuel line from the fuel filter to the engine dangles on top of the battery. What is the correct routing?

There are a couple of missing plates on the pass. side fender panel. Are these plates reproduced or is eBay the way to go?

I found a rust hole on the horizontal panel beneath the ID plate and the quilted material. This looks like it would be relatively simple to patch by welding new metal in. I want to contact someone who has hands on experience in QP rust repair? Does anyone reproduce this quilted material?

I want to put the car in as close to original condition as possible and would appreciate your comments and suggestions.

Thank you,

Jorge."

Reply from Andrea:

Re: Quattroporte III
"Hi,

The side terminal battery in your picture is the correct type for the car and the two connections are also correct to the positive terminal.

The fuel pipe should go under the battery tray.

The chassis oil plates are available as a repro from MIE Corporation in Seattle.

The rust hole does look like a simple repair.

No, I don't think that the quilted material is available anymore.

Regards,

Andrea."

Lorris in the USA writes:
"Hi,

1984 Quattroporte a/c.

I have just been driving this car for a friend who has tooooo many cars and this needs to be run a little. It's in immaculate condition with only 40k miles;

To the chase, I've manage to get the vacumn straighten out but am unable to get the a/c charged it has been converted to r134a but I notice a spicket on the low pressure side of the compressor just below the r134a connector.

What is the precedure for charging this a/c unit?

TIA.

Lorris."

Reply from Enrico:

Re: Quattroporte A/C
"Hi,

Not sure what you mean by this.

Regards,

Enrico."

Ray in the USA writes:
"Hello Enrico:

Your site is great! I am the owner of an 1984 Quattroporte (US model w/ California emissions). I have a few questions:

1. After running for about ˝ hour, 3 of the 4 catalytic converters turn red hot. The only one that does not is the one on the driver's side closer to the engine. I saw the post on your site recommending a fix for red hot exhaust headers (I think they are talking about the exhaust manifold right off the engine). Is this the same problem and/or fix?

2. How do you open the glove box? I found a small button under the dash lip (right under the clock). It didn't open the glove box right away, but I was able to open the box with a little pull after pressing this button a few times.

3. Where would the original tools be stored? The trunk is made up of 3 main compartments. And I did not see it in any of those.

4. In order to keep the car from stalling, I usually need to keep the "emergency pump" button pressed in while driving. Any idea what the problem and fix is for this?

Thanks!

Ray."

Dayle in South Africa writes:
"Dear Enrico,

First and foremost .....What an Amazing site !

I have recently bought a 1989 Maserati Quattroporte Royale and as far as I know it is a very Rare Car with only 55 ever made.

I would like to know what price this car would sell for and what its value is , as it is in showroom condition with only 55000 km.

Any information on the car would be greatly appreciated.

Kind regards,

Dayle."

Reply from Enrico:

Re: Quattroporte Royale
"Hi,

I'm sorry but I can't do any valuations by email, difficult enough to do when you have the car in front of you.

How much did you pay for the car? Do you like it? If you do, it was worth every penny!!!!

Regards,

Enrico."

Robert in the USA writes:
"Scott,

I also have an 84 Q III. Front pads are Lamborghini. Rear pads are Jaguar.

Both are easy to find by calling "Gino" at AW Autoparts NJ at 800-631-5589.

Tell Gino, Bob Rickner sent you. I can be reached at rhrflyer@hotmail.com if you want to chat more about Q IIIs.

Bob."

Sol in the USA writes:
"Sir,

I am hoping you can help.

I am in dire need of tie rod ends for my 1982 Quattroporte.

Any info such as source, part numbers or any availability would be greatly appreciated.

Thanks,

Sol."

Jake in the USA writes:
"Greetings,

I need advice and direction. I recently purchased a 1984 barely running Maserati Quattroporte III, automatic transmission, engine Vin # ZAMBC1105EA305***. At first the starter was slipping, but I got it running after multiple tries. After 5 minutes of running, the 2 back exhaust engine headers turned red hot, as if they were going to melt. I immediately turned of the engine. I then continued to remove the starter to check the ring gear. The ring gear teeth are striped and at some points there are no teeth. The starter spindle seemed OK. Someone must have installed the wrong starter and it striped the ring gear teeth (flywheel). I was informed, that transmission on the 84 Quattroport is a Chrysler Torqueflight with a modified torque converter (possible the heavy duty police car Torqueflight). He also informed me that the starter could be from a 1974 - 1978, 440 Dodge engine. I now need to replace the Ring Gear with the Torque Converter, the starter and to look for the cause of the red-hot engine headers. My questions are:

1) Do I look for a new starter at a Dodge Dealership? What is the correct starter model for the 1984 Quattroporte, Auto.

2) Do I look for the ring gear with the Torque Converter at a dodge dealer ship. What is the correct Ring gear and torque converter for the car?

3) What could be the problem of the red-hot engine headers? I purchased the car in Colorado and shipped it to NY. Is it possible the deference in the altitudes will cause the wrong air mixture?

Your help will be greatly appreciated.

Jake."

Reply from Zach:

Re: Quattroporte III transmission
"Responding to Jake on your Quattroporte III "can you help" page, I had the same problem with bright red headers on my US model QPIII.

After much theorizing, shaking of fists and kicking of tires, I finally determined that it was the Air Bypass Valve that connects to the smog control air pump. A $20 Ford part!

The starter is a standard Chrysler "MOPAR" part. Any auto parts store can match it up for $50. Unfortunately, the rebuild quality on these is often poor, which is probably why the ring gear/flex plate is eaten up. I had a starter solenoid stick on a hot summer day, causing damage to the ring gear. Replacing the starter temporarily fixes the problem, but the damaged ring gear, in turn, causes the new starter's gear to wear out, causing more worn teeth on the ring gear, etc... Ah, well -- at least the starter is cheap...

Zach."

Reply from Andy:

Re: Quattroporte III transmission
"The transmission is Chrysler Torqueflite A727. I do not know if the torque converter is modified or not because we do not have much experience with American cars here. The ring gear (flex plate) is a Maserati part for sure so available probably through people like MIE. The starter is definitely of US origin but I don't know the make or model. We just take to a US car spares place here to get matched up. Again, MIE will no doubt help you and their pricing may surprise you!

The problem with hot headers is usually that the ignition timing is too retarded or the choke device is stuck on. If you are saying that only the rearmost four cylinders are making the headers hot then it is likely you have carb problems but I don't know if your car has Cats as well (none in the UK have them) which may also cause that if they are partially blocked. You should check that the choke device is completely shut off on all carbs individually - you can disconnect if you want as it is never needed. Then you should check ignition timing anyway. It may be that you are running with a good deal of retard anyway as this was used by Maserati to comply with Smog laws. In Euro spec you should have 6 - 8 degrees BTDC static, whereas you could already have 11 degrees ATDC. If it is more than that, adjust it.

Hope this helps,

Andy."

Scott in the USA writes:
"Hi,

I just stumbled across you site and find it quite intriguing.

Unfortunately, however, I can't find anywhere on it to help me find reasonably-priced front & rear brake pads for my '84 Quattroporte.

I'm located in the U.S. and am looking for some interchange pads for the originals, which are hard to find and VERY expensive.

Any thoughts?

Thanks for any help.

Best, Scott."

To enter Enrico's Maserati Pages CLICK HERE!


Copyright: Enrico's Maserati Pages - © 2000-2005. All rights reserved.