My Sebring isn't feeling very well.
Can you help? Please!
Any owner having a problem with their Maserati can send me details and I will publish these, together with any subsequent advice I receive, on this page.
Just drop me a line at maserati123@btopenworld.com
Even if I don't succeed in helping you with your problems; and I do try, it would help other Maserati owners a great deal if you could let me know how you managed to solve your problems. THANK YOU!

Laurence in the UK writes:
"Hello Enrico,

I have a 1966 series II Sebring 3.7 and have just replaced the points and condensers.

I just cannot get the car to start and stupidly thought it was an easy swap. I assume the timing is now out and needs to be set.

I have done this before with a single coil setup, but am a little concerned on how I do this with a twin coils/points set up.

From what I have gathered the timing should be 12degree BTDC static, and points gap should be 15tho'....

Can anyone walk me through the process of setting the points and timing up on this car?

I would really appreciate anyones help and guidance.

Thank you,

Laurence."

Kimm in Norway writes:
"Hello Enrico,

Compliments on an exceptionally interesting site for Maserati-lovers.

Wondering if you could put down on Need Help column under Sebring;

I might be buying a 2nd series Sebring, but I know the ZF-transmission needs attention, for instance it tends to jump out of 1st gear.

Would anyone know if this is a severe problem that would need a total overhaul of the gearbox or could it be an easy fix?

Thanks,

Kimm."

Reply from Andrea:-
Re: Sebring ZF gearbox.

"Hi Henry,

There is a slim possibility that the problem is due to the transmission tunnel cover getting in the way of the lever so this should be checked first. If not, then the gearbox would have to come out. The second possibility is wear on the detent mechanism on the selector. This is relatively easy to repair but one would also want to replace all the gearbox bearings and seals while the box is out. Lastly, the problem could be caused by wear in the synchromesh or in the gears themselves, and these parts are not easily available. In most cases they have to be made.

Hope this helps.

Andrea."

Ann in the USA writes:
"Enrico,

I bought a 1965 Sebring II (# 101/10.159) two years ago.

The wiring looked questionable, so we have been in the process of disconnecting everything with the intent of replacing the wiring harness. I saw the post from Don in the USA. I don't know where he can get a color copy of a wiring diagram.

However, we found it very helpful to work with an enlarged diagram. We took the small diagram to a print shop and had it enlarged to about 3' x 5'. It is hanging on the wall by the car where we can make notes and trace wires with color markers.

Don mentioned that he had maintenance/owner manuals. Can you check to see if he still has extras that he is willing to sell?

Also, do you know anyone who sells a wiring harness for the Sebring? We were planning to use the old one as a template and construct one, but I would prefer to buy one if the price is not too prohibitive.

Thanks for your help.

Ann."

Markus in Switzerland writes:
"This is re: Danny/Netherlands request and answer from Andy

Comment from Markus in Switzerland

I contacted ZF in Friedrichshafen/Germany re: their policy to support vintage car owners with ZF gearboxes. They answered that they would comment soon. Let's wait and see.

In the meantime, I was told that following shops/garages might be able and willing to help:

- John Giles or his spares manager Des Lucas - www.ttworkshops.co.uk

- Herr Scharnhorst at Oldtimer Garage, Toffen, near Bern/Switzerland - www.oldtimergarage.com/

Best regards

Markus."

Eugenio in Mexico writes:
"Hi Enrico.

I need some parts and I would like to know if you can help me? I have a Maserati Sebring II 1966.

I need the Caliper seal kits for:

Rear: 64325722 large and 64325723 double small.

Front: 64325110 large double and FBO49043 / IDA17127

I also need the Clutch master and slave cyliner kits for:

64067347 master

313340 3/8 Slave

I also want to convert my fuel injection to a three Weber carburettors. I know that MIE sells the kit but it is very expensive, Is there another supplier to this Conversion kit?

Hope you can help me. I want to know where can I buy these parts.

Regards,

Eugenio."

Don from the USA writes:
"P. Henry...

I recently purchased a very nice Sebring II #101*0029, however it has a few electrical problems, primarily in the headlight assemblies. I have numbers wiring diagrams, but they are all on black and white print.

Does anyone out there have a color copy that I could acquire? I also have some Sebring maintenance/owners manuals if anyone needs one.

Don."

Danny from The Netherlands writes:
"Hi Enrico, I just spoke to my mechanic, amongst others about the ZF-gearbox in my Sebring. He told me that if it ever suffered from severe problems I would have a big problem, because parts of these gearboxes are no longer available and ZF is not cooperating in providing details of their vintage-gearboxes, so the manufacturing of new parts will have to be done based on worn-out examples.

As a matter of fact, he told me that he knew some cars that were standing still for a couple of years because of this problem. My first reaction was: this cannot be true, a lobby should be started or something to persuade the people at ZF to co-operate in providing technical details.

So, my question is: Could you please ask Andy if he has the same information/experience on these (3500 GTI S) ZF gearboxes?

Thanks a lot,

Danny."

Reply from Andy:-
Re: Sebring ZF gearbox.

"Yes, I'm afraid this is currently the situation.

Andy."

Olivier from the USA writes:
"I have a Sebring II with fuel injection. Do you know if there is a retro fit to replace the Lucas fuel pump with a Bosch fuel pump?

Thank you,

Olivier."

Reply from Enrico:-
Re: Lucas fuel pump.

"Yes nthere is. Bill Mc Grath Maserati have put together a kit that replaces the troublesome Lucas fuel pump with a more reliable Bosch unit. However, to ensure that it is fitted correctly, they prefer to fit the kit themselves.

Bill McGrath can be reached on 0044-1438-832161. They ship parts all over the world and are highly regarded in the Maserati world!

Enrico."

Frédéric from France writes:
"Hi,

Congratulations for your page about this under-rated lovely car (my favourite with the wonderful Ghibli).

I own a SEBRING 4-LITER 1968 (#101-A1.673) the last to have been imported in France in February 1968.

The production of the serie II is only 98 in total.

I have the same problem as you with my LUCAS Injection, do you have any good address to buy a carburettor kit? My engine has been rebuilt and I don't want any more problems.

Best regards,

Frédéric."

Reply from Andy Heywood:-
Re: Sebring carburettor conversion.

MIE in the States do a kit to convert to carbs.

You need:

3 x carburettors (originally Weber 42 DCOE but now only 45 DCOE available)
1 inlet manifold - remanufactured by MIE.
An air box
Two Facet fuel pumps
Linkage etc.
A cam cover from an early 3500 carb car - again, I believe remanufactured by MIE.

This is not a cheap conversion!!!!!!

I actually believe that it is possible to get the Lucas system right and make it reliable. First step is to substitute a Bosch fuel pump for the original Lucas.

A complete rebuild of the Fuel injection with this pump is likely to cheaper than conversion, faster, smoother and just as reliable.....

Andy."

Reply from Marcello Candini:
Re: Sebring carburettor conversion.

Dear Sir,

We can offer the following carburettor conversion for your Sebring:

3 x Weber 42 DCOE carburettors (original equipment on the 3500GT)
1 x Inlet manifold
1 x Air box
1 x Cam cover
1 x Low pressure fuel pump conversion
1 x Throttle linkage assembly

For more information ring me on 0039-059-828280.

Masrcello Candini."

Reply from Harm Klijn:
Re: Sebring LUCAS Fuel Injection.

For Frédéric in France, I can help to replace the Lucas pump with a Bosch pump incl. all the parts you need for the replacement.

Also, I'm specialized in the repair and reconditioning of the Lucas MK-I Injection system Oil type and Oil less type!!

Harm Klijn."


POWER PROPS is the only company on the continent which is fully specialized in the repair and reconditioning of the Lucas MK-I and MK-II mechanical injection system: such as the Maserati Sebring, Mistral, 3500 GT etc. as well as the Triumph TR-5 PI and TR-6 PI ( MK-II).

We are proud having succeeded in improving on the reconditioning MK-I and MK-II system for the various Maseratis and Triumph sportcars. Even though the components have remained unchanged, much technical improvements have been made!!

Inlet Manifold - The perfection of a vacuum injection system much depends on the inlet manifold. A vacuum leakage in the inlet manifold id often caused by worn spindels and butterflies. All parts of our manifolds are manufactured under our supervision and are especially made for each individual manifold and partly hand-made!!

Metering Unit - The reconditioning of a Metering Unit MK-I and MK-II consists of a complete dismanteling, all parts are cleaned and checked for wear or damage and, if necessary, replaced by new parts. Only by following this procedure we can guarentee optimal operation. Partly reconditioning of a Metering Unit may lead to minor results!

Specialization - Power Props are specialized in the reconditioning to the highest standards of:

Injectors - Metering Unit MK-I and MK-II - Lucas Petrol Pumps - Pressure Relief Valves - Inlet Manifold.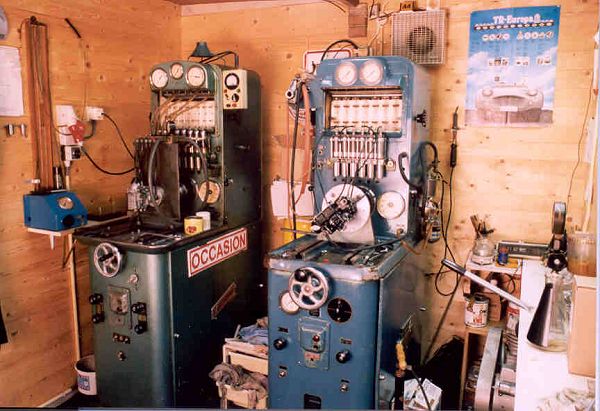 All our new and reconditioned Units are individually checked and calibrated on a Hartridge test rig as per Lucas specifications as prescribed by the manufacturer for each special type of car!!

Harm Klijn / Power Props
Tel.: 0031 - (0)35 - 53 148 15
Eemnes
The Netherlands.

Marc from the Netherlands writes:
"Hi,

I'm Marc from the Netherlands and I'm still restoring my Sebring 2a serie.

I found on internet a article about a Sebring 2a serie. Maybe you can help me? I need the address of Australian Classic Car magazine. I hope you got it (a homepage is OK).

Thank you and hope to hear from you soon.

Regards,

Marc."

Danny from the Netherlands writes:
"Hi,
I am really interested in buying a Sebring, although I am not in a hurry. I have seen advertised a 1963 Sebring, Series 1, has had one (Swiss) owner and a track record of 112.000 km. The car is complete, original, accident-free, colour: champagne (bronze) with brown/red leather interior. The inside of the car, as well as the outside/chromium is good except for the paint. The car needs to be repainted. The car has run from 1963 to 1976, and after that it has been stored in a climatised garage. The owner of the car is a German, but the car is not registered on his name (hence: first owner). The current owner cannot explain the overall bad/worn out condition of the paint. I myself thinks this is a bit strange, especially since he claims that the other outside (chromium) parts are very good. There has never been welding to the car, except for a small part at the bottom of the trunk. There is rust at the inside of a front wheelarch that needs welding. Furthermore, the hydraulic pump of the clutch needs to be ventilated. The owner also explained that there is a small tick coming out of the cylinder-head, but he thinks that it is a bad valve-spring(?). All other technical and mechanical aspects of the car are claimed to be OK. The price of the car is about DM 35.000 (approx. GBP 11.000).
Thanks,
Danny."

Reply from Andy Heywood:-
Re: Sebring.

I think it is fair to say that you must establish whether the seller has good title to the car. If it is not registered in his name then he could be a dealer, either professional or amateur. If he has no paperwork then it could be a problem, but if he has say a receipt from his purchase of the car then it is probably OK.
As a project for restoration, the car seems to be around the right price. If it has been off the road for this long, then you must expect to have to carry out major work to the brakes, the wiring and the suspension. If it possible to drive the car - even a short distance - then do so as this can tell you a lot. Problems to watch out for include:
Engine - a full engine rebuild could cost £10,000 by a specialist. Therefore, if there are problems here already they may escalate. Check for good oil pressure and dip the oil and smell the dipstick. It is likely that the fuel injection seals are perished and this will allow petrol directly into the engine oil. You will also have to budget for a rebuild of the fuel injection metering unit and pump after the long lay up.
Brakes - Everything rubber will need to be changed on the braking system and you will have to change the servos as well as these are very unlikely to work.
Body - It sounds as though the body has been saved by storage. It is better to see a car with very little paint on it as you know exactly what you are buying. So many cars are quickly painted before sale in order to get a better price and all this does is to hide the true horrors of rust. On a car that is partially stripped however, make a careful inventory of the parts that come with it and check against another car or the Maserati parts book as items such as trim, chrome, lights etc are very difficult to find. If the leather is good then this is an advantage as any repairs must be done by a coachtrimmer and can be quite expensive.
Overall, it sounds like a good basis for a restoration. If you are thinking that you will just have to paint the car and fix a few minor faults then do not buy it. If however, you want to restore the car to drive, then it sounds good."


To enter Enrico's Maserati Pages CLICK HERE!


Copyright: Enrico's Maserati Pages - © 2000-2005. All rights reserved.