Although the earth fairly shakes with the march of history and we gaze into the coming months as into a glass darkly, there is a well filled international racing calendar which promises the best, if not the most prolix, season since the war, and there is more activity than ever going on behind the doors of the racing departments in factories from here to the other side of the Alps.
The spate of cancellations which gushed from the bureau of the F.I.A. during the winter was not entirely unexpected.
I append the list of events which, at this stage, appear likely to be held:-

MAJOR DATES FOR 1948
April 29: Jersey Road Race.
May 2: Grand Prix des Nations, Geneva and Mille Miglia (Brescia-Rome-Brescia).
May 16: Monaco Grand Prix, Monte Carlo.
May 25: British Empire Trophy and Manx Cup Race, Douglas.
June 20: Belgian Grand Prix.
July 4: Grand Prix de l'Europe, Berne.
July 11: Belgian 24 hours race.
July 18: French Grand Prix, Rheims.
August 29: Albi Grand Prix.
September 5: Italian Grand Prix.
September 26: Masaryk Grand Prix.
October 30: Barcelona Cup.

This year, for the first time, we have not one Grand Prix formula, but two. The "old" Formula A continues, with fresh adherents, for cars up to 1½-litres supercharged, and to up to 4½-litres without superchargers. Now raised to Grand Prix level is the voiturette race, under the new Formula B, which admits cars of half-a-litre supercharged and up to 2-litres unsupercharged.

. . .The Maserati picture remains a little obscure, and is not clarified by the recession of the Maserati brothers, who last year severed conection with the factory at Modena, where the post-war cars were produced. It would seem that the V-12 Maserati languishes in the experimental stage, while the familiar four-cylinder continues unchanged. At least two "two-stage" cars will be raced by the Scuderia Ambrosiana, and it is likely that this device will be adopted on the cars of the Scuderia Milan team as well. The 1947 4CLT chassis, with tubular frame and bigger fuel tank, is reported to have an improved rear suspension. Many Maseratis will be raced as usual by private individuals, whereas the Alfa Romeos are not for sale.

MASERATI:
TOP:- Luigi Villoresi, Scuderia Ambrosiana driver, on the familiar Type 4CL 16-valve supercharged 1½-litre Maserati leaving a slow corner at Berne.
BOTTOM:- The two-stage layout of the 16-valve 4-cylinder Maserati used one blower on top of the other. In this form the engine gave some 240bhp.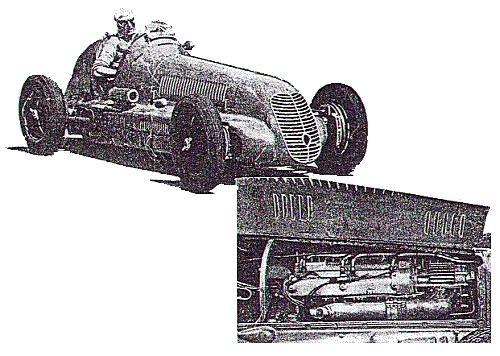 . . . The new Formula B, which has wiped off any bid by supercharged British cars, holds much of promise. Cisitalias are building a rear-engined 2-litre. Maseratis introduced the Type A6G six-cylinder at the end of 1947 in two-seater form and was followed by the Type 166 V-12 Ferrari, both of 2-litres capacity and obviously suited to Formlula B events.
BELOW: Another newcomer for 2-litre (Formula B) Grand Prix honours is the sports edition of the six-cylinder unsupercharged Maserati.
. . . As I see it the probable cast of Maseratis and drivers looks like:-

1½-litres:
Luigi Villoresi, Alberto Ascari (Scuderia Ambrosiana).
Nello Pagani, Araldo Ruggeri (Scuderia Milan).
Prince B. Bira; Georges Raph; R. E. Ansell; Reginald Parnell; Henri Louveau;
Enrico Platé; Emmannuel de Graffenried; Christian Kautz; Luigi Bassadona.
2-litres:
Luigi Villoresi, Alberto Ascari.

Type 4CL
Engine:
1,496cc (78mm by 78mm). Four-cylinder, four valves per cylinder, twin overhead camshafts. Compression ratio 6¼ to 1 with single- or two-stage supercharging (Roots-type superchargers and Weber carburettors), Develops 230-240 bhp at 7,000 rpm.
Chassis:
Light channel. Independent front suspension by parallel torsion bars and wish-bones. Rear suspension non-independent, by quarter elliptic leaf springs and torque arms. Four speeds. Open prop. shaft.
Weight:
Dry 622 Kg. With full tanks and driver about 876 Kg.

Type 4CLT
As above but with tubular chassis.

Type A6G
Available in 2-litre racing (Formula B) form or as a sports model.
Engine:
1,978.74cc (72mm by 81mm). Six-cylinder in line. Single overhead camshaft. Two valves per cylinder. Light metal hemispherical head. Unsupercharged Three Weber carburettors. Develops 160 bhp at 5,200 rpm. Engine offset in frame.
Chassis:
Light channel. Independent front suspension by vertical coil springs and wish-bones. Rear suspension, rigid with semi-elliptic springs and radius arms.
Weight:
Dry 622 Kg. With full tanks and driver about 864 Kg.

To enter Enrico's Maserati Pages CLICK HERE!


Copyright: Enrico's Maserati Pages - © 2000-2004. All rights reserved.