When the term Gran Turismo (Grand Tourer) was first given to motor cars, it was generally given to a luxury high performance car and not the hot hatch of today.
The idea being that two people could cruise around Europe in comfort at a high speed and with sufficient luggage space for at least two large suitcases. People dressed for dinner in those days.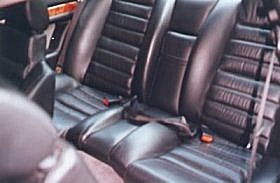 Sadly some of today's sporting GTs incorporate rear space for two extra passengers, albeit 'legless' ones - and I don't mean intoxicated. When my wife and I travel across Europe, I find it difficult to fit two good sized suitcases and two golf bags inside the boot of my Ghibli II. With this in mind I decided to rearrange the interior slightly.
My solution to this problem was to remove the rear seat and provide for extra luggage space. I know of some owners who put their extra luggage on the rear seat, but this can sometimes scratch the leather interior.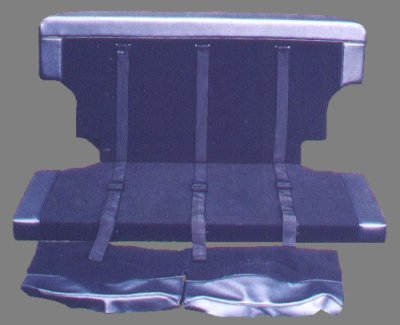 This conversion not only gives us the extra space we require for our luggage without ruining the interior but also dissuades anyone from asking for a lift as the resulting 'rear seat' is a little hard on the bottom.
The conversion was fiddly but was surprisingly easy. I removed the two front seats to avoid any unnecessary damage to the interior. Then removed the rear seat belts. I first made up two cardboard templates and then I cut out two sheets of MDF board to the correct sizes. The edges had to be eased in certain areas as the rear wheel arches made the contour difficult to include on the templates. All side and bottom edges were then chamfered to allow for easier fitting. When fitting I took care not to trap any wires under the edges of the new panels. These panels are quite heavy, my back testified to this at the time, and can crush the wiring looms.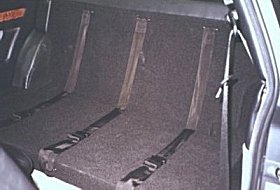 At this stage I began to tire of taking these two heavy sheets in and out, I must have done this at least a dozen times to make sure it fitted well. Once I was satisfied with the fit I took them to a very good upholsterer I know and he covered the panels with carpet and leather. He also made up three sets of straps to hold the suitcases firmly in place. This was essential as I didn't want to receive a severe headache every time I had to brake hard.
I have found that my wife is a lot happier now because not only can she take plenty of clothes with her but she also has plenty of room for any new outfits she might wish to buy on our trips. This was the only drawback of an otherwise successful conversion. I on the other hand now have a little room for a bottle of wine or two.
On returning from our trips I simply remove the rear panels and replace the rear seat as if nothing had changed.