To celebrate the launch of the new long-awaited Maserati Spider in September 2001, Maserati S.p.A. organised a Model exhibition that was the most comprehensive display of Maserati models and Maserati-related works of art ever assembled. The exhibition was held from the 13th September 2001 until the 16th October 2001 at the Sala Ercole of the Palazzo d'Accursio, in Piazza Maggiore, Bologna.

The exhibition was centred around a competition that Maserati had organised, 'Modellismo Maserati', for the best models/ works of art in different categories. The winners were judged by a panel of Maserati experts and prestigious prizes were awarded.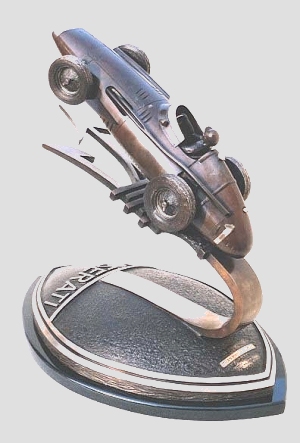 One of the entries for this competition was this superb sculpture by Chris Davis that depicts Juan Manuel Fangio's epic drive to victory at the wheel of a 250F in the 1957 German Grand Prix at Nürburgring.

UPDATE: Unfortunately for Chris his sculpture was damaged during transit to Bologna and with a tight deadline to keep, it proved to be impossible to repair the sculpture in time.

On a personal note, I was absolutely gutted for Chris, for I felt this 'work of art' stood a really good chance of winning its category. Had the judges been able to see it in its glory, I know it would have won! But to see one half of the sculpture displayed in one part of the hall and the other in another part made the task a wee bit difficult for the judges.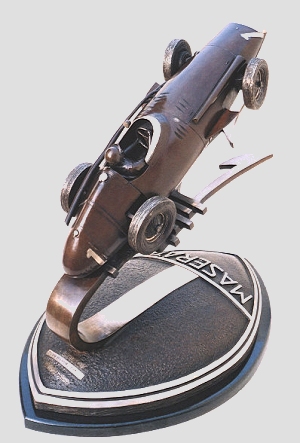 'Fangio'

This Bronze sculpture depicts Juan Manual Fangio driving his Maserati 250F to an historic win at the Nürburgring in 1957.

My inspiration for creating this sculpture.

I love the racing cars of the 1950's Fangio is arguably the greatest driver of all time. The Maserati 250F is arguably the greatest racing car of all time. What a combination, Fangio and Maserati!

From reading Fangios' own account of his race at the Nürburgring, to win at the 'Ring that day he must have been flying. Racing cars at the old track apparently had all four wheels off the ground on more than one occasion. Therefore I have sculpted his car 'flying' off the Trident.

Fangio won for Maserati. They as a company must have been elated at the win; therefore I sculpted the Maserati logo with the Trident 'zooming' off the base, with the car, into the air in victory. The trident is vertical in Giovanni Da Bolognas' Neptune sculpture, from which the Maserati brothers got their inspiration for the Maserati badge.

Many automotive sculptures follow the same scheme, a car on a road or bolted directly on to a wood or marble base. They all look similar and uninspiring. It is hard to make a static sculpture look as if it is moving. Adding smoke or dust does not work to well in bronze because bronze is solid, smoke and dust are not. I have tried to add a little art to this sculpture and make it more dynamic and interesting. I have tried to add life to it. I hope I have succeeded with this sculpture as a tribute to Juan Manual Fangio and Maserati This sculpture took me over a year to complete.

Chris Davis.

Dimensions of the sculpture are:

Height 500mm ( 19 1/2" )
Length 550mm ( 21 1/2" )
Width 370mm ( 14 1/2" )The weight including the granite base is 32 kilos ( 70 lb.)

This is a limited edition of only five world wide.

Price £6500 ( Pounds Sterling )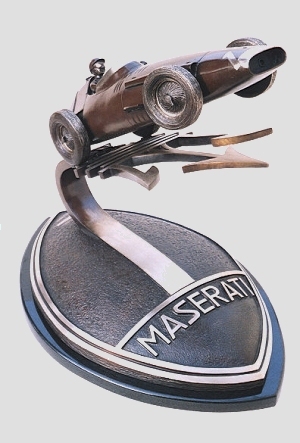 And for those of you like me who have always wondered how it's done:

How my sculptures are created.

Lost wax casting has been used for sculptures for many thousands of years.

Recorded history tells us that the Sumarians and Chinese used it and who knows before them?

The steps of creating my sculptures are as follows.

An idea forms in my mind, often triggered by a visit to a car museum, attending a race, or reading a book.

I draw rough sketches of the idea and try to see and photograph the actual car if it still exists.

The idea slowly takes shape in modeling clay (Plasticene) and is refined as the idea materializes. This takes from three months to a year depending on the size of the sculpture.

A flexible rubber mould is then made from the clay original.

Wax is poured into this mould thus providing a copy of the original sculpture.

The wax is cleaned and detailed by hand, then covered by a 'shell' of many coats of a ceramic material.

This 'shell' is put in an oven at 710°C and the wax is melted out, hence the term 'lost wax'.

Bronze is then melted and brought to a temperature of 1100°C.

This is poured into the 'shell' and allowed to cool.

The 'shell' is then carefully broken away revealing a 'raw' bronze sculpture.

This is detailed by hand using special tools.

A chemical is applied to give the bronze a rich patina.

The finished sculpture is then numbered and mounted on a wood or marble base.

N.B. Some sculptures are made in separate pieces. Each piece has its own mould and waxes made. These are then welded together after they are cast in bronze.

Chris Davis

You can see more of Chris's work at www.chrisdavis.biz