The Tipo 60 short-tail car in its original prototype form.
Maserati's previous sports car. the big 450S, had not been a total success for it was not the equal of its competitors on all-round performance and reliability, despite its straight-line speed. Thus a clean sheet was taken for the design of the new car. Power unit for the first of these models was a four-cylinder, 2-litre unit based on the older 150S engine. To achieve a low frontal area, the twin overhead camshaft engine was canted over to the right at an angle of 45° and laid in a very light and strong frame made up of tiny welded steel tubes. It was probably as near to a true space-frame as had been used in a racing car and its appearance soon earned it the Birdcage nickname. The gearbox was a five-speed Maserati unit with ZF limited slip differential, which coped admirably with the 195 bhp or so of the engine. Front suspension was independent at the front by coil springs and dampers, while the rear suspension was by a de Dion axle with coil springs and dampers. Girling disc brakes of 13ß ins front and 12 ins rear diameter stopped the car admirably. With private owners in mind, price worked out at around £3,900 and the factory made sure of helping all customers considerably.
About six of the 2-litre Tipo 60s were built and the first made its racing debut at Rouen in 1959 for the sports car race supporting the Grand Prix in the hands of no less than Stirling Moss. Moss took it to a rousing victory despite the presence of the works Lotus 15s of Innes Ireland and Alan Stacey and almost as soon as the race was over, work began on the Tipo 61, which was, in effect the same car fitted with a 2.8-litre version of the four-cylinder engine. Two of these were ready in time for the Nassau Speed Week in December and these two Tipo 61s were entered for the Swiss Gaston Andrey and a Lucky Casner-owned version for Carroll Shelby. Of the two, Andrey's car with streamlined head fairing did well to hold third place before retiring after an accident with a spinning Lotus Elite.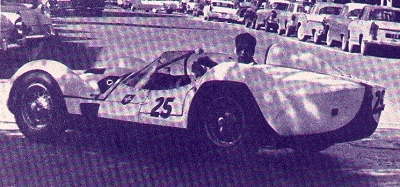 Swiss Gaston Andrey on Bay Street at the Oakes Field circuit in Nassau during the 1960 Speed Week.
For 1960 Casner was to prove a leading figure in the Birdcage saga for he formed the Camoradi Team - Casner Motor Racing Division - and bought three more Tipo 61s which the factory agreed to race-prepare. One Camoradi car was readied for the early-season Buenos Aires 1000 Kms for Masten Gregory / Dan Gurney. In practice only the Ferrari of Phil Hill was quicker than the Birdcage and Gregory led the race until he spun and later retired with a broken gearbox. Shortly afterwards, however, Moss made up for that disappointment by winning the Cuban GP for Camoradi from Pedro Rodriguez in a Ferrari.
The Sebring 12 Hours of 1961 turned out to be a strange event as both Ferrari and Porsche withdrew their works cars due to a dispute with the organisers over fuel contracts, which left three Camoradi and two other Birdcages up against the rest. However, one Camoradi non-started after an engine blow-up, the Masten Gregory/Carroll Shelby car blew a piston and the Moss/Gurney car was forced to retire from a big lead with a stripped diff. One of the private cars, that of John Fitch, crashed, while the other retired with gearbox problems. After this disaster, Casner demanded modifications and so work was put in to strengthening the connecting rods, gearbox and the crown-wheel and pinion, all of which had given trouble in the previous races.
Before Le Mans, a single Camoradi Tipo 61 was entrusted to local aces Nino Vaccarella and Umberto Maglioli for the Targa Florio and they did their stuff by leading the race until the penultimate two laps when a stone punctured the petrol tank and Vaccarella crashed heavily. It was a a very encouraging outing, nevertheless, and although Casner had been reluctant to enter the cars in races before Le Mans, two 61s went to Nürburgring for Moss/Gurney and Gregory/Gino Munaron for the championship-qualifying 1000 Kms. Moss/Gurney suffered a broken oil line early on which lost them some time, but nevertheless they struggled on valiantly through the rain and fog to record a resounding win, with the sister car in fifth place.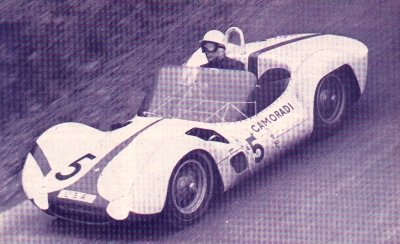 Stirling Moss in the Camorado 2-litre Tipo 60 at Adenau on his way to victory in the 1960 Nürburgring 1000 Kms.
For Le Mans itself, Camoradi sent along three white and blue cars, one of them sporting a special body with huge, enveloping windscreen. However, as at Sebring they all failed. The newly-bodied car of Gregory and Scarab F1 driver Chuck Daigh worked its way into the lead, but at the first pitstop would not restart. The starter motor was stripped and eventually the car restarted in 46th place and worked up to 31st place before succumbing to engine troubles. The sister car of Scarlatti/Munaron also had starter motor problems and stopped on the Mulsanne Straight with smoke pouring out of the cockpit and retired, while the car of Casner/Jeffords, which also had starter motor trouble, retired with a seized gerarbox after being crashed into the bank at Mulsanne and getting sand into its selectors.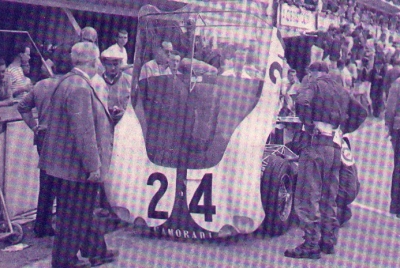 The enormous faired windscreen of the Tipo 61 Le Mans 'Streamliner'.
To keep up with the design trends a new car, the Tipo 63, was built for the 1961 season. This featured a rear-engined 'birdcage' frame with power from a 3-litre version of the four-cylinder engine, and independent suspension by coil springs at the rear to replace the de Dion axle. Three of these new Tipo 63s appeared at Sebring, one each from Camoradi, Briggs Cunningham and Count Volpi's Ferrari-breakaway Scuderia Serenissima. However, all three retired as did the two other Camoradi Tipo 61s, leaving victory to Phil Hill's Ferrari. The Tipo 63 was undoubtedly a rapid machine, but its handling left a great deal to be desired as was shown in the Targa Florio where the Tipo 63s of Scuderia Serenissima for Maglioli/Giorgio Scarlatti and Nino Vaccarella/Maurice Trintignant were a lowly fourth and fifth respectively. The Tipo 60 of Boffa/Todaro retired with a broken oil line, which was an old Birdcage problem and the sort of occurence that thwarted the cars from ever showing their real potential.
Modifications to the rear suspension geometry of the brutish Tipo 63s were carried out in time for the 1961 Nürburgring 1000 Kms, but although the Birdcage scored its second consecutive win in this tortuous race, victory was provided by a Tipo 61 in the hands of Camoradi Team's Masten Gregory/Lloyd 'Lucky' Casner, and they only won after Moss in a Porsche had retired with a seized engine and Phil Hill/Wolfgang von Tripps in a Ferrari had crashed. Thus the big attack was once again saved for Le Mans. For this classic Cunningham entered no fewer than three cars : a Tipo 60 and two new versions of the Tipo 63 (sometimes known as Tipo 64s). The chassis were essentially the same, but in the rear lurked a 60 degree 2.9-litre V12 engine. Based on the 1957 Formula 1 unit, and later destined to reappear in F1 in the Cooper-Maseratis, these engines used twin-plug ignition and triple twin-choke Webers. Serenissima also had a V12 Tipo 63, although this had square engine dimensions of 68mm x 68mm as opposed to the 70mm x 64mm and 75mm x 56mm of the Cunningham cars. The Serenissima car of Vaccarella/Scarfiotti retired early on with overheating, while Walt Hansgen crashed one of the Cunningham cars after only 2½ hours racing, which left the overheating Dick Thompson/Augie Pabst Tipo 63 to finish fourth and the reliable 2-litre Tipo 60 of Cunningham/Kimberley to roll in eighth overall and third in class.
To end 1961 came the Pescara Grand Prix championship event for which Scuderia Serinissima entered a V12 Tipo 63 for Jo Bonnier and an earlier 4-cylinder version for Vaccarella. Bonnier's car was yet again a changed design for it boasted a de Dion rear suspension. Finally came a Tipo 61 for Camoradi patron Lucky Casner, and Boffa with his 2-litre Tipo 60. However, the Maseratis again suffered from unreliability. Bonnier retired early on with a broken driveshaft leaving Casner, Vaccarella and Richie Ginther in a Ferrari to battle for the lead. But, Vaccarella's gearbox broke, and then Casner crashed very heavily when lapping a slower car whilst looking certain of the win. That left Boffa the sole Maserati finisher in third place, a fine effort for the old-style Tipo 60.
Internationally, that was the end of the Birdcage's era, although French Maserati concessionaire Colonel Simon did have a big rear-engined brute - the Maserati France - with a 5½-litre V12 built for the 1962's Le Mans. Known as the Tipo 151, this car displayed incredible speed, but poor Lucky Casner was killed in it in the 1965 Le Mans test weekend when he crashed at 170mph on the Mulsanne Straight.
In minor events, notably in America, the Birdcages carried on winning, and despite their unreliability in long-distance European racing, they achieved their purpose for keeping the Maserati name in full swing in the 1959-1961 era at relatively low cost in the hands of private teams.