Tipo 60 'Birdcage'
Christie's to offer Million Pound Maserati for sale this Spring
At the sale of Exceptional Motor Cars and Memorabilia at the Jack Barclay Showroom, London on the evening of the 26th March 2001, the ex-Odoardo Govoni Maserati Tipo 60 shown below was sold to an anonymous telephone bidder for GB £1,300,000 plus GB £100,000 buyer's premium. That's around US $ 2,000,000. It's alright for some!

Bidding started at £600,000 and with bids coming from several sources, rose gradually to £1,000,000. From this point it became a contest between an unknown bidder in the sale room and another bidder on the telephone. The bids then increased at £100,000 a time until one happy 'Maseratista' forked out the princely sum of £1,300,000.
My sincere thanks to Patricia Clark of Christie's for allowing me to publish the 'Press Release' for the sale of this historically important Maserati for your information.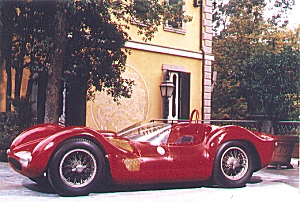 This ex-Odoardo Govoni Italian Hill-climb Championship-winning, first production model

1960 MASERATI TIPO 60 BIRDCAGE 2-SEATER SPORTS RACING CAR

Exceptional Motor Cars and Automobilia - 26th March 2001
LONDON - Christie's is delighted to announce the sale of the 1960 Maserati Birdcage 2-Seater Sports-Racing Car. Owned by a private collector for 35 years, this curvaceous Italian 'racing red' machine is a unique first production model and has never been restored. Estimated to realize between £800,000 and £1,200,000, the car will be offered for sale in the sale of Exceptional Motor Cars and Memorabilia on the 26th March 2001 at the Jack Barclay Showroom, Ponton Road, London.
A BRIEF HISTORY - From their grand-prix debut in 1925, Maserati was synonomous with functional style and effective performance. But in 1957, despite conitinual successes, the company was in financial difficulty from running full works-supported teams in all categories of international events. These were disbanded at the end of the season and most cars were sold off.
Maserati concentrated on their road-going cars for two years, widening the model ranges and generating growth. Then, in mid-1959, they began to develop a new sports-racing car. This time there would be no official works team: the cars would be sold directly to the public, with technical support and back-up for private entrants. This way, advertising based on any racing success would boost road-going sales.
New technology conceived by chief engineer Giulio Alfieri, produced an incredibly light framework. The complex design of cross-braced, steel micro-tubing created a complex chassis and body-frame combined. The nickname Maserati 'birdcage' quickly spread around the world. This innovative design, which incorporated the engine being fitted intricately into the chassis and canted over at an angle of 45 degrees, gave rise to the remarkably low-slung but beautifully curvaceous bodywork.
The new engine based on the earlier 200S unit, of 2-litre capacity, dry-sumped, fitted with twin side-draught Weber 45DCO/3 carburettors and dual ignition, produced a good performance with plenty of low down torque, and the ultra lightwiight construction chassis probved highly successful.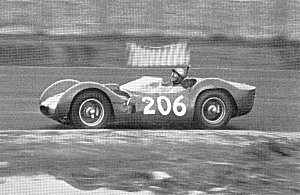 Odoardo Govoni heading to victory in the Coppa D'Oro, Modena - 16th October 1960
Stirling Moss, Maserati's former team driver, carried out some early testing of the prototype, and was most enthusiastic. Further test driving was done by Odoardo Govoni, who had won the coveted European Hill-Climb Championship in 1956 in a Maserati A6GCS. Entrusted with the factory prototype T60 for the final round in the 1959 series, at the famous Pontedecimo-Giovi event, he scored a notable first victory for the type and promptly ordered the first production car as soon as it would be ready. According to the factory documentation, Odoardo Govoni took delivery of chassis no. 2460 on the 13th May 1960. From 1960-1963 Govoni campaigned this car extensively in Northern Italian events, primarily hill-climbs on closed roads and occasional track races. His effectiveness was such that he was crowned Italian Champion twice and was runner-up twice in four years, in this very competetive 2-litre classification. In 1963, he sold the car to a Signor Terra and it was purchased by the current owner in 1966.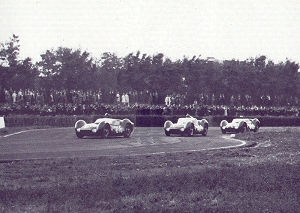 Govoni #206 seen here lying third behind Mennato Boffa #216 and Carlo Abate #224
at the Coppa D'Oro, Modena - 16th October 1960
This astonishing machine has been cherished and has remained complete and original in its condition as last raced in 1964. It is unique example of the rare T60, being the first full-production car. It has never been out of Italy, it has never been restored and it is as near possible just as it left the factory. It shows every element of graceful ageing, including cracked old paintwork, dents to the bodywork, old running repairs and minor modifications made to suit the drivers during its remarkable racing career. It remains in running condition even today, 35 years on, and in recent years has occasionally been driven along the banks of the Tiber, much to the pleasure of the local residents.
To enter Enrico's Maserati Pages CLICK HERE!


Copyright: Enrico's Maserati Pages - © 2000-2005. All rights reserved.