*PB



Photo 1

Photo 2

Photo 3

Photo 4

Photo 5

Photo 4

Photo 6

Photo 7

Photo 8

Photo 9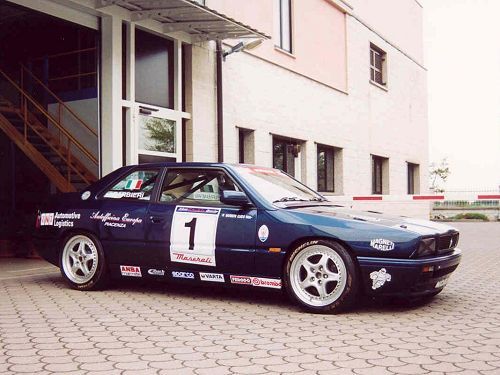 "This car was the first Ghibli Open Cup constructed, and is the actual car presented at the Bologna Motor Show in 1995. In 1995, many specialised motoring magazines wrote articles about this car including many photographs, it even made the front cover of some.

It was used by Maserati for demonstration purposes around many circuits including its first outing at Vallelunga, Imola, Fiorano, Balocco, etc... It has been driven by many well-known racing drivers including Michele Alboreto, Arturo Merzario and Giorgio Pianta etc...

This car was purchased by Autofficina Europa di Barbieri Giulio direct from Maserati and is the only Ghibli Open Cup in this colour blue. Initially, the two colours for this model were to have been blue and red."

In January 2008 Peter Kleuters bought, via Franco Pastorelli (official Maserati garage in Holland ( www.Francoauto.nl ), from the Barbieri Brothers in Piacenza a Maserati Ghibli Open Cup, ( DGM 50726 OM, chassis nr *ZAM336B00*PB360671* - tipo 336B204P with engine tipo AM 577 ).

The car was originally registered on the 23rd of February 1994. According to the identification plate the original engine was a tipo AM 496, which engine was replaced by a race-tuned version tipo AM 577 on the 14th of September 1995. The car has an official Italian registration certificate.

This car is listed in your catalogue as the first car that has been tuned by the Maserati factory in 1995 for the Ghibli Open Cup Races in Europe. It was shown at the Bologna Car Show in 1995.

Than 13 other Ghiblis were made to conform to this car's specifications, and all of them raced in 1995 and 1996. As a "prototipo", this car did not participate in those races, and when Peter bought it last year the odometer only showed 2,400 km ( 1,500 miles, being test kilometres ), thus a new car! The original lead seals are still on the engine parts, because it was not allowed to "soup up" the engine!

Since March 2008 Peter has raced the car over 1,000 km at Zandvoort in Holland, as a member of the Dutch National Racing Team ( DNRT ), in the Scuderia Italiano and also as a member of the Historical Automobile Ren Club ( HARC ).

Some people say it is a pity that Peter uses the car for racing, because it has historic value, but on the other hand this car was made for racing and he loves to drive it on the race tracks.

Peter says that the handling is quite easy, but if you put your foot down before finishing a bend, you might make a 180° turn, caused by the incoming twin turbo that gives the car some 100 HP extra! The total power has been measured at 350 HP (257 Kw) and you can feel them under your foot!

Attached are a few photos of the car with the original stickers, so that they can be added to the Ghibli list.

If anyone would have a photo of the Bologna Car Show of 1995, or a car magazine in which the car was shown, Peter would be very interested to have a copy.

A Dutch car magazine called CARROS might do an article about my car next year.
*00361226

Photo 1

Photo 2

Photo 3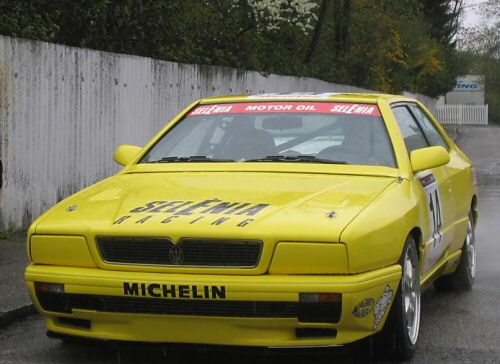 "The original owner of Ghibli Open Cup #361226 competed with this car during the 1995 season of the Ghibli Open Cup Championship, placed quite a few times he ended the Championship in 7th place overall.

For several years #361226 disappeared from the scene only to re-surface, in its original race condition, at a public auction near Varese in Italy.

The car, now fully restored, is with its new owner in The Netherlands.
*00361228

Photo 1

Photo 2

Photo 3

Photo 4

Photo 5

Photo 6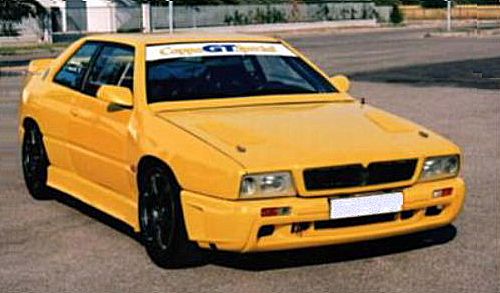 "This yellow Ghibli Open Cup #361228, was specially prepared by William Sala of Modena in full 96 version plus GT, including major engine rebuild (we had 370 bhp on the test bank). The car has been lightened (door structure cut, plexiglass windows, fibreglass bonnets etc.). It has an additional passenger seat and we moved the electronics to the rear of the car. It has a specially made exhaust, tail pipes exiting from the side of the car."