From Andrew in Australia
"Hello Enrico.

Re: Ghibli Open Cup #361216
I believe that there were a total of 27 Ghibli Open Cup cars made, there being 2 reserve cars one of which was imported into Australia for Alfredo Costanzo to drive in the Australian GTP series of 1996 and 1997.

I have motore tipo AM 577 tipo 336B204S with ZAM336B0000361216 and engine 870134 with factory certificate of origin and homologation papers. If you are interested you can view much of the car's local competition history on www.maserati.org.au

The engine was changed in my car and it is correct to amend your records accordingly. Tony Graziani imported the car to race in the 1997 GTP series and (I understand from one of the mechanics that worked on the car at that time) they put it into its first event with around 2 bar of boost and it didn't handle that at all well.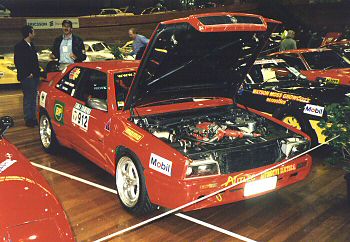 In my previous email I misled you slightly when I said that I had homologation papers. Antonio Cavalli wrote to me that it could not be homologated because of the technical differences to the Cup version and also the factory could not demonstrate a real production of the same vehicle of at least 50 units. What I do have is a Certificate of Origin attesting to authenticity.

I also have a letter from Maserati stating that "the vehicle was built in February '97 with the suspension and brake set up of the '95 model." The suspension has not been upgraded but the brakes since have.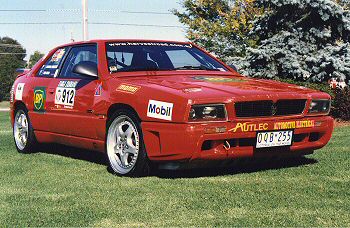 Incidentally it has been years since I read this file and I note the following from Antonio ".....we built 26 Ghibli Cup Racing, and in Australia we have selled 4 homologated Ghibli Cup. (86 all over the world). I have heard both 27 and in Antonio's letter 26 built for racing. I would take the view that Antonio's 26 is the most authoritive to have come to my attention.

Whilst what was to become my car (second owner to Graziani being the importer and Australian distributor before Maranello) was waiting a replacement engine, a substitute Race car was flown in and that competed for several seasons in GTP category and at Bathurst. After it had two sizeable offs it was sold to one of Tony's mechanics and I was told a few years back that he had done a sound job rebuilding it and have heard nothing since. I will send you a copy article I have kept on this car's best success.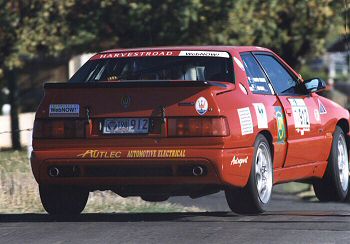 Targa Tasmania 1998 - getting airborne over that rail line sprung the driver's door!
I will also send a couple of other photos by separate email to keep file sized down.

Also I will let Jim Reark know of your comment on the Seymour Pond car. Jim's knowledge of Maserati never ceases to amaze me and he may well already know or he may not or he may have elected to turn a blind eye when placing the photos in the Gallery page.

At a Club time trial at Sandown Raceway here in the state of Victoria and at Winton raceway competing in the Marque Sports Club Association 6 Hour Relay Race 2002.

I do like to try and surprise Porsches coming out of corners. Mind you the suspension is set up with a bit of forgiveness for tarmac rallies rather than a hard setting for track work.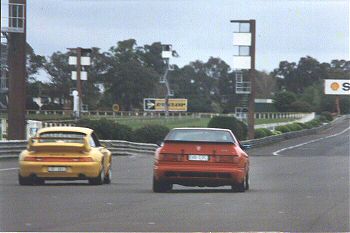 My suspension guy made up camber plates to improve turn in and stability. To get the car road legal ( essential for transport stages in tarmac rallies) I had a purpose built cage to FAI standards made which has removable cross brace and side intrusion / lateral brace bars. This way we have a legal dash and inner door trims. Tony Graziani converted the car to right hand drive as he had intended to convert it to a road car. Modifications I performed were fitting of an oil catch tank and associated plumbing, clutch plate changed to Fisher & Saarch 3 spot ceramic disk type, boot mounted fire system (above tank and under parcel shelf), strengthening of boost piping, some external trim (in a moment of pride when I first got the car, I bought three Cup badges - front quarter panels and boot mounted), stainless steel intercoolers protection, sump and diff protection plates plus the brake upgrade.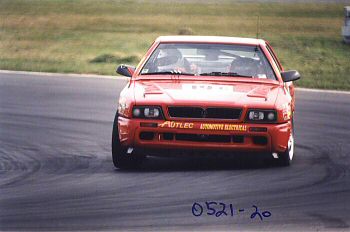 So I guess that makes #361216 unique in that it is the only RHD and the only road legal (has local ADR compliance plate) and registered of its kind

There are two other photos ex a package I purchased at Targa Tasmania which I feel you may enjoy seeing and I will send those next. After that I will have assaulted your inbox more than adequately and will have to get on with more mundane chores.

With best wishes,

Andrew."