"Ciao Maseratisti,

With the 2009 Mille Miglia due to take place in a week or so, I thought some of you might be interested in acquiring this stamp which will surely become a collector's item.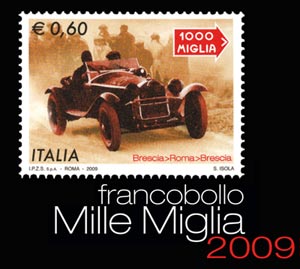 The 60 European cent Mille Miglia commemorative stamp
"On May 14, a postage stamp commemorating the World's Greatest Road Race will be issued. Its presentation took place on April 17, in Brescia, in the presence of the Minister for Economic Development, Claudio Scajola.

As the Minister explained, "Stamps are witnesses in time, instruments of personal and collective memory. For this reason, it is fitting for them to be dedicated to the great collective identity and to phenomena regarding culture, economy, customs, and great sports events, such as the Mille Miglia."

The 60 European cent postage stamp shows an Alfa Romeo 6C 1500 Gran Sport, raced by Augusto Caniato and Guglielmo Carraroli of the "Scuderia Ferrari" (the Ferrari Car Stables). The photograph was taken at the mouth of the Futa Pass in the 1931 race, where the car eventually ended up withdrawing. Luigi Orsini, who used the photo as an illustration (on page 57) in his book Mille Miglia una corsa italiana, (The Mille Miglia, an Italian Race), feels the photo was taken for the Fumagalli Photo Agency, which has since disappeared.

The stamp will be distributed to 14,000 post offices. Fans of the Mille Miglia, and lovers of stamp collecting, can buy a first day cover with a special postcard, a stamp collecting card and the stamp in silver leaf.

Another original idea will follow the three legs of the race. Brescia, Ferrara and Rome will each host a dedicated Italian Post Office stand so stamp lovers can cancel the stamps with the name of the city showing the date when the races arrives there."

Text and image by www.1000miglia.eu/.

So why not get in touch with a friend in Italy and get them to send you one or two. I'm afraid it's not a Maserati on the stamp!