"Hi,

This September I will be meeting up again with my Italian friends of the Biturbo Club Italia for the 3rd Marco Turci Memorial International Meeting. This year promises to be the most exciting meet yet and will be a fitting tribute to the all too brief life of Marco, a true Maserati enthusiast. It will include a visit and guided tour of the Maserati factory at Viale Ciro Menotti, a visit to the Panini Museum, a track day at the Fiorano circuit and, i almost forgot, another chance to sample the delights of 'La Cucina Emiliana'.

Last year I attended another meeting organised by the BCI. On that occasion the event was centred around Turin. It included a visit to the world famous Museo Dell'Automobili and an opportunity to see the famous test track on the roof of the old FIAT factory at Lingotto.

Housed in the old factory is the Agnelli Family's Art Gallery. Also on display was a photographic exhibition by Rodolfo Mailander, entitled 'FERRARI BY MAILANDER - The origins of a success story'. One photograph that was of particular interest to me was this one of Ascari in a Ferrari lapping an OSCA during the Grand Prix of Salo.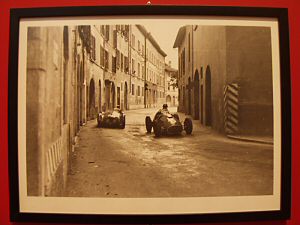 On my return to England, I tried to download the images on to my computer, but alas, my 'Sandisk' reader appeared to have erased all the images. The good news is that a friend of mine who assured me he could rescue the images. The bad news is that he has only just returned it. I have included a few of the 'rescued' photos of my friends and their Maseratis.

Enrico.

PS: Cari soci e amici del Biturbo Club Italia, il file immagine con la max risoluzione 2240x168 dpi [circa 800KB] si puņ ricevere a gratis inviando una e-mail a: maserati123@btopenworld.com