Buying a Used Turbocharged Car

By Bill Siuru, PhD, PE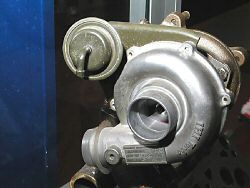 Through the years, many automakers have used turbocharging to obtain big V8 performance from economical, small four and six cylinder engines. Several automakers, most notably Saab and Volvo, still use turbocharged engines extensively. In the 1970s and 1980s, many American manufacturers offered turbocharged engines. Several of these such as the Buick Riviera convertible and Grand National, Ford Mustang SVO, Maserati Biturbo, and Chrysler TC by Maserati are now quite collectible today.

Running at speeds up to 100,000 to 150,000 rpm and located in the hot exhaust stream, turbochargers are probably the most stressed part you will find in a production vehicle. Here are some tips what to look for when checking out a used car with a turbocharged engine.

The difference between a reliable turbo and a headache is summed up in a single word, "maintenance." Most problems with turbos result from neglect and abuse. So first, find out the car's maintenance history, most important the oil and oil filter change frequency. Check if the owner has followed the manufacturer's recommendations for proper types of oil and oil filters.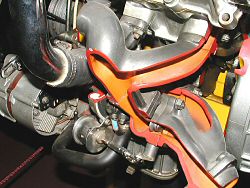 Since turbochargers operate at very high temperatures, perform under the hood inspection before things get too hot to touch. Check air ducts and gasket connections for tightness since leaks can result in power loss and engine overheating. Make sure the exhaust manifold is tightly secured. Check the air filter and ducts leading to the compressor housing. A build up of dirt can at best can lead to overheating and power loss, or at worst damage to the compressor impeller. Heat discoloration and/or exhaust deposits around the turbocharger and ducting could indicate an exhaust leak. Check mechanical linkage such as for wastegate control for free movement.

Check for oil leaks from center and end housings as well as from oil lines or fittings. Disconnect an oil line and look inside. Varnish, deposits or residue means the turbocharger oil could have been "cooked" sometime, probably by shutting down the engine immediately after a hot run without a few minutes of idling to cool things down. Coking will also probably be found on bearings as well meaning a rebuild. This visual check may disclose particular problems as well as give an overall impression of the engine, the maintenance done or not done and a feel for future repairs that might be needed.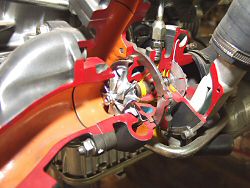 Now start the engine while it is cold. Watch the tailpipe emissions. A puff of blue smoke for a half minute or so is pretty normal. Longer duration, and more prolific smoke could indicate bad internal seals in the turbo unit and a need for a rebuild. Other causes include a clogged filter or muffler, or that oil is not getting to the turbo bearing. It could also mean other engine problems like bad valve guides, bearings or rings. Do a compression check to isolate engine from turbocharger problems.

Let the engine warm up to normal operating conditions. While working the throttle, listen for abnormal sounds such as leakage from the exhaust manifold. In some turbocharger setups, exhaust manifolds are prone to cracking especially at the flanges and studs tend to vibrate loose creating leaks at block-to-manifold joints. Other sources of noise include a blocked air cleaner, a restriction in the air cleaner to compressor duct or a heavy dirt build-up in the compressor housing or on the compressor wheel, all indicating a lapse of maintenance. A high-pitched sound can indicate air leakage between air cleaner and engine or an exhaust gas leak between engine exhaust manifold and turbocharger inlet.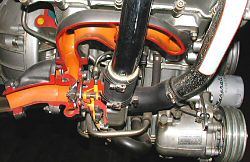 Now you are ready for a test drive. Watch the boost gauge. Can you achieve full boost when you stomp on the throttle? Does it return to minimum value when idling and cruising at constant speed?

If the turbocharger shrieks as it spins up, it could be worn out bearings or damaged compressor impeller, either requiring a rebuild. Watch the tailpipe emissions as you rev the engine up to redline and quickly back off on the throttle. If the car lays down a smoke screen, plan on either a turbocharger rebuild to replace oil seals and guides, or an engine overhaul if the turbocharger is okay.

Avoid cars with aftermarket turbocharger installations. These installations often do not include the beefing up of the other components to handle the additional power and torque resulting from turbocharging, as is the case with factory installations.