Also on view during Retromobile at the Bonhams' sale of "Automobiles d'Exception" at Rétromobile, Paris, on the 23rd January 2010.

Lot 245


1970 Maserati Mistral Spyder

Chassis no. AM109/A1*733*

The Maserati marque was founded in 1926 by the five Maserati brothers. It was the sixth brother who designed the trident emblem which was inspired by the Fountain of Neptune in Bologna. Oriented exclusively towards racing, the marque was then owned by the Orsi family which bought it before the Second World War. In the 1950s and 1960s, the marque was the great rival of Ferrari on all the racing circuits of the world. Juan Manuel Fangio was crowned Formula 1 world champion in 1957 at the wheel of the Maserati 250F, and with the Birdcage the marque won big races such as the 1000 kilometres at the Nurburgring. It also won the United States Championship in 1960 and 1961 with this model. This successful period came to an end in 1965 with the final participation in the Les Mans 24 Hour Race.

The main role of the Orsi family was to guide the firm towards production models. Under its reign, the Grand Tourer models were developed, of which the first was the 3500GT, with more than 2,000 examples built. The company then expanded substantially and this period, from 1957 to 1975, represents Maserati's golden age. The subsequent period was filled with various vicissitudes. Sold to Citroen in 1968, then to Alessandro de Tomaso, the trident marque underwent a period of purgatory before being finally bought by Ferrari.

Presented in 1963 at the Turin Motor Show, the Maserati Mistral was manufactured until 1970. The Mistral bears the internal code number "Tipo 109" [Type 109] and on its official presentation was baptized as the "2 seater 3500GT". It replaced the 3500GT. With more than 900 examples produced, it is the Maserati produced in the highest numbers after the 3500GT. It inherited from the latter the in-line 6 cylinder engine derived from the 300S, and increased to 3.7 litres on the Sebring and developed to 4 litres. On its launch, the Mistral received the 3.5 litre version of the engine already used in the 3500GT, which developed 236bhp. The second series had the 3.7 litre version of the engine, developing 245bhp. The gearbox was a ZF 5 speed gearbox, and maximum speed was 233km/h.

The Mistral is the last Maserati to receive the famous in-line 6 cylinder engine with double overhead camshaft and dual ignition derived from that on the 250F before becoming a V8. This engine has hemispherical combustion chambers and indirect fuel injection, a real first in Italian sporting cars of the time. But, although injection guaranteed improved fuel supply, some traditional owners, in particular in the United States, replaced the injection system with Weber carburettors.

Its styling is by Pietro Frua, who also designed the superb A6 G 2000 cabriolet and the Quattroporte. As was customary at Maserati, the Mistral was available in both coupe and spyder versions. Only 125 examples of the spyder were produced.

This spyder bears the serial number AM109/A1*733*. It is therefore the 707th Mistral to be produced in the series. It is presented in perfect restored condition, is fully operational, and has its Spanish vehicle registration document. This superb automobile is a rare and permanent landmark in the history of Italian automobiles and will certainly attract gentlemen drivers with a passion for sensation combined with elegance.

No reserve

Estimate: €140,000 to 180,000

Lot 262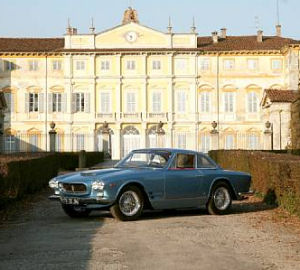 1963 Maserati Sebring Coupé

Coachwork by Carrozzeria Vignale
Chassis no. AM 101/01897
Engine no. 01897

Maserati's survival strategy for the 1960s centred on establishing the company as a producer of road cars. The Modena marque's new era began in 1957 with the launch of the Touring-bodied 3500GT. A luxury '2+2', the 3500GT drew on Maserati's competition experience, employing a tubular chassis frame and an engine derived from the Alfieri-designed 350S sports racing car unit of 1956. Suspension was independent at the front by wishbones and coil springs, while at the back there was a conventional live axle/semi-elliptic arrangement. Power output of the twin-cam six was around 220bhp initially; later examples produced 235bhp on fuel injection. Built on the short-wheelbase but otherwise similar chassis of the Vignale-bodied 3500GT spyder, the Sebring 2+2 coupé arrived in 1962. By now a five-speed gearbox, four-wheel disc brakes and fuel injection were standard equipment, while automatic transmission, air conditioning and a limited-slip differential were options. Introduced in 1965, the Sebring Series II came with a 3.7-litre, 245bhp engine, some cars leaving the factory with 4.0-litre units towards the end of Sebring production in 1966.

This particular example was converted in period to utilise the more-reliable Weber carburettor induction instead of the original Lucas fuel injection, a common modification. A five-speed, manual transmission model, chassis number '01897' was delivered new to Thepenier, the Maserati importer in Paris, and has remained in France ever since, featuring in Rétroviseur magazine some years ago. Between 2006 and 2008 the car underwent total restoration in Italy: the mechanicals and electrical system being overhauled, brightwork renovated, interior re-trimmed, wheels re-chromed by Borrani and a stainless steel exhaust fitted among many other works carried out. Finished in its original colour scheme of light blue metallic with red leather interior, this stylish 1960s Italian classic is offered with sundry restoration invoices; Maserati letter confirming build and despatch details; and French Carte Grise.

Sold for €86,250 inclusive of Buyer's Premium

Lot 280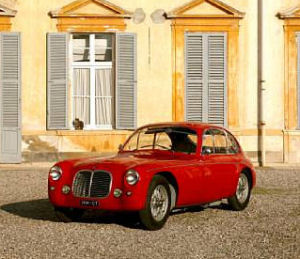 1946 Maserati A6G 1500 Coupé

The Factory Prototype
Coachwork by Carrozzeria Zagato
Chassis no. 052
Engine no. 052

One of the most evocative names in the history of motor sport, Maserati devoted itself exclusively to racing prior to WW2, only turning to the manufacture of road cars in the late 1940s with the introduction of the A6 1500.

Società Anonima Officine Alfieri Maserati was founded in Bologna in December 1914 by Alfieri Maserati together with his brothers Ettore and Ernesto, the fledgling company specialising in the preparation and tuning of Isotta Fraschinis for road racing. In the early 1920s a successful collaboration with Diatto led to Alfieri designing his first Grand Prix car, powered by a 2.0-litre, supercharged, twin-overhead-camshaft, straight-eight engine. When Diatto folded, this design formed the basis of the first Maserati car, the Tipo 26 of 1926. The Maserati's debut was a successful one, Alfieri winning his class in that year's Targa Florio, a race dominated by Bugatti.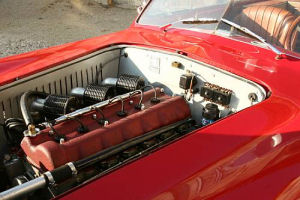 Maserati enjoyed outstanding success in European voiturette racing throughout the 1930s but its most remarkable result was achieved across the Atlantic: Wilbur Shaw winning the Indianapolis 500 at the wheel of a Tipo 8CTF in 1939, a feat he repeated the following year. By this time however, the surviving Maserati brothers had sold the firm to industrialist Adolfo Orsi, who relocated the company to nearby Modena.

When post-war production resumed in 1947, as well as continuing in its traditional role as builder of Grand Prix cars, Maserati commenced the manufacture of sports-racing and road cars. Its first true road-going model - the A6 1500 - made its sensational public debut at the 1947 Geneva Salon, where the Pinin Farina-bodied coupé was well received by both press and public. The A6 1500's engine was a 1,488cc single-overhead-camshaft six, similar to the A6GCS sports car's 2.0-litre unit, and produced its maximum output of 65bhp at 4,700rpm. Its chassis was of the ladder frame type, the double-wishbone front suspension was derived from racing practice and coil springs suspended the live rear axle. Top speed, depending on coachwork, was in the region of 90-95mph. Of the 61 cars built between 1947 and 1950, most were bodied as coupés by Pinin Farina. Chassis number '052' though, wears typically stylish coachwork by Carrozzeria Zagato.

One of the oldest and most respected of automotive design firms, Zagato was founded in Milan in 1919 by Ugo Zagato, who used techniques learned in the wartime aeronautics industry to create a series of lightweight competition cars. Alfa Romeo immediately realised the potential of Zagato's designs and thus commenced a fruitful collaboration that lasts to this day. Legendary racing models such as Alfa's 1500, 1750 Gran Sport and 2300 8C were followed by luxurious coupés and roadsters on FIAT and Lancia chassis.

After WW2 Zagato was quick to exploit the popularity of the new GT racing category, supplying factory teams and catering for the growing privateer scene with road-able cars that nevertheless could be driven competitively on the racetrack come the weekend. Zagato's own history records that, 'avante garde styling, together with light weight and wind-cheating lines were a trademark that distinguished Zagato's cars of that era - Maserati, Alfa Romeo, FIAT, Lancia, Abarth, Ferrari and Aston Martin.'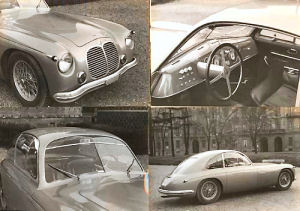 We are advised that chassis number '052' was extensively tested by the factory on the roads around Modena between October 1945 and September 1946. '052' is the second A6 1500, the numbering sequence having commenced with '051'. However, the latter had previously been classified as a Tipo 6CS/46, so arguably '052' is the first of the true A6 1500s. In its original form, the car was fitted with a Maserati-built barchetta body, pictures of which are on file together with dynamometer sheets recording tests carried out by the factory on the special racing engine, number '052', which features individually water-cooled cylinders. In 1948 Maserati sent the rolling chassis to Carrozzeria Zagato, where it was re-bodied with two-seater 'Panoramica'-style coupé coachwork in aluminium. This was the first such co-operation between Maserati and Zagato, making this car of even greater historical significance.

The Maserati was then sold to its first private owner, Guido Barbieri. Wanting to register the as-yet un-homologated car in Milan in his name, Barbieri obtained certification and declarations of sale from both Maserati and Zagato, which were issued in January and October 1949 respectively. In February 1951 Barbieri sold the car, which enjoyed seven further owners, coming into the possession of the last – Alfio Cosentino Puglisi of Arcireale, Sicily – in January 1972 (a full ownership list is available for inspection). A well-known collector, Alfio Puglisi kept the Maserati for the next eight years before selling it to the current owner in November 1980.

'052' has benefitted from full restoration in Italy while in the current owner's care: the body, engine and gearbox being overhauled and the interior re-trimmed. In 2003 the car was featured in an extensive article published in the Italian magazine Ruote Classiche (April edition). Currently registered on Italian plates, it comes with libretto and CDP (certificate of property) in the current owner's name. A rare opportunity to acquire a stylish Gran Turismo from an historic and respected marque, eligible for a wide variety of prestigious historic motor sport events including the Tour de France and Mille Miglia retrospectives.

Estimate: €600,000 to 800,000