From Montri in Thailand
"Hello Enrico,

I live in Thailand and own 2 Maseratis, a 3200 GTA and a Quatroporte.

At the moment it is very difficult to find 95 unleaded gasoline in the country, but we are able to find gasohol. I asked the dealer and came to know both the cars could not use gasohol.

Is there anyway to make it possible to use gasohol?

Regards,

Montri."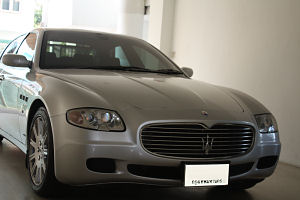 Maserati Quattroporte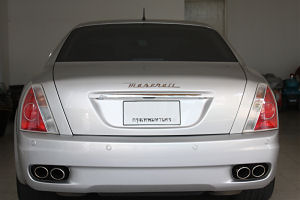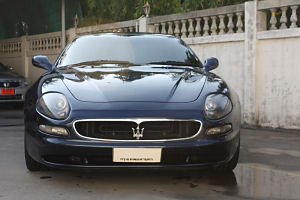 Maserati 3200 GT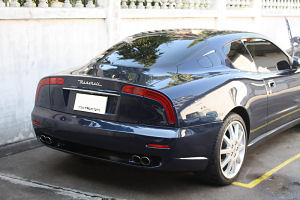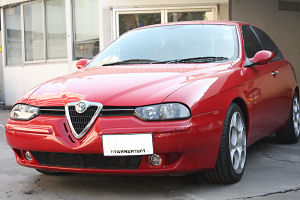 Alfa Romeo 156 by Selespeed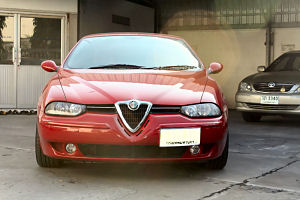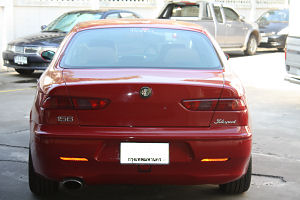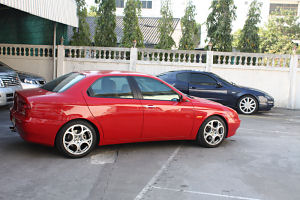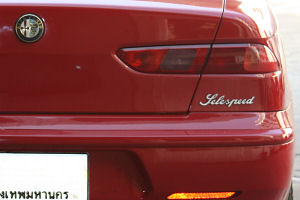 FOR YOUR INFORMATION:

GASOHOL - An engine fuel that is 90% petrol and 10% ethanol (alcohol). The ethanol is usually obtained by fermentation, followed by distillation, using maize, wheat, potatoes, or sugar cane. It was used in early cars before petrol became economical, and its use was revived during the 1940s war shortage and the energy shortage of the 1970s, for example in Brazil.

Further information on Shell Gasohol 95 is available at www.shell.com.
"Ciao Maseratisti,

A very Happy New Year to you all!

If anyone out there has any experience of running their Maseratis on gasohol, please let me know. Are there any additives on the market for this purpose?

In the meantime, it's NOT a very good idea to run your Maserati on gasohol!!!

Saluti,

Enrico."
"Hi Enrico,

Happy New Year!

Re the gasohol issue: gleaning some information from the internet would suggest that a mixture up to 10% ethanol is not necessarily problematic, as many countries around the world use these "low ethanol %" fuels.

Indeed in the UK Tesco's 99 RON super-unleaded contains 5% ethanol. In several US states 10% ethanol fuels are mandatory; anyone in Florida, Hawaii, Iowa, Kansas, Louisiana, Minnesota, Missouri, Montana, Oregon or Washington who is running a modern Maserati must be subject to using the stuff I would imagine. Any of you guys care to comment?

It is of course important to get the correct octane rating of fuel for the car in question. Looking at Shell's Thailand website I find they give no octane rating for their Shell Gasohol 95 or Shell Gasohol 91 fuels; you could make the guess that the octane ratings are 95 and 91, but it would be best to check with Shell.

I'm afraid I don't know the octane requirement for the 3200 GT or Quattroporte!

Regards,

Roger."
From Enrico in the UK
"Ciao Maseratisti,

Following the query from Montri regarding the use of Gasohol in his Maseratis, I posted the subject of Gasohol for discussion on the "Maserati Biturbo Zentrum" Forum, the most informative discussion group on the internet for owners and enthusiasts Maserati Biturbo era cars.

"Hi,

Does anyone out there run their Maserati on gasohol?

I heard that in several US states 10% ethanol fuels are mandatory; anyone in Florida, Hawaii, Iowa, Kansas, Louisiana, Minnesota, Missouri, Montana, Oregon or Washington who is running a modern Maserati must be subject to using the stuff I would imagine. How are they getting on with it?

Enrico."

You can easily join by visiting autos.groups.yahoo.com.

Montri's query started a very healthy debate. Here are the replies:
"Enrico,

I was looking into it. should be possible and there was a firm in Germany that sell a bolt on device to assist the ECU, but you'd have to replace a lot of the fuel supply system, as I believe the normal stuff will not cope with the ethanol?

Jonny."
"I know it doesn't go well with aluminium fuel tanks due to its low pH which erodes the ali, so I suspect there would be problems with fuel rails, fuel regulators etc. Not sure how it affects the calibration.

Nick."
"All modern fuel hose is speced for this now. Just don't use any old Weber rebuild kits.

Bob."
"I think federal law mandates that all gasoline sold in the US has to contain 10% ethanol. The only problem I have experienced with this formulation is that the gasoline has a very short life in the gas tank before it turns into a varnish that clogs your fuel system.

E85 (85% ethanol) "gasoline" is supposedly widely available but I have not seen it in the Houston area.

Best Regards,

Jorge."
"The varnish is a problem, coupled with a couple of fuel line fittings and one of the one-way pressure relief valves connected to the fuel tank.? The fittings crumbled and spilled 10 gallons of fuel onto the driveway and into the lawn.? But only those fittings and not others that are the same style.

Does anyone know if the alcohol will pull moisture from the air in the tank?? I ran my homebrew water separator on the Spyder's 1/4 tank of gas which has sat for about 8 weeks and pulled out over a quart of water.? It was completely clear of water 8 weeks ago.? Seems like that's a lot of water, even for a system with does have a 4 foot length of open breather tubing (discovered recently).?

Could the gasohol be absorbing water vapor when it's warmer and then condensing it out during the cold 26-39 deg F nights?

Ron."
"Regarding the water... could be the alcohol evaporating, cooling the tank and encouraging water to condense on the tank. If the tank is enclosed you'd have a finite amount of water in the air in the tank, but if the tank is open then you have an "infinite" supply of water.

I'm no chemist though and the flaw is that fuel also evaporates so would do the same thing. So maybe it's just that you have a leaky tank and live in a humid area?

Jonny."
"Hi,

I do run my Ghibli 1995 with gasohol since a year now, the car runs very good and no modifications are needed even with 85% ethanol.

Roland."
If you have something to add on the subject of Gasohol, or any other Maserati related topic:

Join the Maserati Biturbo Zentrum Group now!!!