COYS - FINE MOTOR CARS
An Important Auction of British and Continental Sports & Touring Cars, Motorcycles and Collectors Items


Royal Horticultural Halls,
Vincent Square,
Westminster,
London SW1

Thursday 3rd March 2005
---
Lot 94 - A model of a 1957 Maserati 250 F


Estimate: GB £950 - £1,250.
A 1/12 scale hand-built model by Modellismo of Italy. The legendary Juan Manuel Fangio's 1957 World Championship winning Maserati 250 F No. 1. Beautifully presented, this model features an incredible attention to detail, especially to the wired engine and the cockpit. The bonnet can be lifted to show the glorious engine. Mounted in perspex display case.


---
Lot 271 - A 1965 Maserati Mistral Spyder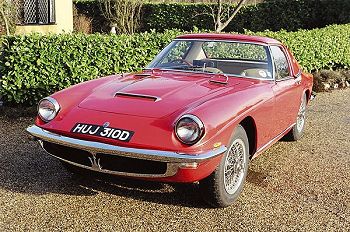 Registration no: HUJ 310D
Chassis no: 1095067
Estimate: GB £38,000 - £42,000



The Mistral was the last Maserati to use the straight six layout, as following models all adopted V8 or V6 configurations. Coachwork was designed by Frua and built in steel, with the exception of doors, bonnet and boot lid, which were in aluminium. Two body styles were offered, a coupe and a spyder, and both were particularly attractive because of their unique styling.

This immaculately presented example is believed to be one of the 1966 Turin Motor Show Cars and is finished in 'red arcoveggio' with magnolia hide. It was originally sold by UK Maserati Concessionaires to it's first owner Elias Houry a London banker before passing swiftly through the hands of four registered keepers including two well known exotic car dealers at the time, Anthony Rees Thorley and Charles Harris before ending up in the hands of Thomas Walduck a well known collector. Maserati specialist Corley Motors purchased the car from Mr Walduck approximately 20 years ago then sold the car to a man who lived in the Seychelles who left it with them until they arranged sale to classic car specialist in 1998.

We understand that in the hands of Corley Motors HUJ 310D has benefited from a no expense spared restoration, which included overhauling the engine, transmission, brakes, suspension and steering, together with extensive restoration of the bodywork. Of the 12 3.7 litre engined RHD versions produced this is believed one of only two still known to exist but is the only one fitted with a factory detachable hardtop.

Accompanying the car are recent invoices from it's current Maserati enthusiast owner, V5, and current MOT certificate. Maserati's currently represent superb value in the market place and this Mistral represents a unique opportunity to acquire one of these delightful rare hand built spyders with unquestionable provenance.


---
Lot 286 - A 1979 Maserati Merak SS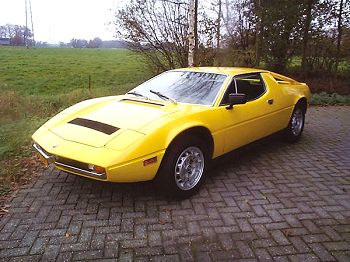 Registration no: N/A
Chassis no: AM122US2422
Estimate: GB £12,000 - £14,000



In the creative environment that coincided with the beginning of the 1970s, Maserati began work on the design of a car with high performance sporting characteristics capable of dominating the hard-fought 3 litre class of the market. In order to avoid risks the layout of the Merak, the name of a star in the constellation of Ursa Major, had more than one point in common with the company's successful flagship, the Bora, and something beyond a simple resemblance.

The Geneva Salon of 1975 saw the debut of the most desirable Merak, the SS. Improvements included a reduction in overall weight of 153kg, an increase in power of 30bhp, an increase in wheel and tyre sizes to those of the Bora (with revised suspension settings to accommodate them), greatly improved instrumentation layout, interior, comfort and general build quality, and an increase in top speed to 250km/h. Weight distribution was also altered from 59/41 to 53/47 (front/rear) to make the car more evenly balanced than its sister, further enhancing the available performance over fast winding roads. Only some 250 SS versions of the Merak were produced before the model ceased to exist, as opposed to 1309 of the normal 3000 and 102 of the Merak 2000 (built exclusively to avoid the over-2-litre tax in the Italian market).

This Merak SS of 1979 finished in yellow with a black leather interior sits proudly on its correct alloy wheels, it is currently registered in Holland, is described as being in perfect condition.


---
Lot 305 - A 1972 Maserati Ghibli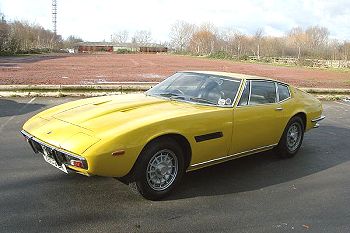 Registration no: 7803 DK
Chassis no: AM115/472474
Estimate: GB £26,000 - £28,000



With dramatic but tasteful coachwork by Giugiaro at Ghia and Maserati's sports racing-derived four-cam, dry sump, V8 power plant under its bonnet, the car was a triumph in automotive design. Sales to a discerning clientele began in 1966, placing it in direct competition with the also-new 275 GTB/4 from local arch-rival Ferrari. The Ghibli became all the rage, and enjoyed many compliments for both its looks and performance. An American magazine in 1968 said of it, 'The Ghibli is by far Maserati's greatest contribution to the automotive world in the past 20 years. Its appearance alone gives one a feeling of opulence.'

Today the Ghibli is amongst the most sought-after of Maserati's road going GTs; its combination of superb lines and performance that will still outrun most other cars on the road attracts enthusiasts and collectors alike to the model, much the same way now as over a quarter of a century ago. AM115/472474 is finished in yellow with black leather and is a fine example of this popular GT car. The vendor advises us only 11 RHD examples were built with the 4.7 litre and this particular example is fitted with the desirable manual gearbox. There are recent invoices for £15,000 in 2000 detailing a full engine rebuild and other remedial work with renowned Maserati specialist Bill McGrath. Mileage is believed correct at 31,000 miles. The car comes with V5 and a fresh MOT.


---