In March, I received an e-mail from Rossano of Reparto Corse informing me of the forthcoming 1st Biturbo International being held in Modena, Italy. Having expressed an interest, this was followed by another e-mail from Sig Augusto Marcuccio of the Biturbo Club Italia giving the proposed itinerary for the rally. The itinerary looked exciting and I noticed that the dates of this event coincided with my impending birthday.

Now what I am about to tell you may come as a big surprise to you, but my wife doesn't like Maseratis. I know it's difficult to understand, but you can begin to appreciate my dilemma. How do I talk my wife into attending this Maserati rally, when I have failed so often in the past? Fortunately, like me, my wife enjoys good food and when I explained that the rally would be taking place in Modena, the heart of the Emilia-Romagna province, famed for its gastronomic delights, the task became somewhat simpler. I duly completed and sent off my application form and we were off!

One of the advantages of running this web site is that I come into contact with Maserati enthusiasts from all around the world and when I informed Boris Jerbic from Croatia that my wife and I would be attending the Raduno in Modena, he insisted on joining us. Boris and I have been in constant communication ever since I set up this web site.

I planned our outgoing journey to Italy to include a visit to the Rosso Bianco Collection in Aschaffenburg, Germany, and after two days of 'sedate' motoring on the German Autobahns, we arrived at our first destination, Lake Garda in Northern Italy.

Given that I was now in Italy and the timing belt on my Ghibli was due for replacement, I made an appointment with Sig Candini in Modena. Whilst there, I took the opportunity of taking a close look at some of the exotic cars being restored. Unfortunately client confidentiality made the taking of photographs impossible so my camera stayed firmly in its place. I strolled over to the Carrozzeria Campana workshop across the road and noticed a Maserati Coupe pace car and a couple of Trofeos undergoing minor body repairs after the last race. I politely asked if I could take some photos for my web site but was told that that would be impossible. That evening I returned to Lake Garda with a Ghibli that drove like a dream. It really does pay to take your car to a Maserati expert as only they know how to tune them properly. Did I mention that I had a very very nice lunch in Modena?


Friday afternoon after another good pranzo at La Scaiola, near Brescia, we set off for the Hotel Executive, Fiorano Modanese, and parked our car alongside those Maseratis that had already arrived. We were greeted by event organiser Sig Mike Höfer of the mh-team who gave us our information pack and after a quick 'freshening up' I returned to the Maseratisti.

I learned from Mike that some 35 cars in all were expected, understandably mostly Italian some from as far as Naples, Sicily and Sardinia. Cars were expected from the German Biturbo Club, Austria, Switzerland, one from Croatia and you know who from England!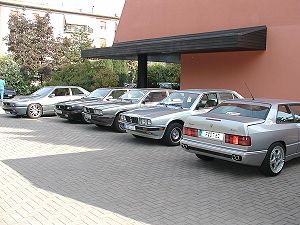 Maseratis outside the Hotel Executive, Fiorano Modenese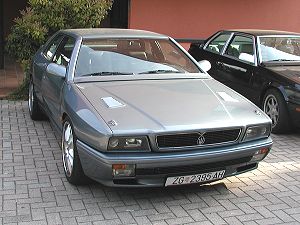 Boris's 360 bhp Ghibli!
In the hotel car park I chatted with my fellow Maseratisti; including an unhappy Richard from Germany, who, having failed to start his Biturbo, arrived in an Alfa Romeo. Together we discussed the cars on view including one rather curious Ghibli GT sporting a V6 Evoluzione badge on its rear but with a Modena Performance modified engine under the bonnet.

After a short while a loud exhaust note greeted the arrival of Boris in his very special Ghibli, see Boris's Brute, who had driven all the way from Croatia to meet us.