STEPHEN BARNETT


The Motor Sport models of Stephen Barnett, are without argument, the finest detailed 1:43 scale models available! A sweeping statement perhaps, but that is an expression of the regard in which this man is held by his contemporaries.

Some of you may be familiar with his models, but after having admired his work for many years. I recently had the opportunity of speaking with Steve to find out more about what makes a 'Super-Modeller'!

Now aged 45, steve started model making and being interested in motor sport as a child, beginning with the obligatory 'Airfix Kit' and those tubes oF polystyrene cement, as so many of us did. But then progressed to building model soldiers for which he won many awards, he claims that this period gave him the necessary grounding in many of the skills which he still employs to this day.

"At the age of 16, I stopped modelling altogether to concentrate on getting the necessary qualifications to get into Art School, "I did a BA Hons in Fine Arts at Sheffield School of Art, now incorporated into Sheffield Hallum University, specialising in photography.
After college I opened an Arts Council funded Photographic Gallery in Sheffield, but wanted to pursue the more practical side of photography, this took me to Manchester in the early 80's where I worked freelance for national newspapers."

How did you end up back in Sheffield after having savoured the cosmopolitan delights of Manchester? "A good job offer brought me back, this is when I started motor racing with a friend, preparing and driving an Alfa Romeo Giulietta Ti saloon in the Classic Saloon Car Clubs pre 57 Championship. Five Championship titles in five years then followed, although after the first race I realised that I was better at preparation than the driving, and gave this function over to my pal."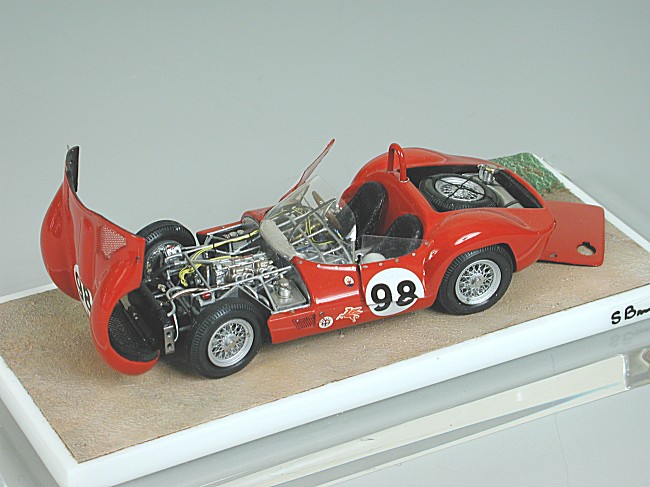 Stephen's model of the Tipo 61 'Birdcage' won the
'Quattroruotine Special Prize'
at the Maserati Modellismo exhibition in October 2001.


Why then, did you then take up model building in preference to continuing your professional career as a freelance photographer? "This period rekindled my enthusiasm for cats and seeing some model car magazines and model reviews in the likes of 'Classic Cars' and 'Classic and Sportscar' made me think that maybe - I could do that! - so I did!"

"I started by casting a Cooper 500, very much in the decorative line. But one advert in 'Miniature Auto Review' (my only ever advertisement) brought me not only a good number of orders, but also freelance work, building resin and metal kits for collectors, one of whom invited me to see his collection. Amongst his models he had some by 'One Man Factory' a German 'super' modeller - I was absolutely blown away by the detail! But then thought back to the model soldier days, and realised it wasn't that much more complicated than the things I had done before. So yet again I thought - I could do that!

After I had made a slight detour, starting my own model kit range 'Milestone Miniatures', which I now regret not having continued. I got down to developing the skills necessary for producing 'Super-Detailed' models, which is very much where I am today."


Unlike the Models of Tim Dyke, which may be classed as 'Presentation' (what is visable is 100% accurate) models, Stephen goes one step further into the realms of miniature realism, every part of the actual car is modelled. When I asked him how he achieved such level of detail, Steve loosely described the methodology - basing his model on an existing kit, usually the most accurate available from which all but a small percentage is scrapped. He uses the original as the basis to form moulds, etc., then he sets about detailing every feature and to scratch-build most of the model from the chassis up. He casts, turns, etches, moulds and manipulates to produce an exact fine scale miniature with paper thin metal panel work, opening doors bonnets & boots, fuel caps, etc.

Steve went on to explain: "The majority of my work centres around a white metal cast bodyshell onto which are hung hinged doors, boot and bonnet which I individually hand form in sheet brass. The more complicated shapes, for example the front end of the 'Birdcage' this would be cast as well. Then I make all the original patterns for the engine and ancillaries and cast these myself in pewter.
I usually anticipate making more than a single model of any one subject, many variations being possible, but often the moulds can lie idol for a number of years before being used again, as perhaps surprisingly - I do not have the patience for undertaking production runs!"

Referring back again to Steve's model of the Tipo 61 'Birdcage', particularly the Camoradi Team car of Moss & Gurney which won the Nurburgring 1000Km race in 1960. This car is probably the most modelled 'Birdcage' of all. However it is the car with which I'm the most familiar, so I'm sure that he won't mind me saying; that the chassis detailing on this car is simply superb, it's so fine that it makes other manufacturers look as though they have constructed theirs' from scaffold tube!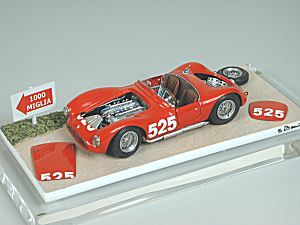 This A6GCS was also on display at the Maserati Modellismo exhibition.


Meticulous attention to detail ensures that everything is exact and where it should be. In the cockpit - the seats, the dash, the instruments, the mirror, the wood rimmed riveted steering wheel, the pedals, the handbrake even the boot does not escape this almost obsessive attention to detail.

The Engine bay is superbly crafted with all the necessary plumbing and wiring, the radiator is fabricated with real cores, the exhaust system built from hollow tubing, each pipe being individually formed as was the full size system. Suspension legs, shock absorbers etc., even the wheels and tyres are individually made for each car. The tyre sidewall lettering, often ignored or given cursory treatment at this scale - not so with Steve, his are a work of precision art in their own right. Detail down to the 'Herbert Johnson' polo helmet synonymous with Moss is there - placed discreetly on the passenger seat.

No matter from which angle you view one of these models, you see modelling perfection, accuracy and meticulous attention to detail, in every respects. The scale, the paint finish, the individually hand made decals, the minuscule rivetting, lamp lenses, headlight covers with retaining screws, the whole of a 'Barnett' model is absolutely unbelievable! And that's what makes these models so special!

Just trying to describe these models - replica is a more appropriate term, given the exacting level detail to which they are individually crafted, is an impossible task.

When asked, which of his creations was the most popular, Steve modestly replied "One way or another I still end up doing the majority of my work based on cars with the Ferrari V12, although I much prefer building Maserati sportscars of the 50's and early 60's." Thank you for that!

Why then the personal preference for Maseratis? Steve replied (without any inducement or threat), "For the same reason that you are no doubt an enthusiast, one is more interesting than the other in real life. Stand a Maserati and a Ferrari side by side and compare the quality of engineering, Maserati wins 'hands-down'. Recreating that quality is a challenge, but worth it! The only thing I bemoan about Maserati is the general lack of research material available, which for my job can be a show stopper."

Amongst the many models which Steve has constructed during the course of his professional modelling career, listed below is an example of his Maseratis:

1. The Tipo A6GCS, car numbered 525, of Gilletti & Bertocchi which won its class in Mille Miglia in 1953.

2. The Tipo A6GCS, factory black car numbered 28, of Alfonso de Deportago & Carlo Tomasi, which ran at Le Mans in 1954.

3. The Tipo 61, 'Camoradi' team car numbered 5, of Stirling Moss & Dan Gurney, which won at the Nurburgring 1960.

4. The Tipo 61, unnumbered red car of Carol Shelby.

5. The Tipo 63, 'Cunningham' team car numbered 7, of Augie Pabst & Dick Thomson, which ran at Le Mans in 1961.

6. The ex 'Temple-Buell' 5.7-litre 450S white car, numbered 66, of Jim Hall which ran at Riverside in 61.

7. The Tipo 65, 'Maserati France' team car numbered 8, of Joe Siffert & Jochen Neerspasch, which ran at Le Mans in 65.

These scale replicas are indeed rare examples of the modeller's art at the very highest level. Individually hand built to order, they bare no resemblance whatsoever to the quasi-limited edition/mass produced, upmarket diecasts or resin moulded models of other manufacturers currently available. In the miniature world, they don't come any better and are strictly for the serious collector! Exclusivity though doesn't come cheap though, if you want one it will cost - in the region of GB £1,500.00.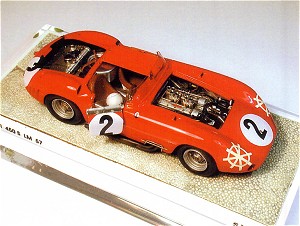 Stephen's fine model of the Tipo 450S.


Steve's latest recreation of a Maserati in miniature is a fitting tribute to the Tipo 450S, works team car numbered 2, of Jean Behra & Andre Simon, which ran, albeit briefly, at Le Mans in 1957. This miniature replica is priced at £1,630.00.

The models of Stephen Barnett really do have to be seen, in the flesh, to be fully appreciated - they are without doubt the very best 1:43rd scale Maseratis available, anywhere, at any price!

Please remember, that if you aspire to owning one of the cars which made Maserati a legend in motor sport; an A6GCS perhaps from the Mille Miglia or Targa Floria, a 'Birdcage' or even a 450S from Nurburgring, Le Mans, Riverside or Laguna Seca, but are short of the odd £100,000/200,000, there is a more realistic option available to the armchair Fangio and for a fraction of the cost, maybe not as much fun to own, impossible to drive, but just as good to look at and admire with far less polishing involved!

This is what the experts at 'FSW' (Four Small Wheels) have to say about the 450S, when the model was reviewed in August, this year:

"Stephen has come up with a great new subject for his latest exercise in fully detailed 1:43rd scale modelling - the exciting looking (and sounding) Le Mans mount of Behra and Simon. So fine is the detail that he has included in this stunning looking miniature, that all we are showing here is the engine bay. The complete car is on the front cover and on page 6. As with all of Stephen's models - seeing is believing."

They then go on to say when reviewing the model in its entirety: "Driven by Behra and Simon this beautiful car only lasted three hours. That was sufficient time however to allow enough detailed photographs to be taken for Stephen Barnett to undertake one of his most complex tasks - to model the car complete with engine and boot detail and with close fitting lift off panels.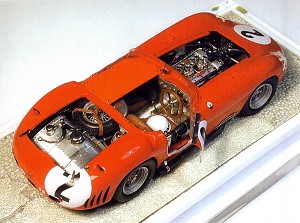 Another view of this fine model of the Tipo 450S by Stephen.


The result is totally stunning. This is indeed a modelling masterpiece. But let's apply the usual criteria - first of course is that it checked against race photos, it looks like the car - every detail is exact. Stephen has created a superb engine bay with an exactly scaled engine to which he has attached complete ignition wiring, cooling pipework, the battery and all the other ancillaries. And then there's the boot into which Stephen has fitted the fuel and oil tanks together with their piping - with opening filler caps - with a spare wheel which is leather strapped, as it should be. The cockpit too is exactly correct and even has a miniature Jean Behra's chequer banded helmet on the seat. Wherever you look in this masterpiece you just wonder at the beauty and exquisite craftsmanship. As we said this is a work of automotive modelling art - just beautiful!"

The foregoing review has been reproduced with the kind permission of Grand Prix Models, 3 Noke Lane Business Centre, St Alhans, Hertfordshire, AL2 3NY.

Rarely do the experts praise an individual model or it's creator so highly!

And as though further endorsement were necessary:

Stephen's model was recognised at the 'First Official International Competition and Census' of Maserati Models. The event, officially organised by Signora Pamela Guarnieri on behalf of Maserati was held at the Sala Ercole, Palazzo d'Accursio, in the Piazza Maggiore, Bologna, Italy in September and October 2001 to celebrate the launch of the new Spyder.

Of the six categories of entry: 1) Mass Produced Models, 2) Artisan Models, 3) Kit Models, 4) Works of Art, 5) Dioramas. and 6) Special Models.

Stephen's model of the race winning Tipo 61 'Birdcage' of Carol Shelby - Riverside 61 was adjudged winner of the 'Quattroruotine Special Prize'. The trophy, (a large silver vase inscribed with a Maserati motif), was presented by Sig. Antonio Ghini, Head of Communications at Ferrari/Maserati, in front of an international audience and was accepted by Sig. Walter Gualdrini, author of 'Miniature Maserati', lifelong devotee of the Marque, collector and renowned authority on the Marque.

Stephen can be contacted at: